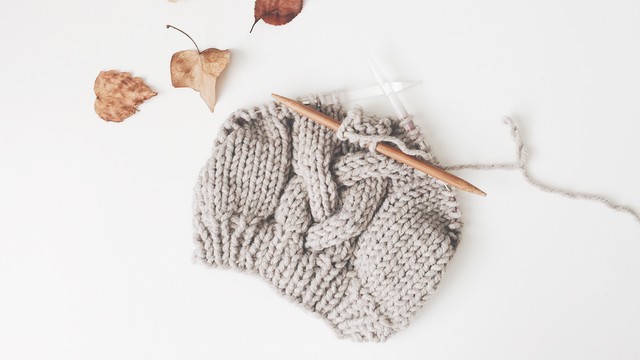 The Knit Hat
Laura Booz: The knitting club donates knit hats for the babies born at our local hospital, and the nurses select just the right hat for each baby. They had a hard time finding a hat to my newborn preemie, and it wasn't because her head was too tiny and the hats were too big. It was because labor and delivery had gone on so long, and she had the noggin to show for it. The pediatrician said, "That's quite a cone head." 
And then as convincing himself, he added, "It will go down in time." He recommended that I ever so gently press her head back into shape. Press her head back into shape? Was I hearing him correctly? She was so tiny and helpless. I was so tiny and helpless. If this was what it meant to be a mother, I was not cut out for it. I didn't …
Laura Booz: The knitting club donates knit hats for the babies born at our local hospital, and the nurses select just the right hat for each baby. They had a hard time finding a hat to my newborn preemie, and it wasn't because her head was too tiny and the hats were too big. It was because labor and delivery had gone on so long, and she had the noggin to show for it. The pediatrician said, "That's quite a cone head." 
And then as convincing himself, he added, "It will go down in time." He recommended that I ever so gently press her head back into shape. Press her head back into shape? Was I hearing him correctly? She was so tiny and helpless. I was so tiny and helpless. If this was what it meant to be a mother, I was not cut out for it. I didn't know I'd be responsible for the shape of her head, let alone introducing her to Jesus, teaching her to love people, and how to be courageous, creative, and kind. It was all too much. 
Well, of course I wanted the best for her, but I was flooded with my weaknesses and inadequacies and bad habits. How would I ever do right by her? I had one hope, and one hope alone, that God Himself would walk with us step by step.
Hi there. You are listening to Expect Something Beautifulwith Laura Booz.
The nurses finally found a nice tall hat, designed to flop over like a beret. But my daughter's head filled it all the way to the top. The pom pom stood straight up, like a dandelion puff. I held her close and curved my palm over her head. I still remember the texture of the pink yarn. I remember her warmth radiating through the knit hat to me. I didn't think I was up for reshaping her head, but I knew I could pray for her. 
So, I asked to help her to grow in wisdom and stature and favor with God and people. I prayed that she would love Him with her whole heart and soul and mind and strength. Without planning it, this is how I began motherhood, with my hand on my child's head blessing her.
I pressed my lips to her forehead, and whispered, "You are mine. I am your mother, and I love you. I am here for you." Those moments, those holy set-apart moments are the best moments in motherhood. They're the ones we could never anticipate or capture in a photograph or duplicate for another person, because they come from God. 
He hand picks each child for each mother, and introduces them to one another through a story unlike anything we've ever heard before. It's always something new and different, humble and wonderous, with circumstances that compel us to lean on Him with our full weight. Just as He knit us together in our mothers' wombs, He knit our stories and relationships together as only He can. And all of it is too wonderous to comprehend. 
Here's what I mean: Remember the woman in the garden of Eden who disobeyed God, ate the fruit, and brought about the fall of humanity? She welcomed sin and death into the world. God's judgment came upon all of humanity because of her sin. The struggle and sorrow in motherhood and marriage, a life of frustration, thorns and thistles that would take us all to the grave. 
You can read about it in Genesis 3, where part of the curse is, "By the sweat of your face you shall eat bread, till you return to the ground, for out of it you were taken; for you are dust, and to dust you shall return" (v. 19).
I can only imagine how utterly devastated she must have felt, as the gravity of God's judgment fell on humanity because of what she had done. But immediately after God specifies the extent of the devastation of sin, the Bible says this, "The man called his wife's name Eve, because she was the mother of all living.And the Lord God made for Adam and for his wife garments of skins and clothed them" (v. 20).
Here's what I see, that Adam had heard God promise: your descendant will crush the serpent. And this was not lost on Adam. With hope in his Creator's good heart, Adam looked at the woman and called her Eve, the mother of all living. Adam himself didn't make her the mother of all living, but he was simply proclaiming God's grace toward her and all of humanity.
And in that moment, can you just imagine how she must have felt? I wonder if she collapsed to her knees and said, "No, you have the wrong person, not me. I am the mother of the cursed, the frustrated, the dead. I do not deserve to be called the mother of all living. I do not have what it takes to be the mother of all living." I wonder if she felt like me—unworthy to receive the calling of motherhood? A calling that she didn't deserve, a calling that she didn't dare ask for. A calling that she couldn't do on her own, the mother of all living. 
The woman who would bring forth life in the face of death. Keep in mind that this was the woman's identity when she did not yet have a biological child. She was a woman; therefore, she was a life giver. Not because of her choices, her personality, her strength, or her drive, but because of a merciful God who laid His hand upon her head and blessed her. 
He invited her to play a leading role in history, to be the first woman of countless women, including you and me, who would bring forth life—not just biological life but also spiritual life. She would bring forth other people who put their trust in Jesus on a planet given over to frustration, decay, death. 
Human life is undeniable evidence that God has not given up on us, but He is keeping His promise to glorify Jesus, who came to us a baby, born of a woman to crush the serpent, satisfy God's judgment for sin, and be the true life giver. 
Our calling as life givers, as mothers, is too big, too glorious for us to wrap our minds around. David says it best in Psalm 139 when he wrote, "You hem me in, behind and before, and lay your hand upon me. Such knowledge is too wonderful for me; it is high; I cannot attain it" (vv. 5–6). 
Our Creator lays His hand on our head and blesses us, saying, "You are Mine. I am your Father, and I love you. I am here for you." 
Oh, and by the way, the doctor was right, in time my daughter's head rounded out just fine, and I don't think it had anything to do with pressing it ever so gently. Well, that moment with my hand curved over my daughter's head was just the start of a grand adventure called motherhood. I had no idea how many challenges and joys were still to come. It was also just the start of the Lord to teach me more about Him. 
Along the way I've been writing about the adventures of motherhood and the result is a brand-new book with the same name as this podcast, Expect Something Beautiful. And the subtitle is, Finding God's Good Gifts in Motherhood. 
I hope everyone who reads this book will discover amazing new truths about our heavenly Father, and the way He gives us gifts in everyday life. To get a copy of Expect Something Beautiful, visit my blog, LauraBooz.com, or look for it on your favorite book selling website. 
I also recommend another way for you to learn more solid truths about God that will affect your everyday life. That's to listen to the Bible teaching of Nancy DeMoss Wolgemuth on the Revive Our Hearts podcast. It comes out every weekday. It's a regular chance to set your heart on the truths of God's Word. Find out more at ReviveOurHearts.com. 
I hope you'll remember this: No matter what you're going through, you can lean into God as your good Father. His hand is on you. When you do, you can expect something beautiful. 
Expect Something Beautiful is a production of Revive Our Hearts, calling women to freedom, fullness, and fruitfulness in Christ. 
All Scripture is taken from the ESV.
*Offers available only during the broadcast of the podcast season.