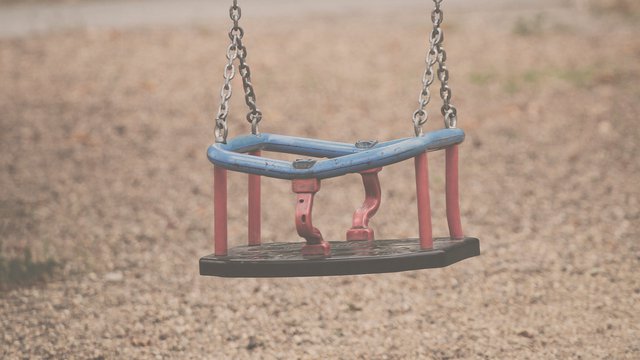 — Audio Player —
Ready Yet?
Laura Booz: I tried to potty train my daughter way too early. I was just over the diaper thing. So, I got out the potty seat. I opened a brand-new pack of Minnie Mouse pull-ups, and I explained what was going to be happening over the next three days. And she just looked at me with her big brown eyes, like, "What exactly are you trying to communicate?" I could tell right away that she was not ready. 
Six months later, I tried again, and what a difference! Within twenty-four hours she looked at me with those same brown eyes, and with all the confidence in the world said, "Mom, I'm potty trained." And she was.
I saw a similar trend when she would not pump on the swing. She needed me to push her. So, I did, but I sure was impatient for her to try pumping on her own. So I explained it. I showed her how to do it. I pointed it out for the other kids, but she wasn't ready. Until one day, she hopped on the swing and pumped. I stood back and watched in amazement as she swung so high her feet nearly touched the sky. 
Then, of course, there was that summer when she would not go on the trampoline—just would not go. All the kids would be jumping, and she would just be hanging back and kind of clingy and needing me. I would be like, "Go ahead. Go, go on the trampoline." But she refused, until one morning in early autumn when she woke up and said, "I'm ready. I want to go on the trampoline today." And she did. She loved it, and she's been jumping ever since. 
And if you can hang around for one more example, there was also a time when friends came over with their dog. My daughter was not ready for a dog to be in our house. I felt a little impatient, because they were our guests, and she was kind of making a big deal about this and making them feel uncomfortable. She ran all the way up to her room, climbed to the top of the highest bunk bed, and hid under the covers. Until of course, she was ready. And when she was ready, she came downstairs, met the dog, and proceeded to walk the dog around on a leash for the rest of the day. 
Of course, I would be remiss if I didn't mention the times that she has reversed the trend and had been ready for something far sooner than I anticipated. For example, she was ready to protect her baby brother, when she was still a baby herself. And she was ready to run down the driveway, when she could barely walk. And she was ready to belly laugh before I did anything funny at all. 
Hi there. You're listening to Expect Something Beautifulwith Laura Booz. Today, we're just going to talk about those times when we may feel impatient, especially with a child, and how we can lean into the patient heart of God and learn to be patient ourselves. 
I guess you could say, my daughter has been my lesson in readiness. You know, there are a million times a day when I'm dealing with one of my six children, and I feel that impatience where I am ready for something to happen, but they're not. So, I'm ready to head out the door, but they're not, because they can't find their shoes. It's classic, it's universal, it happens here every day without fail. 
Or I am ready for them to learn something, but they're just not ready to grasp it yet. I'm ready for them to grow in maturity or character, but they're not ready yet. I feel that impatience. I feel it kind of boil up. Sometimes it's just this low-grade disruption, but other times I just lose it, and I blow up, and I'm my worst possible self. 
Well, I've had plenty of opportunity to turn to the Lord and ask Him for help, because the Bible says that patience is a fruit of the Spirit. So, it comes from His good heart, and I want to know it more. He has patience for me, and I want to show that patience to my children. 
I look at Jesus, and I just love how He lived this out beautifully. Just think about the distinct and personal ways he approached His mother, Mary, His disciple Peter, His disciple John, Lazarus, Zacchaeus, the woman at the well. He met each person where they were at, and He loved them well. There were times when crowds were pressing in on Him, and He stopped all the chaos and all the need and all the demand to focus in on one person at a time. 
He is the same way to this day. Jesus is with you and with me today, right where we're at—loving us and working at the spirit level to help us to grow day by day as He sees fit.He is not demanding that we get our act together, but He's taking us by the hand and helping us along and celebrating each and every milestone. He is not demanding that we be perfect or complete, or fully mature, instead He is giving us the blessing of His perfection, His completion, His maturity. 
There's a beautiful song that reminds us, the only readiness He requires is for us to recognize our need for Him, for us to recognize that we are not ready, and we never will be ready without Him. He is never impatient with us. 
Keep in mind what Peter wrote about Him in 2 Peter 3:8–9, 
"But do not overlook this one fact, beloved, that with the Lord one day is as a thousand years, and a thousand years as one day. The Lord is not slow to fulfill his promise as some count slowness, but is patient toward you, not wishing that any should perish, but that all should reach repentance."
We don't keep time the way God keeps time. Children don't keep time the way God keeps time. Our priorities are not His priorities. He is the sovereign God who establishes work for us that may or may not be on our radar. It may or may not be on our to-do list. I have a feeling that it's often His to-do list that causes is to feel the most impatient. 
One way that I apply Scripture to my everyday moments of impatience with my kids is honestly to open my hands in surrender. Now, if my hands are full of socks and shoes and babies and diaper bags, I just do it in my mind's eye. But if I am able to, I literally open my hands and I pray, "Please help, Father." This helps me to keep time like He does, and to remember His priorities, that the way I treat my child in this moment, is more important than us arriving on time to an appointment. 
So, I encourage you to try it on for size. The next time you're feeling impatient, try opening your hands and praying, "Please help, Father." And if that approach doesn't suit you, I encourage you to find something that causes you to look to Jesus and keep time like He does, in those moments when you are feeling impatient. 
And most of all, why don't you just take a deep breath? Because God is slow to anger and abounding in steadfast love. He will not grow weary of our learning curve. He will not give up on us as we grow. He is patient with everyone ,and He will help us to be patient with one another. 
This is part 1 of 2 podcast episodes in which we will think about the Holy Spirit's gift of patience. In the next episode, we'll talk about what it looks like to be patient with those who are in the church. And we're going to kick that episode off with a story in which I got a big idea, to make a beef stroganoff and chocolate cake. 
Did you know I wrote a book about motherhood? I did, and I love it. It has the same title as this podcast; it's called Expect Something Beautiful: Finding God's Good Gifts in Motherhood. I love it because I'm at a stage in motherhood where I'm not quite ready to pack up all the wonderful books and clothes and toys and send them off to a friend who can use them. I still need them for my little ones. But I can pack up the things I've learned over the past sixteen years and hand them over to other moms and say, "Here is what I've learned of God's good heart in the day-to-day moments of motherhood. The good times and the bad times. The joys and the sorrows." 
I want every mom to know that she can expect God to pull her up close to His side and to hold her little one close to His heart. 
I hope you'll look for Expect Something Beautiful wherever you buy books, and I hope you'll love it. If you want to dig in further into this idea of the fruit of the Spirit, I encourage you to dig through the archives of the Revive Our Hearts website. There is so much wonderful content there.
You can just go to ReviveOurHearts.com and look up "fruit of the Spirit" to get started. Again, that's ReviveOurHearts.com. 
Expect Something Beautiful is a production of Revive Our Hearts, calling women to freedom, fullness, and fruitfulness in Christ. 
*Offers available only during the broadcast of the podcast season.
Support the Expect Something Beautiful Podcast
Darkness. Fear. Uncertainty. Women around the world wake up hopeless every day. You can play a part in bringing them freedom, fullness, and fruitfulness instead. Your gift ensures that we can continue to spread gospel hope! Donate now.
Donate Now