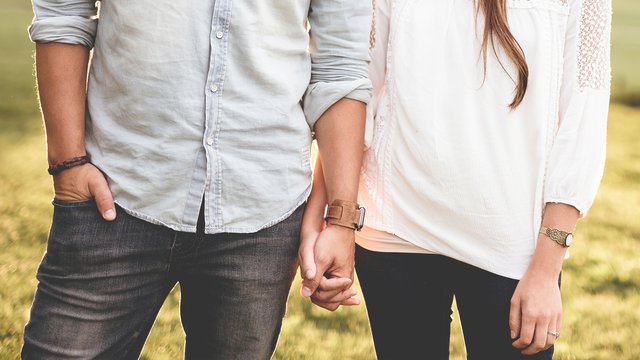 — Audio Player —
Marriage . . . with a Chainsaw
Laura Booz: Any chance you're looking for a great conversation starter for your next dinner party with kids? Well, I have one that you can keep in your back pocket. 
Here it is. Okay, you're going to ask each guest to share the title of their favorite book, but here's the thing, they have to add a special line to it. They have to add the phrase, ". . . with a chainsaw." 
My kids love this. So, Peter Rabbit becomes Peter Rabbit . . . with a Chainsaw. And Anne of Green Gables becomes Anne of Green Gables . . . with a Chainsaw. There's just something about putting a power tool in the main character's hands that changes everything. Suddenly, they've got focus in their eyes and purpose in their step. They are on a mission, and they will stare down danger to get there. 
This is exactly what came to my mind the other day when I saw my husband, Ryan, with a chainsaw. Now, he's strong and capable, and I'm used to seeing him zip around the property with his power tools. But that day he was fixing to cut down a large tree on our lane—a big, beautiful, black walnut that the lumber yard is itching to get its hands on. He needed some help, so he asked me. 
Hi there, you're listening to Expect Something Beautifulwith Laura Booz. Today's episode is about marriage, about unity, and about being there for one another, even when you want to walk away. 
Well, it was the first pleasant Saturday in April, which means spring cleaning on the farm. The chainsaw revved and roared all morning. Ryan was cleaning up tree limbs that fell during the winter, and finally in the afternoon he was ready to cut down that tall black walnut. So, he came to get my help. We walked down the lane, and I looked up at that tree and thought, Oh, dear.
Ryan said "Because it's standing straight up, I'm not 100 percent sure which direction it's going to fall. So, I need you to stand behind me and while I am chainsawing at the base of it. I need you to look up. And if you see the tree starting to fall in our direction, just grab my shirt and we'll run."
And I just said "okay." He put his safety helmet on, revved up the chainsaw, and got to work cutting down that tree. Saw dust was flying every which way. That chainsaw was shaking his entire body as he worked his way through that tree. He was totally trusting me to get this right. 
Little did he know that I was just looking up at the tree limbs and wondering, Did that just move?Are those branches tilting in our direction? Or was that just wind? Or is that tree falling on us? A couple of times I actually doubted myself and lightly tapped him, but he kept going, because he knew if that tree was really falling on us, I would see it and I would grab his shirt and we would run like we meant it. 
Well, you'll be happy to know that despite my self-doubt and epic adrenaline levels, the tree did fall in the right direction. And whew, I needed that experience. I needed to see us working together, playing drastically different roles, but each of us doing what we had to do. I needed to see us cut down that tree and live to tell about it. 
I think the experience meant so much to me because Ryan and I are both working so hard on our respective callings right now. We are head down, giving everything we've got to raise our kids, pay the bills, and serve the Lord. I needed to remember that we're in this thing together.
Cutting down the tree gave me a picture of how marriage is supposed to work, and what it looks like to live alongside one another. Spouses are not foes—we're allies. We're not independent agents—we're partners. I'm an important part of Ryan's work, and he's an important part of mine. He needs me to have his back, to be attentive, to care for soul, his well-being, his reputation, so that when he's head down working so hard, he knows I'm not going to walk away. Instead, I'm going to keep my eyes open in case he needs anything. 
And you know, it goes the other way too. I need him to have my back while I'm focused on my work. When it comes to raising our children and my writing and ministry work, he can see things I can't see. I need his discernment. I need his love.
It was all just such a good reminder to me that marriage is an opportunity to say to someone, "I've got your back." To say, "I believe in you. You can do the good work God establishes for you to do." 
We can say, "I know it's intense, but you are competent. By the grace of God, I will not add to that intensity but instead I will bless you, hope for the best, and help whenever you need me." 
We can say, "I will feed you when you are hungry. I will smile at you when you walk in the door, because you are the most important person in my life. So, focus on the good work God has called you to do in the world. I'll keep my eye open for your well-being and protection, and if I spot anything that could hurt you or us, I'll let you know. And by the way, I know this won't be easy, but would you do the same for me?" 
You know, there's a passage in the Bible about this; it's in Ecclesiastes 4. It's often read at weddings, even though it's not exclusively about marriage, but it certainly applies to marriage. I'll read it for you, it starts in verse 9, 
Two are better than one, because they have a good reward for their toil. For if they fall, one will lift up his fellow. But woe to him who is alone when he falls and has not another to lift him up! Again, if two lie together, they keep warm, but how can one keep warm alone? And though a man might prevail against one who is alone, two will withstand him—a threefold cord is not quickly broken. (vv. 9–12)
To be honest, the reality of this give-and-take playing out in marriage has bothered me. I mean, I wonder, Why does it seem like one of us is down while the other is up? Why is one of us cold while the other is warm? Why is one feeling attacked while the other is feeling victorious and strong? In the moment it feels like we are unequally yoked. It feels like disunity, but on the contrary, this is precisely what it means to be equally yoked, toiling together, pulling in the same direction, and more often than not, tending to the dear person who is in that yoke with you. 
Being unified in marriage with someone is to say to them, "When you're down and I'm up, take my hand. When you're cold and I'm warm, come in close. When you're weak and I'm strong, you rest while I pray my heart out for you. You hang tight while I defend you with the Word of God 'til this battle is over. And, of course, when I'm the one who's down and cold and facing a fearsome enemy, I'll take your hand. I will let myself be pulled in close. And whenever you've been fighting on my behalf, I will look at you at the end of the day and say, "Thank you."
This is unity. Unity means two people are working hard at life together, sharing their ups and downs and being there for one another—over and over and over again. And when we need to make a decision and we're not quite sure what to do, we look for the place where we are unified, and we take a step there together. 
This process means that we must share our thoughts and listen closely and submit to one another. God works through this type of oneness. He works through it to direct our steps, and then when we succeed, we are hand in hand, rejoicing together. When we fail or come up against disappointment or challenge, there we are hand in hand knowing that we made the decision together. So, whether things go well or things go poorly, our marriage thrives. 
Unity weaves us together on the journey through the ups and downs, come what may. And the tie that binds us, the One who is between us actually doing all of the work, all of the lifting and warming and defending, is Jesus Himself, our third cord. 
You know what I think? I think unity is a power tool in marriage. Put unity in the hands of a marriage, and suddenly you see a husband and wife with focus in their eyes and purpose in their step, don't you? You see a marriage that is on a mission, that will stare down danger to get there. So, I say, "Rev those engines, we've got work to do." 
Oh, marriage, what an incredible, complex, beautiful gift from God. There is so much to be said about marriage. Maybe one day, I'll write a book about it all, and maybe, just maybe, I'll call that book Marriage . . . with a Chainsaw. 
Expect Something Beautiful is a production of Revive Our Hearts calling women to freedom, fullness, and fruitfulness in Christ. 
*Offers available only during the broadcast of the podcast season.
Support the Expect Something Beautiful Podcast
Darkness. Fear. Uncertainty. Women around the world wake up hopeless every day. You can play a part in bringing them freedom, fullness, and fruitfulness instead. Your gift ensures that we can continue to spread gospel hope! Donate now.
Donate Now