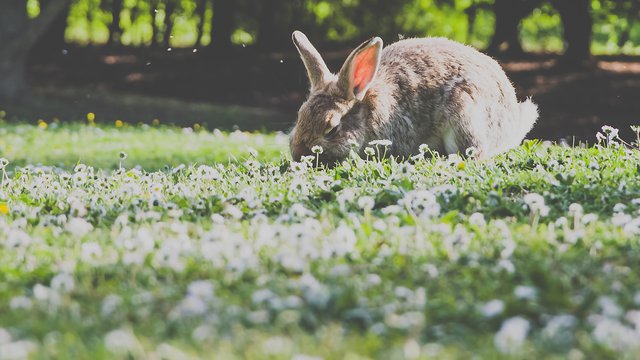 — Audio Player —
I Hate Rabbits!
Laura Booz: Have you ever had a conversation with someone that changes the trajectory of your life? I've had many, but this week I was actually thinking about one that I had about 16 years ago. 
I was newly married and getting together with a friend for lunch. Actually, you probably know her. If you listen to Revive Our Hearts, you know Dannah Gresh, right? Well, she and I live in the same town. We've been friends for years and ministry partners for years. And we were meeting up at our favorite Italian restaurant. It was the kind of place that makes their own fettuccini, and their brick oven pizza..mmm. 
Alright, so we found a table, we placed our order, we prayed together, and then she looked up at me and she said, "Okay, what's wrong?" I guess I must have looked as miserable as I felt. 
I honestly hadn't planned on getting into things, but I said, "Well, something happened this week that triggered me, and I've been out of sorts ever since." So, Dannah asked, "What happened? What's wrong?" and I really didn't want to tell her, but I did. I leaned in and said, "Dannah, I hate rabbits. I mean I hate men; I mean I don't really hate men, oh it's a long story." 
Hey, this is Laura Booz. You're listening to Expect Something Beautiful. By the end of today's story, I hope you know you can expect God to tend to you whenever you are triggered.
So, in case you don't know when someone says they're triggered, it just means that something happened to remind them of a past trauma. It's a newish term and maybe already overused, but I think its helpful in describing the experience that we all have, you're just going along in life until bam something evokes this emotional or physical reaction that is totally out of proportion with what's happening in the moment. 
When we're triggered, it usually stems back to something that happened in the past. It could be something very serious or something that doesn't look like a big deal on the surface, but it was to you. 
So, I had just sat down to lunch with my friend, and told her I had been triggered and I knew my statement needed an explanation. So, as the waiter served us big steaming slices of pizza, I shared the rest of the story. And I started with this, "I don't really hate all men. I mean the men who are closet to me are the best people on the planet, my dear dad, my husband, my father-in-law, my pastors, and teachers, they are the best. But to be honest with you, I had been hurt by a just a couple of selfish, abusive men. And I had never talked to God about it, I never told anyone, and I never received the proper healing for it." 
So, over time the effect of that abuse just grew, until it was like this big gaping wound. Like a big pit in my heart. When abuse is not brought into the light and healed it can wreak havoc on a woman, and you may know what I mean. 
Before I told Dannah the story that actually triggered me, I had to explain this funny little thing my friends and I used to do sitting around a campfire. So, when the smoke would blow in our face, we would say "I hate rabbits" over and over again to make the smoke blow in a different direction. Yes, we did. So, there we'd be roasting our marshmallows saying, "I hate rabbits, I hate rabbits, I hate rabbits."
Have you ever heard of this, or am I just the only one? Well, anyway it seemed to work every once and a while so we just kept doing it. I know this may seem very disjointed and strange but I promise this detail is relevant.
So, here's what happened to set me off that week. I was out riding my bike and ahead of me were some construction workers, filling pot holes on the side of the road. And I could tell they were all men, and without even thinking about it, I gripped my handle bars and tucked my chin down and peddled so hard, so that I could pass them as quickly as possible. 
Once I was well down the road, I relax enough to notice that the whole time I was riding past them I was muttering, "I hate men, I hate men, I hate men, I hate men." Just so they wouldn't look at me. And that was it. That's what launched me into a week a full of anger, confusion, and sadness.
It wasn't the first time I was triggered by painful memories, but this time well, I don't know it was just very obvious that I had a problem, and it wasn't going away on its own. So, I told my friend I was afraid, I'd feel this undercurrent of resentment and anger and rage forever. I was afraid I'd ruin my marriage with it, and that if I had sons someday that I would ruin them. I was afraid I would never really be able to have healthy relationships with men, because there would always be this gaping wound.
And you know what? My friend leaned over and she said something that impacted me so deeply, she said "You know, you don't have to feel this way forever." I don't know why that had never dawned on me. I guess I had lived with this for so long that it seemed like it was just part of my personality. 
But that time, God used that trigger to launch me into a journey of healing that has changed my life. I think too many times when we're triggered by something, we just shut down. It's like we fall into one of those potholes or pits and just sit there in our misery. But I think God gives us those emotions and memories to lead us to Him for healing and comfort and repentance and redemption. 
The trigger is not just meant to shut the world out, but it's meant to point us to Jesus, and to reveal our need for His truth. And for me, that meant pouring my heart out before the Lord and learning what Scripture said about me as a woman, about abuse, about abusers. I needed to confide in trustworthy friends who would pray with me and for me, and to remind me over and over again, the truth of Psalm 103, that "The LORD works righteousness and justice for all who are oppressed." (vs. 6),
You know God defends the oppressed, and He works justice. Evil deeds that are done in the dark, He brings to light. He heals the broken hearted. I know the scope of this topic is far bigger than I can tackle in this podcast. But if abuse is part of your story, I encourage you to bring it into the light of God's Word with a Christian counselor, a pastor, or a friend who will help to be safe and to be healed. 
I worked through resources from the Christian Counseling and Education Foundation. You'd find that CCEF.org, specifically Diane Langberg's materials were so so dearly helpful to me. 
So, the other thing I needed to address as part of that process was how I viewed men, and how I viewed myself as a woman. The abuse had confused me, and I was looking for answers in everything from, legalism to feminism, and even Christian feminism, but I still had some big unanswered questions. 
And one of the most helpful resources I have ever found is the True Woman course written by Mary Kassian and Nancy DeMoss Wolgemuth. It's an honest and noble effort to look solely at Scripture for God's intention in making us male and female.
Because of my experiences, I am not interested in resources that just promotes stereotypes, even Christian stereotypes and not biblical truth, but I am telling the True Woman course works so hard to stick to only what God's Word says about what it means to be a woman and what it means to be a man. 
As I worked through the True Woman course, I learned that my role as a woman wasn't just to be aggressive and assertive and anti-man, but instead as I walk with Jesus through womanhood, He would teach me how to be reverent in behaviour. He would teach me how to not be a slanderer, how to not be a slave to wine or other addictions. He would teach me how to teach what is good, and train younger women how to love their husbands and their children. 
He would teach me how to be self-controlled and pure. How to build a home and work in that home. How to be kind and submissive to my own husband, and how to represent the Word of God and glorify God in such a way that only women can.
And you know, I for one also had to learn that Scripture says, that the Holy Spirit works in a man so that over his he becomes sober minded, and dignified and self-controlled. Sound in faith, in love, in steadfastness, full of integrity, and dignity, and sound speech. A man who walks with the Lord learns how to cherish and honor women. And when they don't and when they're not the same God who forgives and helps me in my sin, helps them in theirs.
Learning these things was life changing to me. Honestly, at the heart of everything I needed to see where Jesus was in all of it. And that took time. But He is our Wonderful Counselor, He is our Comforter and our Keeper, and He says, "Come to me, all who labor and are heavy laden, and I will give you rest." (Matthew 11:28). 
Jesus never fails. He knows me and He knows you, and He is making us new. And what He did on the cross is the power of God to resurrect me and you and save us from every pit of sin and sorrow. 
I guess I was kind of like those potholes on the side of the road that needed to be filled. I needed to be filled with the truth. I needed it pressed down in my heart, rich and dense, and good. 
The whole process took time, years, and tears, and pain, but it was worth it. I used to say "I hate men", but my friend was right, I don't feel that way anymore. 
Sometimes I'm still triggered by things but when I am, I know what to do now. And I don't just shut down, I don't just sit in my pit, instead I turn to the Lord. We're all triggered from time to time about one thing or another, and when we are let's remember this, the triggers aren't meant to point out the trauma and shut us down in our pit, they're meant to point us to Jesus and fill us up with truth. 
I hope you heard that. Let me just say that one more time, the triggers aren't meant to point out the trauma and shut you down in your pit, they're meant to point you to Jesus and fill you up with truth. 
Maybe even listening to this episode you felt triggered, here's the thing that feeling is an indication that you need God's healing touch about an important area of your life, so go to Him. This is what He's in the business of doing. 
Psalm 103 says, "Bless the LORD… who forgives all your iniquity, who heals all your diseases, who redeems your life from the pit, who crowns you with steadfast love and mercy, who satisfies you with good so that your youth is renewed like the eagle's." (vs. 3-5)
So the next you're triggered, I want you to remember this: you don't have to feel like this forever.
*Offers available only during the broadcast of the podcast season.
Support the Expect Something Beautiful Podcast
Darkness. Fear. Uncertainty. Women around the world wake up hopeless every day. You can play a part in bringing them freedom, fullness, and fruitfulness instead. Your gift ensures that we can continue to spread gospel hope! Donate now.
Donate Now