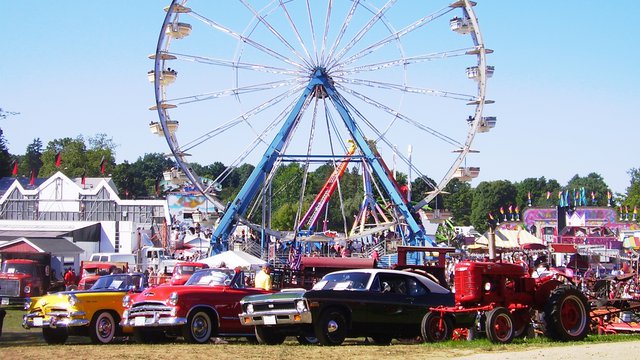 — Audio Player —
The Grange Fair Parade
Laura Booz: We've been living out here in the country for eleven years. Way back when we moved here, my husband and I really wanted to find a way that we could connect with the community—a way that we could give back and be a blessing here. 
So, we put our heads together and we thought maybe we could create a website. Since it is a real community website, I'm not going to give you the real name. For the purpose of our story let's call it SmallTownFamily.com.
Back when we launched SmallTownFamily.com, we wanted it to be a place where we could put things on there like announcements and encouragement to people. Next, we had to let the community know where to find us online. So, we came up with this plan that would only work out here in the country. 
First, we printed out a flier and hung it on the bulletin board right outside the bathroom at the gas station. Then we printed out a giant vinyl sign and asked a local farmer to hang it on the side of his hay wagon. And finally, we reserved our spot in the Grange Fair Parade.
Hi there, I'm Laura Booz. You're listening to Expect Something Beautiful. Today's story illustrates that you are important to God's family. 
If you came to our town and visited the Grange Fair, let me give you an idea about what you would see, hear, smell. The 4-H kids would be showing their animals. You'd walk past massive cow, and maybe the equine center and see the draft horse competition. You'd smell all kinds of delicious foods. You'd have to choose between one fried food or another. If you were with me, you'd get in line for the apple dumplings. Maybe we'd find a seat on a bench and listen to whoever was playing in the square. We'd stroll in and out of the vendors, because you could buy anything at the Grange Fair—from a couch to a purse to a hairbow. You could get a toilet seat or a little matchbox car. Everything is for sale at the Grange Fair.
Everybody goes. Everybody enjoys the food and the music. And everybody brings their lawnchairs out for the parade.
A couple days before the parade, my sister called and said, "Hey we want to come visit you guys." 
And I said, "Well there's just a hitch. You see, we're going to be in this parade, but maybe you guys could find a shady spot and just cheer us on." 
And she said, "No way. We are going to be in the parade with you."
Here's what we did. We dressed our one-year-old in a little chicken suit, and we sat him in a red wagon and stuffed hay all around him. Then we printed out a banner on the side of the wagon that said, "SmallTownFamily.com." We ordered business cards to hand out to people along the way. 
When my brother-in-law looked at our plan, he said, "Well, now wait a minute, what if I brought my guitar? I could strum along and maybe even come up with a little ditty for your website." It didn't take him long to come up with this, SmallTownFamily.com mmmhmm SmallTownFamily.com. We knew the second we heard it that it was a winner. I mean, try to get that out of your head; it's going to stick.
And my sister said, "You know, I did bring my hula hoop. Could I just hula hoop along with you? That might spice things up."
So, we found ourselves strolling along that parade route, pulling a wagon with a little baby chicken, getting a song stuck in everybody's head, and my sister hula hooping every step of the way. 
At one point along the two-and-half-mile route, we were stuck in a standstill, and she's still hula hooping with all she's got. And somebody called out to her, "Are you thirsty?" 
And so, without skipping a beat, she reached out, grabbed that brand-new bottle of water, turned the cap, drank from the bottle of water, and kept going the whole time.
Now, when you get to the grandstand, that's when you want to pull out all the stops, because on one side the crowds are sitting in the bleachers, and on the other side, the judges are sitting on the grandstand.
 We waved at all the people, and I handed out a couple business cards. We strolled past the grandstand, and that's when I looked around and realized my sister wasn't with us. I looked back over my shoulder, and I realized she was still center stage, right in front of the judges. She was down on her knees with her arm raised up high, the hula hoop going round and round around her wrist and then she brought it down around her waist and the crowd went wild. It was such a fun parade. 
I've got to tell you . . . a couple days later, guess what? We got something in the mail. We got an envelope from the Grange Fair Parade Committee. And inside was a check for $100 for us to take our next step in our endeavor. And you know, we got that $100 because of my sister and my brother-in-law. They made us infinitely better than we ever would have been without them. 
And the thing that strikes me is: This was not their town. This was not their website. It wasn't their project or their parade, and yet, they were in it with us. They made us better than we would have ever been without them. To me, it's such a great picture of how we are to be living as Christians, to come alongside people and make their lives richer and fuller and more fruitful than they ever would have been without us. 
For the remainder of our time together today, I want you to ask the Lord to bring someone to your mind who needs you with them. Maybe they need you to be with them in their parade, or maybe they need you to be with them in their sorrow. Maybe they just need you to link arms and say, "Hey, I'll be your friend." Think about that person as I read this amazing passage from Romans 12 about how we are to live with one another. 
Here it is, Romans 12:9–21: 
Let love be genuine. Abhor what is evil; hold fast to what is good. Love one another with brotherly affection. Outdo one another in showing honor. Do not be slothful in zeal, be fervent in spirit, serve the Lord. Rejoice in hope, be patient in tribulation, be constant in prayer. Contribute to the needs of the saints and seek to show hospitality. 

Bless those who persecute you; bless and do not curse them. Rejoice with those who rejoice, weep with those who weep. Live in harmony with one another. Do not be haughty, but associate with the lowly. Never be wise in your own sight. Repay no one evil for evil, but give thought to do what is honorable in the sight of all. 

If possible, so far as it depends on you, live peaceably with all. Beloved, never avenge yourselves, but leave it to the wrath of God, for it is written, "Vengeance is mine, I will repay, says the Lord." To the contrary, "if your enemy is hungry, feed him; if he is thirsty, give him something to drink; for by so doing you will heap burning coals on his head." Do not be overcome by evil, but overcome evil with good. (ESV)
If you want to become more of a friend and sister that you heard about today, there's a devotional that can help. It's called, "Living Out the One Anothers of Scripture" by Hayley Mullins and Erin Davis. You can dig deeper in the truths we discovered today with the help of this 30-day devotional. You'll find it at ReviveOurHearts.com.
If you want to read more stories about the Bible interacting with real life situations, visit my personal site, LauraBooz.com.
Next time I'll tell you about the day my husband Ryan and I were standing under a tettering tree. It began to fall on us. I grabbed his shirt to run. I'll tell you about it in a couple of weeks on Expect Something Beautiful.
Expect Something Beautiful is a production of Revive Our Hearts, calling women to freedom, fullness, and fruitfulness in Christ.
*Offers available only during the broadcast of the podcast season.
Support the Expect Something Beautiful Podcast
Darkness. Fear. Uncertainty. Women around the world wake up hopeless every day. You can play a part in bringing them freedom, fullness, and fruitfulness instead. Your gift ensures that we can continue to spread gospel hope! Donate now.
Donate Now