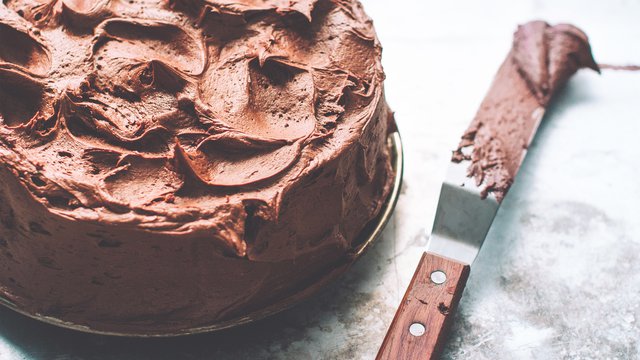 — Audio Player —
Beef Stroganoff and Chocolate Cake
Laura Booz: When I was a newlywed, my husband and I lived in this tiny, little apartment. The landlords lived in a farmhouse next door, and we lived in the remodeled summer kitchen. Well, they must have been in their 70s, at the time, and they were absolutely lovely. We were growing in our friendship. In fact, in the evenings I would sit out on the patio with them, and we would be snacking on peanuts waiting for Ryan to come home from work. 
Well, as a new bride in her new little kitchen, I got this big idea, that I would make them dinner one night. I decided to pull from our heritage and use a favorite recipe from my mom, which was her beef stroganoff over the top of egg noodles. And a recipe from Ryan's mom, which was her chocolate cake. 
Now, I am not a natural in the kitchen, so this was a big undertaking for me to invite them over for dinner and to tackle these two big recipes. So, I really focused. I had to figure out what kind of meat to get at the grocery store, how to prepare it, how to make the sauce. I had to figure out how to make the chocolate cake, which was a little confusing because I didn't grow up with it. 
So, I was surprised when the recipe called for a cup of coffee. I was measuring the flour, the sugar, the cocoa powder, and so I just added a cup of ground coffee. I mixed it up, popped it in the oven, and it smelled so good. 
Hi there. You're listening to Expect Something Beautifulwith Laura Booz. Today's story illustrates that your expectations of the next generation really matter, and with God at work, you will not be disappointed. 
As the beef stroganoff sizzled in the pan, and the chocolate cake cooled on the counter, our landlords arrived at the door. We welcomed them in, but my mind was still spinning from all of the preparation. As they sat down at our tiny kitchen table with Ryan, I carefully placed 5 strips of beef stroganoff on each plate with a little bit of gravy and a generous spoonful of buttery peas, and I sat each one down at the table. 
Then I sat down, and finally had a minute to look down at our plates. I realized that there was something missing. I couldn't quite put my finger on it, but it just looked off. But we dug into that beef stroganoff and it was pretty good, but midway through the meal I realized . . . Oh! I had forgotten the noodles. The meat had taken so much of my attention that I had completely forgotten to boil up a bag of egg noodles to go with it. 
I didn't say anything out loud, but I sure did wince as it seemed like an awful lot of meat that night. When we were finished, I cleared away the plates and brought out the beautiful chocolate cake. I mean, it was really beautiful. 
I sliced it with my brand-new, shiny cake knife. I will never forget when my landlord took a big bite of the cake, and he smiled to tell me how good it was. That's when I saw that coffee grounds were stuck in his teeth. 
And it dawned on me that it must have been calling for a cup of brewed coffee, where the granules would have been dissolved. Certainly, not one full cup of coffee grounds. But he ate another bite and another bite. We all did. We just ate the cake. And it was a good cake, but I'm telling you, when they came home and got in their pj's and tucked in bed, they must have been wide-eyed. They must have stayed up all night long because of that cup of coffee—a whole cup of coffee. 
They were so gracious. They received my hospitality and my effort, even though they were accustomed to beef stroganoff as it's meant to be, and certainly they have had chocolate cakes that didn't keep them up all night. But they had time for me and they trusted me, and I'm grateful for that. 
I'm grateful for every person who has noticed and will notice my immaturities, my weaknesses, my growth areas, my blind spots, and yet believes the best, counts me in, takes me seriously, sits at my table. I want to do the same for people who are younger than me, who are perhaps figuring out how to make beef stroganoff and chocolate cake, but also for figuring out the basics of the Christian faith. And like me, still trying to figure out how to offer their gifts for the glory of God and the good of people. 
The apostle Paul sets an example for us when it comes to our interaction with people who are younger than us. First in 2 Timothy are wonderful examples of how to take a younger person seriously and to spur them on. Paul felt like a father, a mentor to this young man, Timothy, who had learned his faith from his mother and grandmother. 
Over and over again, we see Paul urge him to fan his faith into flame, to practice, to grow stronger in his faith and in the gifts God gave him to serve the kingdom of God. In 1 Timothy 4:12, Paul encourages Timothy, 
Let no one despise you for your youth, but set the believers an example in speech, in conduct, in love, in faith, in purity. Until I come, devote yourself to the public reading of Scripture, to exhortation, to teaching. Do not neglect the gift you have, which was given you by prophecy when the council of elders laid their hands on you. Practice these things, immerse yourself in them, so that all may see your progress. Keep a close watch on yourself and on the teaching. Persist in this, for by so doing you will save both yourself and your hearers. (vv. 12–16)
I want you to take a minute and just bring to mind someone you know who is younger than you are, younger in the faith, younger chronologically. Think about them, think about how they're doing. Think about how Paul might write to them. He might tell them to keep going, to fan their faith into flame, to practice the things they've learned, to keep reading the Scriptures, and to grow and persist in it.
That's exactly the same message we want to have towards the younger generation. We want to be patient with them, and not to feel like they're going off the rails and everything's falling apart. We might be tempted to look at the younger generation and think, There's the beef stroganoff and chocolate cake.
Although we may only see a couple strips of overdone meat when you're expecting and accustomed to a beautiful meal, and we may walk away from an interaction with someone who is younger than us and feel like we have coffee grounds stuck in our teeth, and we certainly may lay awake all night because of something they did that was careless, or foolish, or immature. 
But I hope we take a cue from the apostle Paul, and from my landlords, and we believe the best about Christians who are younger than we are. I hope we appreciate the effort they are making, and we cheer them on as they learn and grow. Let's not give in to feeling threatened or disappointed or fearful or impatient for the next generation, because remember, our faith isn't in the next generation but in the God who loves and will provide a table before them in the presence of their enemies, who will anoint their head with oil, who will cause their cup to overflow. You'll see that God will provide everything they need just as He has for you and for me. 
If you are looking for more encouragement about how you can reach out and enrich the younger generation, I encourage you to check out the website, ReviveOurHearts.com. There you will find everything from articles to podcast episodes to entire guide books that will help you to develop mentoring programs in your church.
So, be sure to go to ReviveOurHearts.com, to become a stronger cheerleader for the next generation. 
One of the ways I hope to cheer on the next generation is through my book. It has the same title as this podcast, but it's specifically for moms. It's called Expect Something Beautiful: Finding God's Good Gifts in Motherhood.
Now, I'm only about seventeen years into this motherhood journey, so I have a lot in front of me and a lot to learn. But I have learned one thing, and it is that God loves mothers and their children, and He will guide mothers, step by step, day by day, through motherhood. 
I hope my book is an encouragement to moms who are just like me, moms who are younger than me, moms who are further along down the path and just need to be cheered on to keep going, keep walking with the Lord through motherhood. 
So, I hope you check it out. Once again, it's called Expect Something Beautiful: Finding God's Good Gifts in Motherhood. 
This podcast, Expect Something Beautiful,  is a production of Revive Our Hearts calling women to freedom, fullness, and fruitfulness in Christ. 
All Scripture is taken from the ESV.
*Offers available only during the broadcast of the podcast season.
Support the Expect Something Beautiful Podcast
Darkness. Fear. Uncertainty. Women around the world wake up hopeless every day. You can play a part in bringing them freedom, fullness, and fruitfulness instead. Your gift ensures that we can continue to spread gospel hope! Donate now.
Donate Now