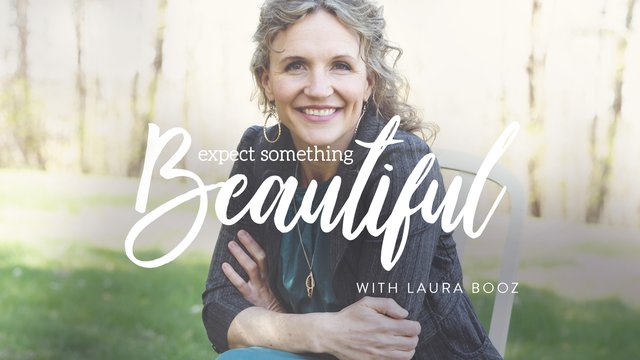 — Audio Player —
Balloon Dart Painting
Laura Booz: So when Ryan and I were engaged, I planned this really romantic, really fun outing for us. We were going balloon dart painting.
Hi, this is Laura Booz. You're listening to Expect Something Beautiful. Your expectations really matter, especially when it comes to romance.
Okay, so I got the idea for balloon dart painting from a movie, which should have been my first warning. In the movie this actress is throwing darts at this canvas that stretches from ceiling to floor.
There are balloons that are blown up with paint inside of them hung to this canvas. Every time a dart hits a balloon, it bursts open and splatters this beautiful array of paint all over the canvas. It looked so fun. And I don't know romantic and different.
I just thought, Ryan and I have got to try this together. So I gathered all of the supplies in my backpack. I got the paint and the balloons and the darts and a big piece of butcher paper.
When he showed up at my apartment for the date, I said, "Okay, you ready to go?" So we headed down this bike path and came to a field with these big round hay bales. Yeah, I got this idea that we could hang the butcher paper up on the hay bale and throw the darts. And it would be a beautiful canvas.
As soon as we arrived, I unzipped my backpack and pulled out the butcher paper. I said, "We are doing balloon dart painting." I see this look come across Ryan's face like, "Oh, are we? Okay, well, then let's get going."
I thought I could hang the butcher paper on the round bales with thumbtacks. But you can't hang butcher paper on hay bales with thumbtacks. So Ryan said, "Okay, listen, I'm going to just jog back to your apartment and get the supplies that we need to hang the butcher paper up." And he said, "While I'm doing that, why don't you start filling the balloons?" Okay, great idea.
So Ryan jogged back to my apartment. He came back about a half hour later with all the supplies we needed. We got the butcher paper up.
And that's when I sheepishly turned to him and said, "Hey, while you were gone, I discovered that it's kind of difficult to put the paint in the balloons." Because I don't know what I was picturing. I mean, how would you get paint into an inflated balloon? Do you blow the balloon up first, and then somehow try to squish the paint in? No, of course you don't, because the air comes out.
So instead, what I was doing was trying to squish the paint into the balloon. Of course, it's getting all over, and there's no way I want to blow that balloon up then.
So Ryan said, "Okay, how about I run back to your apartment, and I'll get a funnel. I'll bring it back, and we can get the paint in that way." So he took off, and he was down that bike path and out of sight before I knew it.
When he came back, he was huffing and puffing. His hair was sweaty, but he had that funnel, and we carefully poured the paint into the balloons. Then we wiped them off and blew them up and attached them to the butcher paper.
And that's when I reached into my backpack to pull out this brand new package of darts I had bought. Ryan took one look at those darts. And he said, "I am so sorry to tell you this, but they're not gonna work." They were plastic-tipped darts, and they just bounced right off of the balloons.
So he took his utility knife out of his pocket, and he started whittling down the tips of those darts. There.
This was supposed to just be like maybe a one-hour outing that lasted all day long. Finally, everything was set. We stood about two feet away from this round bale and threw these darts at the balloons. They popped. Our masterpiece was finished. We stood back arm and arm looking at our masterpiece.
And you know what I thought? This guy's a keeper, because he just laid his life down to make my dreams happen. I actually thought of John 15:12–13 where Jesus said, "This is my commandment, that you love one another as I have loved you. Greater love has no one than this, that someone lay down his life for his friends."
In our self-focused culture, we forget this is the essence of love. Laying our lives down for one another for our friends, family, our neighbors, our leaders, our enemies. If we keep our eyes open, I think we'll discover countless opportunities to love people this way on special occasions and every day.
So when Ryan and I were finished painting, we cleaned everything up. We looked at our masterpiece, and we actually noticed that one section of it had a dark hole in the paper and red paint flowing down from it. We carefully cut it out, and actually framed it, because it reminds us of Jesus of the nails piercing His hands and feet when He died for us on the cross.
It reminded us of 1 John 3:16–18. It says, "By this we know love, that he laid down his life for us, and we ought to lay down our lives for the brothers. But if anyone has the world's goods and sees his brother in need, yet closes his heart against him, how does God's love abide in Him? Little children, let us not love in word or talk, but in deed, and in truth."
I hope that this Valentine's Day, you find a way to lay down your life for your friends, and that the Lord provides you with a friend who's willing to lay down their life for you. Never forget that this type of love, this self-sacrificial love is so dear to our hearts because our precious Savior has laid down His life for us.
If you're looking for encouragement and good biblical guidance in the area of love or romance, maybe singleness or dating, ReviveOurHearts.com has tons of helpful resources for you. Just go to ReviveOurHearts.com and type your topic in the search bar, and it will get you started.
I've written a lot about marriage over the years. Ryan and I have been through good times and bad times, and we're happy to share our story with you. You can read about it at my personal blog: LauraBooz.com.
I was actually called to some sacrificial loving myself as I was carrying a double stroller through the hallways of a tech conference not too long ago. I'll tell you all about it on the next episode.
To hear that and all the episodes, subscribe now in iTunes or wherever you get your podcasts.
Remember, no human can meet all your longings for love. I hope you'll look to God to satisfy the cravings of the heart. And when you do, expect something beautiful.
Expect Something Beautiful is a production of Revive Our Hearts, calling women to freedom, fullness, and fruitfulness in Christ.
_____________________
Dree Hogue: Is there some unconfessed sin that maybe you're trying to cover up? Erin Davis says that's a dangerous place to be.
Erin Davis: Run, flee. There's no time to repair, to clean yourself up. The need to run from sin is urgent!
Dree: On The Deep Well podcast, Erin will explain why sin is so serious. But more importantly, she shows you the true solution to sin. Subscribe to The Deep Well wherever you listen to podcasts, or visit ReviveOurHearts.com/TheDeepWell.
*Offers available only during the broadcast of the podcast season.
Support the Expect Something Beautiful Podcast
Darkness. Fear. Uncertainty. Women around the world wake up hopeless every day. You can play a part in bringing them freedom, fullness, and fruitfulness instead. Your gift ensures that we can continue to spread gospel hope! Donate now.
Donate Now