Susan Hunt: Susie, our granddaughter, was three or four years old when she slid down her stairs on her pillow just as her mother came around the corner and said, "Susie, don't ever do that again."
Susie asked, "Did you do this when you were a little girl?"
And her mother answered, "No. My mother wouldn't let me."
And Susie asked, "Who is your mother?"
And Catherine responded, "Susie, Mee-Mawmee is my mother."
And Susie's response was, "Uh uh. She's an old lady." (laughter)
There's more. Susie is now the beautiful twenty-two-year old sitting over here with her mother, which makes me a very old lady. (laughter)
But here's the thing: Every birthday is a gift from the Lord, and I've had seventy-seven of them, plus I've been happily married for fifty-three years. (applause and cheering) Girls, you have to be an old lady to be able to say that.
I love the quote from Elizabeth Prentiss, the nineteenth century author of Stepping Heavenward, when she wrote to a friend:
I'm ever so glad that I'm growing old every day and so becoming better fitted to be the dear and loving friend to young people that I want to be.
This is the antithesis of the world's message that aging is our enemy. The Bible says that it's our friend.
Job 12: "Wisdom is with the aged and understanding and length of days" (v. 12).
Proverbs 16: "Gray hair is a crown of glory; it is gained in a righteous life" (v. 31).
And, yes, my gray hair is covered with blonde highlights, but it's there, so I think it counts. (laughter)
Elisabeth Prentiss' statement is radical because it is not self-centered. The world tells me that it's time for me. The Bible tells me that it's time to double-down in investing in the next generation.
Psalm 145: "One generation shall commend your works to the [next generation] and declare your mighty acts" (v. 4).
This generational principle is repeated throughout the Old Testament and is echoed in Paul's letter when he says that older women are to teach the younger women.
Fifty years ago when my husband graduated from seminary, we served a short time in a small church in a rural community. I was just becoming aware of the Titus mandate, but it made no sense to me because what I'd observed was a division between the older and younger women. And from my twenty-five-year-old perspective, I concluded that the older women were resentful and critical of the younger women because they were fearful of losing control. But the result was, I was fearful of them.
Now, that little church was a part of a denomination that was increasingly questioning the authority of God's Word. And, looking back, I wonder if those women understood the power and the joy of the gospel of grace. Did they understand the sweetness of being a part of God's family where there are no generation gaps because of our union with Christ? Did they have the deep assurance of eternal life that comes with hearing sound doctrine taught Sunday after Sunday?
My point: We cannot overstate the importance of Paul's instruction to the young pastor to teach sound doctrine. We're products of our theology, whether it's sound or unsound. What we believe or don't believe about God shows up every day in every way.
Our passage for this session shows us what sound doctrine produces in those who are saved from our sin through grace by faith in the finished work of Christ. Titus 2:2–3, "Older men are to be sober-minded, dignified, self-controlled, sound in faith and love and steadfastness. Older women likewise."
The characteristics that are the qualities that characterize older men, likewise, should characterize older women.
Now, this is epic, …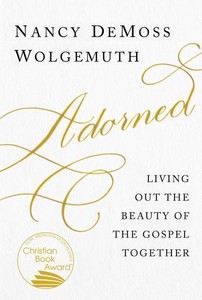 Get Your Copy
Woman to woman.
Older and younger.
Side by side.
Life on life.
This is God's good and beautiful plan.