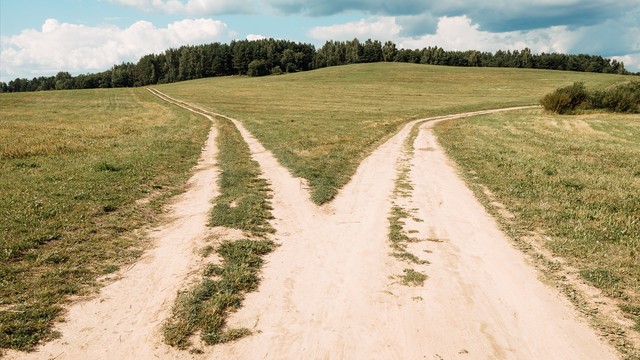 Episode 8: Two Paths Diverge
Katie Laitkep: Your patterns of sin may feel deeply ingrained, like you'll never shake them. Erin Davis wants to give you hope that change is possible.
Erin Davis: Part of what God does in us is take out our hard hearts and replace them with soft hearts.
Katie: This is The Deep Well with Erin Davis. I'm Katie Laitkep.
Erin's been helping us explore one dysfunctional family to help us understand some of the ramifications of our own sin. She's showing us why true forgiveness and change is possible.
Here's Erin.
Erin: I'm recording this season of The Deep Well podcast in the middle of October in Michigan, where it seems that every tree is showing off. I wish you could see it! There's every shade of red, every shade of orange, every shade of yellow. I've been walking to the studio through the most gorgeous woods. It's …
Katie Laitkep: Your patterns of sin may feel deeply ingrained, like you'll never shake them. Erin Davis wants to give you hope that change is possible.
Erin Davis: Part of what God does in us is take out our hard hearts and replace them with soft hearts.
Katie: This is The Deep Well with Erin Davis. I'm Katie Laitkep.
Erin's been helping us explore one dysfunctional family to help us understand some of the ramifications of our own sin. She's showing us why true forgiveness and change is possible.
Here's Erin.
Erin: I'm recording this season of The Deep Well podcast in the middle of October in Michigan, where it seems that every tree is showing off. I wish you could see it! There's every shade of red, every shade of orange, every shade of yellow. I've been walking to the studio through the most gorgeous woods. It's like I'm walking through one of my favorite poems, by one of my favorite poets, Robert Frost. You probably know these familiar lines:
Two roads diverged in a yellow wood,
And sorry I could not travel both
And be one traveler, long I stood . . . 
Many a literary professor has asked his students to defend what the two paths are. I'm not your literary professor, I'm your friendly Bible teacher. Let's just say that for our purposes as we walk through the story of Joseph, those two paths are bitterness and grace.
We're going to jump back into Genesis 42, and as much as I would love to read every single verse in this story to you, we are eight episodes in, and we still have a lot to talk about, so we have a lot of ground to cover. I'm going to do some summarizing.
Joseph's brothers came to Egypt to buy grain. Remember, the famine was great in their land. The famine was great in Egypt, but Joseph had those dreams, so they knew to be prepared. In God's providence, Joseph's brothers came to Joseph, who was now in power in Egypt. Just like he dreamed they would do, they bowed down before him in humility, and they asked him for food.
The text tells us that Joseph knew these were his brothers, but the brothers didn't know this was Joseph. They didn't know that the man they were depending on to save their lives, to save the life of their father, to save the lives of their children, their wives, their livestock—they didn't know that that was the very brother that they had betrayed.
In Genesis 42:18–22 there was (in the words of Reuben) a reckoning. Let me read it to us.
On the third day [good things always happen on the third day] Joseph said to them, "Do this and you will live, for I fear God: if you are honest men [remember, that's how the brothers described themselves], let one of your brothers remain confined where you are in custody, and let the rest go and carry grain for the famine of your households, and bring your youngest brother to me. So your words will be verified, and you shall not die." And they did so. Then they said to one another, "In truth we are guilty concerning our brother, in that we saw the distress of his soul, when he begged us and we did not listen. That is why this distress has come upon us." 
They had not forgotten about Joseph, and their guilty consciences were screaming. Verse 22:
And Reuben answered them, "Did I not tell you not to sin against the boy? But you did not listen. So now there comes a reckoning for his blood."
They got some things right. They knew, like we were talking about in the last episode, that the mistakes people make, the sins we commit, have a way of following us. So when Joseph said, "I'll give you grain, but you go get that little brother of yours," they thought, This is because of what we did to Joseph.
I'm reading my inflection in there, but it seems to me that Reuben had carried that regret all these years.
These chapters also tell us that Joseph wept when he heard his brothers' confession to each other. But he also took Simeon. You might remember Simeon as the brother who killed a village full of men. And Joseph told the other brothers that they could only have Simeon back if they brought Benjamin. Remember, Benjamin is Joseph's only full brother, the true baby of the family.
The rest of this chapter involved the brothers telling their dad that they had to take Benjamin to Egypt. Jacob did not take it well, but finally the need was so great that Jacob consented. Let me read to us Genesis 43:13–14. 
"Take also your brother, and arise, go again to the man. May God Almighty grant you mercy before the man, and may he send back your other brother and Benjamin. And as for me, if I am bereaved of my children, I am bereaved."
You can do both, you know. You can trust in God Almighty and still have strong feelings about your children, your grandchildren, your husband, your family. That's what Jacob did. Finally he said, "Okay, take baby Ben. May God Almighty go with you. Bring Simeon back. But I'm sad. I'm so sad."
So the brothers took their baby brother. They took a lot of gifts for the man they thought was a stranger in Egypt, and then they were reunited with their incarcerated brother, Simeon. Here is where the two paths diverge.
Joseph held all the cards. He had more than enough power to imprison all of his brothers for life. He could have thrown them into a pit just like they had thrown him into a pit. "See how you like it, brothers." Or, he could have sold all of his brothers as slaves and let them experience what it's like to be carted away to another land. 
Humanly speaking, Joseph had every good reason to choose revenge. In the face of such profound rejection and mistreatment, Joseph could have hardened his heart, and he could have become bent on revenge. So often, from our human perspective, revenge is justice. Somebody has to pay. But we don't only have our human perspective, we have God's perspective!
So Joseph had option number one: destroy his brothers in some terrible way, as they had tried to destroy him. Or he could choose the other way, the way Scripture calls the more excellent way. It's the way we only can choose with the help of the Holy Spirit living in us, and it's the way that we must take if we want to build God-honoring families.
Chapter 43 ends with a feast with Joseph and his brothers. Listen to Genesis 43:29–30.
And he [Joseph] lifted up his eyes and saw his brother Benjamin . . . 
Can you feel it, the emotion of this moment? Benjamin, who might have been a little bitty guy when Joseph was thrown in the pit, and now was surely a man. 
And he lifted up his eyes and saw his brother Benjamin, his mother's son, and said, "Is this your youngest brother, of whom you spoke to me? God be gracious to you, my son!" Then Joseph hurried out, for his compassion grew warm for his brother, and he sought a place to weep. And he entered his chamber and wept there.
Joseph was a crybaby!
When I was having our first son, Eli, I was under heavy anesthetics, and I did not know who my husband was. I said to the anesthesiologist, "Who is that?" 
She said, "That's your husband, Jason." 
And I said, "He's a crybaby!" 
He was. But Joseph was, too, so I think it's okay.
After all these years, after so much pain, after such profound rejection, and before his brothers said they were sorry for any of it, Joseph still had a soft heart for his brother.
This is the second time in these chapters that we see Joseph weeping for his brothers. The first time he wept for the brothers who did him wrong, and this time he weeps for the brother he's been separated from.
In Philippians 2:1 the apostle Paul asks us an important question. Here it is: Are your hearts tender and compassionate? There's an implication there, if you read the passage, that they're supposed to be. Are your hearts tender and compassionate? God's people are to be truth-telling people, and God's people are to be soft-hearted people.
How do I know that? That doesn't seem to be what the world tells us we should be. Aren't we supposed to pull ourselves up by our bootstraps? Aren't we supposed to take care of ourselves? Aren't we supposed to walk away from those who would cause us harm—don't let the door hit you on the way out?
Well, let me read you Ezekiel 11:19. 
And I will give them one heart, and a new spirit I will put within them. I will remove the heart of stone from their flesh and give them a heart of flesh.
How about Ezekiel 36:26?
And I will give you a new heart, and a new spirit I will put within you. And I will remove the heart of stone from your flesh and give you a heart of flesh.
It seems that, for the children of God, part of what God does in us is take out our hard hearts and replace them with soft hearts.
There's a beautiful parallel happening here that you can only see if you know your whole Bible. In Exodus God gave the law to Moses, and when He did, He carved it onto tablets of stone. Part of what Jesus did was establish a new covenant, not on tablets of stone; He wrote it onto our hearts. Hebrews 10:16 declares, 
This is the covenant that I will make with them
after those days, declares the Lord:
I will put my laws on their hearts,
and write them on their minds.
When you study your whole Bible—Old, New, the stories, the epistles, everything in-between, you're going to see that God gives us this beautiful word picture for how He transforms us. Just like the law is not carved on stone anymore but is somehow branded onto our soft, squishy hearts. We don't have hearts of stone anymore. God's given us hearts of flesh, which means He's given us hearts that are soft towards the ways of God.
I'm sure you've had this experience; it's kind of universal among us. Before I came to Christ, I would try to read the Bible, and it might as well have been Swahili. It meant nearly nothing to me. I could not grasp it! Then Jesus radically saved me, and immediately—immediately!—put a desire in me to know and understand His Word. Now, I still don't understand it all (that's the great treasure hunt of my life), but I do understand it. Where before there was no understanding, now there's understanding.
Same thing with sin. I used to justify a lot more than I can now. Now it seems like if I take the teeniest, tiniest step out of living the way God's called me to live, the Holy Spirit alerts me to it. God's given me a new heart! He's made me a new creation. He gives us a softness towards His Word, a softness towards His people, a softness towards the way His Spirit speaks.One of the ways God asks us to live with each other as the people of God is with compassion fueled by forgiveness.
I keep saying this, but it keeps coming up in the Scripture we're reading: every single member of your family is a sinner! Every single member of your family needs a Savior! Every single member of your family who is a sinner has experienced that our sin separates us from God, and to be separated from God is an unbearable consequence.
We saw that in Cain and Abel. When Cain received his punishment, which was to be cast away, he said, "This punishment is too much for me!" If any of us could articulate—and we probably can't—what it's like to be separated from God our Father by sin, we would repeat Cain's cry, "This is too much for me!"
None of my children had given their lives to the Lord yet, and I was in a church service, and I was praying about it. I've said it before: I can only parent them so far; the Holy Spirit has to take over from there. My eyes were open. I was singing a song. It's not like I saw anything with my actual eyeballs, but the Lord gave me this word picture of that boy with a backpack on his back, and it was really heavy. He tried to walk with that backpack on his back, but it began to double him over. Soon enough he was on the ground, and then the weight of that backpack pushed him six feet under, to death.
I knew what was in the backpack. It was sin. And I knew the weight of his sin was too heavy for him to carry. I prayed, right there in that church service, "Not on my watch! Lord, please intervene!"
It wasn't long after that, that boy gave his life to Jesus in my minivan, which is where all the spiritual conversations happen. And as soon as he did, he said, "Mama, I just feel so much better!" God had taken the backpack of sin off of my boy. Is he still a sinner? You betcha. But he's a new creation. Where he had a heart of stone, he now has a heart of flesh. 
How can we move towards our family members with compassion? 
How can we feel warm, soft feelings towards those who have actually sinned against us, sometimes in terribly grievous ways? 
How do we stay soft towards those who seem to like their sin and want to stay in it? 
There's only one way, which is to realize that their sin is separating them from God, and that to be separated from God is an unbearable consequence.
I'm so drawn to this phrase in the New Testament, which talks about Jesus this way often. It says that He looked upon the crowds and "he had compassion on them, because they were sheep without a shepherd" (Mark 6:35).
You're a sheep in a family full of sheep. Any time one of those sheep runs from the flock, you can be like Jesus in having compassion on them. They are like sheep, though they do have a Shepherd. Every single member of your family can experience redemption. Not because of what they can do to fix it, but because of Jesus, who according to Colossians 1:20 has reconciled all things to Himself—all things, all people!
It's true that in the way we've read Joseph's story he was innocent, but I assure you, he was a sinner. And the playing field was leveled, because Joseph was a sinner in need of grace and his brothers were sinners in need of grace.
I've often heard it said that the ground is level at the foot of the cross. What it means is that when each of us comes to the cross, all of us come as sinners, and all of us look up to Jesus in need of Him saving us. So, it's a good reminder that you are a sinner—so am I—and we need grace, just like the rest of our families.
I would say most of our families give us a million reasons to become hard-hearted. It's a protective way that we keep ourselves from being hurt again and again by the people we live with. We all experience frequent misunderstandings. We all get tired and cranky and hungry. We all experience words that hurt hurled at us by the people we love. Sometimes there are serious betrayals, and sometimes there's abuse. 
But as Joseph faced those who had inflicted so much harm on him, Scripture tells us he did not harden his heart. He chose the better path, the path of forgiveness. I didn't say the easier path. I didn't say the less painful path. I said the better path, the path of forgiveness, the path of humility, the path of extending grace to undeserving sinners, which is a right response for undeserving sinners like us. 
A life of tenderheartedness towards our family may not always be easy, but seeing your family with compassion will likely go against every inclination you have in your flesh, at least at the outset. Forgiveness can feel so much harder than holding onto hurt. But Robert Frost got it right:
I shall be telling this with a sigh
Somewhere ages and ages hence:
Two roads diverged in a wood, and I—
I took the one less traveled by,
And that has made all the difference.
Katie: We've all been hurt in some way by members of our family and by the people close to us. Erin Davis has been taking us to the Bible. She's been showing us how to get healing from that hurt and how to look to God to work in those situations.
If you're loving this series "Dysfunction" from Erin, the good news is there are several more episodes left for you to enjoy! But then, after you finish, I have a suggestion for you. Check out The Deep Well series called "Connected." It's about a pandemic of loneliness, and you don't have to stop there. Erin also has a book by the same name.
Erin, why did you want to address the topic of loneliness?
Erin: First of all, let me give a disclaimer: I don't think I caused the pandemic. I wrote this long before the COVID-19 pandemic, and we're recording this after. But even before that giant social experiment that we all went through, I could tell from my own life and from the lives of people that I love that, even though in some ways we are more connected than ever—I'm not on some homestead out in the middle of nowhere; most of us aren't—we don't understand God's plan for true connected lives, and that leaves us feeling lonely. It can leave us feeling anxious. It can cause us to miss some of the blessings that God intends for us to gain from each other. So that became the book Connected, with the subtitle: Curing the Pandemic of Everyone Feeling Alone Together. I think that is a pandemic that is still in our midst.
Katie: I agree. Now, if loneliness is something that you struggle with, I would highly recommend checking out Erin's book. It's called Connected. And you can also check out the season of The Deep Well that's called Connected. 
Now, this is the part of the podcast we call Erin Unscripted, and this time our audience is firing questions at Erin. Let's listen.
Erin Unscripted
Rebecca: A quote that comes to mind from everything you've shared today is that we are free to choose, but we are not free from the consequences of our choice. So when we choose to harden our hearts and not follow God's design, the consequences can stretch to our great-great-grandchildren.
Erin: Right. It's sobering, right?
Rebecca: Very.
Erin: I interviewed a woman once for Connected, and she shared that, whether intentionally or unintentionally, she was going to build a wall around her heart to keep herself from being hurt in the same way again. Then she said something I thought was so profound: "But it's really lonely on the other side of this wall." She just traded in one kind of pain for another.
If any of us have ever been in a family with somebody who's emotionally detached or distant or it's clear they have walls up, that unleashes a whole different brand of pain or sorrow. So again, I feel like one of the things these texts are doing is helping us to think generationally. It's in self-preservation that you go, "Okay, I'm going to harden my heart. He's never going to hurt me like that again." But think generationally. What are the potential consequences for your children, your grandchildren, your neighbors, the people you go to church with? You can drop a rock in a pond and there are always going to be ripple effects, and that's so true with our lives, too.
Rebecca: How do we help our kids to recognize that their patterns and decisions can have a lasting impact? They live so in the moment when they're little. I mean, they think twenty is old.
Erin: Right. Bless them. They think forty is ancient!
Rebecca: How can we help them to soften or desire to soften their hearts?
Erin: I think part of it is we teach them the whole Bible. God is a storyteller. He's preserved these stories not so we would memorize all these stories—which is sometimes, I think, how we handle Scripture with our kids. "My kids know Noah and the Ark. My kids know the story of Joseph." Well, okay, they also know the story of the Berenstain Bears and Pete the Cat, if you're at my house. The purpose is not just for them to know a certain number of stories.
There are a lot of stories that Scripture doesn't sanitize that we do. Your children asking hard questions might be unsettling, but it's also such a tremendous gift. How can you tell the story of Joseph in a way that's going to communicate that point? Well, God's done it for you! I'm not against children's Bibles. I agree there's some level of development. But teaching the whole Bible is a great next step in trying to portray these long-range things that God is showing us.
We also have this idea about families in our modern, Western culture that actually doesn't mirror what happens in a lot of the rest of the world or throughout time. My family is my husband and my kids, and sometimes we go visit the rest of the family. So, how are they going to understand generational connections if they only see Grandma and Grandpa twice a year?
I know that's a big can of worms, because there might be some really valid reasons why you're not attached in the lives of all of your extended family. But an interesting byproduct of that is how we perceive family. In the biblical context it's not that at all. It's not a husband and wife and their 2.5 kids. It's the whole extended family where you can really see these connections more clearly.
Woman 1: Would you also say that it is very important as parents and grandparents that we remain transparent and be honest about the things we used to do and how that's affected us and our children and our grandchildren?
Erin: Yes, we should burst the perfect parent myth, because nobody's buying it anyway. It is in seeing us sin and repent and turn that our children learn how to sin and then repent and turn. Just like it is in seeing us make cinnamon rolls that my children learn how to make cinnamon rolls. Just like how my children see how I organize our house. I mean, the trash bags go under the kitchen sink; why would they go anywhere else? Because my grandma's trash bags went there; my mom's trash bags went there. So, it's all inheritable. Yes, it's absolutely in taking ownership of our own stuff and not trying to pretend that we're perfect.
Woman 1: Our society seems to allow shame to stifle us, to just pull the carpet over things and pretend like it doesn't happen, and that doesn't fix the problem.
Erin: Oh, man. We could do a whole podcast about mommy wars and the ways we communicate to each other and the ways we shame each other. Let's be different kinds of moms, Christians.
Woman 2: Just a couple of comments I've thought of as we keep speaking. One is that one of the things I've taught my girls, who are adults now, is that every choice has a consequence. We get to pick our choices, we don't to get to pick our consequences. However, the hope in that is every moment of every day we're making choices. So even if you've made a string of bad choices, you can make the next one a good choice. Sometimes that's hard, but we're able to do that.
The other thing, in response to how we teach our kids . . . I'm old, so I used to listen to Dr. Dobson when he was on the radio. One of the things that I learned from him is, "More is caught than is taught."
Erin: Yes. It's true.
Woman 2: That makes me want to check my own behavior and my words so that I can make a bigger impact towards my kids.
One other comment: one of the things I like to teach . . . We used to have an informal devotion before they went to school in the morning. I used to say to them, "I don't want you to do something because I'm telling you to do it; I want you to do it because it's the right thing to do. I'm not going to be with you for the rest of your life, and you need to make good choices on your own. I can help you with that." Doing the right thing because it's the right thing, not because Mom or Dad says you need to do it.
Erin: That's so good.
Woman 2: Excellent, excellent teaching. Thank you.
Erin: Your comments reminded me of one of my dear friends, Dree. She was at my house. She made blueberry muffins, and there were a few little slots in the muffin pan that there wasn't enough batter for, and she filled them with water. I said, "Why did you do that?" 
She goes, "I don't know." 
I was like, "I've never seen anybody do that." 
She said, "Well, that's what my mom does." 
I was like, "Okay."
It's that caught-then-taught! Maybe it never had a rationale. Maybe the muffins turned out better; I don't know. But they are watching everything.
Your comments also brought to mind that one of the ways we walk this out is in our response to our children's sin. We will tell our boys all the time, "You've repented; it's over. Scripture says in Micah that God hurled that into the bottom of the sea." Then we'll say, "And He doesn't own a wetsuit." God does own a wetsuit, but the idea is God's not diving back down there and bringing it up to throw in your face tomorrow, and neither am I. Tomorrow's a new day. So we walk it out day by day by day in our family.
Katie: On the next episode, Erin will help us know how to do everything we can to pursue reconciliation when others have hurt us. You can hear that episode right now.
Erin: The Deep Well is part of the Revive Our Hearts podcast family . . .
Katie: . . . calling women to freedom, fullness, and fruitfulness in Christ.
*Offers available only during the broadcast of the podcast season.
For a donation of any amount