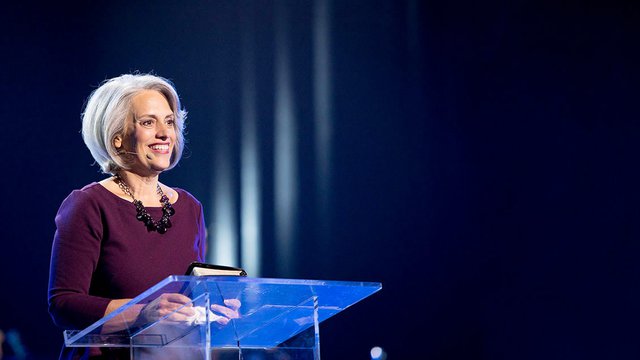 — Audio Player —
Is it Ever Okay to Leave?
Leslie Basham: Here's Pastor Lance Quinn.
Lance Quinn: Church-hopping today is so common, and Protestantism has splintered itself into so many groups, so many bodies, that it is very, very critical to find a church fellowship where you can serve. And unless there is fatal error, unless there is unrepentant sin in leadership, stay there.
Leslie Basham: October is Pastors' Appreciation Month, and you're listening to Revive Our Hearts. Yesterday, Nancy Leigh DeMoss gave us some advice on what to do when you disagree with your pastor about something. If you missed the program you can listen online at ReviveOurHearts.com. Today we'll get perspective on this issue from some pastors.
In the studio we have Lance Quinn, the pastor of The Bible Church of Little Rock, along with his wife Beth. We'll also hear from Tim and Hannah Senn. Tim is the Pastor of Student Ministries at The Bible Church. And we'll hear from Bill Elliff, pastor of the Summit Church in the Little Rock area, along with his wife Holly. Here's Nancy to get us started.
Nancy Leigh DeMoss: I know that the churches you men and your wives represent are churches where the Word is exalted and honored, where Christ is honored, where there is a commitment to discipling and winning people and building them in spiritual maturity, where there's a sense of the presence of the Lord.
But I have to tell you that I get a lot of letters from listeners, and I meet women across the country, who say, "I'm not in that kind of church. There are these issues in our church; there are these issues in the spiritual leadership. There's an absence of the presence of God."
There are concerns on the part of many, many women. They're not in charge. What are some things they can do? What is an appropriate response? Maybe they're concerned about something they saw in the youth group. What are appropriate ways to express those concerns? What are appropriate steps to take from a biblical standpoint, from a godly standpoint, to be a part of the solution rather than becoming a part of the problem?
Tim Senn: I think being informed is the first step. Oftentimes in youth ministry what occurs is that a student might not be appreciative of what you're doing, but maybe it comes back to Mom and Dad as, "Oh, I don't like youth group," or "It's no fun," or "I don't understand the teaching." Oftentimes it comes down to something other than what the student is relaying to their parents. Not always, but sometimes it just comes down to, their friends are going to another youth group or they just don't have the spiritual appetite that they really ought to have.
I have always really appreciated parents who come and just sit in the meeting and find out what we're doing, and before jumping to a conclusion just asking the right questions. And then, if there's genuine disagreement, just come directly to your pastor and sit down with him—we're open to that—and talk through those issues rather than talking to others or rallying a group to see your point, sometimes even before you understand.
I've always appreciated parents who not only do that but who come to understand that we have a desire to see their young person grow—to come to know the Lord and grow in Christ. When parents come to understand that we're on the same team, that's a real encouragement.
Lance Quinn: It may be true that a particular woman who's desirous of growth in Christ is in a church that maybe is not as desirous of growth in Christ as she is. One of the things I thank God for is Revive Our Hearts. That's what I think we're doing in this broadcast today.
We are encouraging women all across the country to understand where they are, to understand the sovereignty of God in where God has placed them. They may be in a local church that doesn't always accentuate the teaching of Scripture. Maybe they're in a church in which the spiritual leadership are not what they should be. Maybe they have somewhat valid concerns.
What I would do is counsel these ladies first of all to go to their husbands, if they have a husband who loves Christ and is involved in that particular local fellowship, because that's the first place to go. Talk with him. Share your concerns with him. See if he has those similar concerns. If you as a couple do have those similar concerns, then go to the spiritual leadership. Address those things. Go humbly; go submissively. To not go may not be helping the spiritual leadership understand where they may have some blind spots. So I would encourage them to go. Go in the right spirit, but go nonetheless.
If in fact you go and your efforts are not immediately realized in their admitting that they are not doing things in the way they should, then step back for a time and pray. Pray fervently that the spiritual leadership would see the things that you believe you see so clearly.
Now of course someone might say, "Well, you know my husband doesn't know the Lord." Maybe they're a single mom, and they have kids in the youth group, and they don't really know where to turn.
If she did not have support from a husband, a godly husband, she can appeal to other men in the spiritual leadership of the church. She can go to another elder, she can go to a deacon to be able to say, "I have a burden and I want to be able to speak about this." If, in fact, she's gone to the pastor, which sometimes can be very intimidating, there is that safety in going to other spiritual leaders within that fellowship and saying, "I have some concerns. I'm not sure if I fit here."
Although there are times I think—and maybe Bill can address this—what happens when a woman sees and perceives that this particular local church really isn't doing what a local church needs to do in reaching out to them and their family? Bill, what do you say? How do you counsel a woman like that?
Bill Elliff: I do think taking the biblical steps of trying to, in grace, in love, humbly address the issue. But there are times when you address issues, and it may be serious, sinful, ungodly things in church. I mean none of us would be so naive as to say that's not the case in a lot of places. There are points where it is the appropriate thing to say, "You know what . . .?" And I would go to the pastor. I would never leave a church without being gracious enough to go to the pastor. People do not understand how important that is.
Sometimes they say, "Well, I don't want to bother him with this." They may be really gracious in their thinking about it, but you don't know that, as a pastor. You don't know if they left mad, sad, glad. . . . So I think it's a great thing to go to the pastor and say, "You know what? We've prayed through this. We really feel like God is leading us to go to another place."
I think there are times when God leads people to other places in a very appropriate way. They get to be able to throw their life—life is brief, and they're able to throw their life into a place where they can support the leadership and pray for the leadership and have confidence in the leadership.
I'm not saying that if there's a pastor who's in sin that you just walk away, because there is a very clear path in Scripture to how you confront that, how you deal with it. The whole church discipline and restoration process is very important. So don't misunderstand that; I'm not saying that.
The other thing that I would say is that as we're troubled about some issue, it is . . . You know, Lance, in the Little Rock area there are 600 churches, all with all different personalities. Then there are serious doctrinal differences, but some are just preferential differences, style and a little methodology. I think it's really critical to understand the difference between those two.
Nancy: And yet at the same time then you find some people who today are really church-hoppers.
Bill: Oh absolutely.
Nancy: And every time there's some little point of disagreement or some preferential difference, then they're on to the next church.
Bill: Right.
Nancy: I think the balancing truth there is: You want to plant your life in a local body and stay there and be a part of the growth and the ministry of that church until God clearly reveals this is not where you belong.
Bill: And that says something about how you go about going to a church. You know, a lot of people come to church, jump in, and have no idea what that church really believes, where they're really headed. So it's important that you know what you're getting into, and then go with the desire that "I'm going to plant my life here, and unless the Lord moves me I'm going to stay here until Jesus comes."
Lance: I counsel people that there are three kinds of error. There is error, which often can be something for which we may not need to separate, to break fellowship. It may be a particular set of interpretive issues on certain passages where we may not always line up together. We can deal with error, even if we disagree at some points, at that level.
But then there is serious error. There are those doctrinal things that Bill mentioned that can be very serious, that can bring fracture into a fellowship. People need to be very careful, like you said, Bill, on the front end: What is this church about? What do they believe? And there may be instances where serious error is afoot, and that needs to be dealt with.
And then thirdly there is fatal error—error that is of such a magnitude that one of the cardinal doctrines of the faith is being denied. You know, you can actually go into a church situation where you had no idea that error was being promoted, and it may not even have been promoted at the time when you joined. But churches change. Doctrinal developments come, and sometimes those doctrinal developments are not good. In fact, if it's new, it's probably not true. If in fact fatal error has begun to occur and teaching has left orthodoxy, then the Scripture teaches you must leave. So these are serious issues.
You're right, Nancy. Church-hopping today is so common, and Protestantism has splintered itself into so many groups, so many bodies, that it is very, very critical to find a church fellowship where you can serve. And if indeed you make that choice on the front end, as you said, Nancy, stay there. Unless there is fatal error, unless there is unrepentant sin in leadership, stay there. In our 21st-century culture, it's likely that it may change next month, you know, with all the changes that are there. But you need to stick.
Leslie: We also need to thank a group of people who have made today's program possible. If you're a listener who has donated to Revive Our Hearts, thank you. A lot of costs go into producing a daily radio program and website, and you have made it possible.
If you've never given, would you consider helping us reach more women with the truth of God's Word? You can donate online at ReviveOurHearts.com or call us at 1-800-569-5959.
In our consumer-focused society we're constantly comparing brands. But it's dangerous when we start bringing the same mindset to church. Hear more tomorrow on Revive Our Hearts.
Revive Our Hearts with Nancy Leigh DeMoss is an outreach of Life Action Ministries.
*Offers available only during the broadcast of the podcast season.
Support the Revive Our Hearts Podcast
Darkness. Fear. Uncertainty. Women around the world wake up hopeless every day. You can play a part in bringing them freedom, fullness, and fruitfulness instead. Your gift ensures that we can continue to spread gospel hope! Donate now.
Donate Now