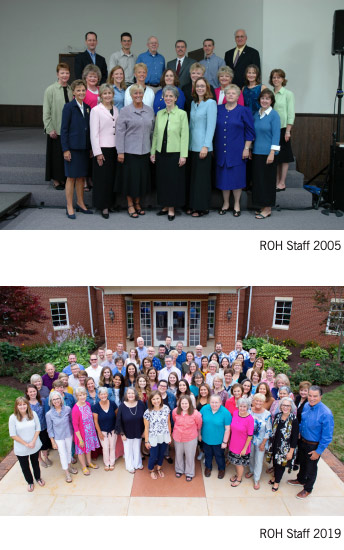 At Revive Our Hearts, we've seen the Lord move in monumental ways and in the smallest details, whether we've been on staff for twenty years or twenty months.
We prayed early on in the beginning of Revive Our Hearts
that we would not be a personality-based ministry but a content-based ministry. Today, many of the inquiries we receive from internationals are not for Nancy to come and speak (though it would be a dream come true for many of them), but they are more so asking for permission to get the content into their own language to share with other women. Praise the Lord! That's an answered prayer! —Monica Vaught
As a member of the production team, I have had the privilege of sitting in on many Revive Our Hearts recording sessions over the years. It's exciting to sense the light dawning on studio audience members as God's Spirit uses His Word to expose sin, stretch our faith, and show us the beauty of Christ and the gos- pel. Recently, Nancy's series on Psalm 136 ministered to many, including me, as we meditated on the many ways we see that "His Love Is Forever." —Phil Krause
God's faithfulness really is steadfast—His promises are true; He knows our needs; He cares; "all we have needed, His hand has provided." He will continue to be faithful and provide all that we need in the days ahead. —Nancy DeMoss Wolgemuth, Founder and President
God's faithfulness, the generosity of friends like you, and this ministry's decision to say "Yes, Lord," has led to women experiencing restored relationships, wholehearted surrender, and the hope of Christ. Women still need to hear the truth, which is why we continue to pursue the mission of helping them thrive in Jesus. We look ahead with gratitude and expectancy because the cry of our heart is still the same as it was twenty years ago: Yes, Lord.