In mid-March, I found myself gathered around the table at lunchtime with my children on a Wednesday. This was a relatively new experience, as typically my children were in school at that time of day, and I would be working in my office (probably scarfing down lunch at my desk while checking emails). 
My kindergartener, Judah, had just lost a tooth, and I was there to cheer him on (instead of finding out after the fact when he brought it home in a tooth-shaped container provided by the school nurse). I looked at his little toothless smile and sighed a contented sigh, "Thank you, coronavirus," I whispered.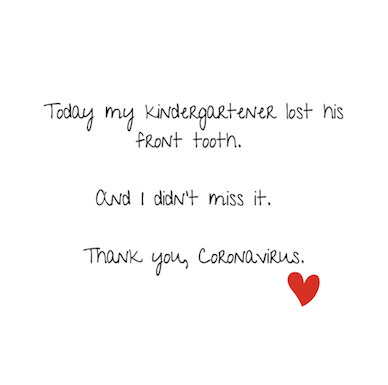 What we hoped would be a few extra days at home together back in March has turned out to be months of sheltering at home, as life in a pandemic goes on (and on and on). Through the many ups and downs, on the days when nothing feels normal about our "new normal," and though my heart often feels battered by waves of emotions like fear, loneliness, frustration, and sadness, I've kept writing thank-you notes to the coronavirus. 
When fear made me desperate to read my Bible, I wrote a thank-you note to the coronavirus.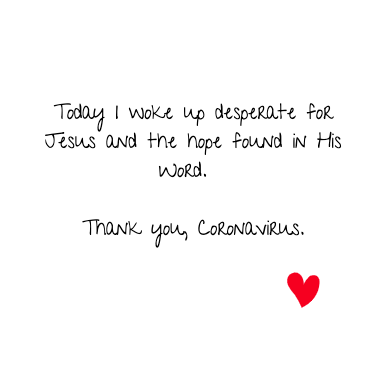 When church shifted from worshipping with hundreds to gathering in a family huddle in our living room, I wrote a thank-you note to the coronavirus.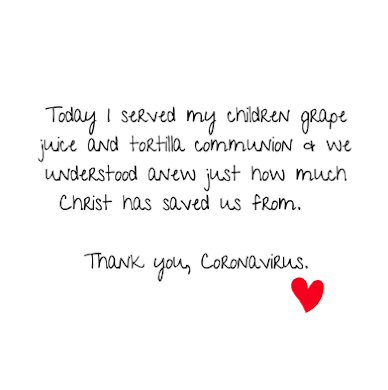 When shortages and shipping delays forced me to buy less and use what I have more, I wrote a thank-you note to the coronavirus.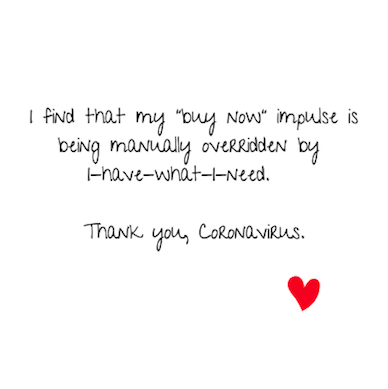 When I witnessed the onset of spring with wide-eyed wonder, I wrote a thank-you note to the coronavirus.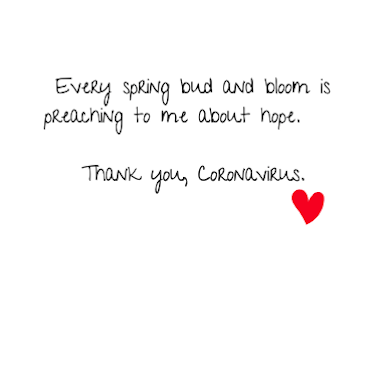 I was not really thanking the virus that has wreaked so much havoc on all of our lives. I was thanking the Lord, who in His sovereign goodness has allowed this virus to unravel our schedules, our systems, and our sense of security. 
Writing thank-you notes in dark days is not the same as pretending life is easy. (It isn't.) Gratitude is not the same as a forced smile. Yet gratitude is a right heart posture for the people of God. We are children of the promise (Gal. 4:28), recipients of lavish grace (Eph. 1:7–9). Our passports have already been stamped for heaven (John 14:2–3). We need not become unmoored by hardship, because we are anchored to the miraculous reality that this broken, battered world is not our forever home (Heb. 13:14). 
In every trial . . . 
In the midst of every heartache . . .
In seasons of abundance or scarcity . . .
Whether the world is at peace or seemingly on fire . . .
God's people are to be grateful people. 
Consider the Game Changed 
As I began to post my thank-you notes to the coronavirus, my Christian sisters responded in kind. Imagine, like I have, their powerful expressions of gratitude written on sticky notes around the globe. 
"Thank you, Lord, for using COVID-19 to show us the importance of things that can't be cancelled." —Wendy

"Thank you, COVID-19, for reminding me that work is a privilege. That I don't have to work, but I get to work and help provide for my family. May I never take work for granted after this." —Abrianna

"Thank you, coronavirus, for giving us a glimpse of what our missionaries in the field experience as they are separated physically from the church. It gives us a better idea of how to pray for them." —Debbie 

"Thank you, coronavirus, for driving me to my knees." —Nikki

"Thank you, coronavirus, that hurry has died. We don't grieve its death!" —Sabine
Do you feel a shift happening in your heart as you read those words? I feel it happening in mine. That's the power of gratitude. 
As Nancy DeMoss Wolgemuth wrote in Choosing Gratitude, "Gratitude has a big job to do in us and in our hearts. And it is one of the chief ways that God infuses joy and resilience into the daily struggle of life."
Gratitude chips away at the atrophy and apathy that so easily encroach on our hearts. Gratitude shifts our eyes away from our problems and toward our Provider. Gratitude moves us from pity to praise. This is why gratitude is more fitting, not less, when we face struggle, hardship, and pain. 
It's so simple, it seems too good to be true, but gratitude really does change the game. 
God's Will for You
First Thessalonians 5:18 declares, "Give thanks in all circumstances; for this is the will of God in Christ Jesus for you."
It is God's will, it seems, for gratitude to be the native language for every follower of Christ. Gratitude is not a millstone to be dragged through our lives, it is a tool, given to us by a loving and attentive God to help us thrive. Gratitude has the power to redeem pandemics and upheavals, disappointments and setbacks, moments of peace and moments of chaos, because gratitude reminds us that God is already at work to make all things new (Rev. 21:5).
As God's children, we have nearly countless ways to be grateful. Have you expressed that gratitude today? (Have I?) Let's start together now. 
Write a thank you note below to a specific hardship. Maybe it's the coronavirus, maybe it's cancer. Perhaps it's disappointment or physical pain? We are really thanking the Lord who has promised to work all things to our good (Rom. 8:28), but there is such profound relief in saying "thank you" for the things we worry will unravel us and declaring that God is already at work stitching the thread of redemption through our lives. 
I can't wait to read your thank you notes! My heart is already stirred by the thought of them. Oh, may God's people, be grateful people. He is surely worthy of our thanks. "Therefore let us be grateful for receiving a kingdom that cannot be shaken, and thus let us offer to God acceptable worship, with reverence and awe" (Heb. 12:28).