Are you thinking about bringing a group of women to True Woman '22? Three leaders who have been in your shoes share their experiences—from big picture perspective to the details—of how they navigated previous Revive Our Hearts conferences. 
Meet Charity, Jackey, and Peggy:
Charity Betts is part of the women's ministry team at First Baptist Church in New Lebanon, Ohio, where she spearheads events with the help of other women.
Jackey Geeslin has served as the women's ministry leader at Lifepoint Church in Sentobia, Mississippi, for the last seventeen years.
Peggy Campbell directs the women's ministry at Grace Community Church in Hudsonville, Michigan. 
What is your connection with Revive Our Hearts (ROH)?
Charity: In 2010 my mom purchased a ticket for me to attend the True Woman event held in Indianapolis that year. I went with a desire to get away but also a hesitancy about the conference. It challenged me in ways that I had not experienced for quite some time. From that moment forward I was convinced of the benefits of attending a True Woman/Revive conference. A couple years later, I had the pleasure of meeting Angela Temples and another ROH Ambassador at a restaurant. Over the years, Angela has grown to be a friend whom I love keeping connected with.
Jackey: I love ROH! I had listened to podcasts, attended True Woman and completed several of the Bible studies prior to 2017. Then In 2017, after listening to one of Nancy's messages on mentoring and discipleship, I became a monthly partner. Discipleship and teaching the Word of God are my passion. It's a joy to prayerfully and financially support a solid ministry which promotes biblical womanhood and personal revival. That same year, I became an ROH Ambassador to encourage, equip, and connect women's ministry leaders in the Memphis/Mississippi area. 
Peggy: I began hearing Nancy on the radio and attended the first True Woman Conference in Schaumburg in 2008. A short time prior to that I had started directing women's ministry. I haven't been to every conference, but I've been to all but two or three. I've always found them helpful and valuable, and a great way to get the women in my church involved. 
How often have you taken groups?
Charity: I have taken a group to True Woman and Revive annually since 2010. In 2017 when Revive sold out, we hosted a simulcast at our church instead of traveling to Indianapolis. Our first group had three women in it, including myself. Last year when we attended, we had between twenty and thirty women.
Jackey: I have taken groups from 2016–2022. When I became an ambassador in 2017, I began praying that God would use ROH to reach women for him and that ROH would become more well known in this area. In 2018 and 2019, twelve ladies from our church attended. 
Then 2021 was a turning point for us! It had been disappointing when True Woman had to be canceled in 2020 due to COVID, but I think it made us even more eager to attend and invite our friends in 2021. We ended up traveling to Indianapolis with thirty-five ladies on a charter bus that year! In February 2022, we opened hotel and travel registration only for those who attended in '21. The bus began to fill up quickly and we were half full by April 1. When we opened it up to others it completely filled within the next week. We had to close travel registration that week with fifty ladies signed up—fifty ladies representing five different churches in our area!
God has been so faithful to begin answering my prayer—that Revive Our Hearts would become well known in this area in order to glorify God and promote the solid, trusted resources of biblical womanhood and personal revival. 
Peggy: I've taken a group of women to every conference I've attended. It would fluctuate between six of us to the most being thirty. That was the year the conference focused on women in leadership. We had recently taken several new leaders on staff, so I worked hard to make sure those gals were there, and it was fun. Our secretaries also came because they were plugged into our Wednesday night girls' club, and that was probably one of our best years for attendance.
How did you handle logistics such as travel, reservations, meals for the weekend, etc.?
Charity: We typically put out information on Revive/True Woman a little later than most. We tend to wait until around Mother's Day. (For our church, it seems like in the winter we are asking families for camp deposits, etc., and I feel that if I'm asking a mom to choose between $250 for herself or for her child to go to camp, she's going to always choose her child. So, I try to spread out the event asks.) We'll spin the conference information into an idea for our guys too: "Hey guys . . . give your wife a gift of this conference this year."
Most years I have done a group reservation; it has seemed easier that way. This has allowed many of our women to commit to a ticket and then make payments to the church over the course of several months instead of having to pay the entire fee at once. (We are in a very economically diverse church, and we never want money to be a barrier.) This year with the breakout sessions being offered, I am encouraging women to register themselves but will also be willing to grab their tickets if need be.
When putting together the registration paperwork/email information, I reserve a block of rooms from one of the hotels listed on the conference website. I love that I can secure them and then add names as I get them. I typically hold rooms for a guesstimate of women, which for our church is around thirty. When it's a True Woman year, usually two nights of lodging, I try to find the most affordable hotel rooms, even if it means walking fifteen minutes to get to the convention center. There's a handful of hotels that allow six women per room. Other years, typically for Revive, I plan on four per room and pick a hotel I like. After choosing a hotel, I work up costs based on two per room, three per room, etc. On the registration paperwork, we allow our women to request if they want a bed/room to themselves. We also ask them to list one person they'd love to room with. As they turn in these forms, we build our roommate lists.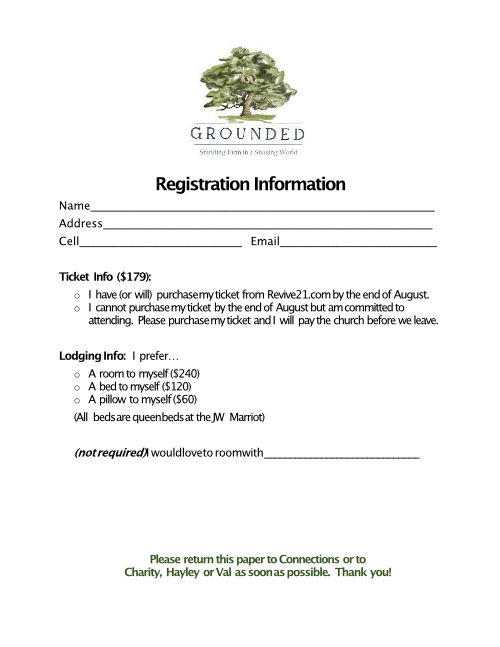 A couple months before the conference I begin locking in who is going. If someone is on the fence about going, I will mention who else is going and do my best to affirm that they will learn, grow, leave equipped, be comfortable in the room they're placed in, etc.
A month before, when hotel money is due (and/or remaining ticket money), I put out a list of everyone who is going and urge them to start connecting for carpooling. I give everyone a heads up that there are parking fees and make them aware of their options. (i.e., Hotel parking = $XX, City Centre Parking Garage = $XX, etc.) If they carpool, the expectation is set that everyone chips in for the parking fee. I work to ensure that everyone has the option and ability to ride with someone else.
(Sidenote: with True Woman being a two night conference, some of our women can't make that commitment. We have conversations and put in emails that it is well worth their time and effort to come, even if they have to drive over early on Friday morning and only stay for one night. This has been helpful each year for a couple of our women.)
For meals, I try to plan options for at least one lunch and one dinner. Typically, dinner on Thursday is on their own since everyone is coming in at varied times. Sometimes our hotel provides breakfast but I never make plans for that for the group. My normal dinner spiel for Friday is, "I have made a group reservation for Friday night at 5 p.m. at _____. We would love for you to join us; an average meal with a drink will be around $20. If you want or need to make other plans that is completely fine! Just let me know." Most of our women will enjoy dinner together but some choose to do other things. I generally know ahead of time which of the women may not have extra spending money and try to grab a few gift cards ahead of time to slip them to pay for their dinners privately. We typically invite the neighboring church ladies to join us as well. There are several places around downtown Indy that will take reservations that handle groups superbly. I try to come up with a lunch plan for Friday as well since there are sessions before and after. Most of the time a mobile group order has worked well. For example, I'll have the Panera app open, pass it down the aisles, gals will put their orders in my phone and hand back cash. I place the order and then one or two of us will walk to grab the food and bring it back to the convention center. There are several nice places on the lawn and inside the convention center to eat.
Jackey: Our church takes care of hotel arrangements and charter bus arrangements. The women purchase conference tickets on their own through Revive Our Hearts. Food and meals are also on their own. 
In the past we traveled in our own cars or church vans. But in 2021 we decided to secure a charter bus. The bus company worked with us to determine a price per person. I secured hotel rooms for everyone. Our church's office administrator was very helpful—she set up payment links where we could begin making small payments throughout the year with our final payment due September 1. All hotel and travel payments were made to our church and then the church took that money and made the final payment to the bus company and hotel. Doing it this way is stress-free for all attendees. They make their monthly payments and everything else is taken care of for them. 
Peggy: The majority of the time we have either carpooled or taken the church van, depending on the group size. The very first year we actually rented a bus and went with a couple of church groups. Sometimes we pack the majority of our food just to save money for those that are on a budget, if we're staying in a hotel that has refrigerators. Indianapolis is a great venue and there are a lot of great restaurants. 
Talk about the process (what the weekend looked like), and any specific activities you planned for your ladies.
Charity: I try to head out in the first group of ladies and arrive at the hotel first. Because everyone has paid the church for their rooms, I work through our room list and have the hotel put my church credit card on each room in order to ensure that it's taken care of prior to anyone else arriving. 
One thing I love doing is putting snacks/gift bags together for the ladies in their hotel rooms. Some hotels have allowed me to do this, and others haven't. It's an added bonus.
I form a group chat as well and ask everyone to text as they arrive. I will ask them to shout out if they want a seat with the group and then also let me know if they are in the convention center and want to grab seats. Most of the time it works out well. (I also will create room chats so that I can communicate with each room separately and do quick checks if needed.)
During True Woman, because we have two nights together, one night we try to hit up a late night coffee or ice cream shop downtown. Once again, I'll shoot out a group text and part of our ladies will end up going and others will do their own things. On the other night, typically Friday night, we try to gather in the hotel lobby space. We'll find a quieter spot, pool our snacks together and have conversations. We'll ask everyone to share one thing that God has been saying, often share a prayer request or a conviction, and then enjoy each other's company.
In general, I try to create a solid framework. We communicate it, encourage it, and then are completely okay with the women being independent as they need to. For most of our women, this is their only girls' weekend, kid free, husband free, responsibility free weekend of the year, and we want it to be a Sabbath of sorts.
Jackey: We travel together, try to sit together if possible, and eat at least two meals together. With so many people it gets difficult to keep up with each other. Hotel rooms are four people per room, so we encourage them to hang out together and stick together so no one feels left out. At night, each usually has a little "room time" to discuss what God showed us and what He is teaching us throughout the conference.
Peggy: The goal is to go to the conference and attend all the sessions. We hear of other groups who may take an afternoon shopping or something like that, but we've never done that. If we're going to the conference, we go to the conference. There are stops on the way down since the trip is a little over five hours. So we'll stop to eat on the way down and on the way back. But some years, depending on who is going, we might pack our lunch. We don't typically incorporate additional activities other than what the conference has planned. 
How have you seen your church impacted by the message from True Woman and the ladies in your church attending? And any specific examples/stories you want to share related to taking a group and the personal impact?
Charity: In the twelve years I have taken groups, I have had one lady regret coming. One. Many have hesitated, but only one has ever left wishing she hadn't come, and she came with the wrong heart and didn't give it a fair shake. Our women's ministry has been impacted by the principles of True Woman by being more about the Word than anything else. The women that have come leave challenged and changed. I love conferences. Period. I love learning; I love the swag; I love Jesus; I love worship—I love conferences. True Woman has been consistently the most provoking, challenging, beautiful, equipping, reconciling conference that I've ever attended. I will, year after year, promote True Woman because of the beautiful space it creates for knowledge of the Word, affection toward the Lord, and action toward our calling to fully live out who He has created us to be.
Jackey: What a difference I've seen since 2016. God is using ROH and True Woman to change lives! The ladies are now familiar with listening to podcasts, using the resources and Bible studies, and sharing them with others! I love hearing them talk about something they heard on the podcast or how God used the message of ROH. Now they are promoting the message of biblical womanhood and personal revival—not just me. Now they ask me,"What study are we doing next?" Over the years I've seen God work in so many women's lives—new friendships have been formed, women are asking for specific prayer, being more transparent, sharing, mentoring, learning to forgive, building stronger marriages, being grounded and rooted in God's Word, being more Bible centered, learning to pray, understanding more about gender identity, and so much more! 
Peggy: We have a core group of women that are serious about their faith and growing in the Word. They would attend True Woman or Revive with a desire to keep growing and benefit from that. It's a little harder now—we've been going for years, and there was a time when moms were intent on bringing their daughters, but most of those daughters are now grown and out of the house. Now it's getting that next group of moms with high schoolers interested in doing the same thing. 
We have several in our church who have gone early, and who are going to go down early this time to volunteer. There is one family with four girls and the mom has taken all of them at different times; they've all volunteered at one time or another for the last four or five years, and they're signed up to go again. Volunteering is another way, too, for a mom to get her daughter there. It's a great idea to get them involved, not only in attending, but seeing another side of the ministry.
What advice would you give to a leader who's organizing a group to come to True Woman '22, especially if it's her first time?
Charity: Make a solid plan, but hold it loosely. Strongly encourage your women to go. If they don't sign up, have personal conversations and then follow up. If it's your first time and you only have a few coming, be glad for two or three. Those two or three women will be impacted and then will be the best advertisers the next time it comes around. As the leader, once you're there, be okay with being independent. There have been seasons where I need to segment myself off because I'm in a fragile spiritual state and have needed the space to process what God is attempting to get through to my head and heart. Try to make sure every lady has a buddy that they are rooming with. If there is an "awkward" room, have conversations ahead of time with whoever the natural leader is in the room and ask them to be aware of everyone and make sure everyone is being given the chance to be included. Be expectant for God to speak and prepare the women for re-entry. True Woman does a great job of this but I'm reiterating to be on guard and to be ready for whatever mess is made, whatever crisis has come, whatever dryness still exists once they get back home is crucial.
Jackey: Do it! Start with prayer asking God to give you wisdom in reaching the ladies in your church and your community. Pray about which ladies in your church might come alongside you to help. Get those ladies together as soon as possible and start planning. Secure hotel rooms at a discounted price through the True Woman/ROH conference website. Work with a charter bus company in your area to get the best price. If you have less than thirty-five women, you might choose to rent a smaller bus or van(s). Work with your church to see if you could set up payment plans. This has been so helpful for our ladies. Use the promo on the conference website to begin promoting as soon as possible. Possibly reach out to other women's ministry leaders in your community and plan on traveling together. And lastly, don't get discouraged. It's taken a few years to get where we are. God is in control, not us. He draws those who need to be there and all in His timing. God is faithful and continues to work—sometimes it's one lady at a time! Trust Him. 
Peggy: The biggest challenge for me is always the rooming. It's making sure I have all of the information with me when I get there, making sure I'm in the right spot, and being prepared to make any changes. I may get others to help plan that aspect of the trip and make those arrangements. 
We always enjoy it and I'm looking forward to this year. We love the bookstore and having time to look at and purchase material, and we love getting to know some of the Revive Our Hearts staff. That is always an encouragement, and we're glad to see them when we participate. 
Hear what some of the women from Jackey's church had to say about Revive Our Hearts conferences:
"Someone gave me a free ticket, but still I immediately wanted to make an excuse to not go because I had too much going on. God had different plans. I realized I had been making excuses about a lot of things—reading my Bible, attending discipleship class—even my children had noticed. The conference was just what I needed! While listening to Nancy, she said we must be grounded in Christ and to be grounded we must know Him, and to know Him we must know His Word. God was revealing to me that I had not been grounded in Christ. Then she started talking about how spiritual growth does not happen by accident. This is so embarrassing to say, but in my mind I kind of believed that going to church, serving in the church, and sometimes attending discipleship class was enough. God revealed to me that was not the case. I have realized through Revive our Hearts and their many speakers that I must cling to God and His Word so tightly because my flesh wants the exact opposite and it will not stop, so I can't stop seeking God's Word—ever. I can't drift into spiritual maturity. I must be intentional about seeking God's Word."
"I got a big fat reminder from Laura Perry to NEVER stop praying for my daughter. That God's plans for her life are BIG and BEAUTIFUL and WILL come to pass. I needed the reminder to persist in my prayers for her, even when I'm weary. And what a GREAT reminder that the Lord will RESTORE the time that the locusts devoured. What HOPE!!!"
"Since I'd never been to a women's conference, I didn't know what to expect. The speakers were so brave in sharing what God has done/is doing in their lives. During worship, I would get so emotional. You could feel the Holy Spirit when you walked into the room. I wasn't very sure what God was trying to tell me. So I waited patiently with an open heart. Later that week I realized God wanted me to share a secret that had constantly been weighing me down, something that I had not shared before. Since the conference, I am learning to trust people, to be honest about my struggles because that's how we grow together. And that we are supposed to bear one another's burdens. It's not good to isolate. We were never meant to go through life alone; forgiveness is essential and I don't want my heart to become hardened."
"I had not planned on going to Revive '21. I was getting hit so hard by Satan that I didn't feel worthy to go. But throughout the entire trip God showed me that I am worthy! I'm so glad I went!"