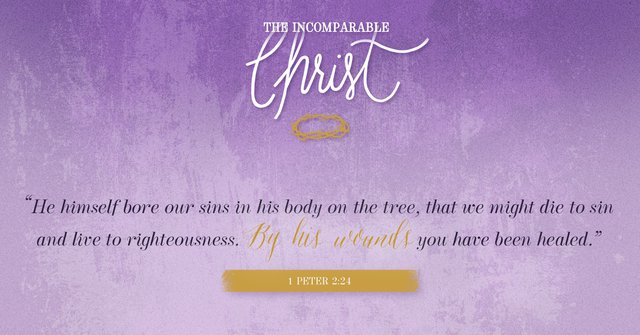 — Audio Player —
Reflecting on the Cross
"And being found in human form, he humbled himself by becoming obedient to the point of death, even death on a cross" (Philippians 2:8).
Leslie Basham: This is Revive Our Hearts with Nancy Leigh DeMoss. We invite you to slow down and reflect on the events marked by this Good Friday. We're about to explore many Scriptures that come together to tell this important story, so let's listen, and let the Word wash our hearts.
"And they brought him to the place called Golgotha (which means Place of a Skull). And they offered him wine mixed with myrrh, but he did not take it. And they crucified him and divided his garments among them, casting lots for them, to decide what each should take. And it was the third hour when they crucified him" (Mark 15:22–25).
"I delivered to you as of first importance what I also received: that Christ died for our sins in accordance with the Scriptures" (1 Corinthians 15:3).
"Christ redeemed us from the curse of the law by becoming a curse for us—for it is written, 'Cursed is everyone who is hanged on a tree'" (Galatians 3:13).
"For our sake he made him to be sin who knew no sin, so that in him we might become the righteousness of God" (2 Corinthians 5:21).
"Pilate also wrote an inscription and put it on the cross. It read, 'Jesus of Nazareth, the King of the Jews.' Many of the Jews read this inscription, for the place where Jesus was crucified was near the city, and it was written in Aramaic, in Latin, and in Greek. So the chief priests of the Jews said to Pilate, 'Do not write, "The King of the Jews," but rather, "This man said, I am King of the Jews.'" Pilate answered, 'What I have written I have written'" (John 19:19–22).
"For while we were still weak, at the right time Christ died for the ungodly. For one will scarcely die for a righteous person—though perhaps for a good person one would dare even to die—but God shows his love for us in that while we were still sinners, Christ died for us" (Romans 5:6–8).
"And when they came to the place that is called The Skull, there they crucified him, and the criminals, one on his right and one on his left. And Jesus said, 'Father, forgive them, for they know not what they do'" (Luke 23:33–34).
"In him we have redemption through his blood, the forgiveness of our trespasses, according to the riches of his grace" (Ephesians 1:7).
"Since, therefore, we have now been justified by his blood, much more shall we be saved by him from the wrath of God. For if while we were enemies we were reconciled to God by the death of his Son, much more, now that we are reconciled, shall we be saved by his life" (Romans 5:9–10).
"My little children, I am writing these things to you so that you may not sin. But if anyone does sin, we have an advocate with the Father, Jesus Christ the righteous. He is the propitiation for our sins, and not for ours only but also for the sins of the whole world" (1 John 2:1–2).
"When the soldiers had crucified Jesus, they took his garments and divided them into four parts, one part for each soldier; also his tunic. But the tunic was seamless, woven in one piece from top to bottom, so they said to one another, 'Let us not tear it, but cast lots for it to see whose it shall be.' This was to fulfill the Scripture which says, 'They divided my garments among them, and for my clothing they cast lots'" (John 19:23–24).
"For all have sinned and fall short of the glory of God, and are justified by his grace as a gift, through the redemption that is in Christ Jesus, whom God put forward as a propitiation by his blood, to be received by faith. This was to show God's righteousness, because in his divine forbearance he had passed over former sins. It was to show his righteousness at the present time, so that he might be just and the justifier of the one who has faith in Jesus" (Romans 3:23–26).
"And those who passed by derided him, wagging their heads and saying, 'You who would destroy the temple and rebuild it in three days, save yourself! If you are the Son of God, come down from the cross.' So also the chief priests, with the scribes and elders, mocked him, saying, 'He saved others; he cannot save himself. He is the King of Israel; let him come down now from the cross, and we will believe in him. He trusts in God; let God deliver him now, if he desires him. For he said, "I am the Son of God."' And the robbers who were crucified with him also reviled him in the same way" (Matthew 27:39–44).
"The soldiers also mocked him, coming up and offering him sour wine and saying, 'If you are the King of the Jews, save yourself!'" (Luke 23:36–37).
"But I am a worm and not a man, scorned by mankind and despised by the people. All who see me mock me; they make mouths at me; they wag their heads; 'He trusts in the LORD; let him deliver him; let him rescue him, for he delights in him!'" (Psalm 22:6–8).
"I looked for pity, but there was none, and for comforters, but I found none. They gave me poison for food, and for my thirst they gave me sour wine to drink" (Psalm 69:20–21).
"One of the criminals who were hanged railed at him, saying, 'Are you not the Christ? Save yourself and us!' But the other rebuked him, saying, 'Do you not fear God, since you are under the same sentence of condemnation? And we indeed justly, for we are receiving the due reward of our deeds; but this man has done nothing wrong.' And he said, 'Jesus, remember me when you come into your kingdom.' And he said to him, 'Truly, I say to you, today you will be with me in Paradise'" (Luke 23:39–43).
"For Christ also suffered once for sins, the righteous for the unrighteous, that he might bring us to God, being put to death in the flesh but made alive in the spirit" (1 Peter 3:18).
"But standing by the cross of Jesus were his mother and his mother's sister, Mary the wife of Clopas, and Mary Magdalene. When Jesus saw his mother and the disciple whom he loved standing nearby, he said to his mother, 'Woman, behold, your son!' Then he said to the disciple, 'Behold, your mother!' And from that hour the disciple took her to his own home" (John 19:25–27).
"He himself bore our sins in his body on the tree, that we might die to sin and live to righteousness. By his wounds you have been healed" (1 Peter 2:24).
"And when the sixth hour had come, there was darkness over the whole land until the ninth hour. And at the ninth hour Jesus cried with a loud voice, 'Eloi, Eloi, lema sabachthani?' which means, 'My God, my God, why have you forsaken me?' And some of the bystanders hearing it said, 'Behold, he is calling Elijah.' And someone ran and filled a sponge with sour wine, put it on a reed and gave it to him to drink, saying, 'Wait, let us see whether Elijah will come to take him down'" (Mark 15:33–36).
"For in him all the fullness of God was pleased to dwell, and through him to reconcile to himself all things, whether on earth or in heaven, making peace by the blood of his cross. And you, who once were alienated and hostile in mind, doing evil deeds, he has now reconciled in his body of flesh by his death, in order to present you holy and blameless and above reproach before him" (Colossians 1:19–22).
"After this, Jesus, knowing that all was now finished, said (to fulfill the Scripture), 'I thirst.' A jar full of sour wine stood there, so they put a sponge full of the sour wine on a hyssop branch and held it to his mouth. When Jesus had received the sour wine, he said, 'It is finished,' and he bowed his head and gave up his spirit" (John 19:28–30).
"And every priest stands daily at his service, offering repeatedly the same sacrifices, which can never take away sins. But when Christ had offered for all time a single sacrifice for sins, he sat down at the right hand of God, waiting from that time until his enemies should be made a footstool for his feet. For by a single offering he has perfected for all time those who are being sanctified" (Hebrews 10:11–14).
"Knowing that you were ransomed from the futile ways inherited from your forefathers, not with perishable things such as silver or gold, but with the precious blood of Christ, like that of a lamb without blemish or spot" (1 Peter 1:18-19).
"Then Jesus, calling out with a loud voice, said, 'Father, into your hands I commit my spirit!' And having said this he breathed his last" (Luke 23:46).
"Since therefore the children share in flesh and blood, he himself likewise partook of the same things, that through death he might destroy the one who has the power of death, that is, the devil, and deliver all those who through fear of death were subject to lifelong slavery" (Hebrews 12:14–15).
"In this the love of God was made manifest among us, that God sent his only Son into the world, so that we might live through him. In this is love, not that we have loved God but that he loved us and sent his Son to be the propitiation for our sins" (1 John 4:10).
"And behold, the curtain of the temple was torn in two, from top to bottom. And the earth shook, and the rocks were split. The tombs also were opened. And many bodies of the saints who had fallen asleep were raised, and coming out of the tombs after his resurrection they went into the holy city and appeared to many. When the centurion and those who were with him, keeping watch over Jesus, saw the earthquake and what took place, they were filled with awe and said, 'Truly this was the Son of God!'" (Matthew 27:51–54).
"For it was indeed fitting that we should have such a high priest, holy, innocent, unstained, separated from sinners, and exalted above the heavens. He has no need, like those high priests, to offer sacrifices daily, first for his own sins and then for those of the people, since he did this once for all when he offered up himself" (Hebrews 7:26–27).
"Nor was it to offer himself repeatedly, as the high priest enters the holy places every year with blood not his own, for then he would have had to suffer repeatedly since the foundation of the world. But as it is, he has appeared once for all at the end of the ages to put away sin by the sacrifice of himself. And just as it is appointed for man to die once, and after that comes judgment, so Christ, having been offered once to bear the sins of many, will appear a second time, not to deal with sin but to save those who are eagerly waiting for him" (Hebrews 9:25–28).
"Since it was the day of Preparation, and so that the bodies would not remain on the cross on the Sabbath (for that Sabbath was a high day), the Jews asked Pilate that their legs might be broken and that they might be taken away. So the soldiers came and broke the legs of the first, and of the other who had been crucified with him. But when they came to Jesus and saw that he was already dead, they did not break his legs. But one of the soldiers pierced his side with a spear, and at once there came out blood and water. He who saw it has borne witness—his testimony is true, and he knows that he is telling the truth—that you also may believe. For these things took place that the Scripture might be fulfilled: 'Not one of his bones will be broken.' And again another Scripture says, 'They will look on him whom they have pierced'" (John 19:31–37).
"He was despised and rejected by men; a man of sorrows, and acquainted with grief; and as one from whom men hide their faces he was despised, and we esteemed him not. Surely he has borne our griefs and carried our sorrows; yet we esteemed him stricken, smitten by God, and afflicted. But he was wounded for our transgressions; he was crushed for our iniquities; upon him was the chastisement that brought us peace, and with his stripes we are healed.
"All we like sheep have gone astray; we have turned—every one—to his own way; and the LORD has laid on him the iniquity of us all. He was oppressed, and he was afflicted, yet he opened not his mouth; like a lamb that is led to the slaughter, and like a sheep that before its shearers is silent, so he opened not his mouth. By oppression and judgment he was taken away; and as for his generation, who considered that he was cut off out of the land of the living, stricken for the transgression of my people?

"Yet it was the will of the LORD to crush him; he has put him to grief; when his soul makes an offering for guilt, he shall see his offspring; he shall prolong his days; the will of the LORD shall prosper in his hand. Out of the anguish of his soul he shall see and be satisfied; by his knowledge shall the righteous one, my servant, make many to be accounted righteous, and he shall bear their iniquities. Therefore I will divide him a portion with the many, and he shall divide the spoil with the strong, because he poured out his soul to death and was numbered with the transgressors; yet he bore the sin of many, and makes intercession for the transgressors" (Isaiah 53:3–12).
"For God so loved the world, that he gave his only Son, that whoever believes in him should not perish but have eternal life. For God did not send his Son into the world to condemn the world, but in order that the world might be saved through him. Whoever believes in him is not condemned, but whoever does not believe is condemned already, because he has not believed in the name of the only Son of God" (John 3:16–18).
"Whoever believes in the Son has eternal life; whoever does not obey the Son shall not see life, but the wrath of God remains on him" (John 3:36).
"He committed no sin, neither was deceit found in his mouth. When he was reviled, he did not revile in return; when he suffered, he did not threaten, but continued entrusting himself to him who judges justly." (1 Peter 2:22–23).
"But we see him who for a little while was made lower than the angels, namely Jesus, crowned with glory and honor because of the suffering of death, so that by the grace of God he might taste death for everyone. For it was fitting that he, for whom and by whom all things exist, in bringing many sons to glory, should make the founder of their salvation perfect through suffering" (Hebrews 2:9–10).
"Then I looked, and I heard around the throne and the living creatures and the elders the voice of many angels, numbering myriads of myriads and thousands of thousands, saying with a loud voice, 'Worthy is the Lamb who was slain, to receive power and wealth and wisdom and might and honor and glory and blessing!' And I heard every creature in heaven and on earth and under the earth and in the sea, and all that is in them, saying, 'To him who sits on the throne and to the Lamb be blessing and honor and glory and might forever and ever!' And the four living creatures said, 'Amen!' and the elders fell down and worshiped" (Revelation 5:11–14).
Song:
Worthy is the, Lamb who was slain,
Holy, holy is He.
We sing a new song, to Him who sits on
Heaven's mercy seat.
Holy, holy, holy
Is the Lord God Almighty,
Who was, and is, and is to come.
With all creation I sing,
Praise to the King of Kings,
You are my everything,
And I will adore You.
Clothed in rainbows, of living color,
Flashes of lightening, rolls of thunder.
Blessing and honor, strength and
Glory and power be
To You, the only wise King.
Holy, holy, holy
Is the Lord God Almighty,
Who was, and is, and is to come.
With all creation I sing,
Praise to the King of Kings,
You are my everything,
And I will adore You.1
Leslie: We've been letting the Word of God saturate our hearts on this Good Friday. You can find the references to all the Scripture we just heard by visiting ReviveOurHearts.com. Just click on "Today's Program," and read today's transcript.
I hope you have a very meaningful weekend remembering the death, burial and resurrection of our Lord. Then be back with us again Monday for Revive Our Hearts.
Revive Our Hearts with Nancy Leigh DeMoss is an outreach of Life Action Ministries.
All Scripture is taken from the English Standard Version.
1Kari Jobe. "Revelation Song." Kari Jobe. Gateway Create Publishing, 2009.
*Offers available only during the broadcast of the podcast season.
Support the Revive Our Hearts Podcast
Darkness. Fear. Uncertainty. Women around the world wake up hopeless every day. You can play a part in bringing them freedom, fullness, and fruitfulness instead. Your gift ensures that we can continue to spread gospel hope! Donate now.
Donate Now