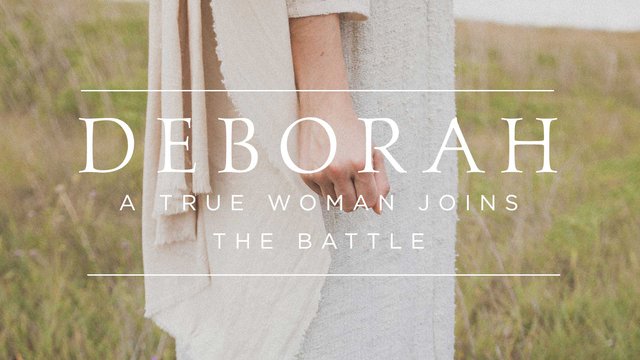 — Audio Player —
Encouragement to Stay in the Battle
Dannah Gresh: As you seek to follow God's will for your life, you'll go through some times of discouragement. Here's what it's looked like for Nancy DeMoss Wolgemuth.
Nancy DeMoss Wolgemuth: I have found myself battling fear, extreme weariness, plaguing doubts. I cannot tell you how many time I have wanted to go AWOL.
Dannah: How do you handle seasons like that?
This is Revive Our Hearts with Nancy DeMoss Wolgemuth, author of Lies Women Believe and the Truth That Sets Them Free, for Friday, August 6, 2021. I'm Dannah Gresh.
Over the next few minutes we'll hear about a woman whose days were filled with normal, everyday tasks. Does that sound like your life? One day God called this woman to do something quite unusual, and she was ready to obey.
This week we've been in the book of Judges with Nancy. She's been describing the courage of Deborah in a message called "A True Woman Joins the Battle." It's been a rich portrait of a woman who inspired those around her to trust God and take action. If you missed the first two installments of this story, you can find them at ReviveOurHearts.com, or on the Revive Our Hearts app. Nancy first delivered this message at one of the True Woman Conferences. Let's listen to part three, "A True Woman Joins the Battle." We'll see that Deborah isn't the only woman God used in this story.
Nancy: Back in chapter 4, as we come to the end of the account, we one other woman who got involved—although , admittedly in an unusual way. I won't read the text, but starting in verse 17, there's this dramatic account of the destruction of Sisera, the Canaanite commander, at the had of a woman named Jael. 
Jael was not an Israelite, but in this case she sided with the God of Israel against His enemies. Sisera flees through the torrential downpour to Jael's tent, assuming that he will be safe there since her family has a treaty with the Canaanites.
Sisera's cold; he's wet; he's exhausted; he's drenched—he's been running through this downpour. Jael welcomes him. She invites him in. She gives him some milk to drink. He's exhausted from the battle. He falls asleep. And then Jael takes a hammer and drives a tent peg into his head and kills him.
Now, Matthew Henry, one of my favorite commentators suggests that it is possible that Jael initially nothing more than true kindness and hospitality until God "by an immediate impulse upon her mind directed her to do otherwise." He goes on to say, "We are not to rely on such impulses today."
Now, this is rather gruesome, and if you haven't heard the story before you'd think, Wow! What kind of rolel model is this!?
Now, keep in mind that Sisera was a ruthless, violent man who was attempting to destroy God's chosen people. In fact, in chapter 5, verse 30, his own mother talks about how he and his men would have thought nothing of raping and killing any woman they considered an enemy. 
In Deborah's victory hymn in chapter 5, Jael's act of courage is celebrated, and she is blessed by God.
I love what Charles Spurgeon, that prince of preachers, had to say about how God used Jael: 
The LORD can still use feeble instrumentalities. Why not me? He may use persons who are not commonly called to great public engagements. Why not you? The woman who slew the enemy of Israel was no Amazon but a wife who tarried in her tent. She was no orator but a woman who milked the cows and made butter. May not the LORD use any one of us to accomplish His purposes? 
So we have the conclusion of the battle. Chapter 4, verse 23, tells us that "On that day God subdued Jabin the king of Canaan before the people of Israel." Chapter 5, verse 31, tells us: "And the land had rest for forty years."
Notice the sequence: first the battle, and then the rest. 
The impact of Deborah's life, her courage, her faith, her godly influence was felt not only in her generation but also in the next forty years. It makes me ask, "What mark will your life leave on your generation and the one to come?"
The spiritual battle in our day is no less intense than it was in Deborah's. The enemy is no less powerful. God is chastising His people for our sins and our idolatry. There are so many believers in our churches seem oblivious to what is going on. Then there are a lot of others who realize what is going on, but they feel helpless, powerless to do anything about it.
I received an email from Chuck Colson not too long ago. He said,
I really believe that in this moment of history that the one great hope is the sleeping giant in our midst, the believers, will be awakened. It has happened before, and it can happen again, if He so chooses. It's the first item I pray for every morning.
I start out by reading that quote from John Angell James:
A community is not likely to be overthrown where woman fulfills her mission, for by the power of her noble heart over the hearts of others, she will raise it from its ruins and restore it again to prosperity and joy.
Oh how I pray that God will raise up in our day, not just one woman, but thousands of women across this country and around the world, women who will arise as Deborah did, women of the Word, women of clear vision, clarity, courage, conviction, faith, humility, women who are willing to say, "Yes, Lord," women whose lives will inspire the men around them to believe God for what only He can do.
I believe that the influence of that army of godly women will be incalculable in our homes, our churches, and in our culture, and around the world.
Now, as we close, I need to say, "We need to hear this." We are all really inspired right now, but to say "yes" to be involved in this calling is not for the faint of heart. We have a tireless enemy. He hates God. He's not pleased with the thought of thousands of women saying "yes" to Christ. As we come to the end of our final True Woman '10 conference this year, I just want to tell you that I know more about the battle, and a whole lot more than when we started. 
Since the launch of the True Woman Movement at True Woman '08, for me, and for others around me, the battle has intensified. It's gotten much more intense, much hotter. I have battled with fear, extreme weariness, plaguing doubts, discouragement nipping at my heels day and night. I battle my own flesh. I cannot tell you how many times I have wanted to go AWOL. I have become tired of swimming upstream, tired of getting shot at—not only by the world, it's really not mostly come from there, but more from within. It's come from the Church, from well-meaning people. I have wanted to go back to where it's safe, to have a more normal life.
But God has His hand and His calling on my life, not because I am anything special or extraordinary, but just because I'm a redeemed child of God. My life is not my own. I've been purchased, bought with a price. It's tethered to Christ, who is the Author and the Finisher of my faith. I am learning through my weakness that there is no safer place to be than in the thick of the battle with Him.
Martin Luther said it this way:
A mighty fortress is our God, a bulwark never failing;
Our helper He, amid the flood of mortal ills prevailing:
For still our ancient for, doth seek to work us woe;
His craft and power are great, armed with cruel hate,
On earth is not his equal.

Did we in our own strength confide, our striving would be losing.
Were not the right Man on our side, the Man of God's own chosing;
Doth ask who that may be, Christ Jesus, it is He.
Lord Sabaoth His name, from age to age the same,
And He must win the battle.

Though this world with devils filled should threaten to undo us;
We will not fear for God has willed His truth to triumph through us.
The prince of darkness grim; we tremble not for him.
His rage we can endure, for low, his doom is sure.
One little word shall fell him.

That word, above all earthly powers, no thanks to them abideth.
The Spirit and the gifts are ours, through Him who with us sideth.
Let goods and kindred go, this mortal life also.
The body they may kill, but God's truth abideth still.
His kingdom is forever.

("A Mighty Fortress Is Our God" by Martin Luther)
Many of you have read or heard the story in the Chronicles of Narnia by C.S. Lewis The Voyage of the Dawn Treader. There's a point in that story where Edmund, Lucy, and Caspian are on a voyage from Narnia, headed east, toward Aslan's country at the end of the world.
At one point, their ship, the Dawn Treader, anchors near land, and they all go ashore. Some of the sailors are tired of the long journey. They want to stop and spend the winter there where they are and then head back west and return home to Narnia in the spring. They're told that if they stay where they are, every evening they will be given a feast fit for a king. That makes them even more reluctant to press on eastward toward Aslan's country.
Then Reepicheep speaks up. Remember Reepicheep, the valiant talking mouse? He expresses his determination to keep pressing on no matter what. Here's what he says:
My plans are made. While I can, I sail east in the Dawn Treader. When she fails me, I paddle east in my coracle [small boat]. When she sinks, I shall swim east with my four paws, and when I can swim no longer, if I've not reached Aslan's country, I shall sink with my nose to the sunrise.
God hasn't promised us that the journey will be easy, but He's promised to go with us. He's promised to go with you wherever you're going into the battle today. He's promised that one day prayer will be praise, faith will be sight, every tear will be dried, and our journey will be rewarded.
Some are tired, and they want to stop. They don't want to press on. Some want their reward here and now. And they may choose to turn back. Perhaps some who've come with you may make that choice. But by God's grace, and for His glory, my course is set. My plans are made, and I plan to press on until we reach Aslan's country—the New Jerusalem, the city of the Great King.
Will you go with me? (applause)
Dannah: Nancy DeMoss Wolgemuth knows what it's like to grow tired and discouraged when you're following God's calling on your life. She also knows the value of staying in the battle. I hope Nancy's honest account of the struggles and the joys of staying in the battle has encouraged you.
Nancy's been sharing from the life of Deborah over the past few days. If you've been challenged by Deborah's life, you can learn even more when  get a copy of the six-week study called Deborah: Becoming a Woman of Influence. You'll get a glimpse of the era of politcal oppression and uncertainty Deborah lived in. You will also see the significance of what God was asking of her to do, in order that He might call the Israelites back to Himself. Her story will inspire you to step into God's plan with boldness. 
Get a copy of the new Deborah study when you give a gift of any amount to the ministry of Revive Our Hearts. Your donation helps us produce programs and resources like what you're hearing today. We'd like to send you this six-week study as a thank-you gift for supporting this ministry. Visit ReviveOurHearts.com, or call us at 1–800–569–5959, and make sure to ask for the Deborah study. That's 1-800-569-5959.
The message we just heard is from a Revive Our Hearts conference, where thousands of women gathered to learn from God's Word, to worship and pray together, and they left different than they came. Now, we took a break from conferences in 2020 because of the pandemic, but it's going to be so good to get together again this fall!
In fact, Nancy, we recently had a meeting about Revive '21, coming up in early October, and I don't know about you, but I'm getting really excited!
Nancy: Yeah, it's getting close, it's getting real, and it was sweet to meet with our team. We started in prayer, we started in the Word, and then we looked at who's coming to speak.
Dannah: Who is coming to speak?
Nancy: Oh, my word, you and I will both be there and our sweet friend, Mary Kassian. I talked with her yesterday about the message she will be bringing—a really timely message. The three of us have been at True Woman and Revive conferences before, but this year we have three new voices.
Dannah: Kim Cash Tate. I am so excited about her. Nancy, she was a friend of yours that you introduced me to.
Nancy: She's a fairly new friend of mine. She's a Christian novelist, she's a musician, she's a creative, she loves the Lord, she's a Bible teacher, and the effect she has on me is when I get around her, I just want to be closer to Jesus.
Kim Cash Tate: The awesome thing about Bible study is it's not just a daily discipline or exercise, it is time spent with the Lord. We study with an expectation and desire to hear from the Lord.
Dannah: Well, Kim Cash Tate will be one of the speakers at Revive '21.
Nancy: And in addition to Kim, another first-time speaker is pastor Chris Brooks, who many of our listeners have heard on Moody radio. He has a daily call-in program called Equipped with Chris Brooks. This man knows the Word. He loves the Scripture. He loves revival; he loves the heart of God. He's a great communicator.
Dannah: You know, we heard from Chris Brooks earlier this spring here on Revive Our Hearts, in a message he gave from First Peter.
Chris Brooks: There is only one place where you can place your hope, and it will not be disappointing. There is only one Person that you can put your trust in. You can wake up day after day, sunrise after sunset, and still know that you are safe and secure. There is only one place in all of creation and in all of the universe where we can place our hope and know that we will not be disappointed. Hope has a name, and His name is Jesus. On that third day, even when it looked like hope was defeated, even when it looked like the cross had . . . How many thank God that on that third day, Hope walked out of the grave! (applause) Hope declared victory. Hope is risen. Hope has a pulse. Hope has a name. His name is Jesus.
Dannah: I'm so looking forward to hearing from Pastor Chris Brooks at Revive '21 in Indianapolis this fall!
Nancy: And then also with us for the first time . . . 
Dannah: Laura Perry. I feel like she's a close friend, even though we've never met face to face, and I can't wait to have her with us.
Laura Perry: I want to tell you my story tonight, but what I hope what you ultimately hear is not a story of how I fixed myself or how my parents fixed me. No, it was just the Lord that drew me back, that fixed me, that healed me, and this is really His story of redemption.
Nancy: And her testimony about living as a transgender man and coming to faith in Christ and the transformation He has made in her life is so moving! We're hearing so much about today. She's going to be a beautiful addition at Revive '21. 
And then, oh, the latest addition! Everybody I talk to is so excited about this!
Dannah: Fast-breaking news right here, you're hearing it.
Susan Hunt: Every birthday is a gift from the Lord, and I've had seventy-seven of them, plus I've been happily married for fifty-three years. (applause and cheering) Girls, you have to be an old lady to be able to say that.
Dannah: Susan Hunt will be joining us—eighty-two years old.
Nancy: I called Susan and said, "Is there any way you could be with us at Revive?" And she said, "Oh, I've been praying. I've wanted to be there because I love this ministry. I love what God is doing through it. Even though I don't speak . . ." We want you to speak! Every time that woman opens her mouth it's precious. It's really special.
Susan Hunt: So how does it feel to be an old lady? It feels like a tired, very dependent, very happy little girl being carried in the arms of her Father, and she's calling to her friends, "Look how good and strong my daddy is!" And she knows that when she falls asleep in His arms, she'll wake up at home.
Dannah: Again, that's Susan Hunt, one of our upcoming speakers at Revive '21, October 8–9.
Nancy: And Dannah, I forgot a participant that I'm so excited about that I'd first learned about from you! We were talking some months ago and I said, "Who would we want to lead worship in this conference?" And you said, "Shane & Shane."
Shane & Shane singing:
You're all I want.
You're all I've ever needed.
Nancy: Now, they may be familiar to some of our listeners. But others, like me, weren't familiar with them. You sent me several videos that I watched. I watched them lead worship in other settings and heard the rich lyrics and hymns and the way they point us to Christ. We agreed as a team that we wanted them to come. They said "yes!" They will be with us, not only participating in the conference but also leading a special evening, closing of the day, "linger" time at the end of the Friday night session. We'll just soak in the presence of God. 
And Dannah, there is going to be something special for Grounded listeners, too. Tell us about that.
Dannah: The whole Grounded team is coming to Revive '21 and we're going to be hosting a livestream option of the entire conference. Also, there's an after-party with Grounded. We hope you'll join us. If you can't be with us in-person in Indianapolis, and we sure hope you can. They've lifted all the COVID restrictions, so we have the opportunity to fill the venue with women whose hearts want to be rooted in Christ. But if you can't be with us in-person, the Grounded team will be happy to join you in your living room, in your church with a group of women, wherever you might be able to join us via livestream.
Nancy: Go to ReviveOurHearts.com to get all the information about how to register live in-person or via the livestream. This is a time for us to join our hearts together as women and be encouraged as we seek to remain grounded in Christ.
Dannah, as we've been talking about the speakers and messages, this theme, Grounded, grounded in the Word of God, grounded in the gospel, grounded in Christ, grounded in the love of God, grounded in Christian community, grounded in times of trials and suffering . . . I don't know if there's been a time we were more desperately needed to understand how to stay grounded and rooted in our faith and in Christ.
Dannah: In some ways, Nancy, I feel as though when we come together it is a bit of a celebration. We did remain grounded and rooted in Christ through these past difficult eighteen months or so. Now we are gathering to assert once again that we intend, no matter what next year brings, to remain grounded and rooted in His love.
Nancy: It's been such an inspiring thing for me to see how many people in my sphere have remained steadfast and have persevered through some really hard times over this last year. At the same time, there are still forces at work trying to uproot us from our faith. That's why I love the theme verse for this year's Revive conference, the Grounded conference, Colossians 1:23. We're exhorted to "continue in the faith, stable and steadfast, not shifting . . ." We are tempted to shift today—to shift theologically, to shift in what we believe, to shift in how we act toward those who are not believers.
"Continue in the faith, stable and steadfast, not shifting from the hope of the gospel." The gospel is our hope. Christ is our hope. This Grounded conference is a call to stay fixed on Christ, to keep our eyes on Him, to keep our hearts in His Word. And to know that whatever happens in the turbulence and the craziness going on in our world, that we really can be steadfast and grounded in these times. So, what a joy it's going to be to be with God's people and challenging one another to stay grounded.
Dannah: Revive '21 is happening this coming October 8–9 in Indianapolis, and we want you to be a part of it. You can join us live in-person, or live online. So sign up today! All of the details are at our website, ReviveOurHearts.com.
Don't forget: You can get a copy of the six-week study Deborah: Becoming a Woman of Influence with your donation of any amount. You can give at ReviveOurHearts.com, or by calling us at 1–800–569–5959.
If you'd like to call our testimony line and tell us how God has used Revive Our Hearts in your life, that number is area code 269–697–6161.
Finally, the current season of our Women of the Bible podcast is all about Deborah. In fact, on Monday, you'll get to hear a portion of the Deborah Women of the Bible podcast. Erin Davis, Laura Gonzalez, and Laura Booz will discuss more insights on the life of Deborah, and you can find out what it means to have a mother's heart and to be a woman of valor!
Have a great weekend, and see you next week for Revive Our Hearts.
Revive Our Hearts with Nancy DeMoss Wolgemuth is bringing you the message of freedom, fullness, and fruitfulness in Christ.
All Scripture has been taken from the English Standard Version unless otherwise noted.
*Offers available only during the broadcast of the podcast season.
Support the Revive Our Hearts Podcast
Darkness. Fear. Uncertainty. Women around the world wake up hopeless every day. You can play a part in bringing them freedom, fullness, and fruitfulness instead. Your gift ensures that we can continue to spread gospel hope! Donate now.
Donate Now