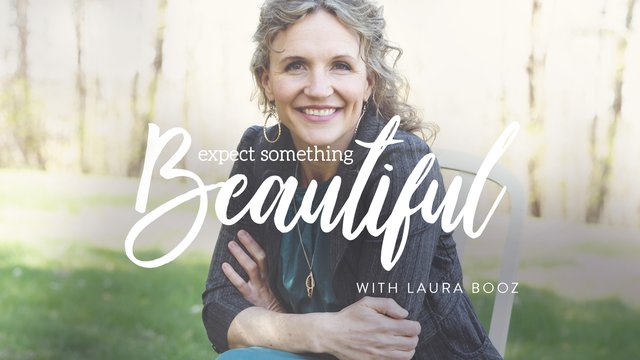 — Audio Player —
The Wrong Inhaler
Laura Booz: How do you respond when you're in an emergency? Do you think fight or flight or freeze? Sometimes I think I do all three at once . . . if that's possible. I don't know, maybe you can help figure me out after I tell you a story about this time I had to rescue someone who was having an asthma attack far away from home on a snowy day.
Hi there, you're listening to Expect Something Beautiful with Laura Booz. Your expectations really matter. Today, you're going to see that you can expect Jesus to be there for you, and to make things better when you are hit with an emergency of any size. 
Pennsylvania winters bring about one or two snowstorms a year with these big fluffy snowflakes that tumble from the sky all afternoon and all through the evening. So come morning, the ground is blanketed with four or five inches of snow. It is time to play! We tromp around and throw snowballs; we make snow ice cream, and of course, we go sledding. 
I grew up in this rolling countryside, and I remember when we were finally old enough to venture away from home to this great big sledding hill. It was, I don't know, like a ten-minute walk from our house. 
Well, one year after this massive snowfall, our cousins came to visit us from the south. They never got snow like this; they didn't even have winter coats. So, we dug around in our snow stuff for extra hats and mittens and boots. 
While our moms chatted at the table, all of us kids grabbed sleds and headed out the door to that giant sledding hill. We arrived with our rosy cheeks, and we had a blast sledding down the hill. We tried going down that hill every which way: all piled on top of each other; we'd go down in pairs; we'd race down; we'd hang on to one another's sleds in a giant chain. We were laughing and just having such a great time. 
Well, at one point my cousin and I were climbing back to the top of the hill together when suddenly she leaned over and put her hand to her chest. I could tell she was struggling to breathe, and that's when I remembered that she had asthma.
It must have been triggered by the cold and all of the activity. In-between gasps, she communicated that she needed to get home. So I said, "Yes, let's go. I'll walk you home." I'm telling you, that ten-minute walk back to our house was agonizingly slow, because she kept having to stop and catch her breath. She'd lean over and breathe in so deeply, and oh my heart would race. 
I would just place my hand on her back and pray. And yet, I could tell we needed to get home. I kept calculating how many more hills and steps we'd have to take until we got home. It seemed like we would never arrive. 
I didn't know what to do. I mean, on one hand I thought I should run ahead, but I could also see that I needed to stay there with her. So when we got to the bottom of the final hill and I could see our house at the top, she stopped to catch her breath. We agreed it'd be best if I ran ahead and got her inhaler and brought it to her.
She explained that it was in her purse in the laundry room. So I left her, and I ran up the hill. My heart was racing; my thoughts were racing. I burst through the laundry room door. I could hear our moms chatting at the kitchen table as I opened my cousin's purse, and I grabbed her inhaler and ran back down the hill.
I couldn't wait to offer her some relief, but when I handed it to her, her face fell. She closed her eyes; she took another slow breath, and then she said, "That's the wrong one." 
The wrong one? I didn't even know that was possible. I didn't even see another inhaler in her purse. But without saying a word I ran back up, I burst through the door. Again, I could hear calm hum of conversation from the kitchen as I grabbed her purse, and I just ran the whole thing back down the hill.
She dug around in her purse, and she found the right inhaler, and she used it. Thankfully, that gave her enough strength to get back to the house. I opened the laundry room door and helped her into the house. I helped her take off her boots, and I brought her into the living room, where we both just sunk down on the couch in relief.
In my memory, we were both just so quiet, recovering, I suppose. Our moms turned casually from the table to say "hello." They had no idea what we had just been through. That's when we told them what had happened. They couldn't believe it! They said, "Why didn't you get us sooner?!" 
But you know, they didn't get mad at me. To this day, I don't know why I didn't call out to them the first time I burst through the door. Why didn't I just say, "Help!"? I mean, my aunt was sitting right there. This was her daughter. She would have known exactly which inhaler to get. And to top it all off, she's a nurse. She would have known exactly what to do.
She would have had the adrenalin to carry her daughter up the hill and into the house, if that's what it took. But I never said a word. I am so grateful that my cousin was okay that day, but I often shudder to think what could have happened, simply because I didn't ask for help.
I'm telling you this story because I think this is how we face most of our emergencies and trials and problems in life. We default to fight, flight, or freeze, or all three. We operate primarily out of instinct, missing that fact that we always have access to help. 
I was recently reading this story in the gospels when the disciples were in the midst of an emergency, kind of like I was. But it was not in the snow. It was in a windstorm at sea. There was this night when they were in a boat with Jesus. They were peacefully sailing across the sea when suddenly a great windstorm whipped up and totally took them off-guard. 
I mean, imagine that. Imagine the deafening roar of the wind, the swell and the crash of the waves, and the chaos on the boats. Water splashing in your face as you yelled to the other people in your boat. You're like bailing water out as fast as you can, and it doesn't seem to make any difference.
I mean, I think about those big strong men. They grew up on the sea, and yet they felt helpless. They were afraid they were going to die. It turns out they were having a major crisis of faith at the same time. I mean, even though they had just sat at Jesus' feet all day, they were listening to Him literally explain the parables to them, just for them. But they didn't realize that He could rescue them this time.
There were songs they had probably sung since boyhood, songs like Psalms 91, "I will say to the Lord, 'My refuge and my fortress, my God, in whom I trust'" (v. 2). Songs from Isaiah 43 where God promises, "When you pass through the waters, I will be with you; and through the rivers, they shall not overwhelm you . . . For I am the Lord your God, the Holy One of Israel, your Savior" (vv. 2–3). 
But this was all forgotten in the midst of the sudden storm. They just hunkered down in their fight, flight, or freeze instinct. I can totally relate, can you? Eventually, they did remember that Jesus was in their boat. They woke Him up, wondering if He even cared. 
But He woke up and spoke to the wind and the sea, "Peace! Be still!" (Mark 4:39) And it stopped. Everything was calm. 
Then Jesus asked them two questions. Just fabulous questions, the type of questions you and I should write on a Post-it note and stick on our laptop or create as a screensaver on our phone to answer in the midst of our storms. He asked, "Why are you so afraid?" and "Have you still no faith?" (Mark 4:40)
I think He was asking: don't you believe that I'm the Messiah? The One who will make things better for you? The One who has the authority over creation? Why didn't you get Me sooner?
The apostle Paul wasn't on the boat at that time, but he certainly had his fair share of shipwrecks and storms. In a letter to the Philippian church, he wrote about how we should respond when we are in trouble of any kind—whether it's life threatening or a simple everyday trial. 
In his letter to the Philippians he wrote, "The Lord is at hand" (Phil. 4:5). In other words, Jesus is in your boat, or Jesus is at the kitchen table. "Do not be anxious about anything"—not wind, not storm, nor breath. "But in everything [go get Jesus] by prayer and supplication with thanksgiving let your requests be made known to God. And the peace of God, which surpasses all understanding will guard your hearts and your minds in Christ Jesus" (vv. 6–7).
Listen, whether we feel like we are running uphill to save someone's life or tossed at sea or simply challenged by everyday trials, let's remember this, Jesus is with us. He's the Master over all things. Let's exercise our faith and call out to Him for help. 
You can go to Him and pray about everything. Often, you will see Him respond in real time in your life. But you can count on Him always to respond through Scripture. In fact, for whatever trial you are facing right now, I know you could look through your Bible, and you could find something in Scripture that is Jesus saying, "Peace be still," to the storm you're in today.
This life is full of countless things that might cause us to resort to fight, flight, or freeze. Let's choose one other thing: let's choose faith, because you and I weren't meant to go it alone. We were meant to go get Jesus. He is in your boat. He is at your kitchen table. He is in your car. He is with you always. He will be your Prince of Peace and your great Messiah.
You can count on Him.
If you want to dig in further to this topic of fear, I recommend a teaching series from Nancy DeMoss Wolgemuth called "Habakkuk: Moving from Fear to Faith." It's just one of many series on the Revive Our Hearts podcast. Search for Habbakuk at ReviveOurHearts.com.
Remember, when you look to Jesus in the middle of your storms and cry out for help, you can expect something beautiful!
Expect Something Beautiful is part of the Revive Our Hearts podcast family, calling women to freedom, fullness, and fruitfulness in Christ.
*Offers available only during the broadcast of the podcast season.
Support the Expect Something Beautiful Podcast
Darkness. Fear. Uncertainty. Women around the world wake up hopeless every day. You can play a part in bringing them freedom, fullness, and fruitfulness instead. Your gift ensures that we can continue to spread gospel hope! Donate now.
Donate Now