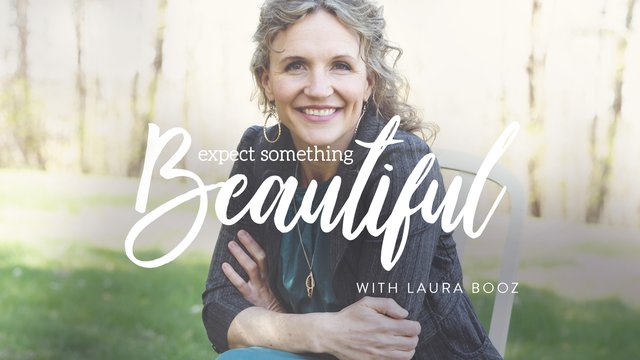 — Audio Player —
Save Me from Sinking
Laura Booz: When I was eight years old, I wanted to join the local swim team more than anything. I woke up one morning and put on my striped bathing suit. My mom drove my older sister and me to the swimming pool, and we signed up for the Harleysville swim team.
At the time, they had a losing record and hadn't won a meet in years. They were the very worst team in the entire region. But our townhouse was just a few miles down the road, so Harleysville Dolphins we would be. 
The coach greeted us at the pool side and said, "Why don't you jump in and swim a couple of laps, that will help me place you in a lane of swimmers who match your ability level." So my sister stretched her white Speedo cap over her brown hair and dove in confidently and went right to work. 
I pushed my goggles in place. I had taken a couple years of swim lessons, and I was eager to show the coach what I could do. I stepped up to the pool, curled my toes around the smooth cement edge, and with a great big hopeful heart, I jumped in. That's when I discovered something quite sobering . . . I forgot how to swim. 
Hi there, I'm Laura Booz. Your expectations really matter, and today's story illustrates that you can expect God to rescue you when you're sinking.
So there I was trying to impress the swim coach, but instead of showing off my abilities, I was sinking. My arms were flailing; my legs were kicking. I was choking on water and desperately grasping for the wall, but I was sinking to the bottom of the pool. 
In an instant my mom reached down, plunged her arm down into the water and pulled me up. I clung to the edge of the pool, sputtering and coughing and gasping for breaths. As it turned out, the coach didn't want me. I guess even a losing team has its standards.
But I begged shamelessly, "Please, please take me, I can swim." And then I suddenly remembered that she had just watched me sink. So I changed my tune altogether, "I'll learn to swim. Please take me. I'll do anything to be on the swim team." 
That's when my mom spoke up and said, "I'll help. I'll come every day and work with her along the wall. Will you give her a chance?" The coach considered our proposal, and then she turned to my mom and said, "Alright, she can be on the team if you take full responsibility for her and teach her to swim." 
Morning after morning, I woke up, pulled on my striped bathing suit and pushed my goggles into place. Morning after morning, my mom woke up. She walked alongside on the deck and patiently helped me inch my way from the wall to the first ladder. And then from the wall to the second ladder. She taught me and encouraged me and helped me, until one day I swam the entire length of the pool.
By the middle of the season, my mom had eased me into the regular practice, and she stepped away from the deck. We trained hard that season. I spent so many hours in the pool, my hair turned to straw. In time, my striped bathing suit became stretchy and pale. I had gotten stronger and faster. And at every swim meet, my mom sat in the bleachers and cheered for me with all her heart. 
At the end of the summer, the team celebrated with an awards banquet. We had a spaghetti dinner, and afterwards the coach handed out awards for the swimmer in each age group and M.V.P. Then she held up a trophy and said something like, "This award goes to a little swimmer who didn't even know how to swim on the first day of practice." Then my coach called my name. 
In a daze I walked forward, and she handed me a trophy with an Olympic torch fastened to a cherry wood base. It was engraved with my name and the words, "most improved." 
As an eight-year-old, I wasn't quite sure what most improved meant, until we were driving home from the banquet. I remember I was sitting in the backseat holding my trophy in my lap, just staring out the window into the night sky, and wondering what I had done to deserve it. 
And my mom in the front seat turned around and said, "In my opinion, that's the best kind of trophy anyone could get. Most improved means that you worked hard and came a long way this summer." You know, the truth is, I received that trophy because my mom was willing to help me. 
She could have used that time to sleep in, work on her own goals, or make a name for herself. But instead, she walked by my side, coached me, cheered me on. And now she was rejoicing in my accomplishment, even though her name wasn't on the trophy.
That "most improved" trophy is tucked in a savings box along with my sweetest childhood memories. It reminds me that there was a day in my life when I overestimated my abilities and sunk. When I was totally unable to save myself, there was a day when someone saved me from sinking. It reminds me that there was a day when someone stood up on my behalf. And there was a time when someone walked by my side, and a time when someone selflessly invested her time and energy for my sake. 
You know, we're all in the middle of a rescue story. In fact, the day I was sinking reminds me of a far more serious and far more glorious rescue story. It reminds me that I was drowning in sin, until God pulled me out with His strong arm. 
I know it's not popular to talk about sin, but to me it's the only way to make sense of the darkness that swirls around us. We see sin's affect in our headlines and social media, of course, but also and most poignantly in the sorrow and suffering that affects our loved ones. And for me it's the pride, selfishness, despair, and ignorance that I find in my own heart. There is no denying that something is profoundly wrong. Things are not what they are meant to be. 
The prophet Isaiah actually wrote a lot about our sinful condition. In Isaiah 59 he wrote this, "Your iniquities have made a separationbetween you and your God . . . your hands are defiled with blood your fingers with iniquity;your lips have spoken lies; no one enters suit justly; no one goes to law honestly; they rely on empty pleas, they speak lies, they conceive mischief and give birth to iniquity" (vv. 2–4).
How many years ago did Isaiah write these words, but aren't they so on point? Not only is sin real, but we are drowning in it. Our lives are like a frantic flailing for meaning and reprieve, rescue, salvation.
Isaiah wrote a lot about that too. He wrote, "We look for light, but all is darkness. For brightness, but we walk in deep shadows, like the blind we grope along the walls, feeling our way like people without eyes, we stumble at noon as in the twilight. We are like dead men, we look for justice but find none, for deliverance but it's far away. For our transgressions are multiplied before you and our sins testify against us" (vv. 9–12).
We are so desperate. Grasping at other people to save us. Grasping at success, education, security, entertainment, stuff, but nothing on this earth can pull us up and out of our darkness. What we need is an outside force to reach down to earth, into our desperate sinful human condition, and lift us out of our plight. 
Isaiah tells us that there's hope. He says, "The Lord was appalled that there was no one to intervene" (v. 16) So His own arm achieved salvation for him. Isaiah writes that. He writes that the "Lord has bared His holy arm before the eyes of all the nations and all the ends of the earth shall see the salvation of our God."
In other words, God has said enough is enough. He has rolled up His sleeves, bared His holy arm, and with this arm He has reached down into our swirling darkness to rescue us. 
Do you know what His arm looks like? Listen, when you're drowning, it's important to know the arm of your rescuer when you see it, so you can grab on and be rescued. Now, God knows we would conjure up our own idea of what His arm looks like, that we would picture the bulging bicep, the political acumen, the cultural relevance, and God knows we'd be completely wrong. 
He actually inspired Isaiah to describe His arm just so we would know it when we see it. Isaiah wrote in chapter 53, he asked "to whom has the arm of the Lord been revealed?" (v. 1). In other words, do you want to recognize God's arm when you see it? Well, then he says to look for a man who grew up like a root out of dry ground, with form or majesty that we should look at Him and no beauty that we should desire Him, someone despised and rejected by men. A man of sorrows and acquainted with grief. Look for someone stricken by God and afflicted. Someone wounded for our transgressions, someone crushed for our iniquities. (see vv. 1–5). 
If you are sinking, look for that man, and you will know the rescue has come, because God's strong arm of rescue is Jesus. When we are sinking in our sin, or worse, when are sunk dead in sin at the bottom, God reaches into our desperate condition and wraps Jesus around us and pulls us up out of death into life. 
Jesus to die for our sin. 
Jesus to rise from the grave. 
Jesus to bring us near to God and make us children of God. 
Jesus to advocate for us. 
Jesus to mediate for us.
Jesus to teach and train us in righteousness. 
Jesus to cheer us along the race marked out for us. 
And Jesus to welcome us into heaven and give us a reward, a crown of life. 

Maybe it will even have our name on it, and we'll know it's all because of Him. We'll lay it at His feet and worship Him forever. 
Today we saw that everyone needs to be rescued. Maybe this idea is new to you. Or maybe you've known it a long time. Either way, we all need to be reminding ourselves with this truth over and over.
Nancy DeMoss Wolgemuth will help you do that on the podcast, Revive Our Hearts. Each weekday, she shares hard-hitting truths from God's Word.
Nancy DeMoss Wolgemuth: So let me ask you, is there evidence that you have genuine saving faith? Is there evidence that your heart is being transformed? That you're a new person? That you've got a changed identity? That you've got new appetites, new desires? That you're heading in a new direction? If not, then the plea, the appeal is to cry out to Jesus to save you and to transform your life. 
Laura: You can hear the Revive Our Hearts podcast by visiting ReviveOurHearts.com. And I hope you'll visit me at my personal blog which is LauraBooz.com.
Next time, I'll tell you about the lunch I had with my friend Dannah Gresh. She could tell something was wrong. When she pushed to find out what it was, I said, "I hate rabbits!" Find out more next time on Expect Something Beautiful.
Expect Something Beautiful is a production of Revive Our Hearts, calling women to freedom, fullness, and fruitfulness in Christ.
*Offers available only during the broadcast of the podcast season.
Support the Expect Something Beautiful Podcast
Darkness. Fear. Uncertainty. Women around the world wake up hopeless every day. You can play a part in bringing them freedom, fullness, and fruitfulness instead. Your gift ensures that we can continue to spread gospel hope! Donate now.
Donate Now