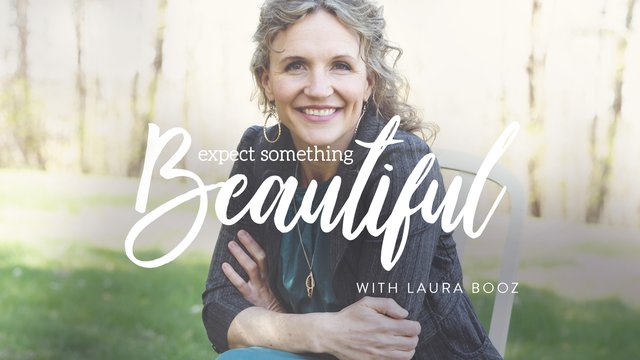 — Audio Player —
A Mystery in the Driveway
Laura Booz: I was heading out for a morning walk, was heading down the driveway. It was dawn, so it was still kind of dark. There were these low-lying clouds filling the air with a dark mist. 
As I was walking down the driveway, I saw this gold piece of paper lying there, so I walked over and saw that it had words on it. I picked it up and read the words. You're not going to believe what it said. 
It said, "The end is near, be extra vigilant." My heart was racing. I looked over my right shoulder, I looked over my left shoulder, thinking someone had planted that note on my driveway and this would be my last day on earth. 
To be quite honest I wanted to run back into the house and hide under the covers. 
Hi there, this is Laura Booz. You're listening to Expect Something Beautiful. Your expectations really matter. Today's story illustrates that you can expect God to care about your hidden sins and struggles.
Well, to give you a little bit of a background leading up to that moment in the driveway when I found the note on that gold piece of paper, I need to tell you that for years I had been struggling with fear. It was kind of like this low-grade paranoia, where the littlest thing could get my imagination going—like a bump in the night, odd sounds, and suspicious shadows. It would get me imagining the worst-case scenario, and then it would take a while to get out of that headspace and see things as they really are.
Well, I finally realized that I could ask God to help me, and so I chose to give it to Him. I trusted that He would help me along the way. I just prayed, "Heavenly Father, I am really tired of dealing with this. I am going to cast all my cares on You, because I know You care about me. Please help me to grow in this. I can't go on in this tangled web."
Well, I left it at His feet, and you would not believe the type of week I had after that. First of all the next day when I opened my Bible to have devotions, I was scheduled to read Psalm 18, and it really meant something to me as an answer to my prayer.
It's a Psalm about how the Lord comes to our rescue when we're in distress, and it is the most alarming scene. I mean, the earth is reeling and rocking. The foundations of the mountains tremble. Smoke comes out of His nostrils, devouring fire from His mouth, glowing coals flame forth from Him, thick darkness is under His feet. It says He comes swiftly with darkness as a canopy around Him.
As I was reading this Psalm, I realized that the Lord was showing me that He's actually scarier and He's bigger and He has more power than the things that frighten me. 
And you know what, it actually gave me comfort to realize that this is my heavenly Father. It made me realize I can face the strange things that go on around me. I can look at them straight on, and I can think about them logically because my heavenly Father is the greatest force in the universe. There is nothing beyond His ability or knowledge or power.
It was so comforting and so unexpected. I mean, I thought He would take me in His arms and say, "Now, now, don't be scared those things aren't so bad, things will be okay." But instead, wow, He opened my eyes to His great power. 
I read that Psalm and then the very next day, I'm standing in my driveway with a low-lying mist holding that gold piece of paper in my hand, reading the words "The end is near, be extra vigilant." 
The Holy Spirit was reminding me that this was exactly the type of thing that trips you up, "Think about My character; think about what I've just taught you from My Word. Go on this walk, and let's talk it over."
So I knew I had a choice to make between fear and trusting God. So holding that gold paper in my hand, I chose to trust God. As I walked, I prayed, and the Lord reminded me of His steadfast character, and His great power on my behalf.
He reminded me that the end really is near, and we should be extra vigilant. I mean Peter writes about this in his first letter, we should be watchful and prayerful and full of love.
I also remembered that because I'm in Christ I don't have to be afraid, even if the end is near. I can look forward to the future He has planned for me. And no person, no one can threaten me or do anything to me outside of His sovereign will and His lovingness. 
So I realized, okay I can receive this reminder, and I laid it at the Lord's feet. I said, "Lord this is probably not what I think it is. There's probably some kind of logical explanation, but thank you for who You are. Thank You that nothing's outside Your control. Thank You that You are sovereign and good."
It brought me great peace to meditate on God's character on that walk. When otherwise my mind would have been racing and coming up with a million worse-case scenarios. 
Well, when I got home, I shared the story with my husband, and I showed him the note. He said,
 "Oh, I have an explanation for that, and it's going to put your mind at ease. The neighbors' daughter had a Hunger Games birthday party this weekend, and so that must have just been part of their game. Somehow that gold paper was left on the driveway or blew into your path, or just didn't make it into the garbage. I'm sure it was nothing more than that. I mean it's written on gold paper, and it's definitely written by a kid."
What a story right? There I was pulled into the Hunger Games birthday party, and I didn't even know it. Well, God used that gold paper to send me searching for biblical truth; to give me every reason to be brave in the face of fear and to grow my courage and my trust in Him.
I am so thankful that God's love reaches into the smallest, strangest, most personal places of our hearts and gives us peace, because there is nothing outside of God's power. There's nothing that you are struggling with that He can't take into His loving hands and address.
I mean the things that you may feel too embarrassed to face, He's not embarrassed to look at. He'll look at those things with you, and He'll give you peace, and He'll help you to grow.
Back to Psalm 18, verse 3 says, 
"I call upon the Lord, who is worthy to be praised,
and I am saved from my enemies."
So today, I encourage you to confide in the Lord with whatever it is that's burdening your heart or rolling around in your mind, or that thing that you just keep stumbling over or worrying about, and you will find peace. 
If you're like me and struggle with fear and have an overactive imagination and you're looking for some solid nutritious food for your mind, check out ReviveOurHearts.com, where you will find resources to set your mind on the truth of God's Word.
Also, I would love to connect with you on my personal blog, LauraBooz.com. That's L-a-u-r-a B-o-o-z.com. 
A friend of mine had a unique opportunity to share the gospel when he passed out. I'll tell you about it next time on Expect Something Beautiful. To hear that and every episode, subscribe to Expect Something Beautiful in iTunes or wherever you get your podcasts. 
Expect Something Beautiful is a production of Revive Our Hearts: Calling Women to Freedom and Fullness, and Fruitfulness in Christ.
*Offers available only during the broadcast of the podcast season.
Support the Expect Something Beautiful Podcast
Darkness. Fear. Uncertainty. Women around the world wake up hopeless every day. You can play a part in bringing them freedom, fullness, and fruitfulness instead. Your gift ensures that we can continue to spread gospel hope! Donate now.
Donate Now