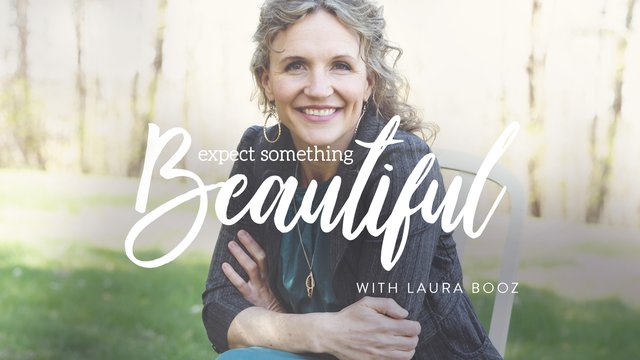 — Audio Player —
I Forgot to Plan the Ending!
Laura Booz: Hi there, I'm Laura Booz, and you're listening to Expect Something Beautiful, where expectations really matter. Today's story illustrates that you can expect God to help you end well.
My embarrassing moment happened not too long ago. At the time, I was the Coordinator of Women's Ministry at our church. I was scheduled to make a brief announcement before the church service about some upcoming women's ministry events. Now, you have to understand, our church culture is liturgical, so it's more reserved and formal.
Our services aren't the casual type where people just pop up to the microphone to announce this or that or offer a prayer request. In fact, it's very rare that someone other than the pastors or elders make announcements at all.
So this was a special opportunity to put a face to women's ministry, make eye contact with as many ladies in the church as possible, and welcome them to join us for Bible study, fellowship, ministry, and mentorship. I wanted to make the most of it and win them over and represent our hard-working women's ministry team well. 
Well, you have to understand, when I have an upcoming opportunity to speak in front of people, even something simple like this church announcement, I practice it.
When I'm in the car or have a rare quiet moment to myself, I try to run through it. I tend to practice from the top. So I get the introduction really down pat, so at least I could get myself going. 
That Sunday I got to church early. I let the pastor know I was there, sat down and reviewed my talking points. I felt ready to go. 
When the time came for the service to begin, the pastor welcomed everybody, shared his own list of announcements, and then he introduced me. I walked up front. I smiled at the congregation, and I shared my announcement.
I invited the women to participate in the various things the women's ministry team had planned. As I was methodically moving through my talking points, I realized that I forgot to plan how I was going to wrap this thing up. 
I had planned for my opening remarks; I had planned the middle content, but I hadn't planned the end. I was stumped. I stood there and wondered what should I do? What should I say? And my imagination completely failed. Suddenly, all I wanted more than anything else in the world was to just get off that stage. 
You know what I did? I looked out at the congregation. I smiled, and I said the only thing I could think to say when a person wants to wrap things up. I said, "Well, bye-bye" and made a beeline down the aisle.
I said bye-bye? It was so embarrassing. I mean, how old was I? Two? I know you're chuckling. Well, you can have a good laugh on me, because I want this story to remind you that it's very important to plan to end well. 
I've been thinking about this a lot lately. About facing the fact that all things come to an end. And as a good steward, I must take the time to plan endings. We invest so much time and energy into beginnings, into starting things well.
We love to plan for new life, for babies, for gardens. We develop new ideas. We launch businesses and initiatives. We love new endeavors and new adventures, getting things off the ground, getting the ball rolling. But God's Word is very clear that we must also invest energy and thought into ending things well too. 
In one sense, I'm talking about the endings we encounter on a regular basis, things like arguments, conversations, relationships, even wrapping up each day with confession. And ending a night's sleep with praise and thanksgiving to God. 
But I'm also talking about planning ahead for our final day on earth. If we have placed our trust in Jesus, we will leave the beauties and treasures and sorrows and troubles of this broken world and go to be with God in our beloved heavenly home. 
Yeah, I've been thinking about that ending. How do we plan for it? How might you and I end well? It's difficult to think about our own death. But Scripture encourages us to take it seriously. To sit with it and consider its reality. Ecclesiastes 7 advises us, 
"A good name is better than precious ointment, and the day of death than the day of birth. It is better to go to the house of mourning than to go to the house of feasting, for this is the end of all mankind, and the living will lay it to heart" (vv. 1–2). 
And it says, "Better is the end of a thing than its beginning" (v. 8). 
This is hard to accept, but I think it's true. Because as bitter as death is, I think God works through it to get our attention and to teach us what really matters in life. When a loved one dies and we're plunged into the mourning process, do we sit long and ponder what we could learn from their story?
When someone on the public stage dies, do we look for glimpses of truth, mourning, instruction, and inspiration? It's not morbid to do some serious thinking about these things. We need to take them to heart, and we need to ask God to let the things we learn from death change our lives. 
I recently read a short book on these matters by Harry Bollback. Harry Bollback was the gentleman who led the worldwide expansion of Word of Life Ministries up in New York. That ministry must have shared the gospel with thousands and thousands of people. 
Well, he wrote this book as a ninety-four-year-old man—a year before his death, after serving the Lord for many many years. In it he shares his thoughts, not about how to start a ministry or even how to grow a ministry, but simply about how to end one's life well. 
There are so many gems in this little book, but in one chapter Harry Bollback encourages us to make practical preparations for our death, out of love for our family. I felt encouraged to go through our paperwork and make sure we had a will and important documents gathered together in a safe spot.
Then I even sat down to prayerfully write an "end of life" letter to my family and friends. I'll be honest, writing it was awkward and emotional, but I did it. I printed it out and folded it up and placed it in our lockbox with our other important documents.
I'm glad I did it, but mostly it helped me realize the limitations of a letter like that. No matter how hard I tried, I couldn't possibly communicate the messages that I want to impress on my loved ones' hearts.
As I sat there at the keyboard trying to type out these thoughts and feelings and desires that I want my loved ones to read when I'm gone, there was just no denying it, I need to communicate my love and confession and forgiveness and care now while I have life and breath. 
For me, that exercise in planning to end well just underscored the importance of living well.
The apostle Paul was always writing about how we should live with the end in mind. When he wrote his first letter to the Corinthians, he didn't shy away from the topic of death. In fact, he explained that because Jesus died and rose from the grave, those of us who have placed our trust in Him don't have to live in fear of death.
Jesus has secured our resurrection from death. Our eternal life, our imperishable bodies, our victory, death is decidedly not the end. Here are Paul's words about how we can plan to end well. He says, 
Therefore, my beloved brothers, be steadfast, immovable, always abounding in the work of the Lord, knowing that in the Lord your labor is not in vain" (1 Cor. 15:58).
In other words when planning for death, when planning to end well, do not end. Keep abounding in the work of the Lord. Elsewhere in Scripture we are told to "lay aside every weight, and sin which clings so closely, and let us run with endurance the race that is set before us, looking to Jesus, the founder and perfecter of our faith" (Heb. 12:1–2).
We've got to run all the way through the finish line. We don't just run up to the finish line; we run through the finish line. The secret to ending well in this lifetime is to not to—to not end, to not stop. 
Listen, God gave you this day, live for Him. Don't coast, don't give up. He has something for you to do. He has opportunities for you to praise Him and please Him. Today, you keep going to the Word of God, you keep praying, keep loving, obeying, and singing. You keep talking to people about Jesus and sharing the gospel with them. You keep fighting the good fight of faith, keep fleeing from sin, keep confessing sin.
Wear your helmet of salvation, use your shield of faith, and wield the sword of the Spirit, which is the Word of God. Keep going until the Lord returns or calls you home. 
When the apostle Paul wrote his own "end of life" letter to Timothy, he wrote, 
"The time of my departure has come. I have fought the good fight, I have finished the race, I have kept the faith. Henceforth there is laid up for me the crown of righteousness, which the Lord, the righteous judge, will award to me on that day, and not only to me but also to all who have loved his appearing" (2 Tim. 4:6–8)
Don't you love His appearing? Wherever you are right now, lift your eyes to Jesus, and remember that He will literally call you home. For me, it's going to be sometime within the next, if my math's right, within the next fifty–sixty years. I will see Him face to face. Either through death or through His return. 
To wrap this episode up, I want to return to that embarrassing moment I told you about. Imagine if I had my wits about me and I told my pastor that I didn't know how to wrap up my church announcement and what if he had said, "Listen, you just start talking about women's ministry and don't stop. Don't give up no matter what. I have a plan to come in at just the right moment and connect your remarks into a much bigger picture. They're going to build right into the sermon. You're going to step back and see how it all fit together so beautifully. But your job is to just keep sharing faithfully until I take the microphone away. I'll make sure you end well, trust me."
I think that's a pretty good analogy. After all, we plan to end well when we trust ourselves into the very capable hands of our Savior who has an altogether good plan for our lives; to save us from sin; to make us more like Himself; to raise us from the grave; to unify us with believers from every nation, and to delight us for all eternity. 
Remember in Revelation 22 that Jesus actually describes Himself as "the Alpha and the Omega, the first and the last, the beginning and the end" (v. 13). I don't know about you, but I just want to run straight through this race and land in His arms. 
You and I can be confident of this, that "He who began a good work us will carry it on unto completion until the day of Christ Jesus." Do you want to end well? Don't end. You just keep running toward and with Jesus. He will bring you safely home. Praise the Lord. 
Expect Something Beautiful is a production of Revive Our Hearts, that's a ministry that to help you keep learning and keep seeking the Lord, and keep being effective for His kingdom in every season of life, all the way to the finish line. 
I hope you'll check out the Revive Our Hearts podcast with Nancy DeMoss Wolgemuth. Just visit ReviveOurHearts.com. And as I press on toward the finish line, I record stories of the journey at my personal blog, LauraBooz.com.
It's easy to follow Easter traditions every year and lose the wonder of the radical thing we're celebrating. We actually believe in a God who raises the dead, we'll talk about it next week. But for now . . . um, how am I going to wrap this thing up? What should I do? What should I say? Uh, well, I guess, bye bye!
*Offers available only during the broadcast of the podcast season.
Support the Expect Something Beautiful Podcast
Darkness. Fear. Uncertainty. Women around the world wake up hopeless every day. You can play a part in bringing them freedom, fullness, and fruitfulness instead. Your gift ensures that we can continue to spread gospel hope! Donate now.
Donate Now