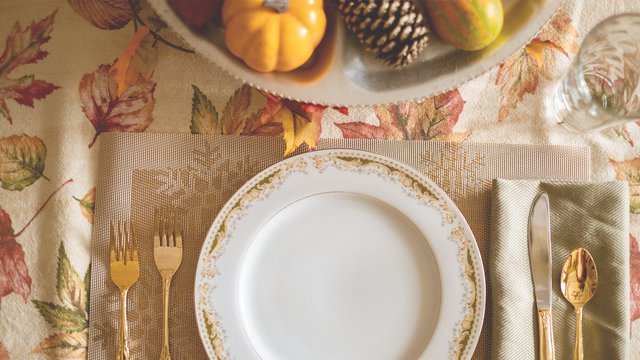 — Audio Player —
Happy Vintage Thanksgiving
Laura Booz: Here in America, we are preparing to celebrate Thanksgiving Day. In our little family, over the past twenty years we have developed some Thanksgiving traditions that we enjoy from year to year. 
One of those traditions is listening to an old episode of Father Knows Best. It was a radio program from the 1950s. And somewhere along the way in our early years, we discovered an episode called "Thanksgiving Day." We love it so much that we listen to it year after year. 
It was originally aired in 1950, and although many things in our culture and community have changed over the past seventy years, many things haven't changed. 
Our family relates to the Anderson family as they wake up on Thanksgiving morning for a Thanksgiving morning unlike any other. Their youngest daughter, Kathy, is in fourth grade and she just won this prize for writing the best Thanksgiving Day poem in her class. 
The episode begins as Kathy reads her poem to her father, before heading over to the school, where her reward is to be able to read it live on the radio and then stay for a Thanksgiving feast for all the prize winners. 
Her father has plenty of feedback for her about everything from the pen name she selects to that line where she talks about her uncle sending her money for her birthday. She's having a terrible time getting through this poem because her father keeps interrupting her and the ashtray spills over (remember this is the 1950s), and her older sister, Betty, comes walking into the room to ask Mother if she may borrow her rhinestone earrings. 
See, Betty is heading off to have Thanksgiving dinner with her friends, and Mother thinks maybe the rhinestones are a little too fancy for an afternoon dinner. So, Betty settles for the pearls and goes back to her bedroom. 
Kathy continues with the poem, well, that is until her older brother, Bud tromps down the stairs and sneaks out the front door with his father's suitcase in hand, but his sharp-eyed father sees what's up and he says "Bud, where are you going with my suitcase?" Bud explains that he needs it to carry the football letters to the Thanksgiving feast he's having with the football team.
Father wonders why Bud didn't ask permission and Bud says he tried to but Father kept interrupting him. Eventually, Father gives up and says, "Bud, just take the suitcase." Kathy finally has a chance to finish her poem, and it all wraps up with a beautiful poetic end rhyme, one of my favorites. Here's how it goes, "Thanksgiving is my favorite day, though the skies are grey and murky. Cause that's the day when I get to eat the drumstick of a turkey."
I mean it's brilliant right? Shakespeare, move over. But Father and Bud are not very impressed. Nonetheless, Kathy has won the prize for the fourth grade, so Bud and Kathy and Betty all head out the door to their Thanksgiving feasts. 
That leaves Father and Mother alone in the quiet. It's not long before they start feeling lonely and nostalgic. They talk about what Thanksgiving was like when they were kids. Father says that all the cousins would come to Grandmom and Grandpop's house. There were so many cousins they had to eat in shifts. And Mother talks about how when she was a girl. They used to play all kinds of games on Thanksgiving Day like, Going to Jerusalem and Musical Chairs and Charades. 
Then Mother says something that I think we all feel from time to time, especially on holidays when things seem to have changed. She says, "Jim, there's one thing we mustn't forget, this is a new generation. It's a different sort of generation, with new ideas, and a new sense of values. Times have changed." Father agrees. He says "I guess they have." 
Then they go into the kitchen to see what they can throw together for their Thanksgiving feast. Just as they're starting to grill up some hamburgers, guess who comes back in the door? Bud. He can't quite put his finger on it but it seems like when he was at that Thanksgiving feast with the football team, he started to feel a little lonesome himself, and he headed home to see what his mother and father were up to. 
Sure enough, Betty comes back in the door. The party wasn't all it was cracked up to be, and she'd rather be with her family. And Kathy comes back in tears. She had tried to read her poem aloud on the radio, but just when she got to the part about her parents, she remembered how much she missed them. She broke down in tears and came all the way home. 
The family sits down for an unconventional feast, stacks of hamburgers piled high. It's such a great episode. I mean you hear all those vintage radio sounds like the laugh track, and the applause. You hear Bud clomping down the stairs and the door opening and closing. But the thing I love best about this episode is that when they're all gathered around the table with those hamburgers, Father pauses and he looks around at his family. And he takes time to say this, "This has been I think the happiest Thanksgiving Day of my entire life, and if you don't mind, I'd like to say a special grace." 
And that's when the tempo of the whole show slows way down. The laugh track and the applause are silenced, and instead, Father and the family around the table take time to look to God from whom all blessings flow. Just a beautiful harp and orchestra play in the background as Father takes his time to pray. 
He says, "Oh Lord, we give Thee thanks from the bottom of our humble hearts. For the blessings Thou hast seen fit to bestow upon us. We thank Thee for the food that graces our table and the roof that covers our head. We thank Thee for the privilege of living as free men in a country in which respects our freedom and our personal rights to worship, and think and speak as we choose. But most of all dear Lord, we thank Thee for making us a family. For giving us sincerity and understanding. We thank Thee for giving us the most cherished gift a family may know, the gift of love for one another. Amen." 
A moment of two later, the orchestra strikes up again with spritely music, which takes us to a scene the day after Thanksgiving when the family is gathered around the breakfast table. I won't spoil everything for you and tell you how it ends, but it warms our hearts year after year. 
But the thing I love best and the work it does in my heart year after year, is the reminder that amongst the hubbub and the comings and goings of Thanksgiving Day, the preparations, and the food, and the greetings, and the fun, and the people, and the games, and the changes, and the traditions, amongst all of that we can pause and turn our eyes to God and thank Him for the good gifts He gives to us. 
I'd like to do that now. Here at the end of this episode of Expect Something Beautiful, if you don't mind, I'd like to say a special grace. 
Oh Lord, we give Thee thanks from the bottom of our humble hearts, for the blessings Thou hast seen fit to bestow upon us. We thank Thee for Thy Word, which sustains us every day, the Spirit which comforts and guides us, and Thy promises that keep us safe. We thank Thee for the blessing of being welcomed into the kingdom of Thy dear Son, Jesus. And we look forward to our eternal home with Thee. Oh dear Lord, we thank Thee for making us a family through Christ, for giving us sincerity and understanding. We thank Thee for loving us and giving us the most cherished gift, a family that may know the gift of love for You and for one another. Amen.
If you are looking for some special resources related to Thanksgiving, be sure to visit the Revive Our Hearts website, where you'll find radio programs, articles, and video teaching on Scripture, calling us to give thanks to our great God, because that's one tradition that hasn't changed and never will. Again, that's ReviveOurHearts.com. 
It's hard to believe, but Expect Something Beautiful is almost one year old!  If you've enjoyed this new podcast, would you consider helping us this kind of program with even more people?  Expect Something Beautiful is produced by Revive Our Hearts.  And on Giving Tuesday, November 30, Revive Our Hearts is asking the Lord to provide in a big way to help multiply podcasts like this one in Portuguese, Spanish and other languages.  If you appreciate hearing the podcast over the last year, would you consider visiting ReviveOurHearts.com?  You'll find out more about our Giving Tuesday need and find out how to get involved.
Expect Something Beautiful is a production of Revive Our Hearts, calling women to freedom, fullness, fruitfulness in Christ. 
*Offers available only during the broadcast of the podcast season.
Support the Expect Something Beautiful Podcast
Darkness. Fear. Uncertainty. Women around the world wake up hopeless every day. You can play a part in bringing them freedom, fullness, and fruitfulness instead. Your gift ensures that we can continue to spread gospel hope! Donate now.
Donate Now