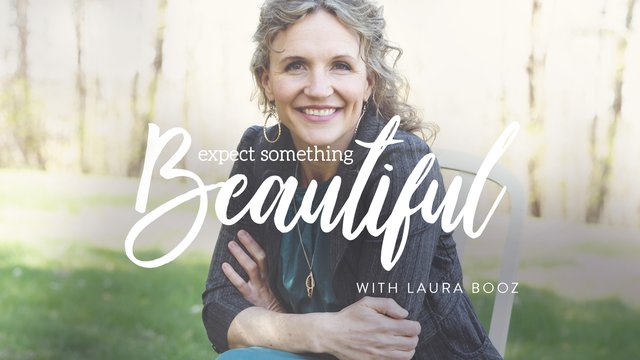 — Audio Player —
Faithful after Fainting
Laura Booz: Do you ever worry what it will cost you to share the gospel with someone? I do.
Hi there! You're listening to Expect Something Beautiful. I'm your host, Laura Booz, with a story about God opening just the right door for the gospel to be shared.
I was really encouraged and convicted and spurred on recently when I heard a story from some missionary friends.
They're actually missionaries in a really rough city in America. In order to reach the men in their neighborhood, my friend planned this evening of self-defense. He hired a professional instructor, and he invited all of the men.
And of course, lots of men came, because they wanted to know how to defend themselves. They had all gathered in this gym and the instructor was starting to teach them some different moves. Then he was going to teach them how they could get out of a headlock. 
He asked for a volunteer, and nobody volunteered. And my friend realized well, this is what I have to do to share the gospel with these men, I'll do it. So he raised his hand and said, "I'll go." 
Well, he went up front and the instructor put him in a headlock. The instructor was talking and explaining what was going on. My friend said he really tried to tap out. But before he could do it, he fainted. 
There he was, laying on the ground in the gym and all the men that he invited from his community ran up to his rescue. They probably, like, tapped his cheeks and shook his head and tried to revive him. When he came to, he saw all these men looking down at him, and I'm sure he felt humiliated.
But he also realized how good God was to give him this great opportunity, because now he could say to them, "Hey, this is what the gospel looks like. When you and I are down and out and we can do nothing for ourselves, we are dead in our sin. God comes to us to revive us. Just as you came to me to revive me with a heart full of compassion and love, He did what it took to get me back. 
He could share the gospel with these men, because God had opened just the right door.
What's so encouraging to me, because I worry sometimes about when I should speak up or what I should say or how I should share the gospel. But it reminded me I can trust the Lord, and I can move forward with the things He puts on my heart. 
I thought about 1 Corinthians 9 where even Paul said, "I have become all things to all people, that by all means I might save some. I do it all for the sake of the gospel, that I may share with them in its blessings" (vv. 22–23). 
 I think it's okay to trust the Lord and say, "Lord whatever it takes." Because, quite honestly, for you and me, usually what it takes is an email with an encouraging Scripture tucked inside. Or it's holding someone's hand when they're crying and reminding them of the comfort of the Lord.
Or it's sitting down side by side and opening our Bible and showing them how Jesus is the Messiah, and He has come to save. Those aren't very big risks. We can certainly trust the Lord to work through them, and we will be so amazed at the door He opens and the way He orchestrates hearts and timing and words so that we can tell them about the great salvation of our Lord and Savior, Jesus.
Isn't that wonderful?
Making it Personal
I'll give you an idea about how you might reach out to a friend to start a conversation about Jesus.
This worked for me. Just the other day I invited a friend to watch Grounded with me. Grounded is a weekly videocast hosted by Revive Our Hearts. I find it so encouraging. They always come back to Scripture. They always come back to prayer and our reliance upon God.
It might just spark a conversation that you've been waiting to have.
You can find that at ReviveOurHearts.com/Grounded.
In the next episode, I can't wait to tell you this very romantic story about one time when I planned a date for my husband and I to do balloon dart painting. You're going to want to tune in. To hear that and every episode, subscribe to Expect Something Beautiful in iTunes, or wherever you get your podcasts.
Expect Something Beautiful is a production of Revive Our Hearts, calling women to freedom, fullness, and fruitfulness in Christ.
*Offers available only during the broadcast of the podcast season.
Support the Expect Something Beautiful Podcast
Darkness. Fear. Uncertainty. Women around the world wake up hopeless every day. You can play a part in bringing them freedom, fullness, and fruitfulness instead. Your gift ensures that we can continue to spread gospel hope! Donate now.
Donate Now