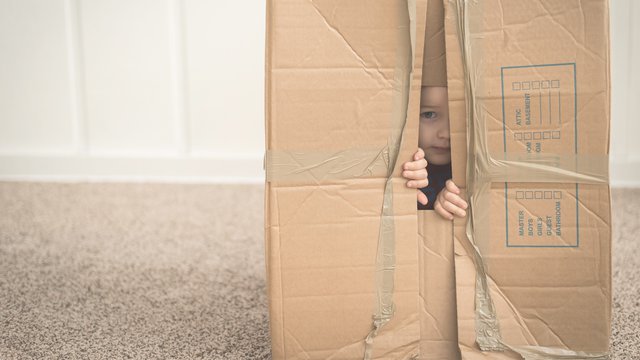 — Audio Player —
Don't Put Your Toddler in a Cardboard Box
Laura Booz: It's a universal law of nature that kids love cardboard boxes. In fact, if you are ever agonizing over what to give a child for their birthday, just remember that if the toy comes in a cardboard box, the child will love the gift . . . one way or another. 
Well, my kids are like all other kids. They love a cardboard box. I remember one day when they had three perfectly-sized cardboard boxes in the playroom. They had turned them into their own private boats. My little girls sat inside the boxes in the middle of the sunroom . . . I mean the sea. And at one point I walked through the room with my one-year-old son on my hip, and I realized there was an extra box just for him, so I popped him in and said, "Oh, it's your own little boat." Then I went on my merry way to tackle this or that in the kitchen. 
A few minutes later I heard a "thunk" and tears. I ran into the room to see that my son had tipped over in his cardboard box. He had hit his face against a toy, and his lip was bleeding. So, I picked him up, and I realized we would have to get ourselves over to the emergency room. 
To the emergency room we went, and they put a couple of stitches in his lip. He was so brave. They gave him a plush frog as a prize, and we came home . . . and that was that. Once we got home and settled down, I realized that he had cut his lip in the exact spot that I had cut my lip years ago when I had disobeyed my dad and did gymnastics in the house. It was dramatic. It had marked my life. You can hear about in another podcast episode called "Don't Do Gymnastics in the House." 
I couldn't believe that the very thing that I never would have chosen for myself, and I certainly wouldn't have chosen for my son, had happened to him . . . and it was my own doing. 
Hi there. You're listening to Expect Something Beautiful with Laura Booz. In today's episode I just want to remind you that when you see sin in your child's heart that so grievously reminds you of your own, that same Savior who forgives you will forgive them, too. 
So, there was no changing it: I have a scar on my lip, and now my son would have a scar on his lip . . . and it was my fault.
Do you ever notice a similar trend when it comes to our hearts? In this case, my son didn't "sin" by falling over in the cardboard box. But he scar on his lip was a reminder of a sad truth. My kids would sin, and bear the consequences of sin. We know this from Romans 3:23. All have sinned. All have fallen short of the glory of God. All includes our kids.
But that scar that resembled mine reminded me of another sad truth. My kids will see my sin close up. I tell them about the way God took all my sin because of what Jesus did on the cross. And I hope they see me continually becoming more and more like Jesus. But they also observe that process of sanctification. Which means they're going to see me blow it. And sadly, that could influence them.
Have you ever noticed that the very sin you struggle with seems to be the sin your child struggles with too? And maybe you feel like you taught them how to struggle with it simply by being a bad example or giving into indulgence or lashing out in anger, giving into fear, or trudging through a lukewarm walk with Christ. You look at your child and you see them struggling in sin and you think. Oh, I didn't want this for myself, and I certainly don't want it for my child, yet here it is.
I think all parents face this from time to time. It is upsetting. It's humbling, and sobering. We might feel angry about it and lash out at our kids, or we might feel intimidated by it and look the other way. But I hope that instead of taking things into our own hands, we see this as an opportunity to turn to God. He said we are welcome to approach His throne of grace for help any time, and this would certainly be a good time to do that. 
Sometimes I wonder if my children know what to do about the sin that I have passed down to them? The Bible is full of guidance for sinners like me and you, who are called to respond to other sinners, like our kids, with grace. The apostle Paul writes about it a lot. In Galatians 6:1–2 he says, 
If anyone is caught in any transgression, you who are spiritual should restore him in a spirit of gentleness. Keep watch on yourself, lest you too be tempted. Bear one another's burdens, and so fulfill the law of Christ.
And in 2 Timothy, Paul writes, 
The Lord's servant must not be quarrelsome but kind to everyone, able to teach, patiently enduring evil, correcting his opponents with gentleness. God may perhaps grant them repentance leading to a knowledge of the truth (2:25–26).
In light of these truths, I've brainstormed some tangible ways that you and I can respond when our child struggles with sin just like we do. We can pray for them. We can correct them and teach them the truth that will set them free. We can wait on the Lord to work in their hearts. We can say, "You can learn from that." We can listen, and we can say that we've been there, too. And most of all, we can remind our children of the grace of God through Jesus, lavished on all repentant sinners. 
We are all sinners, who will keep putting our children in the very box that we do not want them to be in. But God is the Father who when He put His Son down on this planet for you and me, He put Him on a cross where He would be pierced for our transgressions, and blood would flow. When He did that, it wasn't to visit the iniquities of the fathers on their children, but to interrupt the generational curse of sin with mercy and grace.
Here's what I know: when my children struggle with the same sin I do, they can count on the same Savior, I do. Let's not forget that our devastating sinful impact on our children does not compare to the impact that we can have as we tell our children, and Lord willing, our children's children, about our Redeemer, our Savior, our God, who's good heart is to love and forgive generation upon generation. 
I write about these ideas in my book Expect Something Beautiful: Finding God's Good Gifts in Motherhood. I want every mom to know that Jesus is right there for her in motherhood. So, in fact, if you're a mom, I want you to know that whether you are sitting by your child's side in the emergency room, or trying to figure out how to address your child's sin, or simply enjoying a sweet mom moment; you can expect God to be giving you everything you need and to be helping you to do the things you couldn't do on your own. 
I hope you'll read more about it in my book. Again that's, Expect Something Beautiful: Finding God's Good Gifts in Motherhood, by Laura Booz. 
And as always, I love to point you right to the Revive Our Hearts podcast. It is a daily podcast full of wisdom and truth, straight from the Bible for you in whatever season you are in. 
I hope you join me next time on Expect Something Beautiful. It's a production of Revive Our Hearts, calling women to freedom, fullness, and fruitfulness in Christ.
*Offers available only during the broadcast of the podcast season.
Support the Expect Something Beautiful Podcast
Darkness. Fear. Uncertainty. Women around the world wake up hopeless every day. You can play a part in bringing them freedom, fullness, and fruitfulness instead. Your gift ensures that we can continue to spread gospel hope! Donate now.
Donate Now