Our stories weave together into a beautiful tapestry of God's grace because they point to the end of the Story, when He will make everything right again. 
That's the big idea we'll be exploring together in the Revive Our Hearts Summer Book Club. We're inviting thousands of women of every age to join us in spending the summer reading You Can Trust God to Write Your Story: Embracing the Mysteries of Providence by Nancy DeMoss Wolgemuth and Robert Wolgemuth.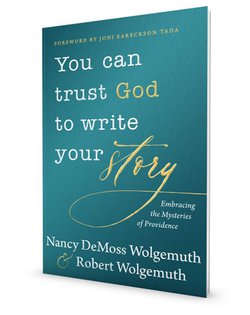 This book is full of real-life stories of people God led in unexpected (and sometimes difficult) ways—to carry out His plan in their lives and the world. It's engaging, enjoyable, and packed with truth from God's Word.
Get ready to explore the mystery of God's Providence with the Revive Our Hearts blog manager team: Leslie, Micayla, Samantha, and Hayley. Each week, starting July 8, you will receive a post from one of us on what we've learned through the week's reading and encouragement to make it personal. 
What would a book club be without rich conversation? We want to hear from you! Join the discussion in the comments section below the post—just like on your favorite streaming or social media platform.
Each of us, though in different situations and stages of life, have learned that we can trust God to write our stories. And we believe wholeheartedly that you can too.
Are you up for the challenge? 
If so, pick up your copy of the book in our store—and read the Introduction and Chapter 1 to get started. 
Excited yet? Leave us a comment below, telling us why you're excited about this summer's book club, and you'll be entered to win one of five copies of You Can Trust God to Write Your Story. (If you already have one, it would make a great gift!)
No story ever told could compare to God's great Story. None is as compelling, transforming, or hope-giving. And your story is a part of it.
Find out how, starting July 8.