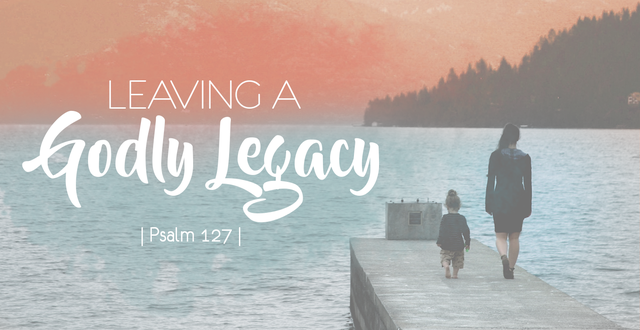 — Audio Player —
Your Role in the Family
Leslie Basham: Here's Nancy Leigh DeMoss.
Nancy Leigh DeMoss: God has a plan for our homes. He has established a pattern for men, for women, for husbands, for wives, for children, for parents. And you know, when we do it God's way, it works.
Leslie: It's Thursday, May 3, and this is Revive Our Hearts with Nancy Leigh DeMoss.
Nancy's been in a series called Leaving a Godly Legacy, based on Psalm 127 and 128. It's been great counsel for imperfect parents like you and me. If you've missed any, you can read the transcripts at ReviveOurHearts.com. Here's Nancy to pick up the teaching.
Nancy: In our session today, we're looking at another insight that comes from Psalm 128 in particular: the necessity of returning to biblical roles in the home. God has a plan for our homes. He has established a pattern for men, for women, for husbands, for wives, for children, for parents. And you know, when we do it God's way, it works.
Now, that doesn't mean there aren't going to be problems. It doesn't mean there aren't any tests or challenges. But God's ways are right. His thoughts are so much higher than our thoughts. His ways are so much higher than our ways. And we're so prone to go our own way. But God has a plan, a pattern, for our families.
When we fit into that plan, when we submit ourselves to that pattern, we find the blessing, the happiness, and the joy that the psalmist talks about in these two psalms.
Let me read, beginning in verse one of Psalm 128: "Blessed is every one who fears the LORD, who walks in His ways. When you eat the labor of your hands, you shall be happy, and it shall be well with you. Your wife shall be like a fruitful vine in the very heart of your house, your children like olive plants all around your table. Behold, thus shall the man be blessed who fears the LORD" (verses 1-4).
We have in just a few short verses a picture of God's pattern. There are other places in the Scripture where that picture is expanded. But we're given a glimpse of it in this passage. We're seeing, first of all, that a home should involve a father. There needs to be a man in that home.
Now, I realize we're speaking to women, and some of you, for various reasons, do not have a man or a husband in the home. But we're talking about God's ideal. This is the way God planned it, the way God designed it to be. If, for whatever reason, you're not in God's ideal situation—perhaps because of sins of your own or because of sins of others or circumstances over which you had no control—we still need to acknowledge that this is the picture as God designed it to be.
He talks about fathers, husbands, men. He starts by saying that it's important that these men fear the Lord and that they walk in His ways. We need to pray as women that God will raise up godly men.
We need to be really careful that we don't put men under pressure, in the bondage of our expectations of what it means to be a spiritual man, of what it means to be a spiritual leader. I wish I had a nickel for every woman who said to me, or that I've heard express in some way, "I wish that my husband were more of a spiritual leader." We all know that phrase.
We need to pray that God will raise up men in this generation who are spiritual leaders. But there's a danger in our saying, "This is what a spiritual leader looks like. This is what a spiritual leader does."
"This husband that I know gets up at 6:00 every morning and leads his family in an hour of family devotions. My husband doesn't do that," a woman may say. "He must not be a spiritual leader."
It's possible that your husband is not a spiritual man or that he is not a spiritual leader. But be careful that you don't impose upon him an unrealistic expectation of what that means for him. Our role as women is not to discourage, not to pull down, not to criticize, but to lift up those men and to pray for them—to encourage them in even the littlest ways that they may show spiritual interest and a heart for God.
When your husband makes efforts to lead the family spiritually, when he gets the family to church on Sunday—does he know that you appreciate that? Does he know that you value the ways that he does model being a hard worker, being a diligent man, providing for his family? That's spiritual leadership when he does that. Does he know that you appreciate that?
As women, we need to remember that ultimately we don't give account to God for the men. They will give account to God for their own lives, for their own walk with God. We will one day stand before God and give account to Him for our lives. Did we fit into God's pattern and His plan for our lives as women?
I believe that when we as women take our place in our homes, in our churches, and in our communities, the men are going to be more motivated and stimulated and encouraged to be the men that God wants them to be.
So let's move on to the role of the mothers in the home, the women in the home. The psalmist says here, "Your wife shall be like a fruitful vine in the very heart of your house" (Psalm 128:3). If you have the New International Version it says, "She will be within the walls of your home, within your house" (paraphrase).
It speaks here of the mother being a fruitful vine. This speaks of a woman who is growing. She's flourishing. Can I remind you that you don't have to have a godly husband in order for you to be a godly woman? You can walk with God. You can cultivate an intimate, personal, growing, vibrant relationship with Jesus Christ—even in a home where your husband does not know or walk with God.
You are not dependent upon your husband for your walk with God. The thing we need to focus on as women is our relationship with the Lord. Are we growing? Are we spending time in the Word? Are we seeking Him? Are we flourishing spiritually?
There's a reference to this woman being in the very heart of her house, being within her home. When I read that phrase, I think of the passage in Titus 2 where we're told that women are to be keepers or workers at home (verse 5, KJV). It speaks here of a woman whose heart is in her house. Her heart is in her home. Her heart is with her family.
I'm so thankful to the Lord for allowing me to grow up in a home where my mother had this kind of heart. What a blessing it was for us to come home from school and know that, more often than not, our mother was there—that her efforts and energies were focused on our home, focused on the family.
So many women today find their hearts outside their home. I heard from a woman yesterday who said that after 30-some years of marriage she's leaving her job to go back into her home, to focus on being a wife, to focus on being a maker of a home.
I said, "I applaud you." Three cheers when God makes that possible and when God puts that on a woman's heart, even after 30-some years of marriage. It's not too late if God enables you to look for ways to make your home the center of your focus. Of course, your relationship with the Lord is first. But then, is your heart as a woman in your home?
I listened not too long ago to a heartbroken woman whose husband had just left her for another woman—two believers. She said, "All these years I've worked outside my home. But it's not just the job outside my home. Everything has been more important to me than my family. Everything else in my life—my relationships, my job—those have been my other lover."
Now, so late in the picture, God has drawn her heart back into her home. And God is in the process of restoring that marriage, of bringing her husband's heart back into that home as well.
We see not only fathers and mothers and their roles, but then the role of children. And it's interesting to me that in this passage it says, "Your children [will be] like olive plants all around your table" (Psalm 128:3).
I don't want to read too much into that. But it's interesting to me that the children are pictured around the table. What a novel concept that families would have meals together. There's so little of that today, isn't there? Just fast food, rushing out—everybody rushing different directions. I'm so thankful that my parents made a priority of our having breakfast and dinner together as a family.
My dad was a very busy businessman, and that meant we had to do it around his schedule. We had breakfast at 8:00 in the morning, and then we had to wait until 7:00 at night to have dinner, which we thought was torture. But that's when he got home from work. That was my parents' way of saying, "It's a priority for our family to be together, to have times together."
Those mealtimes were some of the most important times for training and nurture in our family—as we talked about our days, as we talked about our lives. Now, I'll tell you, those were not orderly times. There were times when, with nine of us around the table at least, we were all talking at once. There were times of arguing and debating. I don't want to give you a picture that these were always peaceful times. But they were important and valuable times as we were being nurtured in that family environment.
So as we look at God's pattern for our homes, we ask ourselves, "Is my home in order? Are we following God's pattern for our families? Am I living out the biblical role and the responsibilities that have been assigned to me by God?"
Whatever season of life you find yourself living in, can you say that you're living out God's priorities, God's responsibilities, and God's role for you as a woman?
Leslie: Nancy Leigh DeMoss will be right back with more biblical, helpful advice for moms. Has today's message been intriguing? If you're not sure what it means to serve in a uniquely feminine way, ReviveourHearts.com is a very helpful resource that will help you learn more about this topic.
When you visit ReviveOurHearts.com, you'll find over five years' worth of transcripts. These include the series Nancy taught not long ago called The Countercultural Woman. It was an in-depth look at Proverbs 31 that helped listeners understand their roles as women.
When you visit ReviveOurHearts.com, you'll also find helpful resources. For instance, you can order Nancy's book Lies Women Believe and the Truth that Sets Them Free. It will help you think through issues of biblical femininity and apply these ideas to your situation as a woman in 2007. You can find Lies Woman Believe and past transcripts at ReviveOurHearts.com.
Some members of our audience who've been listening to Nancy's series Leaving a Godly Legacy are here to ask Nancy some questions about what they've been hearing.
Woman: My husband and I had the opportunity of taking our seven- and five-year-old grandchildren to my husband's mother's 92nd birthday. Before we left, my daughter went over with me—now, they're not used to watching a lot of TV—she went over the rules of the family. I said, "That's fine."
We took these two little girls with us on the trip. They had been well-trained by their parents. They immediately said, "Now, we're only supposed to watch one video a day." They were offered a dessert, and then they thought about it and said, "If we eat this dessert, is this our treat for the day?" They had been told they were allowed one treat.
That night, before they went to bed, I started to put their dirty clothes in a bag. And they said, "No, no, we don't do that. First of all, we have to get the spot stick, and we have to rub all the dirt so that it will come clean."
I was just thinking that we are going through three, four generations here, and how far we have come. The seven-year-old granddaughter has accepted Jesus Christ as her Lord and Savior and will be baptized on the last Sunday of this month. And she says, "Jesus Christ is my best friend. I love Him so much. I love you, too. But Jesus Christ is my all."
I just looked back, and I thought, "You know, my parents did the best they could with what they knew. And I did the best I could, maybe, with what I knew. But my daughter has built on this, and her husband has. Each generation is getting better instead of worse. I am just so proud that we do have these young people that are coming forth today that are better than we are, that know more than we do, and that are ready to lead the next generation.
Nancy: My father had a heart that he communicated to us that we would go farther spiritually than he had ever gone—that we would, so to speak, stand on his spiritual shoulders. He did not come from a truly Christian home or have a real Christian background. So he and my mom began their spiritual walk as young adults.
They realized that they were offering to us and bringing us up in ways that they had not known as children. Their goal was not just that we would go as far as they had gone, but that we would go further spiritually. That didn't come to us as a sense of pressure or having to perform, it came across as a challenge, a vision of faith, and something that we desire to this day to live up to.
The heart now of my siblings who have their own children is that their children would go further in the ways of God. And that's way it ought to be—one generation telling the next, telling the next, telling the next. That's God's plan.
Their great longing and desire for us—they communicated this in so many different ways. "We don't care what job you do; we don't care where you live." What concerned them was not the details of these decisions. What mattered to them was that we would know and love and walk with God and serve Him.
My dad has been with the Lord since the weekend of my 21st birthday, so I've never known him as an adult. But my mother is still living, and she has children who are scattered everywhere. The grandchildren are not nearby. As a mother and grandmother, would she love to have her children and grandchildren closer? Yes. Would she love for us to be able to have more direct contact with each other? Of course she would. She loves her children.
But she has been so wonderful about surrendering us to the will of God, whatever that meant and wherever that meant. That gives your children not only a freedom, but it also gives them a sense of accountability that's higher than to their parents, and that's an accountability to God.
Woman 2: Nancy, did I read one time that when you were about 12 years old, you were on a trip to Haiti with your dad, and he asked you what your goals were for when you were gong to be, what was it, about 50?
Nancy: Close. One of the things that my parents did was to structure our vacation times so that they would be meaningful sorts of ministry experiences. So we did a number of ministry vacations where my dad would be in little village churches in Mexico, giving his testimony with a translator.
I can remember nursing moms right there in the service and animals running through the street in the little church—I mean, these were really way-out remote places—but experiences where we were seeing the power of the gospel to change lives.
One such trip was to Haiti when I was 18 years old. We were sitting in a little black Haitian church on hardwood pews, and my dad leaned over to me and said, "Honey, what are your 50-year goals?"
Well, to that point in my life, I had not given it a great deal of thought. But I did take that challenge and wrote out what I sensed were God's goals. At that time, I had no clear direction for vocation. I was still in college.
And it's interesting, as I go back and occasionally review those goals, how the Lord has used those to kind of steer me. One goal, for example, was that I would get to know the Word of God in such a way that in 50 years I would be able to teach any part of the Word of God in a way that would bring God glory and would be pleasing to Him. I didn't know I was going to be a Bible teacher, but I just wanted to know the Word in that way.
The goals fit into the categories of my relationship with God, my relationship with God's people, and my call to the world in the matter of evangelism. As a little girl, at that age and earlier, God put into my heart a burden for the world and for touching the nations of the world. I actually had more faith about some of these things in those days than I probably do today.
God honored, I think, those kinds of questions coming from a parent and the probing that it caused me to do in my own heart. But there's something precious about being really set apart for the Lord. I believe every child of every Christian couple belongs to the Lord.
As children of the covenant and as part of the promises of the covenant that are to go from one generation to the next, children of the community of faith should be really different than their world. I think we too easily settle for being like everybody else, being like all the other Christian kids.
Now, that doesn't mean that you go home and put your children in a straitjacket. The seven children in my family are all very different, and we've grown in different ways and at different rates and have had different issues in our lives.
I'm glad my parents had the wisdom to deal with us differently—not always perfectly, by the way. You know that, but I think I just need to keep saying that. And I do, as I talk about my parents, highlight the areas where I feel they really lived out the principles of God's Word. I don't speak about areas where we know, in our family, that they were not as strong.
I just feel a strong call to honor my parents and to focus—for my own life and for the benefit of others—on the areas that were strengths. But it can sometimes leave the mistaken impression that they didn't ever blow it in any major ways. I'll let them tell you, as they would, that they did. God has an amazing way, by His grace, of making up the difference.
He knows your heart for your children. And even where, as we heard here, there are areas where there's been massive failure, the wonderful thing about the grace of God is that it can restore the years that the locusts have eaten. God can take failed parenting illustrations and can cause even the wrath of men to praise Him.
You may have come from a disastrous, dysfunctional sort of family. And you think, "What do I have to offer my children? I didn't get what it is you're telling me I'm supposed to give to them."
My parents are a good illustration of that. They didn't have all this knowledge and awareness when they started their family. Neither did they have the benefit of all the radio programs, teaching tools, books, and conferences that we have available today. They just walked humbly with God.
I'll just tell you, with seven children—and six of them very close in age—there was a lot happening very fast in our home. They didn't have time to sit down and think through every decision and every way that everything was going to transpire. If they had to go back and do it again, with the knowledge and wisdom that grandparents have, of course they would do some of it very differently.
But the grace of God covering all of that—and knowing the heart of parents to give to their children the ways of God—I just believe God honors that. As a parent or a grandparent, you want to walk by faith on behalf of your children and grandchildren.
Leslie: Parents need to learn everything they can, but ultimately they need to trust God who understands the needs of children far better than any human expert. Nancy Leigh DeMoss is offering solid, practical advice to parents this week and next in a series called Leaving a Godly Legacy.
The thing that sets this series apart is that it will point you to God as the only one who can truly transform the lives of your children. Maybe you know of a new parent who would get a lot out of this teaching. You can order this series for them on CD by calling 1-800-569-5959. You can also order online by visiting ReviveOurHearts.com.
When you visit that website, take a look at the Revive Our Hearts tote bag. Get ready for all your summer carrying-stuff-around needs by ordering this tote bag. It's yours for a donation of any amount.
Just like you're planning for summer vacations and activities, we're planning for summer too. It's our fiscal year-end, and your donation will help us finish out our fiscal year strong, heading into the summer months when donations are traditionally lower.
Make your donation online at ReviveOurHearts.com, or call 1-800-569-5959. And be sure to ask for your Revive Our Hearts tote bag when you give.
At some point in their lives, children need to do the right thing—not to avoid getting into trouble, but to honor the God that they love. Tomorrow, hear from a wise mom and dad, along with some of their kids, on how parents can encourage that kind of love. Please be back for Revive Our Hearts.
Revive Our Hearts with Nancy Leigh DeMoss is an outreach of Life Action Ministries.
All Scripture is taken from the New King James Version unless otherwise noted.
*Offers available only during the broadcast of the podcast season.
Support the Revive Our Hearts Podcast
Darkness. Fear. Uncertainty. Women around the world wake up hopeless every day. You can play a part in bringing them freedom, fullness, and fruitfulness instead. Your gift ensures that we can continue to spread gospel hope! Donate now.
Donate Now