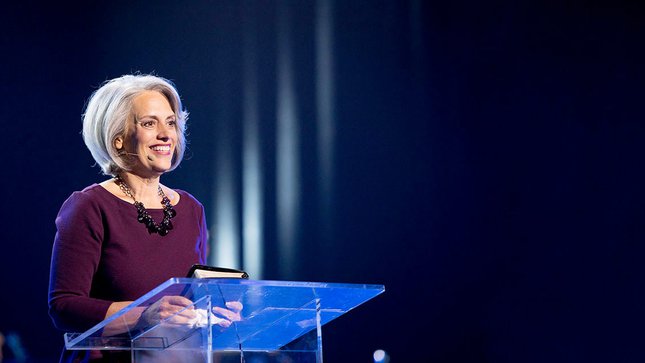 — Audio Player —
What Do You Live For?
Leslie Basham: Now famous for his martyrdom in the jungles of Ecuador, Jim Elliot was once a college student. Years later his widow, Elisabeth, spoke of how intentional he was, even as a student at Wheaton College.
Elisabeth Elliot: "He had made up his mind that he wanted two degrees, a Bachelor of Arts and an A.U.G. The one he wanted most was A.U.G., Approved unto God."
Leslie Basham: It's Monday, January 2nd, and you're listening to Revive Our Hearts with Nancy Leigh DeMoss. It's been nearly fifty years since Jim and four other missionaries were killed by Auca Indians in Ecuador. Over the years God has used their lives as an inspiration and encouragement to so many, including, Nancy, to a group of young people at a rally in Kansas City.
 Nancy Leigh DeMoss: That's right, Leslie. Jim Elliot's widow, Elisabeth, is well known to a lot of our listeners because of the radio program she hosted for many years on many of these stations called Gateway to Joy.
God has used Elisabeth Elliot in so many people's lives, including my own, to challenge their thinking about life and about relationships and about the Lord. And what we're about to hear today is no exception. We're going to head back in time to a conference held by Campus Crusade for Christ in Kansas City more than twenty years ago in 1983.
They called the conference KC83, and Elisabeth Elliot was one of the keynote speakers. All this week, to commemorate the martyrdom of those five missionaries, including her husband, we're going to listen to this classic talk by Elisabeth Elliott. I think you'll be encouraged in your faith when you find yourself put to the test. Let's listen to Elisabeth Elliot speaking on the topic of endurance to a stadium full of college students in 1983.
Elisabeth Elliot: A few generations ago, a young Scottish athlete was put to the test. The one I'm talking about was put to the test, not by his coach, but by his God. With every chance of winning a gold medal, this man went to France to run in the Olympics.
The test came the minute he got off the boat. Somebody told him that his race was to be run on Sunday. You know who I'm talking about: Eric Liddell, the man in the film Chariots of Fire. Liddell was a Scottish Presbyterian. Running a race on Sunday was, to him, unthinkable.
Do you remember what happens next in the film? Does he get in touch with his feelings? Do you find him sharing his hang-ups with 38 of his closest friends? You don't see any of that; the decision is already made. The decision had been made years before, as a matter of fact, when he made up his mind to follow Jesus Christ in obedience.
Jesus was Lord of Eric Liddell's life. That settled a whole lot of things before they even came up. Liddell was a man who knew what really mattered. The price of that gold medal was not too high for him to pay. Does anything matter that much to you?
The God who put the Olympic runner to the test has been doing the same thing for a long time. Some of you might have read a book called Genesis. In chapter 22, it says this: "The time came when God put Abraham to the test. 'Abraham,' he called, and Abraham replied, 'Here I am.' God said, 'Take your son, Isaac, your only son whom you love, and go to the land of Moriah, and there you shall offer him as a sacrifice on one of the hills which I will show you'" (vs. 1-2).
Can you imagine a command like that? What would you do? I bet I can guess—you'd struggle. Everywhere I go, young people talk to me of how they're struggling with this and that. "I mean, like, you know, I'm just really struggling, you know, just really, really struggling." Sometimes struggling is a nice word for postponed obedience.
The book doesn't say a word about Abraham's feelings. If he worked through his feelings, he did a mighty quick job of it. You know what the book says? "Abraham rose early in the morning and saddled his ass and went out" (v. 3). Immediate obedience. Abraham knew his God. That was what mattered.
Hundreds of years later, God was still sifting the hearts of men. A man came to Jesus. "Master," he said, "what good must I do to obtain eternal life?" Jesus said, "If you wish to go the whole way, go and sell your possessions. Give to the poor and then you will have riches in heaven. And come, follow me." That man knew what mattered most to him—money. The book says, "He turned away sadly for he had great wealth" (from Mark 10:17-22). He was too rich to follow. That's what it comes down to.
Do you know what really matters to you? Have you made up your mind about that? The tests are coming. I can't tell you what the specific tests will be that God will use to shift your heart, but I'm going to tell you what they've been for some twentieth century Christians.
Endurance. Ever heard that word? Three points—can you remember three? Number one: What do you live for? Number two: How do you get it? And number three: Is it worth it? What do you live for? How do you get it? Is it worth it?
Number one, what do you live for? Honestly now, what is it? It's one question about which you simply must make up your mind. If there's one thing that seems to be a problem for students these days, it's making up their minds.
They don't have any difficulty whatever knowing what kind of music they like, what they want on their Big Macs, and what kind of a car they'd buy if they had about $40,000 to throw around. They know the answers to those questions.
But I'm talking about things that matter a little bit more than those things . . . things like, "Well, I mean, like, you know, I'm just not really sure if I can hack it with this roommate for the rest of the year. And, I mean, like, I don't really know whether I should major in political science or home economics. And, I mean, like, you know, it's just really hard. And then there's this girl in my life . . ."
Am I ringing any bells out there? What have you made up your mind about in the last, let's say, two years? Do you know what you really want in life? The Quechua Indians in the jungles of Ecuador had a very handy word that worked for an answer to anything. The word was yunga, and it means, "for nothing, for no particular purpose."
I remember one time a young Indian came to my husband, Jim Elliot, and told him that he wanted to be baptized. Jim said, "Why do you want to be baptized?" And he said, "Yunga." Well, Jim said, "You're going to have to come up with a better answer than that."
What do you live for? Yunga? I want to tell you a little bit about that missionary Jim Elliot. I knew him when he was a college student. As far as we women could see, he was unattainable—handsome, popular, champion wrestler, president of the Foreign Missions Fellowship, honor student, campus clown—but alas, a woman hater. That's what we thought.
But we were way off. Jim Elliot was no woman hater. He had found out when he was in high school that he could spend an awful lot of time and money on girls. They were very attractive and very interesting and very expensive.
So he decided when he got to college that he would just delete them from his schedule. He had made up his mind that he wanted two degrees: a Bachelor of Arts and an A.U.G. The one he wanted most was A.U.G., Approved unto God. He got that out of the Apostle Paul's letter to Timothy, and he had made up his mind what he wanted to live for.
I found out how resolute Jim was in his decision when the college year books came out. We girls would hope forlornly that the man we had our eye on might put something besides his name in the book—something sweet. It was with great trepidation that I presented my book to Jim Elliot, asking for his autograph; and very fast with his flowing, rapid hand, he wrote, "Jim Elliot, 2 Timothy 2:4."
How long do you think it took me to get back to the dormitory and get my Bible to look up that verse? I was desperately hoping for a cryptic message. It said, "A soldier on active service will not let himself be involved in civilian affairs." It's not the end of the verse. "He must be wholly at his commanding officer's disposal."
Now, think back to Eric Liddell. How had he gotten to be a champion runner? By putting himself at the disposal of a coach, by learning the rules, by being obedient. Obedience to a track coach is bound to involve a tremendous amount of something called endurance.
Nancy: Well, we've been listening to the first part of a classic talk by Elisabeth Elliot that she gave at KC83, a rally for college students held in Kansas City nearly a quarter century ago. Those words are still relevant and fresh today because principles from God's Word are timeless.
I appreciated the way Elisabeth used Jim Elliot and Eric Liddell and even Abraham as illustrations of men who had made up their minds ahead of time, before they were put to the test. So, your life may seem to be smooth sailing right now, and if it is, praise the Lord and remember that now is the time to make up your mind what you are living for.
 Leslie Basham: We'll be hearing more of Elisabeth Elliot tomorrow. You know, Jim Elliot and his four partners were killed in early January 1956 . . . fifty years ago. If you've never read the book by Elisabeth Elliot that chronicles their riveting story, you need to. It's called Through Gates of Splendor, and we have it available here at Revive Our Hearts.
If you order Through Gates of Splendor from us, you'll be helping our ministry, and we'll also enclose a special bookmark free of charge called "Leaving a Godly Legacy." On this bookmark Nancy Leigh DeMoss has made a list based on Psalm 127 of steps you can take to leave a godly legacy to future generations.
Again, that's free when you order Elisabeth Elliot's book about the five missionary martyrs in Ecuador, Through Gates of Splendor. You can find out more at our website www.ReviveOurHearts.com. If you prefer to call, our number is 1-800-569-5959.
Thanks to the many people who participated in our year-end matching challenge. We're in the process of tallying up all the numbers, and we'll let you know whether we reached our goal of $250,000 next week. I want to thank you for listening today. I hope you'll join us for more of Elisabeth Elliot's challenge to college students about endurance tomorrow on Revive Our Hearts.
 Revive Our Hearts with Nancy Leigh DeMoss is an outreach of Life Action Ministries.
*Offers available only during the broadcast of the podcast season.