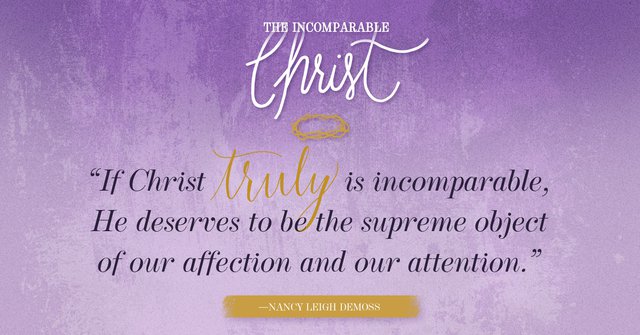 — Audio Player —
The Unique Claims of Jesus
Leslie Basham: Today, Nancy Leigh DeMoss invites you to consider the incomparable Christ!
Nancy Leigh DeMoss: Jesus not only delighted in His Father and enjoyed His Father's company, but He was also in eternity past delighting in us. . . .
If we could put Jesus in our little boxes that we could figure out, then He wouldn't be amazing anymore; He wouldn't be incomparable. We shouldn't be able to figure Him out completely. We have to take a lot of this by faith. But as we do, we marvel and we worship. He really is the incomparable Christ. 
Leslie: Appreciate Jesus in a whole new way in the weeks leading up to Good Friday and Resurrection Sunday.
Nancy: We cannot fathom the depth of the horrors of what Christ faced in olive press of Gethsemane, as He contemplated the cross. . . .
There were many, many laws that were broken during Jesus' trial. Yet, isn't it amazing that Jesus still chose to die for lawbreakers?
Leslie: To get the Incomparable Christ book and journal and follow along with the series, visit ReviveOurHearts.com.
Nancy: If we were to ask what is Jesus' chief characteristic—the root and essence of all His character as our Redeemer—there can be only one answer, what would you say? . . .
There's nothing that you and I will ever experience in the physical or emotional or spiritual or relational or psychological realm—nothing that we will ever experience in the realm of suffering that in some way Jesus did not partake in on our behalf.
Leslie: This is Revive Our Hearts with Nancy Leigh DeMoss for Wednesday, February, 18, 2015.
Nancy: Well, as many of you are aware, today is the first day of what many people around the world observe as Lent. That's a six-and-a-half week period that leads up to Easter.
Lent is often associated with some kind of fast. You'll hear people say, "I'm giving up something for Lent"—chocolate or coffee or computer games or Facebook. "I'm giving something up for Lent." Perhaps you've heard people say that.
Some people fast during Lent just as a means of a discipline or self-control and don't attach any spiritual significance to that—something like making New Year's resolutions.
Then there are others who believe that by observing a Lenten fast and denying themselves during these weeks, they can somehow merit the grace or the favor of God. Of course, we know that Scripture says that it's "not by works of righteousness which we have done, but according to His mercy He saved us" (Titus 3:5, KJV). So it's not a bad thing to fast, but we know from God's Word that fasting will not earn us the favor or the grace of God.
Then I know of others who fast during Lent as a way of remembering the sufferings of Christ on our behalf. As we come up to the Passion Week of Christ, where we commemorate the death of Christ on our behalf, some people fast as a means of reminding themselves of what Christ has done for us. They deny their flesh during these weeks as a daily reminder that Christ died and He rose again to deliver us from our slavery to self and from our flesh.
I think there is value, no matter how you observe these weeks, in taking periods of time where we just clear out the clutter of our lives, where we say "no" to things that may have become too important in our lives, and we focus on cultivating a greater heart for Christ.
Now the churches that I grew up in did not observe Lent, but in recent years I have started setting aside this forty-day period to focus on Christ in a more intentional way, and it's been a huge blessing to me to do that.
One of the things I do each year now is I select one or more books on the life and the passion of Christ that I read in my quiet time during this season. During these weeks I ask the Lord to soften my heart and to prepare my heart to commemorate the death, the passion, and the resurrection of Christ.
Unfortunately, some of these special days in the Christian calendar that were once observed as holy days have now become holidays. As a result, we strip them of their meaning and their power and what they could mean in our lives.
So I think it helps us to be intentional about turning our thoughts and tuning our hearts to the reality and the meaning of these special days in the Christian calendar, and certainly there is none more special than that period of time that we celebrate as the Passion of Christ: Good Friday, Easter Sunday.
In my devotional time during the Lenten season, I read a classic book by J. Oswald Sanders called The Incomparable Christ. It has 36 short chapters, and I read those throughout this period. Each one of those chapters is on a different aspect of the person and the work of Christ.
This book really ministered to me. It was such a blessing. So I decided that this year I would encourage our listeners to read that book with me, to join me during the Lenten period, during these forty days leading up to Easter in a more concentrated way to focus on Christ.
So during this season we're going to use Sanders' book, The Incomparable Christ, as a track. I'm not going to actually read the book to you—you can do that for yourself—but I'm going to use the outline he uses about these different aspects of the life of Christ and follow them throughout these weeks leading up to Easter.
So each day over these next weeks, we're going to look at a different aspect or period of the life and ministry of Christ here on this earth. We'll look at His birth, His childhood, His baptism, His temptation. We'll look at the deity of Christ, what that means and why it matters, and the humanity of Christ. We'll look at His teaching, His humility, His prayer life.
Then as we get closer to Passion Week, we'll look at the trial of Christ, His atoning work on the cross, what that means for us. We'll spend a day on each of the seven last words of Christ on the cross. Then we're actually going to continue this series for a week beyond Easter so that we can consider His resurrection, His ascension, His high priestly ministry in heaven today, and His second coming—the great hope of every child of God.
So in order to get the most out of this series, let me recommend a few things for you: First of all, if you don't have one already, get a copy of Sanders' book The Incomparable Christ and follow along with us. Tomorrow we'll start with chapter one: The Moral Perfection of Christ.
Then if you go to ReviveOurHearts.com, you can see there a schedule of the chapters and the themes that we'll be covering each day, along with some selected Scriptures on the daily transcript that you can meditate on each day. Even if you're not reading the book with us, you can follow along with the series.
I just want to encourage you to focus on Christ, to set your attention, your affection on Him. We should be doing that every day of the year, but a special way during this Lenten season to focus on Christ.
You can take this schedule, you can print out the PDF and put it in your Bible so you can be following along over these next weeks.
Then if you want to get more involved, go to the comment blog on ReviveOurHearts.com where we post the transcript each day of the program and post your comments and interact with others who are following along with this series.
You might just jot something down about how does this aspect of Christ's life that we're looking at that day:
How does it minister to you?
How does it bless you?
What difference does it make in your life?
How does the Lord want you to respond to what you're hearing?
So you can engage with others who are following along in this series.
Now humanly speaking, doing a series like this, doing a forty-day series on anything on Revive Our Hearts is a little bit risky—that's a long series, longer than normal. But doing a series like this is a little bit scary. Let me tell you why.
In order to stay on the air, we depend on people responding to the program, letting us know they're listening, sending donations to support and underwrite the ministry. When we do series on felt-need subjects like marriage or eating disorders or depression, we get a lot of response. People say, "I need that. I want to get this resource. I want to support this ministry."
The sad thing is that today a lot of people are not real excited about focusing on Jesus for a day much less forty days. So when we decided to embark on this series, we realized that humanly speaking it was a little risky.
But you know what? I don't think it's ever really risky to focus on Christ because I know that if people will concentrate on Him, will consider Him, will cultivate a more intimate relationship with Him, then whatever their practical felt-need issues in life may be, they will be in tune with the One who can help them deal with those issues.
You can't go wrong by getting to know Jesus. Christ is the one we need. Christ is the one who you need. I don't care what kind of crisis you may be facing today. What you most need is to encounter Christ. That's what I most need, and that's what we're going to focus on in these days.
The Lord has been using this study in my own life as I have prepared for it, and I'm so excited about the way He's going to use it in the lives of our listeners as we seek to get to know Christ in a more intimate and real way.
Now, let me talk just a few moments today about the title of this series, the title of this book—The Incomparable Christ. Incomparable . . . that word suggests there is no one else like Him. And there isn't anyone like Him, but the fact is that most of the world today does not agree with what I just said.
The fact is that most of the world does not affirm that Christ is incomparable, and in our 21st century multi-cultural world, there are a host of religions that claim to have a corner on truth. Many of the claims made by these religions are mutually exclusive with Christianity. They can't both be true.
So who and what are we to believe?
How are we as Christians to respond to those who insist that their faith is equally or more valid than ours?
How are we to present the gospel of Christ to a world that views Him as something different or something less than we believe Him to be? He's just another in another pantheon of religious leaders. How are we to present Christ in that kind of world?
Well, let me suggest that the credibility and the validity of Christ's message hinge on the matter of his identity. Who is Jesus Christ? Is He really incomparable? Because if He's not, then all these things we're teaching about the gospel of Christ, the Word of Christ, they come into question if Christ is not who He claimed to be.
At one point during His earthly ministry, Jesus asked His disciples, "Who do people say that I am?" (Mark 8:27). There was a variety of responses as we would expect if we were to ask the same question today. Some would say that Jesus was a good man; He's a philosopher; He's a moral example; He's a teacher.
Then on the other end, there would be those who consider Christ a fraud. Even some would say He's a threat or a menace to modern-day society.
Well the follow-up question that Jesus asked His disciples is even more pointed and more crucial than the first question, and that question is, "Who do you say that I am?" (Mark 8:29). Not just who do others think that I am, but who do you say that I am?
I would suggest that this is a question that every person has to answer. Is Jesus who He claimed to be? And if He is, what are the implications for our lives? You see, what we believe about Jesus determines our ultimate destiny.
In his final book, The Radical Disciple, John Stott talks about the pluralistic world in which we live. He stresses the importance of affirming the uniqueness of Jesus. Let me read to you from John Stott's book on this issue. He says,
Pluralism . . . affirms that every "ism" has its own independent validity and an equal right to our respect. It therefore rejects Christian claims to finality and uniqueness, and condemns as sheer arrogance the attempt to convert anybody (let alone everybody) to what it sees as merely our opinions.

How should we respond to this spirit of pluralism? With great humility, I hope, and with no hint of personal superiority. But we must continue to affirm the uniqueness and finality of Jesus Christ. For he is unique in his incarnation (the one and only God-man), he is unique in his atonement (only he has died for the sins of the world), and he is unique in his resurrection (only he has conquered death).

And since in no other person but Jesus of Nazareth did God first become human (in his birth), then bear our sins (in his death), and then triumph over death (in his resurrection), he is uniquely competent to save sinners. No one else possesses his qualifications.

So we may talk about Alexander the Great, Charles the Great and Napoleon the Great, but not Jesus the Great. He is not the Great—he is the Only. There is nobody like him. He has no rival and no successor.
Anyone want to say amen to that? (Audience responds with "Amen.")
There truly is no one like Jesus—not even close. But I want to remind us that it's not enough to intellectually affirm His uniqueness. If Christ truly is incomparable, He deserves to be the supreme object of our affection and our attention. It's not enough to just know that Jesus is incomparable. We have to steadfastly fix our eyes and our hope upon Him.
The Scripture tells us that:
He alone is able to save us from our sin.
He alone is able to sanctify us, to make us holy.
He alone is able to satisfy our thirsty souls.
He alone is able to sustain and strengthen us when we grow weary of running the race and are tempted to throw in the towel.
And—and I think this is astonishing—it is in beholding Christ that we are transformed into His likeness, that we become like Him.
Second Corinthians 3 tells us that "we all, with unveiled face, beholding the glory of the Lord, are being transformed into the same image from glory to glory" (v. 18). And one day that transformation will be complete.
First John 3 gives us this amazing promise that says, "We know that when he appears, we shall be like him, because we shall see him as he is." To see Christ, to behold Him, to fix our gaze upon Him is to be transformed into His likeness.
So over these next forty days, we want to behold Him. We want to consider Him, fix our focus upon Him. And that takes time. We are busy people. We are too busy. We've got too many things going on. It may mean less Facebook time over the next forty days. It may mean fewer computer games. It may mean less television at night. It may mean saying "no" to some other things so that we can fix our attention upon Christ.
But as we do, we will come to know Him and then to know Him is to worship Him, to love Him, to trust Him, and then we will find ourselves wanting to obey Him, to follow Him. We will be becoming more like Him. And then we'll have a desire to help others know Him, to make Him known to others—our goal being that He may spread through us what the apostle Paul says is "the fragrance of the knowledge of Christ," to spread that fragrance everywhere (2 Cor. 2:14).
But it all starts with considering Him—considering Him. I'm reminded of that passage in Hebrews 12 where the writer says,
Let us lay aside every weight, and sin which clings so closely, and let us run with endurance the race that is set before us, [How do we do that?] looking to Jesus [looking to Jesus], the founder and the perfecter of our faith who, for the joy that was set before Him endured the cross, [That's what we're going to be focusing on in these next weeks—Christ, who endured the cross.] despising the shame, and is now seated at the right hand of the throne of God (vv. 1–3).
Consider Him—consider Him who endured from sinners such hostility against Himself so that you may not grow weary or fainthearted. I know I'm speaking to some listeners who have grown weary and fainthearted. You are struggling to stay in the race. You're having a hard time enduring. You want to throw in the towel.
What can you do? Consider Him. Look to Jesus. Look to Him—He's at the finish line. He's waiting for us. He's the Author and the Perfecter, the Finisher of our faith. He's the one who can sustain us and keep us in the race. Look to Jesus. Consider Him.
William Burns was a Scottish evangelist in the 19th century. In 1840 he wrote a letter to the teens in his church. I want to leave you with a paragraph from that letter. He said to those teenagers what is good counsel for every age. He said:
"Look unto Jesus!" is the whole of the Gospel. Look and wonder, look and live, look and love, look and adore, look and admire, look and be blessed, look and be glorified, look eternally—and your hearts will be filled with everlasting love, your mouth with an unending hallelujah.
Amen? (Audience responds with, "Amen.") Amen.
Lord, we ask that over these next weeks that You would help us to look to Jesus, to consider Him, to fix our eyes steadfastly upon Him. As we gaze, as we look, as we behold You, the incomparable Christ, may we be transformed into Your likeness. I pray it in Jesus' name, amen.
Leslie: There is no one else like Jesus. That sounds like a simple statement, but in today's world, it sounds radical. Nancy Leigh DeMoss has been showing us the uniqueness of Christ, and she'll be right back.
We got an email from a Revive Our Hearts listener who is discovering that truly knowing Jesus changes everything. After hearing programs on Jesus, similar to the one you just heard, she wrote to say:
I think I finally get it. After twenty-five years of trying to change me with self-help books to be a better person, wife mother, etc. When all I really needed to do was to focus on Christ!  
And Nancy, that's what this ministry is all about.
Nancy: That's right, Leslie. We're asking the Lord to use this ministry to call women to freedom, fullness, and fruitfulness in Christ. That "in Christ" is the most important part because it ties it all together and makes the freedom, fullness, and fruitfulness possible.  
When you support this ministry, you are helping us point women to Jesus—to know they can be "in Christ."
When you donate any amount this week to Revive Our Hearts, we'll say thanks by sending you the book, The Incomparable Christ by J. Oswald Sanders. I want to encourage you to read one chapter from the book each day for the next several weeks and listen to the related material here on Revive Our Hearts. As you do, I think this may end up being the most meaningful Easter season you've ever experienced. 
And when you request the book, we'll also send along a companion journal that our team has developed. You can use this journal to write down what you're learning about Jesus. We've included some "Making It Personal" questions to follow up each day's teaching and reading. 
Ask for the book by Sanders, The Incomparable Christ, when you call with your donation of any size. The number is 1–800–569–5959, or visit ReviveOurHearts.com.

Leslie: Thanks Nancy.
When you hear the word beautiful, what comes to mind? Tomorrow we'll focus on the Person who most perfectly represents beauty. The Incomparable Christ continues tomorrow on Revive Our Hearts.
Here's Nancy to wrap things up.
Nancy: S. M. Lockridge was a 20th century African-American preacher who was best known for his six-and-a-half minute description of Jesus known as "That's My King!" We found a recording of that message. It's an old recording, so it's a little hard to understand. You have to listen carefully, but I really think it's worth listening to.
I want to share just an excerpt from that message that I hope will whet your appetite for this series on The Incomparable Christ. S. M. Lockridge with "That's My King."
S. M. Lockridge: The Bible says He's the king of the Jews. He's the king of Israel. He's the king of righteousness. He's the king of the ages. He's the king of heaven. He's the king of glory. He's the King of kings, and He is the Lord of lords. Now that's my King!
David said the heavens declare the glory of God and the firmament showeth His handiwork. No means of measure can define His limitless love. No far-seeing periscope can bring into visibility the coastline of His supplies. No barriers can hinder Him from pouring out His blessings.
Well, He's enduringly strong. He's entirely sincere. He's eternally steadfast. He's immortally graceful. He's imperially powerful. And He's impartially merciful. That's my King!
He's God's Son. He's the sinner's Savior. He's the centerpiece of civilization. He stands alone in Himself. He's august. He's unique. He's unparalleled. He's unprecedented. He's supreme. He's pre-eminent. He's the loftiest idea in literature. He's the highest personality in philosophy. And He's the supreme problem in higher criticisms. He's the fundamental doctrine of true theology. He's the corner necessity of spiritual religion. And that's my King!
He's the miracle of the age. He's the superlative of everything good that you choose to call Him. He's the only one able to supply all of our needs simultaneously. He supplies strength for the weak. He's available for the tempted and the tried. He sympathizes, and He saves.
He guards, and He guides. He heals the sick. He cleanses the lepers. He forgives sinners. He delivers the captives. He defends the feeble. He blesses the young. He spells the unfortunate. He regards the aged. He rewards the diligent, and He beautifies the meek.
Do you know Him? Well, my King is the key of knowledge. He's the wellspring of wisdom. He's the doorway of deliverance. The glory is all His. Thine is the kingdom and the power and the glory forever and ever and ever—and when you get through with all the forevers, then amen. (Amen!)
Revive Our Hearts with Nancy Leigh DeMoss is an outreach of Life Action Ministries.  
All Scripture was taken from the ESV.
Extra Scripture reading:
Mark 8:27–29
1 John 3:1–3
2 Cor. 2:14–15
Heb. 2:1–3
*Offers available only during the broadcast of the podcast season.
Support the Revive Our Hearts Podcast
Darkness. Fear. Uncertainty. Women around the world wake up hopeless every day. You can play a part in bringing them freedom, fullness, and fruitfulness instead. Your gift ensures that we can continue to spread gospel hope! Donate now.
Donate Now