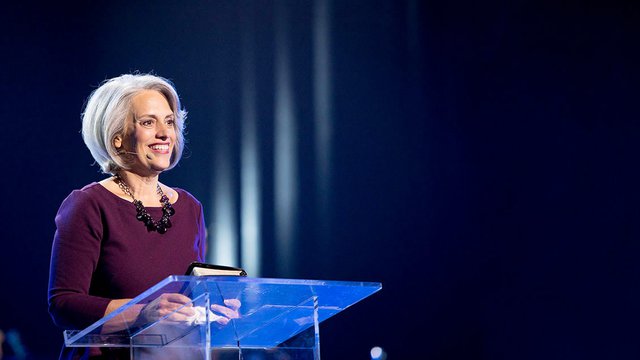 — Audio Player —
Under a Microscope
Leslie Basham: How would you feel if everyone in church were watching everything you do? Here's Pastor Lance Quinn.
Lance Quinn: Pastors' kids are notoriously held up to a completely unrealistic standard, so that if our children do anything that is perceived by anyone as anywhere near problematic, it can become almost a scandal.
Leslie Basham: This is Revive Our Hearts with Nancy Leigh DeMoss. It's Friday, September 30th. You've joined us in a series called Follow the Leaders. Nancy's been helping us encourage our pastors. Yesterday she talked with a panel of pastors and their wives in the Little Rock area. If you missed any of that program, you can catch it on ReviveOurHearts.com. Today we're going to continue that discussion, jumping right into the middle.
We'll hear from Lance Quinn, the pastor of The Bible Church of Little Rock, along with his wife Beth. We'll also hear from Tim and Hannah Senn. Tim is the Pastor of Student Ministries at The Bible Church. And joining us is Bill Elliff, pastor of the Summit Church, and his wife Holly. She'll start us off talking about the unrealistic expectations church members can have.
Holly Elliff: It reminds me of one afternoon (I think I've mentioned this to Nancy before), I was standing in my den, and all eight of our children were in there. I had been gone for a while. I had come back home, and they all had something they needed me to respond to or answer or do for them. I found myself just kind of backing up into a corner, and they were all coming at me like little birds or something. They all had a question, and each of them believed that their problem or their issue was the most important thing right at that moment.
I think that's what happens a lot of times as we're ministering to people. As Lance said, in their mind that is the most important issue in their life. But they don't realize that we have lots of other people who also have an issue that they think is critical at that moment. Sometimes it's overwhelming because there are so many needs, and you can't fix those things.
I have to say to women all the time, "I wish I could fix this for you, but I can't. You know, I can't fix this. I can tell you what God's Word says, but I can't bring immediate solution to your problem or your issue." So I think that thing of being almost overwhelmed sometimes by the magnitude of the need is a really difficult thing for folks in ministry to know: What do I respond to? What do I wait on? What do I have to go to God and say, "God, You're going to have to give me wisdom on this"? I mean, I think that occurs all the time in ministry.
Lance Quinn: There's one other aspect of this unrealistic expectation discussion, and it's the reverse of what we've been talking about. There are also people in all of our churches and all of our fellowships who may not be so myopic in the sense of their own needs and so focused on that. There are other people in the church who don't express themselves, and who have expectations that they think the pastor needs to omnisciently figure out. So there can be hurt. There can be frustration. There can be gossip. There can be innuendos that the pastor's "not meeting my needs. He's not ministering to me."
It may be that the pastor has no idea what that need is because it's never been expressed. It may in fact be totally unknown to him. He's preaching; he's teaching; he's ministering; he's loving . . . he's loving his family, and he's loving his flock, and there may be someone out there who says, "Well, he's not loving me. He's not involved in my life." And you could probably, in some of those cases, genuinely ask the question, "Does he know? Does anyone in the church know about your problem? And if they don't, how can they minister to you?"
We had an illustration of this just this past Sunday when there was a precious couple from our church who are moving away, back to another area of the country in which they formerly lived. We found out just this morning, a couple of days later after the service, that they were terribly hurt because we did not publicly recognize their departure. All of us in our leadership meeting looked around at each other and said, "Did anyone know? Did anyone know that this was going to be their last Sunday?" And we realized collectively that no one knew.
So I had the opportunity to talk with them about an hour later and say, "I'm so sorry we did not know that there was any level of expectation, nor did we have any knowledge of this. We would have done something." So sometimes you have to be a sleuth; you have to be a detective, and you have to try to find out these things by hook or by crook just to allow people to know that your desire is to minister to them effectively if you were otherwise able to know.
Nancy Leigh DeMoss: Beth or Hannah, anything about expectations that you'd like to throw in there while we're on that area?
Beth Quinn: I'd like to follow up with what Lance just spoke about. I have several good friends at the church who have taken it upon themselves to make sure that they call me and let me know the needs that I may not know about. "Did you realize that so-and-so just went in to have her baby this morning?" "Oh, thank you. I didn't know that." Or, "Did you realize that so-and-so has been sick for a couple of days?" They know that it's important for me to know those things, and yet I can't know everything.
So that's an encouragement to me, that they would think enough about me and know that would be an encouragement to me, to call me and let me know about some needs that I really want to minister to but would not otherwise have known. So I really have appreciated that help.
Nancy: So they're really helping you fulfill your heart's desire to be an effective pastor's wife.
Beth: Yes.
Hannah Senn: And to bounce off of something else that Lance said, it has been a great encouragement for us, when someone does have a concern about either one of our children or something that we've done—instead of those people stewing about it or maybe even gossiping about it, it's such an encouragement when they come to us and say, "Can we sit down and talk with you about this? We saw (for instance, maybe) one of your children doing something. I wanted to talk to you about this." And we just say, "Thank you so much for loving us enough to come to us and share a concern with us before it gets out of hand or turns into a rumor or gossip."
Nancy: Do you think it surprises people sometimes that as a couple or as a family you would have problems or issues of your own?
Hannah: Yes, and I think oftentimes they're afraid to come to us. Maybe they're afraid that we might respond in a wrong way, or maybe they're just hoping that someone else would come. But that doesn't always happen. So it's been an encouragement to us when someone has come and said, "We want to talk to you about something."
Nancy: So you're saying really, "We're members of this body, too."
Hannah: Exactly.
Nancy: We're brothers and sisters, and we need the body in our lives.
Holly: Yes. And I think the key to that is where their heart is as they come. Are they speaking the truth in love? Are they there because they genuinely love you and your children and want God's best? So I think that when the heart motivation is pure, that's a wonderful thing.
Lance: Maybe the reason, Holly, that you're saying that is because sometimes when people do come, we don't know exactly what is the purpose of their coming. How long have they thought about this? How many people have they spoken to before they've come to us?
When you have people come, you want to assume, because of 1 Corinthians 13 (love believes all things), that they're coming with the right motives; but sometimes they also have unrealistic expectations about your children. Pastors' kids are notoriously held up to a completely unrealistic standard, so that if our children do anything that is perceived by anyone as anywhere near problematic, it can become almost a scandal.
I heard recently of an example, on a teaching tape that I heard, from another pastor in another church. He was actually the youth pastor, and he was teaching on a Sunday morning in the congregation. He talked about a couple of years prior to that when he had a young son in the children's ministry who had been called down because of fighting. There was some wrestling and fighting in the children's ministry, and he said, "I was so glad that they called me and told me, 'Look, we've got a problem.'" And he said, "The difficulty was that he was fighting with one of our other pastors' sons." And then he said, "I'm so happy to announce that my son won the battle."
So there are unrealistic expectations even in terms of the behavior of your children that none of us could possibly live up to. And it brings sometimes a great burden on our children. We have to sit down and work with them about how you respond to people who are looking at every move you make in the church. That's difficult.
Bill Elliff: You know, we—all of us—want our kids to walk with Christ and be examples and be leaders. But it's a phenomenal gift that a church member, a member of the body, can give to us as parents, to give our kids grace just like they give their own kids, like they give somebody else's kids.
And you know, that could be—and we haven't experienced a lot of this, honestly, but I know others who have—that could be a very . . . that could just break your heart and wound you in places that you don't need to be wounded, for church members to have these unrealistic expectations of your kids and respond to them or they've come to know that in inappropriate ways.
Nancy: And doesn't that highlight the importance, too, of people praying for your family, praying for your children?
Bill: Absolutely.
Nancy: I mean, I wonder if in the congregation people realize that the pastor's family needs prayer as they raise their kids in the same way that you need prayer as you raise your kids; that this is going to be a work of God to have those kids have a heart for the Lord.
Leslie Basham: That's Nancy Leigh DeMoss talking with Bill Elliff and a panel of pastors and their wives. Have you ever realized how much your pastor and his children need your prayers? We want to help you remember to pray for your pastor. We'll send you a free calendar called Thirty-one Days of Praying for Your Pastor. The requests listed here will help you to pray effectively according to a pastor's real needs.
For instance, here's what day seven says: "Pray for your pastor's children, and especially that the pressures of the ministry will not discourage or embitter them. Pray that your pastor will provide godly leadership in the home not based on fear of what others will think, but according to Scriptural truth." The prayer calendar is free.
If you have a burden for prayer, would you consider taking an additional step? You can order prayer calendars in packs of 50 for a low price and then give them away at your church. That way the prayers for your pastor will be multiplied. To find out more call 1-800-569-5959 or visit ReviveOurHearts.com. And while you're at our website, make sure to check out this week's poll. You can tell us how often you encourage your pastor.
What if you have some problems with your pastor? How should you respectfully handle them? Nancy will look to the Bible and give us some insight Monday. Please join us for Revive Our Hearts. Now let's pray with Nancy .
Nancy: Lord, how I thank You for these three precious couples, and so many others that I can think of who have pastored and shepherded my life over the years. And Lord, as I have looked into the eyes of these couples, I thank You for their faithfulness, as we hear so many stories about those who are not faithful and those who are failing to keep their spiritual vows, those who are falling morally. Lord, that breaks our hearts.
But we thank You that there are many, many who have been faithful, who love You, who love Your Word, who are laying down their lives for Your sake and for the sake of Your church. And what a reflection these around this table are of the shepherding heart of Christ, who lays down His life for His sheep. Encourage them, strengthen them, fulfill all of Your holy purposes in and through their lives. We pray with thanksgiving in the name of Jesus, amen.
Revive Our Hearts with Nancy Leigh DeMoss is an outreach of Life Action Ministries.
*Offers available only during the broadcast of the podcast season.
Support the Revive Our Hearts Podcast
Darkness. Fear. Uncertainty. Women around the world wake up hopeless every day. You can play a part in bringing them freedom, fullness, and fruitfulness instead. Your gift ensures that we can continue to spread gospel hope! Donate now.
Donate Now