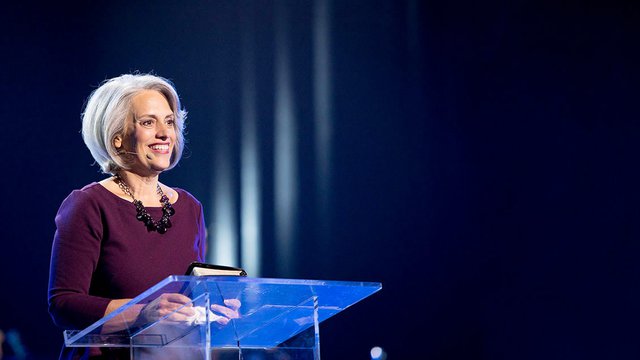 Trust or Tyranny?
Leslie Basham: According to Nancy Leigh DeMoss, we all face an important decision.
Nancy Leigh DeMoss: Trust or tyranny? That's the option. Trust the promises of God, which will free you to live joyfully under His loving lordship or live under the tyranny of that which you refuse to surrender.
Leslie Basham: It's Tuesday, August 10; and you're listening to Revive Our Hearts with Nancy Leigh DeMoss. Over the last several programs we've been hearing about the joy that comes from surrendering ourselves to God.
We've seen how God will provide in four areas in which we tend to fear--provision, pleasure, safety and relationships. Today we'll hear about what happens when we don't give ourselves to God. Here's Nancy.
Nancy Leigh DeMoss: I think one of the biggest challenges on the front end of surrendering everything to God is not knowing what it's going to mean. What is God going to require? What is He going to ask for?
I can just imagine Abraham and Sarah, who had so little to go on--they didn't have Bible stories that they could read to tell them how it would turn out if they trusted God. They couldn't read the end of the story, and we can't read the end of our story.
What we really would like to have is a detailed contract that God would give us. We want to be able to read small print. We want to know what's ahead. Will He let me get married? Will He let me have children? Will I be healthy? Will I be able to buy the things that I want? Will I live in a place that I like? Then we can decide whether or not to sign the contract.
I'm here to tell you that's not the way God does it. If it were, there would be no faith involved, would there? What God does instead is hands us a blank piece of paper, so to speak, and says, "Now I want you to sign on the bottom here, then give it back to Me and let me fill in the details." And you think, Oh, I want to read it first! I want to know first! What's it going to involve?
We think we could sign it if we would just know what was going to be ahead. And God says, "No, that's not the way we're going to do it. I want you to know Me and trust Me to the extent that you just sign the blank piece of paper and let me fill in the details"--knowing that the details He fills in will be far better, though probably be very different than the way we would have written the script for our own lives.
As I read through the history of the church, I've been so challenged and encouraged in my own faith by the writings of those who signed this blank piece of paper, so to speak. I think of one French believer in the late 1800s who wrote, "Father, I abandon my self into Your hands. Do with me what you will. Whatever You may do, I thank You." That's faith--thanking God in advance.
He said, "I'm ready for all. I accept all--only let Your will be done in me and in all Your creatures. I wish no more than this, Oh Lord." That's the heart of full surrender.
The heart of the matter for every child of God when it comes down to this full surrender is, Do we trust Him? Do we believe that He loves us? Do we believe that He would never do anything but what is best for us?
What if we don't trust God in that way? What if we hold on? What if we don't let go? What if we try to run and manage our own lives?
Well a couple things--first of all we're going to become useless and spiritually barren. That's why Jesus said in John 12 [:24], "Truly, I say unto you, unless a grain of wheat falls into the earth and dies, it remains by itself alone." It's useless; but if it dies, it bears much fruit.
Until we're willing to die with Christ, to die to our own reputation and interests and future and plans, we're going to abide alone. But when we let go, then He is going to cause His life to flow through us and give life to others.
Jesus said, "If you want to come after Me, you have deny yourself. You have to take up your cross daily and follow Me. For whoever wishes to save his life [the person who holds on tightly], will lose it; but whoever loses His life [give it up, lay it down, relinquish it] for My sake, he is the one who will save it" [Matthew 16:24-25].
Then can I suggest that if we don't trust God's promises, and therefore we don't step out in faith and surrender, ultimately we will find ourselves in bondage to the very things we've refused to surrender.
Trust or tyranny--that's the option. Trust the promises of God, which will free you to live joyfully under His loving Lordship or live under the tyranny of that which you refuse to surrender.
That principle is stated powerfully in Deuteronomy 28 beginning in verse 47. Moses said to the Israelites, "Because you did not serve the Lord your God with joyfulness and gladness of heart because of the abundance of all things, therefore you shall serve your enemies whom the Lord will send against you. In hunger, in thirst, in nakedness, and lacking something and He [God] will put a yoke of iron on your neck until He has destroyed you."
See the alternative there? Trust, let God have His way or tyranny. You will serve something. You will serve someone. We think, I'm so free because I'm running my own life.
Listen, the person who's running his own life is not free; he's a slave. That's why Paul says in Romans 6 [:17-18], "You were slaves to sin, but now you're slaves to Christ. You're slaves to righteousness, and in that slavery is true freedom."
So, if we're unwilling to trust God in the matter of provision, we're going to be tyrannized by things like greed, stealing, cheating, our lives getting centered around money. We'll be in bondage to things if we can't trust God in relation to provision.
If we're unwilling to trust God with our happiness, our well-being and we insist on pursuing temporal pleasures, we may become dominated by the very thing we thought we were trying to control, we'll become dominated by things like over overeating, getting drunk, using drugs, sexual promiscuity, adultery, pornography, obsession with television or films or movies.
If we won't trust God with our pleasure--we say, "I want to have my own pleasure" we're going to end up under the tyranny of the things we thought would bring us pleasure.
Same thing with protection--if we don't trust God with our safety, but we demand that we have human security and protection, we may be overwhelmed by fearfulness, worry, fear of intimacy, tendencies toward violence. We'll become tyrannized by the very thing we thought we was going to bring us protection.
In the matter of relationships, if we don't value Him as our primary relationship, the One whose company matters most to us, then we're going to live in fear--fear of losing human relationships. You'll be clinging to your mate, clinging to your children. That's not love. Love is giving.
Or if you live in fear of him [your husband] being out from under your control, that's why you've got to trust God to be your primary relationship and not look to your husband to meet needs that only God can meet.
We'll set ourselves up to be tyrannized by such things as possessiveness, giving abuse, taking abuse, adultery, obsessive or controlling relationship, we're going to be slaves if we do not look to God to provide the primary companionship and friendship in our lives.
The fact remains that when we sign that blank contract of surrender, there are no guarantees about where God will lead us, what will happen in our lives, how difficult our journey will be--but we know the character of God in whom we placed our trust.
I am so thankful that the Lord helped me as a young girl to begin to know Him, to trust Him and to sign that blank contract and to turn my life over to Him. There have been times of lapsing into unbelief, times of fear, times of fretting and worrying--but deeper than all that is the confidence that God knows what He is doing.
He has proven to me over and over again that He is faithful and He can be trusted. How foolish I would be to try and run my life myself. There are many days when that's just what I do, but it is foolish because God's plan is good. God's plan is best. We can trust Him.
I received a letter not too long ago from a woman who heard me speak years ago on this subject of surrender. At the close of my message that day, I asked those that were listening to sign a blank piece of paper symbolizing their willingness to surrender everything--past, present, future--everything to Christ's control and to let Him fill in the details as to what that would mean.
Now, years later, this woman was writing to thank me for that challenge, and here's what she said:
"The Lord used you and His Word that day to make me see things I had been hanging onto for over 30 years, including bitterness that I had been holding onto since before I got married 33 years ago. How wonderful it is to forgive!" That's part of what signing that blank contract meant to her. God filled in the details and said, "You need to forgive."
She said, "How wonderful it is, and how much better my life would have been if only I would have realized this years ago." Listen, ladies, in a moment or two from now, as God measures time, you and I are going to stand in the presence of the Lord with all of time behind us and all of eternity before us.
We're going to look back and the only regrets that we will possibly have are that we didn't trust God more, that we didn't surrender everything, that we held back anything from God. The joys and the fullness and the blessing that we can experience in this life and for all of eternity are the fruit of saying, "Have Your own way, Lord. Have Your own way."
Leslie Basham: As Nancy Leigh DeMoss has pointed out today, we all face a choice. Will we surrender to God or will we be in bondage to the stuff we're trying to hold onto? If you're ready to surrender to God, would you pray with Nancy in just a minute?
Would you also consider writing us and telling us what God's done in your life through this series? We'd love to hear your story. If you'd like to include a donation with your letter, it will help us continue our mission. It's to lead women to freedom, fullness and fruitfulness in Christ. We do that thanks to the support of our listeners.
If you give a gift of any amount, we'll say thanks by sending a pamphlet called Promises To Live By. It's a listing of promises from the Bible. It's really encouraging to read through the things God's promised us. It helps us trust Him while leading a surrendered life. Just ask for a copy when you contact us.
You can also e-mail us by visiting our Web site or donate on-line. The address is ReviveOurHearts.com. You can also contact us toll free at 1-800-569-5959.
Yes, Lord--if we really mean those words, they can be really hard to say. We'll explore the power of those two words tomorrow. Hope you can join us. Now, let's pray with Nancy.
Nancy Leigh DeMoss: As we bow in prayer, I just want to ask if you would in your heart envision your life, your future as a blank piece of paper there. I want you to envision yourself signing your name at the bottom of that contract.
Say, "Lord, I give you myself, my future, my plans, my gifts and abilities, my possessions, my money, everything, Lord. I give it all to You, and I ask You to fill in the details of Your will for my life. I accept that will, whatever it is, because I know it's good and acceptable and perfect.
I'm giving you that paper. I'm giving you my life and asking You to fill in the details for Your glory and for the advancement of Your great kingdom. You are good, Lord, and everything that You do is good. Help us to trust You and to surrender all for Jesus' sake. Amen.
Revive Our Hearts with Nancy Leigh DeMoss is a ministry partnership of Life Action Ministries.
*Offers available only during the broadcast of the podcast season.
Support the Revive Our Hearts Podcast
Darkness. Fear. Uncertainty. Women around the world wake up hopeless every day. You can play a part in bringing them freedom, fullness, and fruitfulness instead. Your gift ensures that we can continue to spread gospel hope! Donate now.
Donate Now