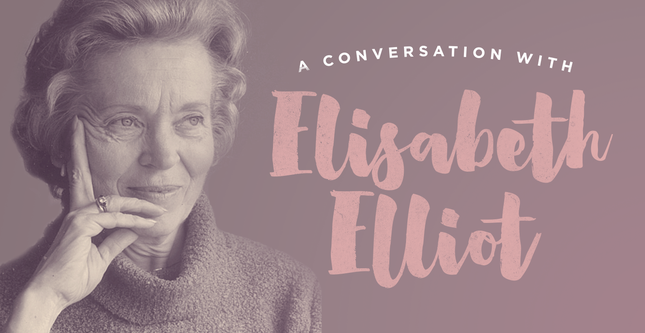 — Audio Player —
True Heroes of the Faith
Leslie Basham: Elisabeth Elliot has witnessed dramatic conversions in the jungles of South America. She's written over twenty books and hosted a radio program for almost thirteen years, but she still has this request.
Elisabeth Elliot: I just pray that God will not allow me to become a crotchety old wife.
Leslie: This is Revive Our Hearts with Nancy Leigh DeMoss for Friday, September 2.
Ten years ago, a team was preparing to launch the radio program Revive Our Hearts. In the days leading up to that launch, Nancy Leigh DeMoss was interviewed by Elisabeth Elliot. Elisabeth's role as a radio teacher was drawing to a close at the time, and Revive Our Hearts was preparing to fill the gap left by her program Gateway To Joy.
On those final episodes, Elisabeth talked about missionary heroes, surrender to the Lord, and the aging process. We're about to hear some of that conversation. Along with Nancy and Elisabeth, you'll hear Lisa Barry, the announcer on Gateway To Joy, and we'll begin with Bob Lepine from FamilyLife Today.
Bob Lepine: I was thinking about people I know who have come up to me and reflected back on books or messages or talks they've heard you give, Elisabeth—life-changing encounters through your obedience to do what God has gifted you to do in writing books and in speaking.
Nancy, I know many of those books have been books that you've read. As you think back about Elisabeth's writing and her speaking, does anything stand out as being most influential?
Nancy Leigh DeMoss: I was born just after Elisabeth's husband, Jim Elliot, was martyred by the Auca Indians. Then, early in those years, the Lord brought across my path books like The Shadow of the Almighty, The Savage, My Kinsmen, later the Journals of Jim Elliot. These were among books that God used in a significant way to call me to a full consecration of my life to the Lord, and to give me a love, a heart, and a passion for ministry.
In fact, I remember as a little girl writing to my parents a letter telling them that I felt God called me to be a missionary for Him. In a very passionate way, spelling out my heart to serve the Lord. I know that it was books like the ones that Elisabeth has written of the biographical nature that so stirred my heart and fanned a flame in my heart of passion for the Lord that still really burns hotly today. Those books were a key part of that.
Bob: I have a friend who at church this past Sunday said, "Any time you are going to talk about Amy Carmichael on the radio, give me fair warning so I can tune out, so as not to become under so much conviction. Anytime I hear about the life of Amy Carmichael, I'm just brought to a terrible point of conviction."
So this is a warning for my friend. This is a time to tune out. That book, A Chance To Die, chronicles one of the great heroes of our era, doesn't it?
Elisabeth: Yes. You realize she wrote forty books. There are only about seventeen of them that are still available, but they are available. Every one of them is worth its weight in gold. I think I've read all of them—most of them more than once. She has certainly been a great watchword to me. Of course, she was a beautiful writer.
Bob: You've read A Chance To Die as well, haven't you?
Nancy: I have. I tell you, if your friend is convicted, all you need to be convicted by that book is just the title itself. A chance to die, it really is. Hers was a life as has been Elisabeth's, of calling us to that life of self-sacrifice, of surrender and abandon. That has helped me to have God's perspective on so many circumstances of life. To see in it a chance to die, and then in that, an opportunity to offer up to the Lord some sacrifice that is pleasing to Him.
Bob: One of the things you've done in the books about Amy Carmichael and in the books about Jim Elliot, as you've told stories about Gladys Aylward and others—you've raised missionaries to the rightful place of hero status. At a time when nobody looks at missionaries as heroes, you grew up with that vision that missionaries were real heroes as you were growing up. You've shed that vision for a new generation in your writings.
Elisabeth: I remember Betty Stam visiting in our home. It wasn't until I learned that she and her husband had been killed by Chinese Communists that I realized what missionary life was really meant to be.
The fact that that lady had sat at our dinner table was just stunning to me. I was ten years old when my father came home with the Philadelphia newspaper telling about the martyrdom of John and Betty Stam. They had been captured by Chinese Communists. They were marched half-naked through the streets of a Chinese village. She had to watch while they chopped his head off. Then they put her head on the chopping block and she had her head chopped off.
To think that that lady had sat at our dinner table made it just unbelievable. It was when I was about twelve or thirteen that I came across her prayer that I made my own: "Lord, I give up my own plans and purposes, all my own desires and hopes, and accept Thy will for my life. I give myself, my life, my all utterly to Thee, to be Thine forever. Fill me and seal me with Thine Holy Spirit. Use me as Thou wilt. Send me where Thou wilt, and work out Thy whole will in my life at any cost, now and forever."
I copied that into my Bible and asked the Lord to give me that kind of a martyrdom if He wanted me to have that.
Bob: When you went to your mom and dad and said that I feel the call to the mission field, after they'd had Betty Stam at the dinner table and they knew what had happened to her, did they say, "We're so thrilled. God bless you"?
Elisabeth: My parents were missionaries, too. They were missionaries in Belgium. That's why I happened to be born over there. So they had missions in their minds. My mother, although she came from a very posh Episcopal church were they didn't talk about missionaries at all, she went to a missionary time—I think it was Stony Brook School in New York—and she heard missionaries speak then.
It was then that she really began to ask the Lord, "Do you want me to be a missionary?" She couldn't imagine doing it, but she thought she ought to at least ask the Lord. So when she married my father, they were poor missionaries in Belgium for just those five years when I was born and my older brother.
Five out of the six of us became missionaries. So our parents, of course, had to take a little gasp of breath each time they heard that one more child had decided to become a missionary. They never in any way tried to stop us. The one who has not been a missionary has been in Christian work.
It was routine for us to read missionary biographies. I have a shelf about that long of just missionary biographies. I devoured them. I always try to get young people to read those and get animated.
Bob: Okay, they accepted the fact that you were going to be a missionary—they may have even rejoiced in that. But then when you said, after your husband had been martyred by the Aucus, "I'm going into the village."
Elisabeth: It was hard on them. It was very hard on Jim's parents as well. I got letters from both sides, Jim's and mine, very graciously and very carefully cautioning me strongly, "Don't even think of going in there unless you feel absolutely sure that this is what God is wanting you to do."
I took that very seriously. I prayed about it. As I realized that it might be that God would want me to go in there for some reason, He was going to have to show me. I didn't see how it would ever work. If five men were killed, it didn't make sense that one would go back in there and come back alive. But it happened.
I'm sure it was very hard on my parents. I know it was hard on Jim's parents. Jim's oldest brother is still a missionary. He has at least 53 years in Peru, South America. Nobody has ever heard of Burt Elliot, but everybody's heard of Jim Elliot. He and his wife were never given any children, which was a great sorrow to them.
Because of that, they have been able to be free in the summertime in the eastern jungles where its very, very hot—and in the other extreme in the high Andes where it it extremely cold. They are the happiest couple you've ever seen. Even though the Lord never gave them any children, they have hundreds of spiritual children. When I hear about the thousands of people that know Jim Elliot, I always want to say that I wish you could hear about Burt Elliot.
Nancy: Elisabeth, one of the questions that I've wanted to ask you, as an older woman, is what could you share with those of us that are younger women about God's perspective on this matter of aging. How does God view that, and how can we look toward the aging process with anticipation rather than fear or dread?
Elisabeth: Thank you, Nancy, for the privilege of answering a question like that. I don't hesitate at all to tell people my age. I've had older women say to me, "Oh, you shouldn't say that. You don't look that old." I say, "When I look in the mirror, I know I look old."
At this particular juncture, I happen to be 74 years old—pretty close to 75. When I look in the mirror, honestly, I do not recognize the person that I see there. I don't feel any different at all. I am so very blessed at having practically perfect health all my life. I don't feel any less vigorous in my old age than I was.
But I do recognize it very clearly as a stage that I am so delighted to realize is the vestibule of heaven. I can't help saying to the Lord, "Haven't I had enough years? Wouldn't this be a nice time to take me home?" I realize that its none of my business when God wants to lift me up there.
One of the things that I think about a lot is that great hymn of How Firm a Foundation, and the stanza that says
E'en down to old age all My people shall prove,
My boundless, eternal, unchangeable love;
And then when gray hairs shall their temples adorn,
Like lambs they shall still in My bosom be borne.
I know that God is bearing me as a lamb in His bosom, and I'm an old woman. I think I have a right and a responsibility to talk about old age. I'm fed up with women trying to act kittenish, as though they were young, even though it's terribly obvious that they're old. All we have to do is look in the mirror. I guess there are a lot of women who don't look in the mirror other than to put on an awful lot of make that they think is attractive.
We ought to thank God for whatever stage of life we find ourselves in.
Nancy: Elisabeth, we were in a meeting together earlier today and you quoted a passage of Scripture that I felt was so meaningful along this line. I wonder if you would just read it for us now from Isaiah 46.
Elisabeth: I began with verse 4.
Even to your old age and gray hairs
I am he, I am he who will sustain you.
I have made you and I will carry you;
I will sustain you and I will rescue you.

To whom will you compare me or count me equal?
To whom will you then liken me that we may be compared?
Some pour out gold from their bags
and weigh out silver on the scales;
they hire a goldsmith to make it into a god,
and they bow down and worship it.
They lift it to their shoulders and carry it;
they set it up in its place, and there it stands.
From that spot it cannot move.
Though one cries out to it, it does not answer;
it cannot save him from his troubles.

Remember this, fix it in mind,
take it to your heart, you rebels.
Remember the former things, those of long ago;
I am God, and there is no other;
I am God, and there is none like me.
I make known the end from the beginning,
from ancient times, what is still to come.
I say, "My purpose will stand,
and I will do all that I please."

From the east I summon a bird of prey;
from a far-off land, a man to fulfill my purpose.
What I have said, that I will bring about;
what I have planned, that I will do (vv. 4-11).
I can rest in that. Isaiah 48 also,
I am the LORD your God,
who teaches you what is best for you,
who directs you in the way you should go.
If only you had paid attention to my commands,
your peace would have been like a river,
your righteousness like the waves of the sea (vv. 17-18).
Nancy: I love those passages. They do give such a sense of the control and the sovereignty of God. You've talked about accepting and not rejecting the aging process. But what about those who may feel, as older women, that they are no longer useful; that they don't have the strength they once had or the influence that they once had. What can be the role that those of us as younger women have to look forward to as we become older women?
Elisabeth: I think older women not only have a tremendous privilege, but a very great responsibility to talk to younger women, to try to help them realize what a blessing it is that they are that age, and then to testify to them what a blessing it is to be this age. There are things I can't do. There are things I can't remember. I think that is one of the most difficult things for me, because I always had a good memory, and I don't have a good memory any more.
I can remember all the stuff in the past. I've got all these hymns and stuff in my head that I don't forget. But I can forget what Lars said to me three minutes ago. He'll say, "You mean, you don't know what I just said?" I have to say, "Tell me again. Please, tell me again."
Of course it's infuriating to him. It's very difficult for both of us. I have to try to keep a pencil in front of me so I can always be writing down anything that Lars tells me. I have to write it down right away because I can't remember him telling it.
Dear Mom Cunningham, that precious women, was such a blessing to me when I went to Prairie Bible Institute. She had Parkinson's Disease. At the last stage that I saw her—this was some years after Prairie that I went to see her again—it was only shortly before she died. She had to hold her hands tight in order to keep them from trembling. She had this radiant face, surrounded by white hair. She had this beautiful Scottish accent. I just loved to hear her.
She would say, "Oh, Betty dear. Oh how I love you, Betty dear." She was another mother in my life. I would like to be that kind of a mother to women who would find me available.
Nancy: I remember yesterday you were sharing with me about when you met Corrie ten Boom some years ago. Hearing you share about these older women, I think about, of all her works and books, the one that has had the greatest impact in my life is the one written about the last five years of her life, when she was an elderly woman.
She was disabled by a series of strokes and could not talk and was bound to her bedroom for those last five years. The book is called The Five Silent Years. And yet, the stories of how people, including the gardner who was caring for the garden outside of her house was given the opportunity to come in and stand in the bedroom. She could not speak to them, but with her eyes, she would communicate, apparently, the love of Christ and grace.
People talked about how impacted they were by just being around her. You spoke of the radiant spirit, which is what I have always wanted to be true of my own life. In fact, I have to tell you that since I was a little girl, my single greatest goal in life has been to be a godly old lady. I have in my mind a picture of what that means. I am discovering that the old part comes more easily than the godly part.
I am so thankful for the example of women like Corrie ten Boom and other women who have lived longer than I have and have walked before me who are setting this pattern. We don't have to become (I think I have heard you use the word curmudgeon before) irritable, or hard to live with, or demanding, and that we really can become full of grace and still continue to touch lives, as I know you are.
Elisabeth: Well, I hang on to verses like "Fear thou not; for I am with thee: be not dismayed; for I am thy God: I will strengthen thee; yea, I will help thee; yea, I will uphold thee with the right hand of my righteousness" (Is. 41:10 KJV).
Lisa Barry: A verse that you read earlier talked about fulfilling God's purpose. Do you feel, as you look over your life, that you have fulfilled God's purpose for you?
Elisabeth: To a certain extent, I feel that I can say "yes." I did believe that God called me to be a missionary. I did believe that He expected me to be faithful in my schoolwork, from the time I was in kindergarten. I took the classes that I believed that God was asking me to use. For some reason, I thought that God wanted me to read Greek. I learned Latin in high school, and I learned Greek in college.
When I began working on the Bible in primitive languages, of course I needed both the Greek and the Latin. Those were things that God knew, that I didn't know exactly why I had to know.
Of course, I never dreamed of being a radio broadcaster or a writing books. I was just going to be a jungle missionary, period. Of course Jim's death precipitated me into writing. If you write one book, then publishers ask you to write another one.
Nancy: Do you have any goals or passions on your heart that haven't yet been fulfilled?
Elisabeth: I still want to be a better wife. When I think about the very short time that God gave me to Jim and Addison, I look back on those as if everything was perfect. I know they couldn't have been perfect all of the time.
I had to watch Add die. It was a very long, devastating process because he was a very big, strong, very widely known man. He had written a lot of books and was a very wonderful speaker. He got very angry with God. That was an extremely difficult time.
Of course, the Lord has given me husband number three. I just pray that God will not allow me to become a crotchety old wife. You can add that to your prayers for me.
Leslie: That is Elisabeth Elliot. She's been talking with Nancy Leigh DeMoss about living every day for God's glory, even when dealing with the effects of aging. Lisa Barry and Bob Lepine were part of that conversation as well.
That interview originally aired a decade ago on the radio program Gateway To Joy. Elisabeth Elliot was about to end a thirteen year run as the host of that program. Revive Our Hearts was about to begin, taking over the time slots left by Gateway To Joy on most radio stations.
During this challenging transition, Bob Lepine discovered both Elisabeth and Nancy were journaling.
Bob: You let anybody read your journals? If I come over to the house, can I read some?
Elisabeth: Sure.
Bob: Then, can I come read you journals, too?
Nancy: I might want to censor mine a little bit.
Bob: I just want to see.
Nancy: There are some pretty personal dealings. Mine is really not a diary. It has more to do with how God is dealing in my life through His Word. It gets pretty honest.
Bob: David got pretty honest. He let us read his journal entries. He turned them into songs.
Nancy: Right. His were inspired by the Holy Spirit. I won't claim that for mine.
Leslie: Well, ten years after that conversation, Nancy is letting us into some of those journal entries. You can read them in a pamphlet called "Up Close and Personal." When you read about Nancy's daunting task delivering enough messages for a daily radio program, it will strengthen your faith in whatever God has called you to do.
When you donate any amount to the ministry of Revive Our Hearts, we'll send you the pamphlet "Up Close and Personal" along with the book Let Me Be a Woman by Elisabeth Elliot. She writes as a mother passing on biblical truth to the next generation. The book will help you develop biblical thinking on God's calling for you as a woman.
When you donate any amount, just ask for Let Me Be a Woman and "Up Close and Personal." Our number is 1-800-569-5959. You can also donate and take advantage of this offer by visiting ReviveOurHearts.com.
Well, when we talk about revival, what does it look like practically? Find out Monday, when we begin a special ten year celebration. Please be back for Revive Our Hearts.
Revive Our Hearts with Nancy Leigh DeMoss is an outreach of Life Action Ministries.
*Offers available only during the broadcast of the podcast season.