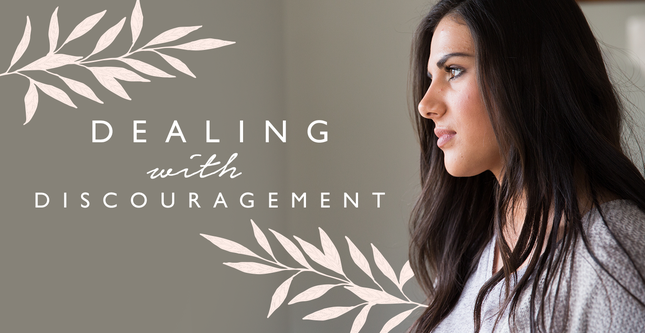 True Encouragement
Leslie Basham: Do you need encouragement today? You can find it if you look to the right source. Here's Nancy.
Nancy Leigh DeMoss: God is the ultimate source of all encouragement. Anything or anyone other than God that we turn to to find our primary encouragement, we'll find insufficient.
Leslie Basham: This is Revive Our Hearts with Nancy Leigh DeMoss for Wednesday, January 29. Insufficient encouragement is really no encouragement at all. Sure, we might find a temporary load-lightener, but that's not what we need.
What we need is a real and permanent change of heart that will carry us through, even if circumstances don't change. What we need--Who we need--is God. Here's Nancy to describe for us how we can encourage ourselves in the Lord.
Nancy Leigh DeMoss: A week or so ago I got an e-mail followed by a phone call from some friends who are missionaries in a third-world country. Last week their senior leader on the field had a family circumstance come up and had to leave the field on a day's notice. So this couple, my friends, were left with the work themselves. They were just new to the work.
The next morning they received a call letting them know that my friend Cheryl's father had died. She was going to have to come back to the States for the funeral. Within a period of days--I don't know that I have the whole sequence exactly right--her father died, and then several days later her husband's mother died. They had just lost their field leaders.
Now Cheryl comes to the States to bury her father. As soon as she gets here, she hears that her mother-in-law has died. She had to make this long trip from another country here to Little Rock. I was to pick her up at the airport.
She missed a flight because it was overbooked. She ended up having I think it was a 21-hour travel day, just with one thing after another going wrong on the trip to Little Rock. Then she said she got searched because of all the security in the airports now. She had to come through Miami, and that's a big high-security area. She said it was I think 15 times in the course of that day she had to stop and go through different kinds of searches.
By the time I picked her up at the airport, it was 10:30 at night our time. She had been going since I think 2:30 that morning or something. This was Father's Day. She had just lost her dad. I met her there at the airport. She did look tired. She had to be. She was exhausted. But this woman had a smile on her face.
I was amazed. My heart had been so heavy for her all day as I had been thinking of what she was going through. She greeted me and I hugged her and I said, "Oh, Cheryl, I just love you! I'm so glad to see you. I can't believe what you've been through. How are you doing?"
She smiled and she said, "Nancy, it's been a hard day. But God's grace is so real. God's grace is so real." She told me about their past year on the mission field and all the adjustments they've had to make to this third-world country and some of the difficulties that they've experienced in that responsibility.
She kept coming back to saying, "But God's grace is so real." I was seeing the grace of God lived out in my friend, in her husband, as they were walking through these circumstances.
We've been looking at the life of David in 1 Samuel 30 and seeing a time in David's life--and there were many--when David faced just overwhelming circumstances. David felt the grief. He wept. He was distressed.
But we saw yesterday that in the midst of the enormous loss--having lost the wives and children of David's men, having had them taken away captive, and the men threatening to stone David for putting them in this circumstance--in the midst of all this, we read in verse 6, "But David encouraged himself in the Lord."
We're looking this week at how to deal with discouragement. We all go through times of discouragement. My friends Jeff and Cheryl have just been through some very discouraging times. How do you deal with it?
First of all, you do what David did. He encouraged himself in the Lord. God is the ultimate source of all encouragement. Anything or anyone other than God that we turn to find our primary encouragement, we'll find is insufficient.
The apostle Paul knew what it was in the New Testament. We've been looking at David in the Old Testament. But the apostle Paul in the New Testament learned what it was to find God as his source of encouragement in every circumstance and season of life.
You read, for example, in Acts 23 that Paul was being grilled, being questioned, by a mob crowd there in Jerusalem. Verse 10 tells us that the dispute became so violent that the commander was afraid Paul would be torn to pieces by them. He ordered the troops to go in and take him away from them by force and bring him into the barracks.
The following night the Lord stood near Paul. God Himself came into those barracks and He said to Paul, "Take courage! Be encouraged! As you have testified about Me in Jerusalem, so you must also testify in Rome."
God said to Paul, "I'm not through with you yet. Until I'm through with you here on this earth, no one can take your life. So take courage--be encouraged! I have a plan for you. I haven't fallen off my throne. I'm fulfilling My plan."
You see the same thought in 2 Timothy 4, where Paul talks about a whole string of people who had deserted him. He said, "Alexander the coppersmith did me much harm, and at my first defense no one stood with me, but all forsook me." And then verse 17: "But the Lord stood with me and He strengthened me, so that the message might be preached fully through me and that all the Gentiles might hear."
Paul was saying, "Everyone deserted me. The few who didn't, they did me harm. But God--God stood with me. God will never desert me. God will never do me harm, except as He knows it's needed ultimately to do me good. God had a purpose for my life. God strengthened me, so that the message might be preached through me and that all the Gentiles might hear."
You see, God encourages us not just so we can be encouraged, but so that we can become instruments of sharing the Gospel--so we can testify of the Gospel and the grace of God. Having been encouraged and strengthened by the Lord, we can become channels of blessing and encouragement in the lives of others.
Matthew Henry in his commentary on 1 Samuel 30, the story we've been looking at where David strengthened himself in the Lord, has this to say about that passage. "Those that have taken the Lord for their God may take encouragement from the relationship to Him in the worst of times.
"It is the duty of all godly people, whatever happens, to encourage themselves in God as their Lord and their God, assuring themselves that He can and He will bring light out of darkness, peace out of trouble and good out of evil to all that love Him and are the called according to His purpose."
Matthew Henry says that it's our duty to encourage ourselves in the Lord. You know, you can encourage yourself in the Lord when there is no human or visible means of encouragement or support around you. When there is nothing to hold you up, when there is no good news coming your way, when everyone has deserted you or abandoned you--there is no situation that you will ever face and there is no situation I will ever face in which we cannot receive strength and encouragement from God.
That doesn't mean we won't have to walk through the circumstance. It doesn't mean we won't feel intensely or keenly the loss or the pain. It doesn't mean God wraps us up in this little cocoon and good Christians never hurt. But it means in the midst of the hurt, in the midst of the pain, that in every circumstance, in every situation I will ever face, I can receive strength and encouragement from God. You can, too.
I've been reading this past week a wonderful biography that has been really encouraging me. It's the story of Ann Judson. Ann Judson was the first woman missionary to be sent out from the United States.
She and her husband, Adoniram Judson, were missionaries to Burma back in the 1800's. The things that they faced that just go beyond anything that most of us will have to ever experience in this lifetime! Then the journals and the letters that Ann Judson kept--and she talks about how God was such a very real and present strength and encouragement in their troubles.
Let me read to you a few things that she wrote. She wrote in a letter to a friend, "These things, my dear Nancy, have caused us to weep and pour out our hearts in prayer to Him, whose direction we so much wish and need. We feel that we are alone in the world, with no real friends but each other; no one on whom we can depend but God."
Then she wrote, "It seems as if there were no resting place for me on earth." For the first year and a half, they went from place to place and could not find a country that would allow them to come in and preach the Gospel. They wandered around and had enormous loss and pain--a child stillborn, another child that they buried at seven months and a lot of physical illness.
She said, "It seems as if there were no resting place for me on earth. Oh, when will my wanderings terminate? When shall I find some little spot that I can call my home while in this world? Yet I rejoice in all Thy dealings, O my Heavenly Father, for Thou didst support me under every trial and enable me to lean on Thee." She strengthened and encouraged herself in the Lord.
She wrote home to her parents and said, "We felt very gloomy and dejected the first night we arrived in view of our prospects, but we were enabled to lean on God and to feel that He was able to support us under the most discouraging circumstances." She encouraged herself in the Lord and so can you.
No matter what we're facing, no matter how long and dark the tunnel seems, strengthen your heart in the Lord. Encourage yourself in the Lord. He will not fail.
Leslie Basham: God will not fail. That simple truth alone can encourage our hearts today. If you're going through a difficult season, we hope that you'll continue listening to this series called "Dealing With Discouragement." 
You can get a copy on CD or cassette to pass along to someone going through a tough time or just to have on hand when you need biblical perspective on this issue. For more information, you can visit ReviveOurHearts.com or call 1-800-569-5959.
Now Nancy's coming to tell you about something we hope will encourage your heart.
Nancy Leigh DeMoss: Every once in a while, I find that I just need a concentrated period of time to get away and get quiet before the Lord and let Him speak to me and respond to Him. I want to let you know about a special opportunity coming up on the weekend of March 7 and 8 when I'll be in Birmingham, Alabama, leading a Revive Our Hearts conference for women.
I want to invite you to consider joining us for that weekend when we'll be with several hundred other women just listening to the Lord, listening to teaching from His Word. Songwriter (and my friend) John Elliot will be joining us that weekend and leading very meaningful times of worship and praise.
The purpose of this conference is not just to entertain us or make us feel better or give us an emotional lift but really to give us an opportunity to get into the presence of the Lord and let Him speak to our hearts in a fresh and powerful way.
Once again, that conference will be on March 7 and 8. That's a Friday evening and all day Saturday in Birmingham, Alabama. You can go to our Web site, to ReviveOurHearts.com to find more details about this very special weekend for women. I hope to see you there.
Leslie Basham: Thanks, Nancy. How do you make big decisions? We'll discuss it on tomorrow's broadcast. Please join us for Revive Our Hearts.
Revive Our Hearts with Nancy Leigh DeMoss is a ministry partnership of Life Action Ministries.
*Offers available only during the broadcast of the podcast season.
Support the Revive Our Hearts Podcast
Darkness. Fear. Uncertainty. Women around the world wake up hopeless every day. You can play a part in bringing them freedom, fullness, and fruitfulness instead. Your gift ensures that we can continue to spread gospel hope! Donate now.
Leave a $5 gift