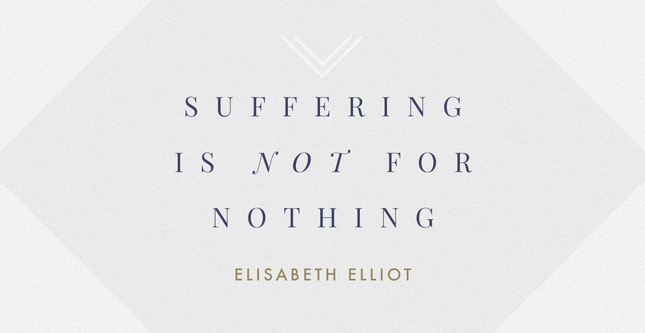 Transfiguration
Dannah Gresh: The Christian life is full of beautiful paradoxes. Elisabeth Elliot named a few of them.
Elisabeth Elliot: Life comes out of death. I bring God my sorrows, and He gives me His joy. I bring Him my losses, and He gives me His gains. I bring Him my sins, He gives me His righteousness. I bring Him my deaths, and He gives me His life, but the only reason God can give me His life is because He gave me His death.
Dannah: This is Revive Our Hearts with Nancy DeMoss Wolgemuth, author of the trilogy Brokenness, Surrender, and Holiness, for Friday, September 11, 2020. I'm Dannah Gresh.
Nancy, are you a gardener?
Nancy: Well, I love beautiful flowers. I love the property we live on and having things well tended and beautiful. But I'm not so good at it myself. In fact, I had a really bad experience with it a couple months ago. This summer there were a couple shrubs in the front of the house that were getting so overgrown that they were driving me crazy and no one was doing anything about it. So I got out there one day with kitchen shearers, and I said, "I'm going to prune these."
I chopped and chopped and chopped. They looked so much better when I was done. But the next morning I realized that parts of my face were covered with poison ivy! So that was a little bit miserable. I'm not much of a gardener.
Dannah: You should definitely let the pruning to me, Nancy. I am a gardener.
It's ironic because the Revive Our Hearts headquarters is located in kind of the epicenter of vineyards and orchards and farms and farmer's markets, there in the Southwest corner of Michigan.
Nancy: It's so beautiful around here all summer. But they never ask me to help take care of those things.
Dannah: You were on to something Nancy because successful gardeners do understand the importance of pruning. I don't know exactly how it works, but the act of cutting back branches usually does helpa the tree or vine be more fruitful. And that turns our hearts to Elisabeth Elliot. She's going to talk today about what pruning has to do with you and me.
Elisabeth passed away in 2015, but she left behind a rich legacy of books and recordings. And a huge part of that legacy is Revive Our Hearts. We owe a lot to Elisabeth Elliot because when she retired in 2001, her program, Gateway To Joy, transitioned to Revive Our Hearts.
As we enter our twentieth year of ministry, we're looking back on God's faithfulness to us over the years, and we're so excited about what He has for us in the future.
Back in the eighties, Elisabeth Elliot gave a series of six messages on the subject of suffering. Today we're going to hear the last of those messages; she called it "Transfiguration." Let's listen.
Elisabeth Elliot: Back in 1820 there was a little six-week-old baby who had an inflammation of the eyes, and the doctor applied hot poultices and burned the corneas so that the child was blind for life. 
When she was nine years old, she wrote these words: 
Oh what a happy soul am I; although I cannot see.
I am resolved that in this world contented I shall be.
So many blessings I enjoy that other people don't.
To weep and sigh because I'm blind, I cannot nor I won't!
That little girl grew up to write 8,000 hymns, among them: "To God Be the Glory," "Blessed Assurance," "Rescue the Perishing," "Face to Face." Her name was Fanny Crosby. I had heard the story of Fanny Crosby years ago, but I hadn't come across that little poem until just recently, written at the age of nine.
"To weep and sigh because I'm blind, I cannot nor I won't!" I love that! And there's verse 10 in the 58th chapter of Isaiah which very nicely links together what I said in my last talk, on the subject of offering, with what I want to talk to you about now: transfiguration.
These are the words:
If you feed the hungry [another translation says, "If you pour out your soul for the hungry ] and satisfy the needs of the wretched, then your light will arise like dawn out of darkness and your dusk be like noonday. And the Lord will be your guide continually and will satisfy your needs in the shimmering heat.

He will give you strength of limb. You will be like a well-watered garden, like a spring whose waters never fail (see Isa. 58:10–11).
It's that deep principle articulated here that I want to talk to you about. I've given it the one-word title of "Transfiguration."
I've chosen that word rather than transformation; the two are almost identical, but I love the word "transfiguration" because it implies an aspect of glory, which is not always implied in the word "transformation."
Transfiguration. You remember the story of Jesus on the mount, when He was transfigured. The two things, suffering and glory, are brought into contact—because it was about suffering that Moses and Elijah were speaking when Jesus was transfigured.
And these verses from Isaiah speak of pouring yourself out for the hungry and receiving, in exchange, the satisfaction of your own needs (strength of limb). "You will be like a well-watered garden, like a spring whose waters never fail." 
I think Fanny Crosby at the tender age of nine had begun to glimpse the fact that there was more joy in giving than there would ever be in receiving, and she was "broken bread" and "poured out wine" for the life of the world. Only God knows the ripple effect of Fanny Crosby's obedience in the offering up of herself.
In Proverbs 11:25 we read, "He who refreshes others will himself be refreshed." And I'm sure that all of us who have ever tried that therapy have found it to be extremely effective. So the idea of transfiguration follows very naturally and logically from acceptance, gratitude, and offering. 
If we receive the things that God wants to give us, if we thank Him for them, and if we make those things an offering back to God, then this is what's going to happen: transfiguration, the great principle of exchange, which is the central principle of the Christian faith—the cross.
We know that the Cross does not exempt us from suffering. How many times Christians have to answer the question to their non-believing friends when their friends ask: "You're a Christian and you're supposed to be so good and you're going to heaven and look what God lets happen to you!"
We can say very plainly that the cross, obviously, does not exempt us from suffering. In fact, the cross is a symbol of suffering. Jesus said, "You must take up your cross." (see Luke 9:23) In fact, there are kinds of suffering which we would never have to endure if we were not believers.
We read that, "Through much tribulation we must enter into heaven." (see Acts 14:22) And Jesus said, "If you are my followers, then they are going to arrest you, imprison you, drag you into court, and even the day will come when they will kill you and think that they're doing God a favor!"
He said, "I'm telling you these things now, so that when they do happen, your faith in me will not be shaken!" If your faith rests in your idea of how God is supposed to answer your prayers, your idea of heaven here on earth, or pie in the sky, then that kind of faith is very shaky and is bound to be demolished when the storms of life hit it!
But if your faith rests on the character of Him who is the eternal I AM, then that kind of faith is rugged and will endure. I'm very keenly, painfully aware of the fact that this series of talks on suffering is barely skimming the surface.
I think of the words of one of the ancient mystics who said that, "God is a mountain of corn from which I, like a sparrow, pluck a single kernel." That describes what I've succeeded in doing, if I've succeeded in doing anything at all. 
Perhaps we've plucked a single kernel, just enough to satisfy the hunger of a tiny bird, from this immense mountain of corn, which is the reality of God Himself. We've thought about the truth, The Terrible Truth; The Message; the matter of Acceptance, of Gratitude, and of Offering. And now let us think about Transfiguration.
I'll give you three things, and this time I can help you with alliteration. I don't work very hard trying to get things alliterative, but it happens to be three "P's" this time: the Principle, the Perspective, and the Paradoxes.
The Principle is that of the cross. Life comes out of death. I bring God my sorrows, and He gives me His joy. I bring Him my losses, and He gives me His gains. I bring Him my sins; He gives me His righteousness. I bring Him my deaths, and He gives me His life. But the only reason God can give me His life is because He gave me His death!
So these two things continually work, not only in the spiritual life. Jesus used the very simple illustration of the natural world in the incident where just after His entering into Jerusalem—where He was hailed with palm branches and hosannas—two of his disciples came to him and told him that there were some Greeks there who wanted to see Him because they had heard about the raising of Lazarus from the dead.
Well, we all love miracles, and we all love a miracle-worker. If you want to be popular, you perform as many miracles as possible in as visible a medium as possible and people will flock.
And people flocked to Jesus, not because of the words He spoke, but because of the loaves and fishes. And in this case, it was raising Lazarus from the dead. Word had spread abroad, and so people were crowding into Jerusalem to see this Man. The disciples came and told Jesus that the people wanted to see Him.
Well, Jesus took that opportunity to turn His disciples' hope of glory upside-down. The world has an idea of what's important, what really is the glory of God: do all the miracles that you can; get everything all sorted out and healed and paid for and solved, and that's God's glory. 
And, of course, I believe in a God who can make the sun stand still, and He can turn water into wine and make dry land out of rivers. Don't misunderstand me. But when I hear a preacher say, "What you need is a mir-a-acle!" I want to say, "I might think that's what I need, but very often my prayers are really asking for stones." What God wants to give me is bread—something that will not only feed myself, but will feed the world as well.
I might even pray for a miracle. I don't think I've done that very often, but when I was praying for healing for my husband's cancer, I knew that I was praying for a miracle, humanly speaking. But the bottom line was, "Lord, Thy will be done."
We do have to have our definitions revised, and the disciples needed to have their definition of glory revised and turned upside-down. Jesus said, "I'm going to show you what glory is." [continuing with Scripture, "[Now], the hour is come that the Son of man should be glorified. Except a corn of wheat fall into the ground and die, it abideth alone: but if it die, it bringeth forth much fruit" (John 12:23–25). 
Now that is the principle of the cross! He was on His way to the cross. Is there anything less significant and distinctive than a seed? You've seen one corn of wheat, you've seen 'em all. You've seen one grain, one seed, one apple seed, you've seen 'em all. There isn't anything terribly distinctive, noticeable, about a seed.
When that seed falls into the ground, it's gone! It may never be seen again. But we know for sure that nothing is ever going to come out of that seed unless it falls into the ground, into the dark, into the unknown, into ignominy and death.
But out of that seed, then, comes the great harvest, the golden grain. So that is the principle of exchange: I give Him my deaths, and He gives me His life. I give Him my sorrows; He gives me joy. I give Him my losses; He gives me His gains. This is the great principle of the cross.
Some of you I'm sure know the story of George Matheson, the hymn writer, who became engaged. While they were engaged, he went blind. His fiancée, not wanting to be saddled with a blind man, broke the engagement.
And it was then that George Matheson wrote those wonderful words: 
O Love that will not let me go,
I rest my weary soul in thee;
I give thee back [here we are with this offering] the life I owe,
That in thine ocean depths its flow
May richer, fuller be.
I think of the words that my first husband, Jim Elliot, wrote when he was twenty-two years old: "He is no fool who gives what he cannot keep to gain what he cannot lose." He was paraphrasing the words of Jesus: "If you lose your life for My sake, you will find it." (see Matt. 16:25)
He exchanges my weakness, my losses, my sins, my sorrows, my sufferings. When we offer them to Him, He has something to give us in exchange. And that might feed a multitude!
So the principle of exchange is the principle of the cross, and that principle goes all the way back to before the foundation of the world—the Lamb was slain. The blood sacrifice was made in the mind of God before there was such a thing as sin! Sacrifice and suffering and glory, there is no getting away from them.
We live in New England where we love September and October! Lars always groans about it, because he's a Southerner, and he thinks the winters are so long. But when the acorns begin to fall, I love the season! Because, for one thing, we do have the most spectacular colors in the country. We have those rock maples that turn blood-red and salmon and mauve and unbelievable colors!
The glory of autumn is a symbol of death. That blood-red reminds me of blood, which is a symbol of death. If it weren't for the oak tree letting go of all those precious little seeds, those acorns, they would never fall into the ground and die. Then there would never be anymore oak trees, and the squirrels would starve to death.
Everything that you and I eat means that something has died in some way, even an egg, even a glass of milk. The chicken and the cow have not died, but they have given life, haven't they? And practically everything else on the table tells us that something has died, whether it's corns of wheat or animals.
Life comes out of death. It is the principle of the universe, the principle or exchange. Even stars die. We're being told more and more these fascinating things that astronomers are discovering. But there's a verse hidden in 2 Chronicles that has been a great encouragement and cheer to me.
Ever since I found that verse back when I was a senior in college and dying a thousand deaths over the fact that I was in love with somebody that I didn't think was ever going to be in love with me and thinking that I was very foolish to even entertain any hopes for this man . . . so I put my feelings on God's altar.
As I mentioned earlier in one of my talks, I can't handle loneliness. I can't handle a lot of my emotions. So I just say, "Lord, here it is. You take it and You make something out of it if You can! If You can make something out of a little boy's lunch and out of the widow's cruse of oil, then maybe You can do something with this."
I turned over all those passions—that veritable tornado of passion that I felt for this young man, whose name happened to be Jim Elliot—to God. God gave me this verse in 2 Chronicles 29:27: "When the burnt offering began, the song of the Lord began also." Isn't that terrific? It works!
"When the burnt offering began, the song of the Lord began also." It's just referring to the actual ritual of sacrifice, and yet it has its implications for our spiritual lives, doesn't it?
Now, let's look at this Perspective. Our perspectives need to be transfigured, changed into something which has glory in it. That wonderful chapter of Hebrews 11 tells me many things about perspective!
It says in verse 13, after going through the stories of Abel and Enoch and Noah and Abraham and Sarah, all these impossible things that they did by faith,
All these persons in faith, but they were not yet in possession of things promised. They had seen them far ahead and hailed them, and confessed themselves no more than strangers or passing travelers on earth.

Those who use such language show plainly that they are looking for a country of their own. If their hearts had been in the country they had left, they could have found opportunity to return. Instead, we find them longing for a better country (Heb. 11:13–16 paraphrased).
Is there anything that makes you long for that "better country" more keenly than suffering of one sort or another?
Even as my poor little granddaughter was suffering over the fact that she'd gotten spanked three times in one day said, "Oh, if only Adam and Eve hadn't sinned!" Just when the washing machine runs over with company in the house, you do kind of at that point long for a better country, don't you?
Verse 27, in the same chapter, speaking of Moses: "By faith he left Egypt, not because he feared the king's anger: for he was resolute, as one who saw the invisible God." That's a transfigured perspective!
"By faith Isaac," verse 20, "blessed Jacob and Esau and spoke of things to come." A transfigured perspective. Now it's one thing to get that perspective on other people's lives, isn't it? Do you find it easier to see the will of God at work in somebody else's life than in your own?
Would you like to have the story of Daniel without the lion's den? Of course we wouldn't, because we know the end of the story! Well, we Christians, we have this whole Book full of wonderful stories like that, and the end of every single one of them is the same. It's glory, every time! Would you like to have the story of Joseph without all his trials and tribulations, without him going into the pit?
What would you know about Shadrach, Meshach and Abednego if they'd never gone into a fiery furnace? The blessing of Fanny Crosby's life has been enormously increased through knowing that these words of these beautiful gospel hymns came from a woman who never saw the light of day, or at least remembered seeing it from the age of six weeks.
Everything has been transfigured in their lives because we know the end of the story. I remember when Jeannette Clift George was playing the part of Corrie ten Boom in the movie called, The Hiding Place. She was interviewed on one of Billy Graham's programs, and he asked her, "What was the characteristic, as you studied Corrie ten Boom's life, that most impressed you about her?"
And without any hesitation, Jeannette's answer was, "Joy!" And those of you who saw Corrie ten Boom, either in person or on the screen, saw a radiant old face filled with the joy of the Lord! Now, where did that come from? Was it because everything in her life worked so beautifully? Was it because she had had a happy life, as the world would define happiness? Of course not!
Her perspective was transfigured and she herself was transfigured for the benefit of the rest of us. We were given a visible sign in the face of Corrie ten Boom of an invisible reality—another country, another level, another perspective.
Paul was able to sing in prison, and he wrote those prison epistles, which are filled with joy. The book of Philippians is called The Epistle of Joy. He wrote these stunning words in the first chapter of Philippians, words which to me are loaded. 
He said, "You have been granted the privilege, not only of believing in Christ, but also of suffering" (see v. 28). You have been given the gift of suffering. And then in Colossians--also the first chapter this even more stunning and loaded verse: "It is now my happiness to suffer for you" (see v. 24). It sounds like gobbledy-gook, doesn't it?
Then he goes on to say, "This is my way of helping to complete in my poor human flesh the full tale of Christ's afflictions still to be endured for the sake of His body, which is the church." Now, to me, that is the most profound statement in all of Scripture about the subject we have been discussing of human suffering. (We cannot come close to the statements about the sufferings of Christ.)
But Paul is in prison and he says, "It is my happiness to suffer for you, because this is my way of helping to complete in my poor human flesh." I understand that Paul was chained between two soldiers. Can you imagine the discomfort of that, not to mention the lack of privacy twenty-four hours a day?
But in his poor human flesh, in some very mysterious way which I can never explain to you (but I believe it) he said, "I am helping to complete the full tale of Christ's afflictions still to be endured for [what?] for the sake of His body."
I know that some of you are sitting there saying, "But what has that got to do with my sufferings? My sufferings are not for the sake of the gospel." And for years, I died a thousand deaths over that one, because I thought, I've never really had any sufferings that were directly for the sake of the gospel. 
Even the death of my husband, Jim, who had attempted to take the gospel to some people. He did not get literally killed because of the word of his testimony. He had never spoken a word to those Indians. They didn't have any idea why he was there and surmised that he was a cannibal, and so they thought they'd better bump him off in self-defense before they got eaten themselves!
So for years and years I pondered this and I have come to the conclusion (and you can argue with me if you want to, and I will not argue back, but) there is a mystery here, much deeper than just the fact that Paul was literally suffering in prison because of his testimony. This is my way of helping to complete in my poor human flesh the full tale of Christ's sufferings.
Now, take note of this: Christ suffers in me now if I suffer, because I am a member of His body. I may be a sore member, but He suffers with me and for me and in me. When I suffer, He suffers. Christ suffered on the cross. He bore all my sins, all my griefs and all my sorrows, and yet there is a full tale yet to be fulfilled. I don't understand it; I simply affirm it. I accept it.
Let's look at the paradoxes; we need a transfigured view of these paradoxes. Scriptural metaphors for suffering speak of: pruning (the best fruit comes out of drastic pruning); the purifying of gold (the purest gold comes out of the hottest fires); the going through deep waters (and I have certainly learned the deepest lessons of my life from going through the deepest waters). The greatest joys come out of the greatest sorrows; life comes out of death.
I think of Mary—probably just a teenage girl—who in her humility and her poverty offered herself, her plans, her hopes, her fears of what might be thought of her if it appeared that she had been unfaithful to her fiancé, Joseph.
Her instant response to the word of God was, "Behold the handmaid of the Lord! Let it happen as you say" (see Luke 1:38). It was out of this sacrifice, this offering of herself, that the Savior of the world was born! Transfiguration. She was called the most highly exalted among women. That came from humility. "If you lose your life for My sake, you'll find it" (see Matt. 10:39). 
There is, in fact, no redemptive work done anywhere without suffering. God calls us to stand alongside Him, to offer our sufferings to Him for His transfiguration, to fill up in our poor human flesh (if I'm not given the privilege of being crucified, if I'm not given the privilege of being martyred in some literal way for God). I am given the privilege of offering up to Him whatever He has given me.
I offer to Him all that I am, all that I have, all that I do, and all that I suffer, for His transformation, transfiguration, exchange for the life of the world. That is what it's about. You may be suffering as a father because your son has rejected you; you may be suffering as a son because your father rejected you thirty years ago.
We have a young man living in our house right now—a student—who was rejected at the age of ten months by his father and his mother, put into a foster home where he stayed for fifteen years. I made a list of these amazing paradoxes. I have to read it very quickly, because my time is just about gone.
These are some of the things that the Scripture tells me God transforms:
the wilderness into pasture
desert into springs
perishable into imperishable
weakness into power
humiliation into glory
poverty into riches
mortality into immortality
this vile body into a resplendent body
my mourning into the oil of joy
my spirit of heaviness, He gives me in exchange a garment of praise
beauty for ashes
In Revelation 7:16–17 we read,
They shall hunger no more, neither thirst any more, neither shall the sun light on them, nor any heat. For the Lamb which is in the midst of the throne shall feed them, and shall lead them unto living fountains of waters: and God shall wipe away all tears from their eyes.
In closing, I want to give you a poem written by Grant Colfax Tullar:
My life is but a weaving
Between my God and me.
I cannot choose the colors
He weaveth steadily.

Oft' times He weaveth sorrow;
And I in foolish pride
Forget He sees the upper
And I the underside.

Not 'til the loom is silent
And the shuttles cease to fly
Will God unroll the canvas
And reveal the reason why.

The dark threads are as needful
In the weaver's skillful hand
As the threads of gold and silver
In the pattern He has planned.
Everything that happens fits into a pattern for good. Suffering is never for nothing! 
Dannah: And that phrase, "suffering is never for nothing," eventually became the title of Elisabeth Elliot's last book, published after her death in 2015.
Nancy: The hope of the gospel is that as we gaze on Jesus, beholding His glory, He ultimately transforms us from the inside out. That process doesn't happen overnight. It's gradual. It takes all of our lives. 2 Corinthians chapter 3 says we're changed "from one degree of glory to another." But oh, how beautiful He makes the final result in our lives!
As Elisabeth reminded us, it can and often does (and can I say, usually does) involve suffering. But Paul says, "this [change, this transformation] comes from the Lord who is the Spirit." He's the one who does this work in us.
Dannah: That message was recorded in the late 1980s, but it's actually the first time we've heard it here on Revive Our Hearts. So in that sense, it's a new series for us. Elisabeth Elliot and her program Gateway To Joy were instrumental in launching Revive Our Hearts back in 2001.
You can learn more about the life of this woman of God by getting a copy of the authorized biography Becoming Elisabeth Elliot. This month, it's our way of saying thank you to you for your gift of $30 or more. The book's author is Ellen Vaughn, who will be our guest here on Revive Our Hearts on Monday.
Nancy: You are going to love meeting Ellen Vaughn. She's been a longtime friend of my husband, but I've gotten to know her recently. She's a brilliant writer; she's a fabulous storyteller. She traveled to the jungles of Ecuador to do research on this book. She used never before published journals and letters of Elisabeth Elliot. Every time I've listened to her talk about this book or this story, I've been spellbound, and I know you're going to be as well. You're going to love her insights into Elisabeth Elliot's life.
Dannah: Again, the authorized biography is titled Becoming Elisabeth Elliot. Contact us for more information on how you can get a copy. To do that, just visit ReviveOurHearts.com, or call us at 1–800–569–5959.
Have a wonderful weekend. Please be back Monday, for Revive Our Hearts.
Calling you to freedom, fullness, and fruitfulness in Christ, Revive Our Hearts with Nancy DeMoss Wolgemuth is an outreach of Life Action Ministries.
*Offers available only during the broadcast of the podcast season.