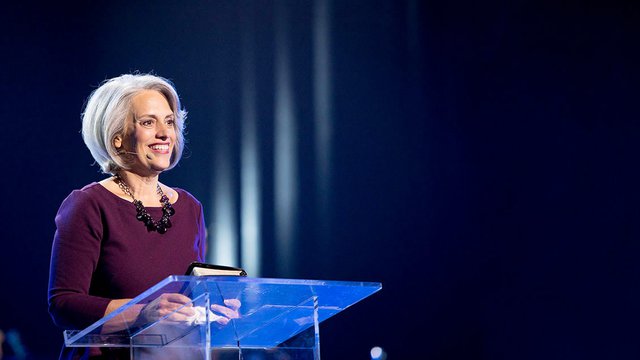 The Invitation
Leslie Basham: Here's Nancy Leigh DeMoss.
Nancy Leigh DeMoss: You know, our churches in our world are loaded with people that are trying to be a good Christian or become a Christian. But Jesus says "That'll wear you out. Instead, come to me. Come and lean. Come and rest on me."
Leslie Basham: This is Revive our Hearts with Nancy Leigh DeMoss. It's Friday, August 1.
We're honored at some of the invitations we receive to dinner parties, weddings or graduations. We love knowing that somebody values us so much that they want us to share in their joy and celebration. And that's exactly what God has done. He's invited us to share his joy. Here's Nancy to explain.
Nancy Leigh DeMoss:
*"Here comes the bride!
What a day that will be,
When angels shout in unison
As Jesus' bride they see.
He's planned the perfect wedding,
Each detail is in place.
And, oh, what grand excitement,
When we but see His face.
And know that as the anthems ring,
And as the trumpets blast,
The wedding will take place, and then
We will be His at last.
Here comes the groom, our Savior.
Such patient love He's shown
And now, at last we'll know Him
As even we are known.
Here come the guests, the multitudes,
Who in God's sovereign plan,
Have come to witness this event
that stuns the mind of man.
Here comes the bride, what glory,
in garments pure and white;
No sin to mar those garments,
She's covered with His light.
Here comes the celebration;
All grief and sorrow gone.
We know this celebration
Will yet go on and on.
For Jesus and His bride will be
Forever, now as one.
We are the bride, beloved,
Engaged to God's own Son.
So every time the organ plays,
or wedding bells do chime,
Dear Christian, pray 'Lord Jesus, come!'
Please hasten, Lord, the time,
When in the light of your great plan
The ties of earth you'll sever,
And at that the wedding of the Lamb
We shall be yours forever!"
What a plan. What a promise. What a hope is ours, those of us who are in Christ Jesus.
All these last several days we've been talking about what it means to be the Bride of Christ--the fact that He has chosen us to belong to Him, that He loves us with an infinite, undying love, that He has said "I want you to be mine," that He gave His life so that that would be possible.
We've been talking about what it means to get ready for the wedding that we will one day have in the presence of Christ. We've talked about the fact that we're really an engaged Bride.
We've been betrothed to Christ, our Heavenly Bridegroom, and the purpose of our time here on this earth is to be getting ready for the time when we will see Christ. We will have that great wedding celebration, the wedding of the Lamb. And that what we want to hear is that the Bride has made herself ready.
So, as we come to the end of this love story, this wedding story, the story of the marriage of the Lamb, we come again to the last book of the Bible as we see the last chapter being written in this love story.
"The angel said to me." (this is the apostle John speaking) "Write this down. Blessed are those who are invited to the wedding supper of the Lamb" [Revelation 19:9].
Then in Revelation 21 [21:9-11] "One of the seven angels came and said to me, 'Come and I will show you the bride, the wife of the Lamb.' And he carried me away in the Spirit to a mountain great and high, and showed me the holy city, Jerusalem, coming down out of heaven from God. It shone with the glory of God."
"The Spirit and the bride say, 'Come!' And let him who hears say, 'Come!' Whoever is thirsty, let him come; and whoever wishes, let him take the free gift of the water of life" [Rev. 22:17]. He who testifies to these things says 'Yes, I am coming soon.' Amen" [Rev. 22:20].
Then the writer closes the book by saying "Come, Lord Jesus. The grace of the Lord Jesus be with God's people. Amen." [Rev. 22:20-21]
Did you get the word "come"? There's an invitation. There's a wedding supper coming. There are invitations that have been sent out. There's an invitation to come.
Now that invitation goes two ways. First, we're inviting Him to come. We're appealing to Him to come. Come! Lord Jesus. Come quickly. Come and take your Bride. Take us to be with You.
The heart that belongs to the Lord Jesus has deep down that longing for the Lord Jesus to return. We say, we cry out "Lord Jesus, come! Take your Bride to be with Yourself."
But there's another invitation to come. That's His invitation to us. He says to us "come." You read this invitation throughout the Word of God.
In the Song of Solomon (the story that we've looked at several times in this series) the bridegroom says to his bride, "Rise up my love, my fair one and come away."
You see, once you belong to Jesus, you have a heart to come away with Him, to spend time with Him, to be intimate with Him. You want to respond to that invitation.
Now, as we've just read the invitation in Revelation 22 [v. 17], "Whoever is thirsty, let him come." Come and drink. Come and take of the free gift of the water of life.
I think of Isaiah 55 [v. 1] that says "Come, all you who are thirsty, come to the waters; and you who have no money, come, buy and eat! Come, buy wine and milk without money and without cost"¦" Give ear, [God says] and come to me." He issues a call to us to come.
Jesus says in Matthew chapter 11 [v. 28 paraphrased] "Are you heavy-laden and weary and weighed down with the cares of this world and with trying to be righteous yourself?"
He says, "If you are, come to Me and find rest for your souls."
You know our churches in our world are loaded with people who are struggling and striving to be more spiritual, to be more godly, to perform, to please God, to come to faith in Christ.
They're trying to be good Christians or trying to become a Christian. But Jesus says, "That'll wear you out. Instead, come to me. Come by faith. Come and lean. Come and rest on me."
You see, the Bride relationship with Christ is not something we do. It's not something we perform. It's not something we prove to be. It's coming by faith and resting and leaning and trusting that He who has given His life for us truly will save us for all of eternity.
So, as we close this series, I want to ask a very important question. We've asked those who know they're a part of the Bride of Christ "Are you ready for the wedding?" But I want to ask you an even more basic question.
"Are you part of His Bride? Do you have a relationship with the Lord Jesus? If He were to come back today or next week or next year, do you know that you'd be part of that Bride that would be taken to live with Him forever in heaven?"
He's extended the invitation. And now He's wanting you to say, "I'll come."
You know, becoming a part of the Bride of Christ is really, in a sense, very similar to what a bride and groom do when they come to the altar. What do they say to each other as they exchange their vows?
I do. I take him to be my bridegroom. Jesus has given Himself for you and now He wants you to say, simply, "I do. I take You, Lord Jesus, my Heavenly Bridegroom.
You've paid the bride price and given Your life so that I could belong to You. Now by faith I receive You. I trust You. I come to You and I say, "I do."
(music) *How beautiful"¦is the body of Christ.
Leslie Basham: Nancy Leigh DeMoss will be right back to pray with us.
If you've never accepted God's invitation of eternal life and love and are ready to say "I do," would you write and tell us? We'd like to send you a booklet called Right with God by John Blanchard. It'll help you understand what it means to be a Christian.
We'd also like to hear from you if you're been listening this week to our series called "Here Comes the Bridegroom." Tell us what you think. If you missed any of it, the entire series is available on cassette or CD. When you order, you can hear some additional parts of Nancy's teaching that we weren't able to bring you on the air.
If you've enjoyed this series, would you consider sharing it with a friend? Maybe you know someone that needs to hear that they've been invited into God's kingdom. This teaching by Nancy is available on video for a suggested donation of $17 and you can use it to share with other women in your home or in a church Bible study.
For more information on the cassettes, CD or video, just give us a call at 1-800-569-5959.  Or visit our Web site www.ReviveOurHearts.com.
Have you ever wished your husband would say more than "Hmmph" or "Uh huh"? Well, on Monday, we'll address the topic "How to get your husband to talk to you." We hope you can be here.
Now, again, here's Nancy.
Nancy Leigh DeMoss: Lord Jesus, you have declared Your love for us in unmistakable terms. Thank You for that love and thank You for the invitation You've extended to us to come to You.
Thank You that You have given Yourself--all of Yourself--to us. And, Lord, I just want to thank You for that day when my heart heard Your invitation and You gave me the faith to say to You, "I do."
And, Lord, I just want to say today to You, "I still do." I love You, my Lord. You are my Heavenly Bridegroom and I delight to belong to You. I want to live as Your Bride. And I live in anticipation of that day when I'll see You face to face and we will be forever united.
Lord, I do want to pray for those who may be listening who have never said "I do" to You, who've never surrendered their own will and their own way and their own righteousness and their own religious works.
They've never trusted in You and You alone to be their Savior. I pray that even at this moment that You will grant faith to that woman's heart, that You'll grant her the gift of repentance and that even at this moment she will say to you from her heart, "I do."
Thank You, Lord, that You are calling out a Bride. And with joy, we thank You for the wedding that is coming, for the eternal love relationship that we will share with You. We pray in the name of Jesus, our beloved Bridegroom. Amen.
*Russell Kelfer, Here Comes the Bride.
*Twila Paris, "How Beautiful."
Revive Our Hearts with Nancy Leigh DeMoss is a ministry partnership of Life Action Ministries.
*Offers available only during the broadcast of the podcast season.
Support the Revive Our Hearts Podcast
Darkness. Fear. Uncertainty. Women around the world wake up hopeless every day. You can play a part in bringing them freedom, fullness, and fruitfulness instead. Your gift ensures that we can continue to spread gospel hope! Donate now.
Donate Now