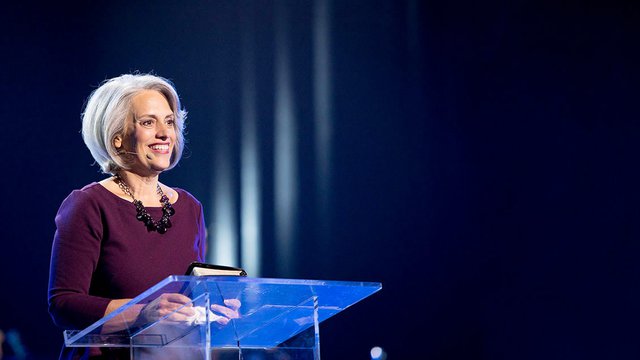 The Fruits of Forgiveness
Leslie Basham: When people hurt us, we have a tendency to become bitter. But having a thankful heart can protect us from the wrong attitude.
It's Thursday, July 1; and you're listening to Revive Our Hearts with Nancy Leigh DeMoss. What's the relationship between thankfulness and forgiveness? Well, all this week, Nancy's been teaching a series called "Freedom Though Forgiveness."
We've learned how important it is to grant forgiveness, even when we don't feel like it. Yesterday, we heard how loving someone who's wronged us begins our healing process. Today, we'll understand how to continue that process of healing through the power of thankfulness.
Nancy Leigh DeMoss: We've been talking about what I believe is one of the most frequent issues and problems in our lives as Christian women today. And that's this whole matter of bitterness and unforgiveness. We've seen how bitterness puts us in a prison. We think we're putting others in prison when we're being debt-collectors and holding them hostage but really, we're just putting ourselves in a prison.
So if we're willing to take that key of forgiveness and open the prison doors of the people we have held hostage, then God in His grace and mercy takes His key of grace and opens the prison doors in which we have been held hostage. We've said that if we refuse to forgive, we give Satan an opportunity and an inroad in our lives.
Ultimately, our bitterness is destructive, not only of our own lives, but of our families and all of the other lives that we touch. You've known what it's like to be around a bitter person, and often that person doesn't know that they're bitter.
But everyone around them does. And their bitterness is like a poison. It contaminates the atmosphere in which they live.
I see some nodding heads. It's so much easier, isn't it, to see it in someone else than it is to see in ourselves. So we've said that in responding to those who've sinned against us, we need to identify who they are, who those individuals are.
And then how they have sinned against us. And then to purpose to make sure that our conscience is clear with them and to fully forgive each person who has sinned against us.
We're not saying that forgiveness is easy. It's costly. There are those thinking perhaps, 'I can't forgive.' You know, when it comes to down to it, the truth is, it's not that we can't forgive.
It's that we're unwilling to forgive. We won't forgive. And then in the healing process, we said yesterday that it's necessary that we come to the place of returning good for evil, seeking to build bridges of love and blessing back to those who've hurt us.
But when you, as a mother, walk in grace and forgiveness, you may find that your children are more likely to walk in the grace and forgiveness of God. Your children may be more wounded and more damaged by living with a mother who's got a heart of bitterness than they will be by the circumstances that created that bitterness.
And then I want to make a final point here about forgiveness. And that is, we must come to the place where in everything that we give thanks. In everything we give thanks.
I'm not suggesting by this we give thanks for sin, or we give thanks for sinful things that have been done to us. But I believe that if we're going to be really free from the bands and the bonds of bitterness in our lives, if we're going to experience God's healing for our damaged emotions, we're going to have to come to the place where we look at these hurts and these wounds from God's point of view.
And we recognize that God is sovereign. And that this sovereign God is a good God, that He is too wise to make a mistake with our lives; that there's nothing that has come into our lives that has not been filtered through God's permission.
Nothing can touch me; nothing can touch you as a child of God that does not first pass through God. Now it may be that's Satan's involved, it may be that evil people are involved. But ultimately, God is the ruler over all kings and rulers and powers and dominions and authorities and even over all the powers of Satan in hell.
So we have recognize that it is a good and wise and loving God, who has allowed these circumstances to come into our lives. For reasons that in many cases we cannot fathom, and don't even try to understand.
Sometimes I think we have the sense that when we get to heaven, God's going to pull out this little chalkboard or overhead projector or something, and He's going to answer all these questions we have about "Why this?" and "Why that?" and "Why did You do this?"
And we'll have all the answers then. I don't think that's quite the way it's going to be. I think when we get to heaven and when we see God Himself, when we see Jesus, He will be all the answer we need.
We won't need to have all the explanation; we'll just know that God has done all things well. In the meantime, until we can see, we have to trust that God has purposes that are bigger than we are and bigger than our circumstances and bigger than we can understand.
You see, God's about building His Kingdom; He's about glorifying Himself. And there are ways that my life has been able to glorify God because of hurts and wounds that I have experienced that might not have been possible apart from those hurts and those wounds.
We've talked during this series about Joseph who was sold into slavery by his brothers, who was falsely accused by his master's wife, who was thrown into an Egyptian prison and forgotten and left to languish there for years.
And then finally, Joseph didn't know the end of the story during all those years, by the way. We know the end of the story. And we know how God finally raised him up and exalted him to the second highest position in the land.
And when Joseph's brothers came into the land of Egypt not recognizing Joseph, but Joseph recognizing his brothers, and then he finally identified himself to them. You can imagine those men shaking in their boots.
They were quivering in fear of what Joseph, this mighty man in Egypt now, might do to them. But Joseph said, "Don't be alarmed. Don't be afraid. Draw near to me." That's the heart of the person who's forgiven.
He said to his brothers, "You sold me into slavery, but God sent me here to preserve life." You see the perspective?
And in this context, you can give thanks that though there are others, who have sold you into slavery, so to speak, though others may have sinned against you greatly, yet God ultimately sends you.
God had a plan and a purpose that was bigger than your personal life and situation. He's working in you. He's working through you. He's working through your circumstances to make you like Jesus and to allow you to be a woman that could bring Him great glory. Many of you, perhaps, are familiar with the story of Ben Hur.
You may have read the book or seen the video. It's a story about a Jewish family set in the time of Christ. When Judah Ben Hur was still a young man, the Romans confiscated his family's home and all their possessions.
They forced Ben Hur to become a galley slave in the belly of a Roman warship. And then they imprisoned his mother and his sister in an underground cell where they contract leprosy.
As the years pass, Ben Hur becomes consumed with hatred and obsessed with a desire of revenge, especially toward his childhood friend, Messala, who had betrayed him to the Romans.
After a long separation, Ben Hur is finally reunited with the girl of his dreams, his childhood sweetheart. Her name is Esther. And as they meet now after these years, he begins to spew out the venom, the hatred that's in his heart, towards the Romans in general, and towards his friend--his former friend--Messala, in particular.
As it happens, Esther has just that day heard a man, named Jesus, speak. He's very different than any other speaker she's heard, and His message is a different kind of message.
And she says to Ben Hur, "If you had heard this man from Nazareth--He said, "Blessed are the merciful, for they shall obtain mercy. Blessed are the peacemakers, for they shall be called the children of God'."
She said, "The voice that I heard on the hill today said, 'Love your enemies; do good to them that despitefully use you'." Well Ben Hur is so filled with rage and hatred that he reacts angrily to Esther's words.
And then she responds with these words. She said, "It was Judah Ben Hur I loved. What has become of him? You seem to be now the very thing you set out to destroy, giving evil for evil. Hatred is turning you to stone. It's as though you had become Messala."
Let me ask you a question. Is it possible that you are becoming just like the one who hurt you? Is hatred hardening your heart and turning it to stone?
God wants to set you free today. And it will happen to you in the very same place that it happened to Judah Ben Hur in this story. Ben Hur ends up in Jerusalem the day that Jesus is being taken to be crucified. He follows the procession to Golgotha.
And then Ben Hur stands underneath the shadow of that center cross. And he watches as the blood flows down from Jesus' tortured body onto the ground below. As he gazes up on the Savior, the love of Christ finally penetrates his hardened heart, silently, without saying a word--He believes. He receives that love.
And you can see in the video version that his face is visibly transformed as the years of bitterness and hatred and anger are washed away by the love and the blood of Jesus.
In the closing scene of the video, Ben Hur returns to his home where Esther's waiting for him. And he says to her, "It was the moment He died. I heard Him say, 'Father, forgive them, for they know not what they do.' And I felt His voice take the sword out of my hand."
Leslie Basham: Nancy Leigh DeMoss has presented us with a choice today. We can hold onto hurts and cultivate a life of bitterness or we can forgive and find freedom. Nancy will be back with a final thought on forgiveness. But first, let me tell you some ways you can continue to grow in this area.
The first is a free booklet called Freedom Through Forgiveness. It's a personal Bible study that will walk you through Scriptures on forgiveness. It's a great way to get the principles you've learned today deep into your heart, and it's free.
Just visit our Web site, ReviveOurHearts.com to order your copy. Or call us at 1-800-569-5959.
This program is part of a 2-week series called "Freedom Through Forgiveness." And if it's had an impact on your life, we'd encourage you to call and get a copy on CD. The entire series is available on two CDs for a suggested donation of $10. We make it easy to order. You don't pay any sales tax, and you don't pay any shipping. Again, our number is 1-800-569-5959.
To ask for materials by mail, write to Revive Our Hearts. When you write, we're interested in knowing how this series on forgiveness affected your life. Well, today, Nancy's been comparing bitterness to a sword that we cling to, hoping for revenge.
Tomorrow, we'll hear from a woman who was faced with a choice. Will she drop the sword and forgive a husband who had been unfaithful? She'll tell her story on tomorrow's program. Now here's Nancy with a final thought for today.
Nancy Leigh DeMoss: Is there still a sword in your hand? A sword of bitterness, resentment, unforgiveness, vengeance? Why not let His voice take the sword out of your hand?
I want to invite you to take a trip to Calvary to see what Jesus did there for you, to receive His grace, His forgiveness and then to choose to forgive.
*Offers available only during the broadcast of the podcast season.
Support the Revive Our Hearts Podcast
Darkness. Fear. Uncertainty. Women around the world wake up hopeless every day. You can play a part in bringing them freedom, fullness, and fruitfulness instead. Your gift ensures that we can continue to spread gospel hope! Donate now.
Donate Now