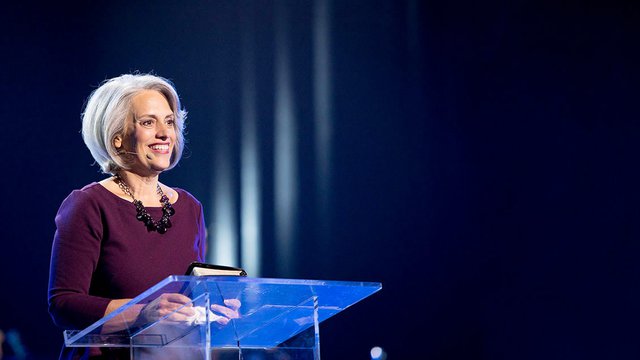 The Beginning of Forgiveness
Leslie Basham: Are you allowing God to take you from the starting point of forgiveness to the finish line of healing? It's Wednesday, June 30; and you are listening to Revive Our Hearts with Nancy Leigh DeMoss.
All this week, Nancy has been teaching us about the freedom that comes from forgiveness. She has explained how important it is to choose to forgive even when we don't feel like it. What do we do after we grant forgiveness? How do we deal with the pain that may continue to linger or relationships that are still strained? Here's Nancy, continuing in a series called "Freedom Through Forgiveness."
Nancy Leigh DeMoss: We've been talking about the grace of forgiveness. God extends His forgiveness to us and then we are able by His grace to extend that forgiveness to others. That forgiveness can be costly. His forgiveness of us was costly but He has given to us the resources to extend that forgiveness to others. It is important to realize that forgiveness can be extended in a moment of time.
Now, I want to say that the healing process of dealing with those emotions, of dealing with that relationship, that may involve a process. The problem is so many of us wait to get through the process before we choose to forgive.
We think, I've got to heal first and then I can forgive. If you wait for the process, you will probably never come to the point of being able to forgive. I'd like to suggest to you that the process begins with the point of forgiveness.
There are some issues as we have been talking about this matter of forgiveness that many of you have thought of, some heinous sins that have been committed against you. And you are thinking, This is really tough. I can't imagine how I could ever forgive this person.
And I hear women say, "I am moving towards forgiveness. I am working towards forgiveness." And I understand the heart of what they mean but it is possible that you might move and work towards forgiveness forever and never end up at forgiveness.
So, I want to challenge you with this thought. You can by God's grace choose to forgive in a moment of time and then allow God out of that forgiveness to begin to flow into your life the healing grace that will help to restore your heart, and even in some cases, that relationship. As we choose to forgive, we need to be reminded again and again that failing to forgive is as great a sin as anyone has or ever will commit against us.
I remember talking a number of years ago with a woman whose husband had become involved in some use of pornography. This woman was so distraught and so distressed and she could not fathom as a woman how these things had even been appealing to her husband. She didn't understand it. It was repulsive to her.
In the process, she let a root of bitterness grow up into her heart towards her husband and she became a prisoner even as she was putting him in prison, a prisoner of her own unforgiveness.
And I watched one day as we talked and a light went on when we came to this principle. And I reminded her that her unforgiveness was as great a sin in God's sight as her husband's sin.
Now, her husband's sin is much more measurable and in our way of viewing things, it seems to be much more serious. It certainly does have some ramifications that her heart attitude of unforgiveness may not have.
But as she realized that not only was her husband a sinner but she was a sinner in her unforgiveness, then she was able to get set free from her bitterness, to release her husband through forgiveness and ultimately she was able to become an instrument of grace in her husband's life as God was able to deliver him from some of these moral issues in his life.
Now I have heard women say, "I have chosen to forgive, I have gone through this process of fully forgiving but I still kind-of get tied up in knots inside when I think of this person. How do you deal with the feelings, the hurt?"
Now we have said that God may allow us to keep some of these painful memories so that we can become merciful and compassionate towards others who have painful situations in their lives.
But God did not intend that you should have to live under the weight, the unresolved emotions here. And I think for many women, the reason that they haven't moved on to more complete healing of those damaged emotions may be because they stopped at the point of forgiveness.
The Scripture has two other aspects of the forgiveness process that I believe are important. We are not going to spend a lot of time on them but I just want to note them so that we can realize that they are important.
The next principle is the importance of returning good for evil. In the Book of Romans, chapter 12 [:17] the last several verses, the apostle Paul says, "Recompense to no man evil for evil." Don't pay back evil to someone who wrongs you. I think we would all agree that that's true. We should not take vengeance.
He goes on to say, "Avenge not yourselves but rather give place unto wrath," or as one translation says, "Leave room for God's wrath." Remember that's God's job. "For it is written, 'Vengeance is mine, I will repay' saith the Lord. Therefore, if your enemy is hungry, feed him. If he is thirsty, give him drink." What is the apostle Paul saying?
When that person hurts you, they reveal that they have a need. Find out what their need is and ask God to show you how to meet that person's need. Is he hungry? Give him something to eat. Is he thirsty? Give him something to drink.
You think, Oh that is so hard. Of course it is. And this is something you can't do if you don't have the Holy Spirit living inside of you to enable you to do that which is humanly impossible.
Paul goes on to say, "Don't be overcome with evil but instead overcome evil with good." When you return good for evil, you are not only overcoming his evil with good but you are overcoming in your own heart the evil of those emotions that keep you in bondage by returning good for evil.
Jesus made the same point in the Gospel of Matthew [ 5:44] where he said, "Love your enemies, do good to those who hate you. Bless those that curse you and pray for those who despitefully use you."
If you want to move forward in the healing process, once you have made the point of fully forgiving, releasing them, clearing their record, then ask God to show you ways that you can invest back into the life of the one who has sinned against you.
Now, it may not be appropriate to reestablish the relationship. But can you pray for that person? You say, "I don't think I can pray for God's blessing on that man, on that person, on that woman, on that child."
As you pray for that person, in obedience to the Word of God, you will find what I have found in my own life--that you can't long hate someone that you are praying for, asking God to bless and restore that person. The goal is reconciliation, that that person will be reconciled to God.
And so I encourage you to build bridges of love and blessing back to those individuals. Then God can actually fill your heart.
Now for some of you, this is going to sound almost unbelievable but it is true. God can actually fill your heart with love and compassion for someone that you have hated for years. It is a miracle of grace, God's grace.
I don't know of any story that better illustrates the power of God's grace to fill our hearts with compassion where once there was resentment than the story of Corrie ten Boom. You have heard her story and how her family provided a hiding place for the Jews who were being hunted by the Nazi's. And then how she and her sister and family ultimately wound up in a concentration camp.
In one of her books she describes the struggle that she experienced with this whole issue of forgiveness. Let me read to you what she wrote.
She said, *"It was at a church service in Munich that I saw him, the former S.S. man who had stood guard at the shower room door in the processing center at Ravensbruck," the concentration camp where Corrie and her sister, Betsie, had been imprisoned.
"He was the first of our actual jailers that I had seen since that time. And suddenly it was all there--the roomful of mocking men, the heaps of clothing, Betsie's pain-blanched face.
"He came up to me as the church was emptying, beaming and bowing. 'How grateful I am for your message, Fraulein.' he said. 'To think that, as you say, He has washed my sins away!'
"His hand was thrust out to shake mine. And I, who had preached so often to the people in Bloemendaal the need to forgive, kept my hand at my side.
"Even as the angry, vengeful thoughts boiled through me, I saw the sin of them. Jesus Christ had died for this man; was I going to ask for more? Lord Jesus, I prayed, forgive me and help me to forgive him.
"I tried to smile, I struggled to raise my hand. I could not. I felt nothing, not the slightest spark of warmth or charity.
"And so again I breathed a silent prayer. Jesus, I cannot forgive him. Give me your forgiveness.
"As I took his hand, the most incredible thing happened. From my shoulder along my arm and through my hand a current seemed to pass from me to him, while into my heart sprang a love for this stranger that almost overwhelmed me."
And then she said, "I discovered that it is not on our forgiveness any more than on our goodness that the world's healing hinges, but on His. When He tells us to love our enemies, He gives, along with the command, the love itself."
Leslie Basham: That's Nancy Leigh DeMoss helping us see the joy that comes when we bless those who have wronged us. Nancy will be back in just a minute to lead us in prayer.
Free, it describes two things related to this series. First, it describes a booklet that we want to give you. Yes, for free. Its Nancy's booklet called Freedom Through Forgiveness.
Secondly, the word free describes you once you have forgiven those who have wronged you. God can lead you to a place of freedom and we think Nancy's booklet can help. It would be perfect for your personal Bible study time.
And even if you don't think you struggle with unforgiveness, please go through this study. You will learn a lot and what do you have to lose, it's free.
Ask for our Freedom Through Forgiveness when you call 1-800-569-5959. You can also drop us a note and ask for your booklet. Just send your letter to Revive Our Hearts. From a tomato seed, you get a tomato plant, right? What happens when you plant a seed of bitterness? Tomorrow, Nancy will talk about the fruit of unforgiveness. I hope that you can join us then. Now, here's Nancy to pray with us.
Nancy Leigh DeMoss: Oh Father, how greatly You have loved us and how incredible is Your forgiveness toward us. We marvel as we stand before Calvary and we contemplate what You did for us.
Thank You, Thank You, Jesus, for Your forgiveness. And Thank You, thank You that You can pour into our wounded, pained, grieved, bitter hearts Your forgiveness and Your love even for those who have sinned against us the greatest.
Oh, Lord, I pray for myself and for my sisters in this room that You would pour through us Your grace of forgiveness. And for the one who is sitting here struggling with the choice to forgive, may she know that it is Your forgiveness that You will flow through her.
Give grace, give courage, give the will and the faith to act on what we have heard and to forgive for Jesus' sake as You have forgiven us. We pray in Jesus' name. Amen.
Revive Our Hearts with Nancy Leigh DeMoss is a ministry partnership of Life Action Ministries.
*Corrie ten Boom, The Hiding Place, Bantam Books/Published by arrangement with Fleming H. Revell Company, New York, 1971, "The Three Visions," p. 238.
*Offers available only during the broadcast of the podcast season.
Support the Revive Our Hearts Podcast
Darkness. Fear. Uncertainty. Women around the world wake up hopeless every day. You can play a part in bringing them freedom, fullness, and fruitfulness instead. Your gift ensures that we can continue to spread gospel hope! Donate now.
Donate Now