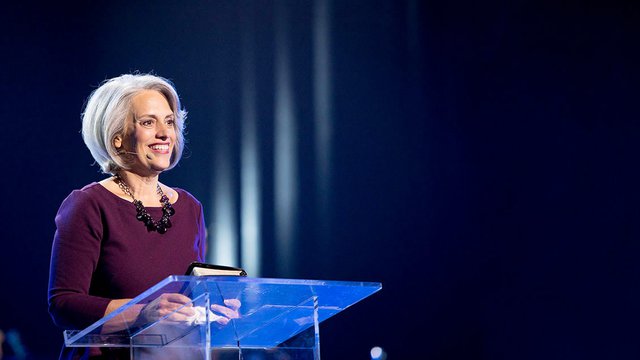 The Arms of Providence
Leslie Basham: Here's Nancy Leigh DeMoss to remind us why Abraham and Sarah are such heroes of the Bible.
Nancy Leigh DeMoss: God said, "Go" and they went. You know what they were doing? They were choosing friendship with God over all human relationships, over all earthly attachments and over all visible security.
Leslie Basham: It's Tuesday, August 3; and you are listening to Revive Our Hearts with Nancy Leigh DeMoss. Yesterday, Nancy identified four areas of fear that we often experience when we are called to surrender to God.
We fear that we will suffer in the areas of Provision, Pleasure, Safety and Relationships. Today, Nancy will tell us about one couple who moved forward in obedience in spite of these fears.
Nancy Leigh DeMoss: When I was a kid, I used to love to visit wax museums. Have you ever been in a wax museum? They really are a lot of fun. They have these historical figures or famous celebrities or whatever, but they are figures in wax and the figures look amazingly real.
I mean, from a distance, you kind of step back and say, "That looks so real." But, of course, they aren't real. And, actually, it must be kind of a nice thing to just be in a wax museum. I mean, no problems, but it is because they aren't real people.
You know sometimes when we read the Scripture, I think that we think of Bible characters as if they were those fake figures in a wax museum. We admire their faith and their spiritual feats but we forget that they were real people who had to deal with real-life issues and real problems.
Take Abraham and Sarah for example. We think of them as superheroes, people of great faith and they were. But they had to face many of the same issues and fears that we struggle with.
Over and over again in order to move forward in their relationship with God, Abraham and Sarah were called to make a fresh surrender to God. And just after they had surrendered one thing it seemed like God would come and ask them for something else.
And to make those surrenders required that they relinquish control of their own lives, that they step out on a limb and that they trust a God they could not see.
Now think about the background of Abraham and Sarah. They grew up in a pagan, idolatrous environment where there was absolutely nothing to inspire or nurture faith. I mean no study Bibles, no praise and worship CDs, no churches, no Christian fellowship, nothing.
And when an unseen, unknown God spoke and told Abram, as he was known at the time, to venture out and to leave behind everything that was familiar and comfortable, he and his wife were faced with a choice: to stay or to go.
And in making that choice they had to consider the cost of surrender. They had to face, I'm sure, some very real fears, the same fears we face. How will our family's needs be met? God hadn't told them the answer to that question. It's the fear of Provision.
They had to face the fear of losing pleasure. Will we be happy in this unseen, unknown thing that God is calling us to pursue? Will we like this or will we be miserable?
And then, will we be safe, the fear of Protection. And then this issue of Personal Relationships; You want us to leave all our friends and all our relatives and go where? The fear of losing personal relationships.
Now, Scripture doesn't tell us to what extent, if any, Abram and Sarah wrestled with their decision. But this I know. They were not figures in a wax museum. They had emotions; they had feelings. They had fears. Faith isn't really faith unless it steps over the fears and runs into the face of those fears. What we do know is that they went.
Genesis 12, verse 1 tells us about God's call to Abram, "Leave your country, your people and your father's household." Four verses later we read, "So Abram left as the Lord had told him."
And, by the way, even though Abram is the only one named in that verse, don't forget, Sarah went with him. And she had not even heard what Abram had heard. Our God spoke directly to Abram. And Sarah had to trust that her husband was following a God she had never seen and had never met. What incredible faith, not just on Abram's part, but also on the part of his wife.
So with no further explanation, they cast themselves into the arms of Providence and they went. God said, "Go" and they went. You know what they were doing? They were choosing friendship with God over all human relationships, over all earthly attachments and over all visible security.
Now God had given Abraham and Sarah some grand promises. He had told them that He would take them to a fruitful land, that they would have more offspring than they could count. But keep in mind as you read the Book of Genesis that for more than 25 years, they didn't have one shred of visible evidence that God's promises would be fulfilled. So they had the promises and then they had this long, long waiting period.
In Acts, chapter 7 talks about this period of Abraham and Sarah's lives and tells us that the reality could have really shaken their faith. Acts 7, verse 5 says, "They had no inheritance and they had no child."
Now God had promised a land and God had promised a child but for 25 years, no inheritance and no child. But they went anyway.
And in spite of occasional lapses in their faith, and I'm so glad that the Scripture shares those because that really encourages me because you see how God picked them back up. In spite of those lapses, they kept on going, walking in faith. So Abraham and Sarah surrendered themselves to the purposes and the plans of God with no tangible guarantee that their obedience would ever pay off.
And that's what is involved in surrender to God. It's going when God says, "Go," giving when God says, "Give" and not being able to see the outcome of that surrender.
God says, "Keep on loving that husband."
And you say, "But, Lord, but it has been 25 years."
And God says, "Keep on loving. Cling to me, cling to my promises, surrender when you can't see the outcome, when you can't tell that your obedience will ever pay off. Keep on doing it anyway."
Even when they could not see the outcome of their faith and even when it seemed to be taking forever, what did Abraham and Sarah do, they believed God. They believed God. They staked their lives, their security, their future, everything on the fact that God was real and that He would keep His promises.
And that was the foundation on which their faith rested. It was faith in the character of God and the promises of God that enabled Abraham and Sarah to adopt an itinerant lifestyle, living in tents for over 25 years. And you thought your house was bad. You thought you needed something newer or nicer or more stable. You thought you had moved a lot"¦for 25 years, not just Abraham but his wife, Sarah.
She was a woman of faith as much as he was a man of faith. But it was because they saw the promises of God, they embraced those promises and they were willing to make the sacrifices required to see those promised fulfilled.
Hebrews 11 tells us by faith they went to live in the land of promises, in a foreign land, living in tents with Isaac and Jacob, heirs with them of the same promise and here's why. "For they were looking forward to the city which has foundations whose designer and builder is God" [Hebrews 11:10].
God had promised them something permanent, something enduring, something eternal and something lasting and they were willing to put up with that itinerant gypsy lifestyle for all those years because they had their eyes fixed on what was ahead.
It was faith in the promises of God that helped them endure through decades of infertility and unfulfilled longings because God had promised them, "You will have a seed."
And the Scripture tells us in Hebrews 11, verse 11 that Sarah considered him faithful who had promised. Now, there were moments when she lapsed into unbelief and she did some very foolish things when she stopped trusting God. But for the most part over those years, she considered God as faithful, "He has promised; therefore, I know that in His time and in His way, He will fulfill His promises.
And it was faith in the promises of God that enabled Abraham and Sarah to let go of that long promised, long-awaited child when God asked Abraham to sacrifice Isaac. They said, "God has promised; He is faithful; He must know what he is doing."
And they knew so much less of God than we are able to know because we have their story and so many other stories in this book. We have a God who has been tried and tested and proven and whose heart and character and faithfulness have been demonstrated over thousands of years.
They didn't have any of that. But they still trusted. And over and over again, God revealed Himself and His promises to this couple.
Genesis 15, verse 1, "Don't be afraid, Abram. I am your shield, your exceedingly great reward." What was God saying? And the context here, by the way, was when Abraham was facing the threat of an enemy king and God was saying, "I'm your Protection. I am your Provision. If you have Me you have everything You need. So, Trust Me."
"Those who know Your name, O Lord, will put their trust in You for You have never forsaken those who fear You" [Psalm 9:10].
So at times the call of God in our lives may require us to relinquish things or people that we can't imagine living without: material possessions, a job, a promotion, health, a mate, a child, the respect and understanding of a dear friend.
In the midst of all that, it's the character of God, the promises of God, "I am your reward, I am your shield, I am your Provision, I am your Protection," that is what will free us from our fears and help us to step out in faith and whole-hearted surrender.
Leslie Basham: Nancy Leigh DeMoss has been giving us a picture of a life free from the fears that hold us back from God's will. We can pray with Nancy in just a minute; but first let me tell you that today's topic is close to her heart. She spent months exploring and studying the surrendered life and you have a chance to go on the adventure with her.
I'm talking about Nancy's book called, Surrender: The Heart God Controls. In it, you'll read about people who pushed through fear and surrendered everything to God. You'll read about the incredible things that happened in their lives. The examples in teaching will help you to understand how to live a more surrendered life, a more full and meaningful life. You can order for a suggested donation of $10 by calling 1-800-569-5959.  You can also contact us at ReviveOurHearts.com.
Maybe you have your own story of a time you were required to surrender. What happened? We would love to know. Please send your letter to Revive Our Hearts.
Tomorrow, we will look at the importance of having an altar in our lives. Hope you can be back. Now, here's Nancy. Let's pray.
Nancy Leigh DeMoss: Thank You, Lord, for giving us the account of Abraham and Sarah. And thank You for this incredible couple who against hope believed in You. When all the circumstances around them said that what You said couldn't be true, they chose to believe You instead of their circumstances.
And thank You that because of their faith, we can have faith today. We are, according to the Scripture, the children of Abraham if we believe in Christ. And I pray that You would help us to know You, to trust You and to be willing to step out in faith in obedience to Your direction. I pray in Jesus' name. Amen.
Revive Our Hearts with Nancy Leigh DeMoss is a ministry partnership of Life Action Ministries.
*Offers available only during the broadcast of the podcast season.
Support the Revive Our Hearts Podcast
Darkness. Fear. Uncertainty. Women around the world wake up hopeless every day. You can play a part in bringing them freedom, fullness, and fruitfulness instead. Your gift ensures that we can continue to spread gospel hope! Donate now.
Donate Now