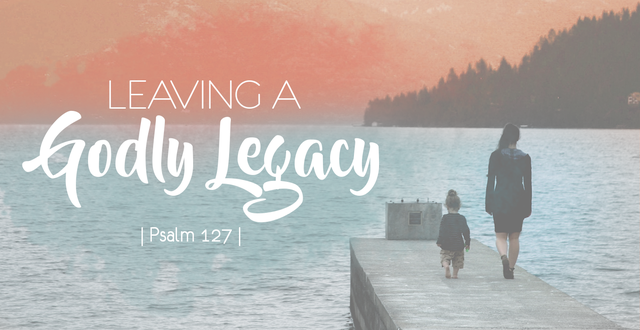 — Audio Player —
Shooting the Arrows
Leslie: Here's Nancy Leigh DeMoss.
Nancy Leigh DeMoss: It's a sad thing to me today when I see young people from Christian homes, in some cases, who have a desire to serve the Lord and to be used by God; but whose parents, Christian parents, are in some way holding them back from doing the will of God.
Leslie: This is Revive Our Hearts with Nancy Leigh DeMoss for Tuesday, May 8.
When you hear bad news about war, terrorism, or anything else, do you find yourself wanting to pull your family close, to stay together inside your house until the world is safer?
Well, that's not exactly what the Bible calls parents to do. Here's Nancy to explain why, in a series called Leaving a Godly Legacy.
Nancy: "Like arrows in the hand of a warrior, so are the children of one's youth" (Psalm 127:4). We've looked at a number of principles from God's Word about how to leave a legacy of godliness for the next generation.
Let me say, by the way, this is not just for moms and dads. This applies to grandmoms as well. I know there's some of you in here that have grandchildren and have been nodding as we've been talking about some of these different principles. You've been thinking of how you can even have a role in the lives of your grandchildren in helping to leave for them a heritage of righteousness.
This is a responsibility we all have in the body of Christ. The final principle we want to look at in this passage is the importance of sending these children forth as arrows. 
I'm so thankful for what my parents did to instill in us as we were growing up a vision for how God wanted to use our lives. They realized that they were parenting us for a season. But the objective was not that we should stay in the home, not that we should stay under their covering and leadership and direction, but that as arrows are released from that bow, so our lives should be sent out into the world to make a difference.
It's so important as moms that you ask God to give you a sense of how God may want to use your children's lives to bring glory to God and to further His kingdom here on this earth.
You see, your goal for your children is not just that they would survive this world. I think sometimes we have this fortress mentality. You're going to put protective walls around them and make sure nothing dangerous gets to them so they can just stay hunkered down in the fortress.
That's not the goal. We're in a battle here, a cultural war, a battle between the kingdom of God and the kingdom of Satan. God intends that godly parents should be raising up godly sons and daughters and grandchildren who can go out into this corrupt, wicked, broken, fallen, hurting, needy world and take the gospel of Christ, take the truth of God's Word, and be light in the darkness.
See, you're not just wanting to teach your children to survive or to adapt to the world, certainly not to fit into the world, but to be different, to be distinctive, to go forth in the power of the Holy Spirit to make a difference.
Your burden for your children ought to be that they will fulfill God's purpose for their lives in their generation. That requires moms and dads and grandmoms and grandparents who will exercise faith on behalf of their children, who will believe God for the miraculous, for God's will to be done in the lives of their children.
Let me challenge you—don't settle for less. Now that's not to say you will know exactly how God wants to use your children or that you ought to dictate that. They need to learn to seek God and to find out how God wants to use them.
But expect God to use your children. My parents expected that our lives would be consecrated to the Lord, that we were set apart for His purposes. My dad in particular did a wonderful job in my own life as a first-born child of giving to me a vision that God had a special purpose for my life, and that my existence was not to please myself. It was not to make me happy. It was not just to coast through life but to be used by God to fulfill God's purposes for me in my generation.
Then release your children to the will of God. It's a sad thing to me today when I see young people from Christian homes, in some cases, who have a desire to serve the Lord and to be used by God, but whose parents, Christian parents, are in some way holding them back from doing the will of God.
Some of your children God may set apart for a lifestyle of singleness. Now, that's not the norm. That would be by way of exception, but don't push your children into marriage if God set them apart for something different. Don't push your children into living nearby if God may want to send them to another part of the world to serve Him.
I have a friend who, with her husband, is leaving a godly legacy in their children and in their grandchildren.
Now, one of her four children has gone off with her husband to be a missionary in Cambodia. I remember saying to Jeannie when her daughter and son-in-law and grandchildren first left to go to the other side of the world, "Jeannie, is it hard for you to watch them go off?"
I knew it was, and she said, "Of course it is." But she said, "I'm so thankful that I have a daughter who wants to be used by God, who wants to spend her life serving God and winning people to Jesus Christ."
She said, "Time is so short, and we'll have all of eternity to enjoy the things that we really are maybe not able to enjoy for as long here on earth." That's the mindset of a mom who's releasing her children to be used by God in this world.
Some of your children may sense a leading of God to be used in a way that would not bring a great income, and as a parent, you want them to be provided for. But don't discourage your children if they want to walk by faith.
I'm not talking about foolish choices, but pray and ask God to give your children a heart of faith. If your children sense God's calling into vocational Christian service, could I plead with you? Don't stop them. Give them the freedom to be used however and whenever and wherever God wants to use them.
I have a new little pen pal and prayer partner. She's eight years old. I met her not too long ago, and she's been writing me about once a week on little stationary that she designs. Her life is another picture of a family that is raising up a legacy for the next generation.
Now, to give you a little background here, her mother came from a Christian home but wandered away from the Lord for a number of years, and she finally came back to Christ. Through the truth of God's Word, she got set free from many areas of sinful bondages and issues in her life as the mom.
Now this mom is home schooling her children. She's a keeper at home. She's a godly wife and mother, training her son and daughter in the ways of God. Her little eight-year-old daughter is now writing to me to say:
"Dear Miss DeMoss, I am praying for you every day." And she does. Her mom tells me that she prays for me every day. "I hope you are growing stronger in Christ." And she said, "I spelled your name and some things about you."
She writes out on one side of this letter the letters of my name with something next to each of those letters that she's praying. She writes:
"N" stands for the name of Jesus to be lifted up.

"A," that all women would see Jesus in you.

"N," nations would be revived. [Talk about vision and faith.]

"C," courage to give out God's message, and

"Y," you would grow stronger in the Lord and many would say "yes" to Jesus.
Now, here's a little arrow being fashioned, being readied to be sent forth. Here's my vision women: There are godly older women in our nation today who have handed to some of us, as younger women, the baton of truth, and we've learned from their lives and from the things they've taught us about the heart and the ways of God.
Now many of us as young adult women are having the privilege of teaching God's truth to the younger generation. My burden is that when I'm an older woman and later, after I'm not here any longer, that there would be another generation of younger women who would know God, who would love Him, who would walk with Him, who would demonstrate and model and teach His ways to yet another generation to come.
Where does this happen? The same place it's happening in this little girl's life—right inside our homes. It may be your children; it may be your grandchildren; it may be other people's children if God brings them to the scope of your influence and your life.
Would you ask God to give you a vision for how they can be used in the kingdom of Christ? What are you doing to instill in the next generation a vision for how God wants to use them to fulfill His purposes in our world?
As we live out these principles that we've seen over these last several days, the Scripture promises a blessing. Let me just reread those verses from Psalm 128:
Blessed is every one who fears the Lord,
        Who walks in His ways.
When you eat the labor of your hands,
         You shall be happy . . . .
Behold, thus shall the man be blessed
         Who fears the Lord.
The Lord bless you out of Zion,
         And may you see the good of Jerusalem
         All the days of your life.
Yes, may you see your children's children.
         Peace be upon Israel!"
         (Psalm 128:1–2, 4–6)
Leslie: Nancy Leigh DeMoss has been giving parents a vision for what their children could become. It's part of the series on Psalms 127 and 128 called Leaving a Godly Legacy.
Maybe today's program has generated some ideas or questions. Just visit ReviveOurHearts.com and leave your comments for other listeners to read on our listener blog.
Some of the women listening along in our audience also have some comments and questions for Nancy. Here they are.
Woman 1: I'm the mother of four sons, and I'm 75 years old. Our three older children went through the 60s generation, which was the beginning of the disobedience that we see on television now.
We lost one son to the 60s generation. The other three are all believers, but I had become a very praying mother, and so I've prayed all these years for those sons and their wives and children.
"[Now], since we heard of your faith in Christ Jesus and the love which you have for all the saints . . . since the day we heard of it, we have not ceased to pray for you and ask that you may be filled with the knowledge of His will and all spiritual wisdom and understanding so that you may walk in a manner worthy of the Lord, to please Him in all respects, bearing fruit in every good work and increasing in the knowledge of God" (Colossians 1:4, 9–10, NASB).
That's a prayer I pray every single day and have for years for all those sons, those daughter-in-laws, and those grandchildren; because, as you say, your parents nor did we have all the wonderful books, the teaching, the insights of godly people to teach us.
I had Dr. Spock—he was not very good! So what you're saying is that God's grace is sufficient. It really is in how He has brought us to this point.
Nancy: We're talking about teenagers and 12 and 14 year olds, remembering that you don't start parenting them at 12 and 14, but it is from the earliest stages when you're cultivating an appetite for something, for some things.
That's where I think some parents don't realize how important those early influences are. The goal is that by the time your children are teenagers they're involved with you in choosing things that are right, and they're a part of the process with you.
I think if you just start at the teenage years with saying, "No, no, no," it's going to be one very long, hard, losing battle, probably. But you've been developing a relationship with them; you've been teaching them the ways of God as it relates to respect.
I would not have dreamed of really facing my parents off—not because I was afraid of them. They didn't rule our home with fear or with rules, particularly, but because it was just such an instilled sense of honoring and respecting authority.
Now, when did that happen and how did it happen? I don't know, but I know that by the time there were those issues, there was a fear of the Lord and a reverence and respect for authority. I don't want to sound like I was a perfect teenager. I wasn't, but there was certainly a restraint that I think the Lord placed around my heart.
From the earliest times, there had been this sense that we, as parents, are responsible for these issues. Now, they had the wisdom, I think, as we got to be teenagers to allow us to make some decisions they probably did not fully agree with and would not have been their choice for us.
But that's where they did pick their battles and determine which were matters of right and wrong or protection and which were matters of our growing son or daughter needing to begin to make their own choices about what pleases the Lord.
Now, there was a lot of guidance with that. There was input with it, but they were not determining every issue of our lives by the time that we became teenagers.
You want to ask God to show you how to have your children's heart, and how God can have their heart. Because ultimately, it's the fear of the Lord that's going to protect them from evil: a love, a reverence for God.
I know at seventeen years old I went out to a secular university in southern California, 3,000 miles away from home, to be a junior in college. But they knew that by that time my roots had gone down deep into the ways of God and that there was a love for God, a reverence for Him, and a fear of the Lord that was going to protect me when they weren't there.
All of a sudden, I had a lot more freedom to do things that I would have never been able to do at home. I had an automobile; I could have really done a lot of very wrong things, but there wasn't the appetite, the desire for those things.
Now, there is a sense in which the culture today is extremely challenging and more so than the culture in which many of us grew up. But I think it can also be a tool of the enemy to make us feel hopeless and defeated, to focus on how bad the culture is today.
When you go back to the Scripture and the days in which the Scripture was written, the days in which New Testament believers had to raise their families, there's not a lot about our culture that can top some of those eras.
The era of the Roman Empire was ripe with homosexuality, with wickedness, with perversion. Those "Survivor-type" of TV shows we have today were being lived out live in the coliseums in the Roman era.
You go back earlier than that to the early period of the Scriptures, to the book of Genesis, just for example, and in the first chapters of the Bible you have stories of incest, of rape, of adultery, of rebellion, of murder, of prodigal children.
Those are not new sins. Ecclesiastes says, "There is nothing new under the sun" (Ecclesiastes 1:9), and it's really hard to invent new kinds of sins. Now, we're trying real hard today, and I'm not saying that it's not difficult, extremely difficult. But I'm saying that God has always had a remnant who were willing to submit to Him and determine to walk with Him as light in the midst of the darkness.
It's not like we can look back at the 50s—you know, the "Leave it to Beaver" days of television—and just think, "Oh, it was all light then. It was so much easier." Those days had their own kind of darkness, and the greatest darkness is not so much the darkness of the culture.
It's the darkness of our own human hearts and our pride and our selfishness, and that's always been pretty much the same. So, the expressions of it in society, and yes, we didn't have the issues in the schools to the same extent that we do now, but sinners are sinners. And sinners need grace.
So what we needed to grow up in our generation, this generation needs the same things. It's the mercy and the grace and the truth of God. Let me also say this: The light shines most brightly when the night is the darkest.
Chris: I was saved four and a half years ago at the age of 37. My kids at that time were 19, 12, and 11, and so when you said a while ago, "Children will cultivate an appetite for what they're exposed to," I just sunk. I thought, "How awful of a parent I think I was compared to what I could have been."
I think of the things that my children were exposed to as little children. I'm so thankful that when God immediately saved me, He gave me a hunger, a supernatural hunger, to be godly. My husband was saved not too long after that, and we just decided that we were going to raise our children in a godly home.
So we decided to home school, and of course, the one daughter was already graduated and in college. But my other two, they'll both be in high school next year, and it's just getting really difficult to home school because I only have a high school education.
I just really feel like the Lord wants me to teach them to be godly, more so than academics. I mean, we do academics, but godliness is so important to me. What you said a while ago about God transferring His heart from me to them—that's happening.
I see a growth, a spiritual growth in my kids that just blesses me, and my prayer is that they will learn to love God more than they love me and that they will rise up and call me blessed. But there's always those struggles with them living in the days before.
They're all saved, too, now. I always say to myself, "I wish I could start over with my kids. I wish I could start over with my kids." My pastor's wife just leaned over and said, "You know, this can apply to your Sunday school class, too."
I teach third grade Sunday school, and I thought, "That is so true. I do get the opportunity to start over." So if any of you are in children's ministry, you have that opportunity right there, and I encourage you if you're not in children's ministry to get into children's ministry!
Nancy: Well, Chris, you faced a difficult situation where your children already had some established ways of thinking and living. To all of the sudden pull them out of school, to home school, to make some major changes and turn the ship midstream could have precipitated a real confrontation.
God apparently gave you direction and wisdom as to knowing your heart and your hunger as to what was the best way to do that. The way that God led you to do it may be different than the way God would lead another parent to do that.
That's where we keep on coming back to this whole matter of prayer. If you're going to fight for your children, wrestle with God on their behalf rather than having to focus your attention on wrestling with your children.
Your children are not the enemy. The devil is the enemy, and you want to link arms with God and say, "Together, we're going to hold on for these children."
But then, remember that you must rely on the power of the Holy Spirit to make Christ real to your children.
Leslie: As parents, we need to do everything we can to teach our children the ways of God, and then, we need to pray for the Holy Spirit to take what we taught and let it grow and develop in our children's lives.
That's one of the points Nancy Leigh DeMoss has been making in this series, Leaving a Godly Legacy. Maybe you're thinking, "This is great material. I wish I hadn't missed any of it." Well, you can still hear it.
Just go online to ReviveOurHearts.com, and there you can listen to past broadcasts and review archived transcripts. You can also subscribe to the daily podcast. One of our listeners wrote to thank us for the podcast, and she said:
"I love to listen to the radio program via MP3, thanks to my generous 11-year-old, as I walk daily." It's easy to interact with Revive Our Hearts material in these new ways. Just visit ReviveOurHearts.com. But if you're still having trouble, ask an 11-year-old for help!
When you contact us for any reason, ask for the Leaving a Godly Legacy bookmark. When you forget why you're spending so much energy being a mom, this bookmark will trigger your memory about some of the things you've heard in this series.
Psalm 127 is printed on one side, with quotes from Nancy on the other. We'll send you five of these bookmarks so that you can keep one and pass some on to other parents. You don't have to pay anything. Just ask for the bookmarks at 1-800-569-5959, or look for this offer at ReviveOurHearts.com.
If a grown child isn't walking with God, does it necessarily mean their parents did something wrong? Hear some discussion of that question tomorrow, when the series Leaving a Godly Legacy continues.
Now Nancy's back to lead us in prayer.
Nancy: Father, Your Word says that we should arise and cry out in the night watches on behalf of our children. Thank you for mothers who do just that. Thank You for women who take seriously that call to prayer and intercession.
Lord, I pray that You would so stir within each of our hearts, that we would not just live for this moment, live for ourselves, trying to figure out what can happen in our day that can make our lives more convenient or more comfortable, not just how to solve our problems.
Lord, give us a heart that really cares for the next generation, not just so they can be comfortable and convenient, but so that You can be glorified and Your kingdom will come and Your will will be done in their lives. And all the world will know that You are God, that You alone are great. We pray in Jesus' name, amen.
Revive Our Hearts with Nancy Leigh DeMoss is an outreach of Life Action Ministries.
All Scripture is taken from the English Standard Version.
*Offers available only during the broadcast of the podcast season.
Support the Revive Our Hearts Podcast
Darkness. Fear. Uncertainty. Women around the world wake up hopeless every day. You can play a part in bringing them freedom, fullness, and fruitfulness instead. Your gift ensures that we can continue to spread gospel hope! Donate now.
Donate Now