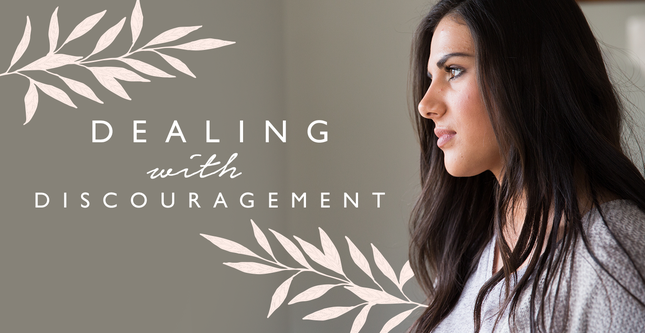 Seeking God's Direction
Leslie Basham: The Bible tells us about a time when David faced a tough decision. As a celebrated soldier, he was good at making plans. But he didn't rely on his own ability. Here's Nancy Leigh DeMoss.
Nancy Leigh DeMoss: He prayed. He didn't assume that the first plan that came into his mind was God's plan.
Leslie Basham: It's Thursday, January 30; and you're listening to Revive Our Hearts with Nancy Leigh DeMoss. One of the times we're most vulnerable to discouragement is when we have a big decision to make.
We might fear making the wrong choice or being confused by the many words of advice our family and friends are offering. So how should we make decisions? Here's Nancy with some counsel from Scripture.
Nancy Leigh DeMoss: We've been talking all this week about dealing with discouragement. That's something that every one of us needs to know how to do because we all face discouragement.
Out of all people, we as children of God ought to be encouraged people. We have so much in Christ; and yet I find that many, many women I'm talking with in the Church today are greatly discouraged.
I battle it a lot myself. Even in the ministry, doing things God has called me to, I find myself a lot of times giving way to discouragement. The Scripture provides us a wealth of resource and understanding about how to deal with discouraging times in our lives.
We've been looking at 1 Samuel 30, an incident from the life of David. If you've not been with us, let me just review what has happened. David has been running for his life from King Saul for 15 years. He has been told by God that he would be the next king, but there is no evidence that God is going to fulfill His promise. It looks to the contrary--as if David is going to lose his life before he gets to the throne.
David and his 600 men who have gathered around him, who have become his army, his troops, they have gone out to fight and then come back to their hometown in Philistine territory, the town of Ziklag.
They found that another enemy, the Amalekites, have come and burned their city, burned all their possessions, taken their wives, taken their children. They come back to this town with the smoke still rising up out of the ground. Their families are gone. They are obviously greatly distressed.
We read in 1 Samuel 30:4: "Then David and the people who were with him lifted up their voices and wept until they had no more power to weep." They're devastated. David's two wives--it's a personal loss--his wives, Ahinoam the Jezreelitess and Abigail the widow of Nabal the Carmelite, had also been taken captive.
And then verse 6: "Now David was greatly distressed, for the people spoke of stoning him because the soul of all the people was bitter, every man for his sons and his daughters. But"--this is what we looked at yesterday--"David strengthened or encouraged himself in the Lord his God." When everyone had turned against him, David turned to the Lord. There he found a source of inner strength and encouragement.
Now we come to verse 7 today. I want you to see something else that David did when he was discouraged. First, he strengthened or encouraged himself in the Lord. Then verse 7 tells us he got direction from God.
Here he is in this hopeless, helpless situation with no idea what to do. There is no human understanding that can tell you. There is no textbook that's been written. He had never been in this situation before. He didn't know what to do, so he turned to God to give him direction.
We see in verse 7, "Then David said to Abiathar the priest, Ahimelech's son, 'Please bring the ephod here to me.' And Abiathar brought the ephod to David. So David inquired of the Lord, saying, 'Shall I pursue this troop? Shall I overtake them?'"
When David needed direction, what did he do? First of all, having strengthened himself in the Lord already--having encouraged his heart in the Lord--now he seeks out another believer to help him to discern the will of God.
Now the believer isn't for him a substitute for God. He turns first to the Lord. That's where he gets his strength and encouragement because God is the source of all true encouragement. But then God uses another believer to help him get direction and determine what he should do.
Could I say to you that once you have sought encouragement in the Lord and as you are letting the Lord encourage your heart, then don't try to be a Lone Ranger Christian? When you find yourself in these circumstances where you have no idea what to do, find a mature believer who can help direct you to the Word.
David sought another believer to help him discern the will of God. Then David used the means that God had provided to know His will. In the Old Testament, God provided a number of different means. They didn't have the written Scripture so God provided priests and prophets.
We read in verse 7 that David says to Abiathar the priest, "Please bring the ephod here to me." Abiathar brought the ephod to David. Without going into a lot of detail, an ephod was one of the priestly garments--the clothes worn, the outer clothing tunic worn by the high priest. And on that ephod was a pouch that had in it two stones that were known as the Urim and the Thummim. That's meaningless if you haven't studied the Old Testament.
These were means--and the Scripture doesn't even really tell us how God did it--but these were means that God had given to people that the priest would help people to know God's will. That was the means God had provided. So David says, "Bring to me the means--the vehicle through which I can know the will of God."
Now we don't have an ephod or an Urim or a Thummim today to know the will of God. What do we have? We have the Word of God. And aren't you glad? My goodness! I've seen this week just a number of situations, but one in particular comes to mind where I really needed direction about a ministry-related decision. I didn't know how to think this through.
I got into the Word and found the Word of God being a light and a lamp to my feet and my path. It just became so clear--the principles, the truths of God's Word. They're pure. They're right. They lead us. God used His Word in a very specific and direct way this week to shine light on my path.
As we're living in the Word of God, as we're saturated with the Word of God, we will be able to apply the Word of God to real-life circumstances and situations. Of course, that's the role of the Holy Spirit living within us--to shine light on the Word and to illuminate it to us and to direct our steps. He does it through the Word of God. God gives us His Word to encourage us, give us hope and to help us to endure when we think we cannot go on.
You read this in Romans 15, where the apostle Paul says, "For everything that was written in the past [that's all the Old Testament Scriptures], it was written to teach us so that through endurance and the encouragement of the Scriptures we might have hope."
He goes on to say, "May the God who gives endurance and encouragement give you a spirit of unity among yourselves as you follow Christ Jesus, so that with one heart and mouth you may glorify the God and Father of our Lord Jesus Christ." What does God use to encourage us, to direct us, in these discouraging times? It's the Word of God--the encouragement we find through the Word.
I was working on this series a couple of nights ago and thought about a pastor and his wife who live in the Memphis, Tennessee area, who are just great encouragers. They've been real encouragers in my life over a period of many years.
I know that this particular wife has had for years now a major neuromuscular disease that has caused the deterioration of her neck muscles. She has been in constant, horrible pain and deteriorating physical condition for years.
Now she and her husband are 60-ish, and they've been such encouragers to me. So I picked up the phone and called them because I was speaking about encouragement. I said, "Brother Bobby and Joyce, how are you doing?"
They both got on the phone. "You've encouraged me so many times over the years when I've been discouraged. I know you must have had some discouraging times as you're walking through this physical situation."
You know, their hearts were so full of praise and thanks. I said, "Joyce, how do you encourage yourself?" She said, "I get in the Word. I get in the Word. That's where God provides encouragement."
Then we see that David prayed. He inquired of the Lord. He asked God what he should do. He sought out another believer. He used the means God had provided. And then he said, "God, what should I do?" He prayed. He didn't assume that the first plan that came into his mind was God's plan.
You know, we make our plans. We say, "I'm going to fight this. I know what I'm going to do. I've got this cancer. I've got this situation with my child. I've got this situation in my job." We kick into high gear and we put our plans into motion.
Well, David was a smart man. He could have thought of plans on his own. But he wanted God's plan. Isn't that what you want, really? Not to depend on your own understanding, but to acknowledge Him and let Him direct your steps? So David inquired of the Lord, verse 8, saying, "Shall I pursue this troop? Shall I overtake them?"
When we go back a couple of chapters, we find that David had failed to inquire of the Lord before he went to battle with the Philistines. That's how he ended up in this situation. I think David didn't want to make the same mistake again. He knew that when he had not inquired of the Lord previously, he had ended up in a big mess.
Now he says, "I'm going to inquire of the Lord this time. I'm going to ask God what I should do." Aren't you glad that it's not too late to repent? You may have failed to seek the Lord in the past. You may have leaned on your own understanding in the past. But now you can seek the Lord.
You can come back to Him in humility and say, "God, I've done it my own way, now I want to do it Your way." Doing it God's way does not mean that God will make all your problems go away. It doesn't mean He'll just wave His magic wand in the air and all your problems will be gone. But it does mean that God will walk with you through that valley, through those circumstances.
Leslie Basham: Fighting all our battles through prayer sounds wise to me. In fact, Nancy's going to be right back to lead us in prayer. If these programs provide some encouragement to you, would you consider praying for us?
Here is one way: Ask God to give women open hearts as they listen. Pray that they'll accept God's call to surrender, sacrifice and service.
If you're willing to consistently pray for the ministry of Revive Our Hearts, would you write and let us know?  You can also contact us through our Web site, ReviveOurHearts.com. You can find additional prayer requests posted there.
You can also find information on resources that will help you get godly perspective on the topic of discouragement, including a book called Overcoming Fear, Worry and Anxiety by Elyse Fitzpatrick.
The book is as direct and practical as its title sounds. If you need to learn to accept God's peace, reading this book is a good step to take. It's available for a $10 suggested donation. You can call 1-800-569-5959.
Well, what are you supposed to do when you don't know what to do? We'll discuss it tomorrow. Be sure to join us. Now here's Nancy to lead us in prayer.
Nancy Leigh DeMoss: Father, thank You for giving us insight from Your Word into how we should respond when we don't know what to do. Thank You for godly men and women that can help direct us to Your Word. Thank You that You've given us Your Word to be a lamp and a light to our path.
Help us to seek You, to inquire of You, to ask You and not assume that our own plans are the right ones. When we're in trouble and before we get into trouble and after we're out of trouble--all the time to be inquiring of You.
We thank You that You will lead and You will guide. You are our Good Shepherd. You lead in paths of righteousness for Your own name's sake. We give You thanks for that in Jesus' name. Amen.
Revive Our Hearts with Nancy Leigh DeMoss is a ministry partnership of Life Action Ministries.
*Offers available only during the broadcast of the podcast season.
Support the Revive Our Hearts Podcast
Darkness. Fear. Uncertainty. Women around the world wake up hopeless every day. You can play a part in bringing them freedom, fullness, and fruitfulness instead. Your gift ensures that we can continue to spread gospel hope! Donate now.
Leave a $5 gift