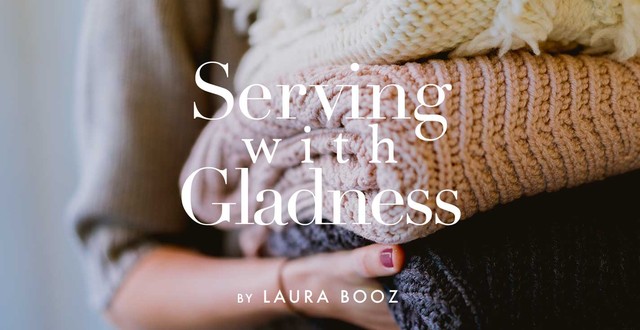 The Secret to a Meaningful Life
Dannah Gresh: It was a day of frustration and chaos for Laura Booz and her large family, but she counseled her own heart with a praise song by Chris Tomlin. ["Everlasting God"]
Laura Booz: The way God met me, in that everyday moment in my humble human struggle—the way He rescued me from myself and turned my eyes toward Jesus—was profoundly good! 
Dannah: This is Revive Our Hearts with Nancy DeMoss Wolgemuth, author of Surrender: The Heart God Controls, for March 10, 2020. I'm Dannah Gresh.
Back in November, twenty-seven women gathered together here at our National Ministry Center for what we called the Sisters in Ministry Summit. And this event has been a dream of yours for quite a while, hasn't it, Nancy?
Nancy DeMoss Wolgemuth: It really has been, and it was like a dream come true! You were there with me, Dannah. You and I have …
Dannah Gresh: It was a day of frustration and chaos for Laura Booz and her large family, but she counseled her own heart with a praise song by Chris Tomlin. ["Everlasting God"]
Laura Booz: The way God met me, in that everyday moment in my humble human struggle—the way He rescued me from myself and turned my eyes toward Jesus—was profoundly good! 
Dannah: This is Revive Our Hearts with Nancy DeMoss Wolgemuth, author of Surrender: The Heart God Controls, for March 10, 2020. I'm Dannah Gresh.
Back in November, twenty-seven women gathered together here at our National Ministry Center for what we called the Sisters in Ministry Summit. And this event has been a dream of yours for quite a while, hasn't it, Nancy?
Nancy DeMoss Wolgemuth: It really has been, and it was like a dream come true! You were there with me, Dannah. You and I have had a passion to invest in the next generation. You and I, along with our friend, Mary Kassian, had the joy of bringing together these women. Some were in their thirties, some in their forties, a few in their fifties. 
It was a great time to learn from each other, to grow together—"iron sharpening iron"—praying together, sharing out of our lives, and encouraging one another as sisters in ministry!
Dannah: It truly was a powerful week! My heart is still reaping the benefits of some of the messages I heard, because we heard some of those women speak and teach. They discussed different topics, opened the Bible and encouraged us, and I'm excited about sharing some of that with our audience today.
Nancy: One of the women we heard from that week is Laura Booz. She's a friend of yours from your neck of the woods. Tell us about Laura.
Dannah: Yes, she's from here in Central Pennsylvania; I've known her for years. She's a wife and a mom who is homeschooling her six children. She's a writer and a speaker and has written for us on the True Woman blog.
Today, Laura is going to start us off by sharing the secret to a meaningful life.
Laura: Jesus saved me when I was just a little girl. I was born into kind of this revival in our family. Some years before, my mom was a nun in a convent, in the Sisters of Mercy. She was seeking God, but she wasn't hearing the gospel. She just sought and sought, and finally, in His deep love, He moved her out of the convent.
She met my father, and then she had my older sister, and then she met a woman who knew Jesus. This woman understood grace. My mom basically begged the gospel out of her! The woman shared it, and the Lord used that faithful friend. Then, He opened my mom's eyes to grace, and she has never been the same!
And in that moment, He also gave her the gift of evangelism. She shared the gospel with my father and my sister and my neighbors and her brothers and sisters and their families. The Lord was just flinging the net wide and bringing so many people in. And I was born into that—which is amazing!
So there I was, like two-and-a-half years old, singing, "Since Jesus Came into My Heart." I don't remember it, but my mom tells that story and I believe her, because He has held me in His hands and led me along my rocky, winding path all along. He gave me a tender heart to serve Him in whatever way He would lead me.
Eighteen years ago, He led me to my husband, Ryan. We've been married for seventeen years, and he cheers me on. We have six children, and I educate them at home, which is my full-time job, and it is hard work! But it is so delightful to me to be able to love and nurture my children in that way. It is a great calling, and I am thankful for it!
I have so many life verses that God has used to train and correct and guide and comfort me, but there is one that is on my heart to share with you today. But in order for me to do that, we have to do a little time/space travel so that I can invite you into my home on a Wednesday, three weeks ago.
I'm choosing this day because it was a good day. I know that when you walk in the door, our house is going to smell good (which I can't be confident about on any other day!). I'd love for you to show up at 8 a.m. on a crisp autumn morning with the sun streaming through the trees and the fall leaves are ablaze in color!
When you walk through the door, you're going to step right into our kitchen area where we eat. So there's the farm table, and it has a bench and chairs all around. It's a cozy space, especially when all eight of us are gathered around for a meal.
Come in and make yourself at home! My husband's off at work, and in a moment of domestic triumph, I have made Trader Joe's gluten-free pumpkin pancakes with homemade whipped cream! So all of the kids—all six of them—are so excited! They're gathering around; they're laughing, helping to set the table. It's just this beautiful scene!
The sunlight's dancing off their smiling faces. We gather around, we sit down with grateful hearts, and we pray and thank God. And my five-year-old daughter, knowing that her older brother loves homemade whipped cream, picks up the glass bowl of whipped cream and skips around the table to deliver it to him!
And you just can't get any better than this! This is like a scene out of the New Jerusalem for a mother! (laughter) But on her way, she slips! And that sweet five-year-old lands on her rear end with a thud and the glass bowl shatters into hundreds of shards, and the homemade whipped cream flies everywhere!
So . . . she's crying (for so many reasons!), her older brother is crushed (because of the tragic death of the whipped cream!). Looking at the shards of glass on the floor, I suddenly realize, "There are twelve bare feet at this table!" 
So, not to mention that it's eight-fifteen and they haven't eaten yet. And this type A homeschooling mom has scheduled for us to be in the living room reading our Bible at eight-thirty! So I'm starting to feel the stress, and the tyranny of the urgent prevails. I have a big question before me: How am I going to respond to this sudden crisis?
I could get angry. I could definitely get angry! Because what I didn't mention is that I'm exhausted! I have not slept through the night in fifteen years! And sudden emergencies like this have occurred day in and day out every day for as long as I can remember. Those beautiful, good-smelling, heavenly moments seem to teeter on stilts that are repeatedly knocked out from under me!
So, yes, I've gotten angry! I've yelled, and I've said terrible things. I've treated my husband terribly; I've treated my children terribly. I've had to seek forgiveness for my anger time and time again. 
Or . . . I could get depressed. I have sunk into depression many times as I work to love my husband and my children in the midst of these constant interruptions and surprises and emergencies and distractions and crises and conflicts. 
And many times I've told myself, "I'm invisible, and I'm worthless. I'm only good for putting out fires, cleaning up messes, finding socks, and keeping the peace." And it's depressing. It's depressing to feel like I can't complete any meaningful work because I am subjected to the tyranny of the urgent. Or . . . there's actually another option available to me. 
But before I share what happened next, let's push "pause" on that scene. I need to fill you in on some of the work that God had been doing in my heart leading up to that Wednesday. So, back on February 2, 2016, I was listening to the Revive Our Hearts podcast. It was the second of four podcasts honoring Vonette Bright.
Do you know who Vonette Bright is? She was married to Bill Bright and the two of them co-founded Cru (that was formerly called Campus Crusade for Christ. This was 1951). They had a heart to fulfill the Great Commission in all of the world. And wouldn't they be amazed, today, to see that Campus Crusade for Christ—Cru—is on 2,300 campuses! 
It has ministries that are reaching people of all ages and walks of life, all over the world. They lived long, fruitful lives together, laboring for the Lord, and making disciples of many nations. Well, Vonette had passed away at the end of December in 2015, and Revive Our Hearts was celebrating her life by airing a series of conversations that she and Nancy DeMoss Wolgemuth had had over the years.
In the first conversation, Vonette is in her seventies. Her husband, Bill Bright, had been diagnosed with pulmonary fibrosis; it's a lung disease that would take his life a few weeks later. And Vonette shares that several of her friends had recently died. She herself was beginning to face some of the effects of aging. So she's in that season of life where she's really reflecting on what matters most.
Nonetheless, her voice is strong and confident, and it's an amazing interview. She talks about how the Lord saved her and the importance of spending time with the Lord in His Word and in prayer. She talked about how she served alongside of her husband as she raised their two boys. She talked about her unwavering support for her husband and her love for their ministry together.
It's a remarkable interview with a woman who has walked with the Lord for many, many years. Well, at minute 24:02, Nancy asks:
Nancy from "My Heart Is in His Hands": "If you could give a single word of counsel, wisdom, advice to younger Christian women today—myself, young wives, moms—what would you say to us?"
Vonette Bright from "My Heart Is in His Hands": Well, the first thing that comes to mind is, "Serve the Lord with gladness!" And just give yourself in total abandonment to Him, whether you're single, whether you're married, whether you have children, whatever ages your children are. Do it all to the honor of God and just serve Him with gladness!
Laura: Here's this woman who has lived an amazing life, who knew very important people—lots of people—who traveled all over the world, who had a walk with the Lord and a ministry that any of us would love to have, and this is what she passes on to us. Her single word of wisdom from a life well-lived: "Serve the Lord with gladness!" That's from Psalm 100, verse 2.
Well, the next day I tuned in again, February 3, 2016. And this time Revive Our Hearts was airing a conversation that Nancy had with Vonette just weeks before Vonette's death in 2015. And now, you can hear her weakness, and you can hear that she is ready to meet Jesus! 
Looking forward to that moment, she says, "Wouldn't it be wonderful if I'd see the face of Jesus in the beginning, before I fade from this world, and that I go immediately into His presence? That would be great!" 
And a few minutes later, she looks back at her life and she reflects saying (listen to this): "I'm grateful for what God has allowed me to do! It's all been His doing. I've served Him with great joy. He's honored my efforts far beyond anything I could ever understand." 
So even at the end of her life—with eighty-nine years under her belt—Vonette is holding onto the value of serving the Lord with gladness. Wow! The Lord used Vonette's wisdom to shape my life. And He brought this verse into my life at just the right time.
When I was listening to that podcast in 2016, I was pregnant with our fifth child—a new person to love and disciple—this precious, little boy named Josiah. God knew I would need to hear encouragement every day: "Serve the Lord with gladness, Laura." 
We were birthing a women's ministry at our church, which you can imagine takes so much prayer and care and communicating and meeting and time and labor. The Lord would walk by me saying, "Serve the Lord with gladness, Laura. I'll help you do it."
It's tempting to believe that what really matters in life is to live for the cultural goals and dreams and plans. We might feel the pressure to check off our to-do list, accomplish our bucket list, maximize our potential, but God created us for more, something different. And I believe that Vonette was on to something: that the secret to a meaningful life is, "Serve the Lord with gladness!"
Living in the light of this Scripture, I have come to see that the work God establishes for us to do is always worth doing, and worth doing with a glad heart, for He's our Father in Heaven. He is the King over all, and His eye is on eternity! He's righteous in all His ways and kind in all His works! (see Ps. 145:17)
So of all those interruptions and distractions and crises that I was talking about earlier, I believe that each task is work that God has established for me to do for purposes beyond my understanding, but all of them flowing from His loving heart and heading with gusto into His kingdom to come.
I have come to believe that maybe the tyranny of the urgent is the Lordship of Jesus inviting me to serve Him and love people for His sake. I also believe that any work He assigns for me to do, He will help me to do it and receive it with gladness.
In December of 2018, we welcomed our sixth baby into our home . . . and she is precious! She has the "marshmallow factor," so she's so wonderful to squeeze and kiss! She's so kissable! But there was something about going to six children—especially with homeschooling—that has been way too much for me! I am in over my head!
My husband and I will sit together(and we are so grateful, we love these children!), but we just say, "Whoa! This is a lot of work! Just . . . whoa!" So we've been praying daily for God's help, His practical in-the-moment help. I hear the Lord cheering me on, "Serve the Lord with gladness!" But there have been many days lately when I have struggled to walk in the light of that.
And as I've struggled, I've actually sensed the Holy Spirit beckoning me in those moments to sing. That's what I've sensed in my spirit when things are rough and the kids are fighting and a dozen urgent needs vie for my attention. He keeps saying to me, "Sing. Sing! Sing!!" 
Well, wouldn't you know, in those moments I can't think of a single song! (laughter) Not "Jesus Loves Me," not "Amazing Grace," not "The Wheels on the Bus," nothing! So I texted my friend Bria and wrote, "I need a praise song to sing to God when daily things go wrong—i.e.: a glass breaks or a child gets hurt, etc. Have any suggestions?"
She wrote back with a link to Chris Tomlin's song, "Everlasting God." And that was such a gift, because when I am in the blur of serving my family, for some reason I can recall the words of that text, and I can sing that song. And each time, it directs my eyes to Jesus and fills my heart with peace that passes understanding. (see Phil. 4:7)
So here's something amazing: do you know what the second part of Psalm 100, verse 2, is? "Serve the Lord with gladness! Come into his presence with singing!" And I'm learning that sometimes, when I don't feel the gladness, the second part just has to come first!
So let's return to that scene in my kitchen. God had faithfully prepared me for that Wednesday three weeks ago when my little girl fell with a thud, when the glass bowl shattered and the whipped cream was everywhere! And by God's grace, with Christ working mightily in me, I could take one step after another in light of Psalm 100, verse 2.
So, first, I could see that cleaning up this work, well, He established this work for me to do. So I carefully removed each barefooted child to safety, and I hugged the little girl, and I hugged the little boy, and then I knelt down and I cleaned up the floor. But I wasn't glad; I was discouraged. I was weak, and I was weary as I carefully picked up each shard of glass and cleaned up the whipped cream.
But the Holy Spirit was whispering to my heart, "Sing!" So I sang: "You are the everlasting God, the everlasting God; You do not faint; You don't grow weary. You're the Defender of the weak. You comfort those in need. You lift them up on wings as eagles."
I know it's a humble moment. Cleaning up whipped cream is no big deal in the scheme of the world's problems, but the way God met me in that everyday moment, in my humble human struggle—the way He rescued me from myself and turned my eyes toward Jesus was profoundly good!
God cares about women who are derailed by brokenness—whether it's simple, like the bowl of whipped cream, or far more complex, like an unfaithful husband or a terminal diagnosis or a financial loss. He is close to the brokenhearted, and I have known His faithfulness and presence in all manner of brokenness.
Well, after I'd cleaned everything up, I gathered the kids in the living room for our devotions. We were running late, but I took the Bible off the shelf. I usually like to look ahead and plan something tangible for the kids they can connect with the Scriptures. 
It's nothing fancy, but for example, when Jesus says, "I am the Bread of Life," we pass around a loaf of bread and we munch on bread while we read. But, obviously, I had not had time to do that today, so I just opened my Bible and began reading where we left off the day before. I opened up to John 12. That's the story of Mary of Bethany anointing Jesus's feet, and my jaw dropped! 
Even my youngest children immediately saw the parallel of Mary's valuable jar of perfume, broken and wasted. And they said, "Us, too! We had a bowl of something precious, and it was broken and wasted all over the floor!" (laughter) God is so good at planning family devotions! 
Well, in this scene we see Mary work. We've seen her rest. We've seen her sit and listen. But in this scene, we see her work. I believe that she had heard Jesus talk about His pending death, burial and resurrection, and in anointing Him for burial, she was saying, "Yes. Go to the cross."
She couldn't have projected how it would turn out; she didn't know how her life would change exactly, but she knew He had said it. She knew it was coming from His good heart and His perfect plan. 
So break the glass! Sit at His feet, wipe His feet with her hair, and say, "Yes. Go to the cross." So her work was saying "yes" to Jesus's work of redemption. I believe that every time you and I say "yes" to the work that God establishes for us to, every time we serve Him with gladness, we are at His feet saying "yes" to His work of recreating all things and restoring all that is broken.
So I shared with my children that, just as Jesus had invited Mary to worship Him through the work of anointing and washing His feet with her hair, He had invited me to worship Him while I cleaned up the broken glass and whipped cream. "Come into my presence, come in with gladness, sing to Me." How very kind! 
Did you know that Jesus invites you to worship Him through whatever work He establishes for you to do—moment-by-moment, day-by-day? Will you say "yes" to Him? Did you know that He will lavish you with grace to serve Him with gladness and come into His presence with singing?
In closing, I'll read the rest of Psalm 100:
Know that the Lord, he is God! It is he who made us, and we are his; we are his people, and the sheep of his pasture. Enter his gates with thanksgiving, and his courts with praise! Give thanks to him; bless his name! For the Lord is good; his steadfast love endures forever, and his faithfulness to all generations (vv. 3-5).
Chris Tomlin singing "Everlasting God": 
Our God, You reign forever;
Our Hope, our strong Deliverer.
You are the everlasting God,
The everlasting God.
You do not faint;
You won't grow weary.
Dannah: That's Chris Tomlin, singing "Everlasting God," a song that helped Laura Booz get her heart in the right place. And you know, Nancy, I am still feeling conviction from when I heard that message in November! I remember telling the ladies here that it stepped on all my toes, every single one of them! 
I want to be a woman who allows those difficult moments to become an invitation for me to serve the Lord with gladness.
Nancy: Yes, it's so easy for us to fall into those other options that Laura mentioned at the beginning: to choose anger or depression as a response, or sometimes even both. But I'll tell you, Dannah, when Laura talked about Vonette Bright—who has been my lifelong friend—I was sitting in the audience that day with just tears welling up in my eyes. 
I knew Vonette to be a woman who did life-changing things by choosing gladness. And that's a choice that we can make today.
Dannah: You know, there might be a specific area in your life about which the Lord was speaking to you as you heard that message today, and He wants you to begin to sing before you react! This message reminded my heart that we can push "reset" where we've previously been grumbling.
And the Word teaches us in Philippians 2:14 that we are supposed to do absolutely everything without grumbling. That can be our go-to verse.
Nancy: Maybe we can even sing that verse! Well, I hope you've been encouraged by this message today. Listening again, I'm reminded how fruitful our time was at that Sisters in Ministry Summit. I'm so grateful the Lord provided this unique opportunity, and He made it possible through the prayers and financial support of friends like you. 
Our hope is to continue investing in the next generation of women, and in order to do that, we need your help. Throughout this month, we're praying for God to raise up Monthly Partners to help make this kind of ministry possible. 
Our Monthly Partners contribute in three main ways. First, they give a monthly amount to Revive Our Hearts. Second, they pray for the ministry. And third, they share with others the resources that they receive from this ministry.
And as part of our Monthly Partner Team, you'll begin receiving our devotional called Daily Reflections. You'll also receive one free True Woman '20 conference registration.
Dannah: To join our Monthly Partner Team, visit ReviveOurHearts.com or call us at 1–800–569–5959.
Tomorrow we'll dive into a discussion on how to practically serve the Lord with gladness! Please be back for Revive Our Hearts. 
Revive Our Hearts with Nancy DeMoss Wolgemuth wants to help you serve with gladness. It's an outreach of Life Action Ministries.
This episode contains an excerpt from Laura's book, Expect Something Beautiful: Finding God's Good Gifts in Motherhood. Look for it in October, 2021 from Moody Publishers.
*Offers available only during the broadcast of the podcast season.
For a donation of any amount