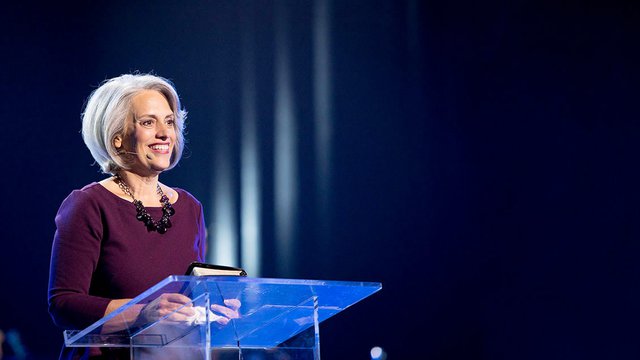 Satisfying Our Thirst, Part 7
Leslie Basham: In the Bible we read about the woman at the well. After a life-changing encounter with Jesus she told everyone she knew, "Come see a man." That invitation is extended to us today.
It's Tuesday, July 16; and this is Revive Our Hearts with Nancy DeMoss.
Yesterday, we heard about God's ability to satisfy our souls when nothing else can. Today, we'll hear about a woman who experienced firsthand the principles we've been studying. We'll hear her story, and literally we'll hear her song. To get us started, here's Nancy.
Nancy Leigh DeMoss: We read yesterday some statements that women have written showing the way that they try to get that thirst satisfied. Let me read to you a few more of those. One woman said, "I've been seeking fulfillment in areas other than Christ--men, food, shopping, friends, anything except Jesus Christ."
Another woman said, "Because my needs have not always been met by my husband, I have tried to meet my needs at the well of work. I have often sought fulfillment in the workplace."
Another woman said, "I place unreasonable expectations on my husband and children to provide for my peace and happiness."
Now, we've been seeing this week that when we forsake God as our fountain of living water; and then when we turn to other things and people to supply what God intended to supply for us, what are we guilty of? Idolatry. We've replaced God. We've come up with cheap substitutes for God in our lives.
Now I want us to look over these next few days at God's provisions to see that God has made a provision for us just as He made a provision for that woman who came to Jesus at the well thousands of years ago. She came looking for water. Jesus said to her in John 4:10, "If you knew the gift of God and who it is who asks you for water, you would have asked Him and He would have given you living water."
You see, God has a provision for my thirst. He created the thirst. He made us in such a way that we are not filled without Him, and He wants that thirst to drive us to Himself as the provision. Now it's encouraging to me to know as I read God's Word that God wants to satisfy my thrists and my deepest longings. They will not all be satisfied this side of heaven. That's important to remember, but God does want to satisfy my thirsts and my deepest longings.
There are so many references to this in the Scriptures particularly in the Psalms. I think of a passage in Psalms that says, "God satisfies the longing soul and He fills the hungry soul with goodness" (Psalm 107:9). Then another place in Psalms the people asked and God brought quails and satisfied them with the bread of heaven. And then God says, "Open wide your mouth, and I will fill it. I will feed you with the finest of wheat; with honey from the rock, I would satisfy you" (Psalm 81:10; 16). Why do we settle for cheap substitutes when God wants to fill us with something that really does satisfy? God wants to satisfy our thirsts and our deepest longings.
Then, here's the truth that I think is so liberating: that is that Jesus Christ Himself is the water that truly satisfies. Not only does He give us living water, but He Himself is God's provision for my thirst. It's not that He gives us something new, some greater spiritual experience, some great key to the Christian life. He is our life. He is the water. He is the one who truly satisfies.
Now you may not think that sounds very profound; but for me this is a life-giving, life-changing truth when I start to realize that Christ is my life. Jesus said to the woman at the well, "Whoever drinks of this water will thirst again"--that is the water in this well--but whoever drinks of the water that I give him will never thirst" (John 4:13-14). He is that water. He says, "If you knew the gift of God and who it is who's speaking to you, you would ask Him and He would give you Himself."
Now, John Piper speaks of this matter of a spring that satisfies. And he says that a spring satisfies thirst, not by removing the need you have for water; but by being there to give you water whenever you get thirsty--again, again, and again. So Jesus isn't saying here "If you come to Me, you have a relationship with Me, you'll never have any more longings again." But He's saying that there will always be in your life the source of supply for those longings to be met. There will always be that well of water in you. That's enough! That will enable you to be satisfied regardless of what circumstances you're facing in your life.
I spoke some years ago on the woman at the well at a conference in a Midwestern state on a Friday night. The next morning a woman came up to me and she said, "Early this morning after hearing your message last night, I wrote a song." She handed me the piece of paper on which she had written these words. I looked at the words and I could tell immediately that this was not just a song about my message. It was not just a song about the woman at the well but that the words that June had written were her story, that she was that woman at the well.
I put her on the spot that morning in front of several hundred women and I said, "June would you willing to sing this song for us, right here in this conference?" She did. She was willing and she got up and sang with no accompaniment just as you're going to hear it now, the song she had written, Come See a Man. That's what the woman at the well said to the people of Samaria when she went back into town, "Come see a man! It's Christ. He's the Messiah. He's the one who lastingly satisfies." That's exactly where June found that fulfillment and that acceptance as you're going to hear from her right now.
For most of my life I felt like a woman, a woman of ill repute.
For the things I have done and what was done to me,
I felt I was of no use.
Like the woman at the well who spoke to Jesus alone, looking for a drink,
Who looked for love in all the wrong the places, fragile, needy, and weak.
But now that I know Jesus, to the world I will proclaim these words of invitation.
I will forever lift up His name, and I will sing,
"Come see a man who knows all about me,
who knows what I've done and the love that I need.
Come see a man who won't leave or forsake me,
who died on a cross to set me free.
Come see a man who gives life eternal,
who's the Bread of Life, Living Water for your thirst.
Come see a man who gives new beginnings,
who gives second chances, who gives new birth.
His name is Jesus. His name is Jesus."
As I listened to June sing that song, I realized that here was a woman who had her own story. Some time after the conference I called her and I said, "June, could you tell me a little bit more about your story?" She was happy to do that and to give me permission to share it with others. She told me how she had grown up in the home of an alcoholic, abusive father, a father who sexually molested her for some time when she was a child.
She then told how she had entered into a season of life of trying to get that thirst satisfied and ending up in many addictive and immoral relationships looking for love as she said, "in all the wrong places." Then came a day when she came and saw a man. His name is Jesus, and she found a man who knew all about her but loved her, loved her unconditionally, was willing to restore her, to renew her, to give her a new life.
It was interesting that she shared with me that she had to come to a place where she realized she was a sinner who needed God's forgiveness, not just because of what had been done to her. She had to work through forgiveness with her dad and others. She said she realized that her heart had been filled with poisonous, venomous anger and hatred and that she was a sinner in need of this living water. She had looked for wells other than Christ to satisfy the deepest needs and longings of her heart. It was when she got to Christ and began to let Him fill up the empty places of her heart that a well of water begin to spring up within her.
You know what she's doing today? She's involved in ministering to women in prison, women who come from backgrounds similar to her own. And the well of water that God has caused to spring up within her is now a well of water giving life to others. She said, "I thank God now for the hurt, for the pain, for the longing because through it I have found a man, Christ Jesus."
Leslie Basham: Have you found that man? He's the only one who will ever truly satisfy the thirst in our souls. We'd like to help you get to know Him better. There's a tool Nancy designed to help you grow in your relationship with Him. It's a workbook called Walking in the Truth, and we have it available for a suggested donation of $15. This workbook can be used in conjunction with Nancy's book, Lies Women Believe, a perfect study for a small group at your church or in your home. You can contact us for more information at 1-800-569-5959. You can also find it on-line at ReviveOurHearts.com.
When you visit our Web site, you can find a transcript of the words to the song we heard today as well.
If this week's programs have helped you identify some ways you've been trying to quench your thirst apart from Christ, why don't you write and tell us about it?  We also hope you'll write if you're able to contribute financially to the ministry of Revive Our Hearts. We can't continue in your area without the help of our listeners. Tomorrow, we'll hear why it's so important to admit it when we are thirsty. I hope you can be here for Revive Our Hearts. Now again, here is Nancy.
Nancy Leigh DeMoss: Father, thank You for the power and the love and the mercy and the fullness that we find in Christ. Thank You for second chances and third and fourth and fifth. Thank You for mercy. Thank You for knowing all about us and still offering us that living water. Thank You that You are God's provision for our sin, for our emptiness, for our need. And so Lord Jesus, we look to You; and we are filled. Thank You, in Jesus name. Amen.
Leslie Basham:
Revive Our Hearts with Nancy DeMoss is a ministry partnership of Life Action Ministries.
*Offers available only during the broadcast of the podcast season.
Support the Revive Our Hearts Podcast
Darkness. Fear. Uncertainty. Women around the world wake up hopeless every day. You can play a part in bringing them freedom, fullness, and fruitfulness instead. Your gift ensures that we can continue to spread gospel hope! Donate now.
Donate Now