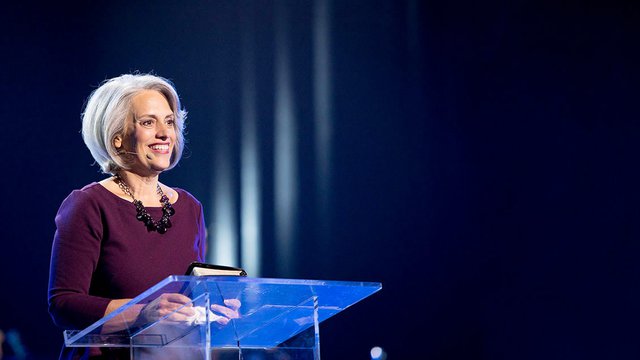 Satisfying Our Thirst, Part 5
Leslie Basham: It seems that in our culture, many people want to be portrayed as victims. We like to look to our past to find excuses for current behavior. Today, we'll see how Jesus interacted with a woman who had experienced genuine hurt and betrayal, but He didn't let her offer any excuses for her sin. Here's Nancy to tell us more.
Nancy DeMoss: Now I didn't know anything about Valerie at the time. I didn't know that she'd been through a series of failed and broken relationships. I didn't know about many of the hurts in her past; but I knew that here was a thirsty-hearted woman, just like that woman at the well. Valerie said to me, "All my life I've just been wanting to be loved. I've been looking for love." Now she'd been looking for love, as most of us do, in all the wrong places.
Before we finish today, I want to tell you what happened to Valerie; but I want us first to look at this matter of thirst. We've been seeing a woman who came to Jesus at the well who was thirsty. But the truth is that we're all thirsty. That thirst is God-created. We're thirsty for purpose in life, for meaning, for identity, for significance. We want to know, "Who am I? Why am I here?"
We're thirsty for love, for relationship, for acceptance, for intimacy. We want to know, "Who loves me? Who accepts me? Who cares? Do I matter to anybody?" We're thirsty for security. We want to have our basic needs met. We're thirsty for fulfillment, for happiness, for peace. We're thirsty for freedom. We want freedom from fear, freedom from guilt, freedom from bondage. We want emotional wholeness. Everyone has a thirsty heart. There's an old song that says that over and over and over again, but it is so true. Everyone has a thirsty heart, and that thirst is put there by God.
Now the woman at the well that we've been looking at this week has three different levels of thirst, and you and I face the same three levels of thirst in our lives. First of all, there was the obvious level of her physical thirst. That's why she came to the well in the first place. She needed physical water. And we have physical needs. I've been talking about thirst long enough that maybe some of you are starting to get physically thirsty. But Jesus wanted this woman to see that she had two deeper levels of thirst that maybe she was not so aware of.
Not only was she physically thirsty, she was a woman who was emotionally thirsty. Here was a woman who had experienced deep, painful rejection. She had quite a history when it came to relationships and men and marriage. We don't know how these marriages had come about, we don't know why the marriages had been broken up; but we know that she'd had five marriages and now she was living in a relationship with a man who was not even her husband.
We do know that in those days it was not easy for a woman to divorce her husband. It was very easy for a man to divorce his wife. So it would be safe to assume that this is a woman who had been divorced five times at the hands of her husbands.
And I can just imagine that when she was maybe a young girl that she had an arranged marriage, as most marriages were in those days, maybe just as a young teenager her parents had arranged a marriage for her with a young man. And then came the day when they pledged their vows to each other. They established a covenant and he promised to love her and to keep her permanently. We don't know what broke that marriage up, but we can speculate that maybe one day he came to her and according to the laws of the Jews, he didn't even have to have a good reason to divorce her. It could be just that he didn't like her cooking.
For whatever reason, apparently he came to her one day and he said, "I don't want to be married to you any longer." Now those of you who've been through a divorce know that there is probably nothing more painful in a woman's life than for her to hear the man who said he would love her forever say, "I don't love you anymore. I don't want to be your husband anymore. I divorce you."
In those days, a divorced woman was likely to stay divorced. That was an incredible social stigma to be divorced. But for some reason, the day came when another man said to her, "I want to be your husband." And for some reason she dared to believe that maybe this one was different. So she said, "I'll be your wife." And then came the day when he too said, "I don't love you anymore. I don't want to be married to you. I divorce you." And then a third and then a fourth and can you imagine the pain, the rejection, the wounds, the scars that this woman experienced thinking that she must not be attractive or lovable to anyone.
And by the time the sixth man came around, why get married? Let's just "shack up" together. She didn't even have the courage to say, "Let's make a commitment out of this." Because she realized that there was no such thing in her life as a commitment that stuck. So here was a woman who was emotionally rejected.
Now it also appears from this passage that she'd been rejected not only by men, but perhaps by other women. The suggestion is that she came to the well alone. Now, women in those days were a lot like women in these days. We don't like to do things alone. We like to do things in groups. We're social creatures.
And typically the women in those days would go to the well together with other women. And they typically would not go at noontime, at the heat of the day. They'd go early in the morning or later in the afternoon when it wasn't so hot out. So why did this woman come alone to that well at midday? I think it's likely that she had experienced deep rejection from other women. They talked about her. They talked behind her back. They didn't accept her. So I think here was a lonely, rejected, isolated woman, emotionally thirsty.
But this woman also had to see that she also had a thirst that went a level deeper than her emotional neediness. Jesus wanted her to see that at the core of her being was a spiritual thirst. And that the core issue of her life was not what others had done to her, it was not her woundedness; but it was her sinfulness. You say, "You mean it was her fault that all these marriages broke up?"
The Scripture doesn't tell us whose fault it was and we don't really need to know. But we do know one thing and that is that that woman was a sinner as is every one of us women in this room. Regardless of what has been done to us, regardless of how rejected or wounded we may have been, the fact is we are also sinners. And we are separated from God. And this woman had to come to see that the core issue of her life, and it's the core issue of my life as well, is not my woundedness, it's not all the hurts of my past. And let me say Christ cares about my woundedness. But my core issue is my sinfulness.
Valerie came to me that night and she said, "I'm that woman. I've been looking for love in all the wrong places." She began to search out the Word of God. She was a religious woman. She was a churched woman. She'd been in church all her life. She knew a lot about Christ. But she'd never had a personal relationship with Him.
I still remember the night, it was several weeks after that first encounter. It was Easter week, actually, when we showed a video in our study on the life and the death and the resurrection of Jesus. And at the close of that session that night, that woman said that she realized for the first time--as she saw Jesus Christ on the cross (she'd seen that image many times in her church)--but she said that that night it was different. That night as she saw Him on the cross, she realized He was not there for His sins. He was there for my sins. I'm the one who should have been on that cross. He died for me.
And she came to see that as painful as all the things that had been done to her were, that the core issue of her life was her relationship with God that was estranged because she was a sinner. And that night she came in repentance and in faith to the living Christ, no longer on the cross, but now raised, resurrected to give her new life and in humility and repentance and faith, she placed her trust in Jesus Christ to save her.
Jesus said to this woman at the well, "if you knew the gift of God and who it is that is speaking to you, you would have asked him and he would have given you eternal life."
That night, Valerie came to Jesus. She asked Him for that gift. Her life has not been all easy since that moment. Her problems have not all been solved. She has some problems now she didn't have back then. But there is now within her a well of water springing up to eternal life. And it began when she was willing to identify the spiritual thirst and need of her life that can only be solved through a personal relationship with Jesus Christ.
Have you ever come to the place where you received that gift for yourself? Where you realized the extent of your spiritual need and the brokenness of your relationship with God? When you came and said, "Lord, I'm not coming just as a victim because of what others have done to me, but I'm coming as a sinner to say I need your grace. Thank you for dying for me in my place. I now receive you as my savior."
"Surely this is the Savior of the world" those people said in Samaria. And surely today He wants to be your savior.
Leslie Basham: We'd also like to give you a book that will help you understand what it means to be a Christian. Just call or write us and ask for Right With God by John Blanchard. Our number is 1-800-569-5959. Or write to Revive Our Hearts. You can also contact us by visiting our Web site, ReviveOurHearts.com.
Now perhaps you're in a growing, mature relationship with Christ and have a burden for sharing his truth with others. Would you consider helping us? By making a financial contribution to Revive Our Hearts, you're allowing us to provide the kind of program that you've heard today. Your gift will also allow us to give materials away to those new in faith. You can send your donation to Revive Our Hearts.
Next week, we'll continue hearing how Jesus brought healing to the woman at the well and we hope you can join us. Now, to end our time in prayer, here's Nancy.
Nancy DeMoss:  Father, there may be another Valerie in this room today. And I pray for some woman who is religious, but who doesn't know Jesus--that this would be the day of salvation. And Lord, help us all to see that the core issue of our lives is not our woundedness, but it's our sinfulness. And to realize that only in Christ, in Him crucified and risen again, lies the hope for us to be restored and to experience living water that truly lastingly satisfies. Thank you for Jesus. May we drink deeply of Him this day. I pray in Jesus' name, Amen.
Revive Our Hearts with Nancy DeMoss is a ministry partnership of Life Action Ministries.
*Offers available only during the broadcast of the podcast season.
Support the Revive Our Hearts Podcast
Darkness. Fear. Uncertainty. Women around the world wake up hopeless every day. You can play a part in bringing them freedom, fullness, and fruitfulness instead. Your gift ensures that we can continue to spread gospel hope! Donate now.
Donate Now