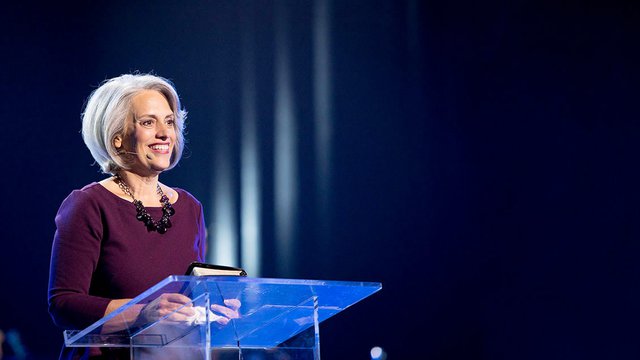 Satisfying Our Thirst, Part 4
Leslie Basham: What does it take to have truly great worship? This is Revive Our Hearts with Nancy Leigh DeMoss for Thursday, July 11.
Effective worship isn't reliant on great singers, stirring melodies or a state-of-the-art sound system. Jesus said we need to worship in spirit and in truth. What exactly does that mean? Today Nancy will explore those words of Christ's as we continue in a series called Satisfying Our Thirst.
Nancy Leigh DeMoss: We're looking this week at the woman at the well in John, chapter 4. You know, as I read about this woman, I've really grown to love her and her story. In so many ways, her story, the details of her life differ from my own.
My background is really very different than this woman's. But the more I study this passage and get to know this woman, the more I realize that I am so like her in so many ways. There are those inner thirsts that she had that I also have. And as she often sought to fulfill her inner thirsts in ways that did not satisfy, so I often find myself trying to get those thirsts of my heart satisfied in ways that do not really last. We'll talk more about that over the next several days.
But let's jump back into the passage, John, chapter 4. Jesus has said to this woman, "before I can give you this living water," he'd been offering her this living water and she said, "I want it." But Jesus said, "first we've got to talk about the truth. Let's talk about your marriage. Let's talk about your husband." The woman said to him, "I don't have a husband." And Jesus said, "You're right. You've had five husbands. And the man you're now living with is not your husband."
So in an incredible moment, Jesus shows this woman that He knows all the truth about her. He's saying to her, "If you're going to have this gift of God, if you're going to have this living water within you that springs up--that's a well of water within you--if you're going to have release, not just temporary relief that you get from this water at this well; but if you're going to have permanent release from within, you're going to have to be honest with me about your life."
Well, Jesus exposes this moment of revelation, He shows this woman that He knows all about her. And as I read this passage, I think this woman is really terrified. The clue to me is that in the very next verse, verse 19, she totally changes the subject. Jesus has said to her, "You've had five husbands, the man you're now living with is not your husband. What you've just said is quite true that you don't have a husband." And the woman says, verse 19, "Sir, I can see that you are a prophet."
Now, let's talk about something safe. I just think she is, she's scared to death. What else does this man know? I mean, He's told me these hidden shameful things of my past; He obviously knows too much to be comfortable. So let's talk about something safe like religion. Verse 20, "Our fathers, the Samaritans, worshipped on this mountain, but you Jews claim that the place where we must worship is in Jerusalem." Now at the moment, I think she's just bringing up this conversation as a diversion. It's a smokescreen. But Jesus doesn't take it that way. He says, "You want to talk about worship? Let's talk about worship. Because that's what this is really all about. It's about who you worship. Do you worship yourself and your own needs, or do you worship the true and living God?"
So Jesus says in verse 21, "Believe me, woman, a time is coming when you will worship the Father neither on this mountain nor in Jerusalem. You Samaritans worship what you do not know. We Jews worship what we do know, for salvation is from the Jews. Yet a time is coming and has now come"(it has now come because Jesus has come) "when the true worshippers will worship the Father in spirit and"(what's that word?) "truth."Jesus has said to her, "You've got to speak the truth about your innermost person. For those are the kinds of worshippers the Father seeks. God is spirit and his worshippers must worship in spirit and in truth." You can't worship until you get truthful.
How many times do you and I sit in church or sit in our own quiet time at home reading the Bible, saying the words, praying the prayers, singing the songs; but our hearts are so far away? Or our minds are engaged, but there's a hidden part of us that's unconfessed sin, broken relationships that we've not dealt with, something on our conscience that we've not cleared? We're hiding the truth and God says, "If you want to be my worshipper, when you come to worship, you must worship with all your heart. You must worship with a pure heart, with a true heart, with an open heart before me."
Well, the woman says in verse 25, "I know that Messiah (called Christ) is coming." Both the Jews and the Samaritans believed in the coming of Messiah. "When he comes, he will explain everything to us." I think she's saying, "This is getting too deep for me. This is too theologically complicated so, when the Messiah comes, He'll explain all this stuff."
Then Jesus declared, verse 26, and again try and put yourself in this woman's shoes. Imagine--there's already been this most bizarre conversation, something she never imagined when she went to that well; and then she brings up the matter of the Messiah and Jesus says, "I who speak to you am He." Not only had Jesus just revealed her to herself, but now Jesus was revealing Himself to her. Aren't you glad Jesus doesn't leave us just seeing our neediness and our sinfulness and our failure? That's a starting place.
But then He points us to Himself. He is God's provision for our need. And Jesus says to you "but the one you've been waiting for, the one you've been hoping for, the one you've been believing in, the one that you believe will explain everything to you, you're talking to Him."
Now, most of our translations read it just as I just read it, "I who speak to you am he." But in the original text, the word He is not there. You know what it really reads? "I who speak to you I AM" Have you heard that name before? Who is I AM? God is I AM. Jehovah--The God of the Old Testament. The same God who is now standing before this woman and He says to her, "I am God. And I've come to earth. I've come to Samaria. I've come to this well to meet you. I've come here to bring you the gift of God. I am that gift. I who speak to you, I am He."
Well, just at that moment, verse 27 tells us His disciples returned. And they were surprised to find Him talking with a woman, this kind of interrupts the flow of the conversation; but Jesus was going to turn that to good as well. It says "but no one asked, 'What do you want' or 'Why are you talking with her.'" Then verse 28, and I love this phrase, it says, "leaving her water jar, the woman went back to the town." It's like she forgot the whole reason she came to the well in the first place. And I think that's because she's now realizing that what Jesus has to offer her, what they've been talking about in terms of living water, is far more important than that physical water from the well. You see, all her priorities have been readjusted--rearranged. Now the things that mattered so much a few moments ago don't matter at all.
So she goes back to the town and she says to the people, verse 29, John chapter 4, "Come see a man." Now if I can say this without being irreverent, let me say that the people in that town had heard this woman say those words before. Five times to be exact. Six times. "Come see a man." They may have been thinking, Well, what's new? She's got one more man. Make it number seven. But this woman says, "This time, this man is different. Come see a man who told me everything I ever did."
Now, can you imagine if there were a man who could know everything you'd ever done, that you'd really be drawn to that person? That you'd want to see him; you'd want to know him. And even more than that, that you'd want to bring others to know him? He might tell them everything about you. I think that kind of man would utterly terrify us if that man weren't Jesus. If we didn't know that the man who knows everything about us, who exposes us, before whose sight we stand just naked and open and exposed, if we didn't know that that is also a man of grace. That He's a man who says, "in spite of what I know about you, I receive you. If you will come to me as the truth, if you will come to me just as you are with your needs, with your failure, with your past, with your present, I will give you living water."
The woman is saying, "I'm drawn to that kind of man. Ladies, that's one of the reasons I love Jesus. That's one of the reasons I'm so drawn to Him. Because He knows everything about me, and He still loves me. He still has grace to cover all my sins. See, you don't know about all my sins. You don't know much about my sins. But He knows it all. He knows things I can't see about my own life. He knows the innermost parts of my heart where I've even deceived myself and so I say to you, 'Come see a man who told me everything I ever did, but He's safe because He's a man of grace that is greater than all my sin.'" She says, "Could this be the Christ?"
Scripture says, verse 30, "they came out of the town and made their way toward him" and then skipping down to verse 39, "Many of the Samaritans from that town believed in him because of the woman's testimony, 'He told me everything I ever did.' So when the Samaritans came to him, they urged him to stay with them and he stayed two days. And because of his words, many more became believers. They said to the woman, "we no longer believe just because of what you said; now we have heard for ourselves, and we know that this man really is the Savior of the world.'"
Leslie Basham: Nancy DeMoss will be right back with a final thought. Her teaching today is part of a series called Satisfying Our Thirst. The entire series comes on two cassettes. And if you'd like a copy, you can call us at 1-800-569-5959. The series is available for a suggested donation of $8, and you can also get a copy of Nancy's teaching this material on video for a suggested donation of $15. It would be perfect for a women's meeting at your church, or you could show it in your home and invite women who need to hear about the Living Water. Call us for more information on the tape series or the video at 1-800-569-5959, or visit ReviveOurHearts.com.
Has this series brought to mind some areas of your life that you haven't surrendered to God? We'd love to hear how God has used this program in your life. Just write to Revive Our Hearts. And if you're able to make a financial contribution to the ministry of Revive Our Hearts, would you send your gift to the same address? The costs of providing a daily radio program are covered primarily by our listeners, and we hope that you'll consider partnering with us.
Well, tomorrow Nancy will tell us about the three levels of thirst that the woman at the well had. We hope you can be here. Now with an additional thought, here's Nancy.
Nancy Leigh DeMoss: Once He's become your savior, then there's someone else who needs to know about Him. And as you go and tell your story of what He has done for you, watch and see how God draws others who want to come and know Jesus, first because of what you've said and then they get to Him. And they hear Him for themselves. And they say, "We want to know Him as well because now we know this man really is the Savior of the world."
Revive Our Hearts with Nancy DeMoss is a ministry partnership of Life Action Ministries.
*Offers available only during the broadcast of the podcast season.
Support the Revive Our Hearts Podcast
Darkness. Fear. Uncertainty. Women around the world wake up hopeless every day. You can play a part in bringing them freedom, fullness, and fruitfulness instead. Your gift ensures that we can continue to spread gospel hope! Donate now.
Donate Now