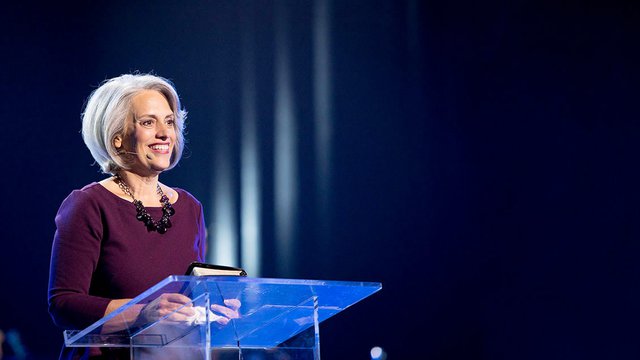 Satisfying Our Thirst, Part 2
Leslie Basham: What does it mean when Jesus calls Himself the "Living Water?" Today is Tuesday, July 9; and this is Revive Our Hearts with Nancy Leigh DeMoss. When you're really thirsty, nothing satisfies like a cold glass of water. And when we drink it, we know we'll still get thirsty again. Jesus referred to Himself as "Living Water" and said that anyone who drinks of Him will never thirst again. Let's explore what that means with Nancy.
Nancy DeMoss: We're looking this week at a woman who came to Jesus with a need. She was a thirsty woman; she came looking for water. She came to a well where Jesus was sitting, and Jesus struck-up a conversation with her. He wanted her to see that what she really needed was not just the physical water at that well, but that she had a deeper need of her heart. And that was for living water.
We're looking at the Gospel of John, chapter 4. We've seen that the Samaritan woman comes to the well to draw water, and Jesus says to her (verse 7b): "Give Me a drink." She's amazed that He would speak to her because she's a Samaritan, she's a woman at that and she knows that she has this terrible past. Certainly she was thinking, If He knew where I've been and what I'd done, He would not want to have this conversation with me.
But Jesus did know all about her story, and He did want to have this conversation with her. Yesterday we left off at verse 10, where Jesus says to her: "If you knew the gift of God and who it is that asks you for a drink, you would have asked Him and He would have given you living water." Now, Jesus introduces this concept of a different kind of water. He's asked her for water to drink--that's physical water, natural water from that well--and now He's saying, "I have a kind of water I want to give you. If you'll ask me for it, I'll give it to you as a gift. It's living water."
Now, as the story unfolds here, we're going to see that this woman is kind of confused because she doesn't understand immediately the difference between this physical water at the well and the living water that Jesus is offering to her. So she says in verse 11, "Sir, you have nothing to draw with, and the well is deep. Where then do you get that living water?" Jesus has made her a promise, and at this point she's thinking in very literal terms. She's looking at the situation and she's saying, "This seems impossible, that He could get water for me out of this well."
I wonder how many times God makes a promise to us-"I want to offer you comfort"--and we look around at our circumstances, at our situation and to us it seems impossible. How can He do that? How can God put together the messed-up pieces of my life and make something whole and beautiful out of it? So do you ever find yourself looking to God and saying or thinking, "I don't think You can do this, I don't think You really can bring peace or comfort to my situation?"
Then Jesus comes back and tells us, "The water that I'm going to give to you doesn't come from the well. You see, the gift I'm wanting to give you comes from above." Jesus is saying to us, "There's a supernatural source of supply and I know how to get this living water. It's not going to come from your natural circumstances, it's not going to come from within you; yes, it is impossible to get living water out of your circumstances." But Jesus is saying, "I've got a connection to my Heavenly Father who will give you a source of supply of living water that you know nothing about."
The woman is going to begin to see the comparison between what the world has to offer, what she can get through her natural circumstances and what Christ is offering with this living water. She says (verses 11b-12): "Where then can you get that living water? Are you greater than our father Jacob, who gave us the well and drank from it himself, as well as his sons and his livestock?" She's still thinking very literally (by the way, the One she was talking to is greater than Jacob). She had that right, but she didn't know how right she was. Jesus' answer is in verse 13; notice now the comparison between the two kinds of water "Everyone who drinks of this water," (i.e. at this well) "will thirst again." The proof of that was here was the woman back at the well thirsty again needing more water; that was obvious.
"But," He says in verse 14a, "whoever drinks of the water that I shall give him will never thirst." It will satisfy him forever. Verse 14b. "But the water that I shall give him," (i.e. living water) "will become in him a fountain of water, springing up," (literally leaping up) "into everlasting life." Now what's the comparison here between the two different kinds of water?
Well Jesus is saying the water that the world offers you, this natural water, will give you temporary relief; but you'll have to keep coming back for more because it won't last. And so the things that this world offers to satisfy the thirst of our hearts are only temporary. Yes, they satisfy for a moment; but we have to keep going back to get more. Jesus is saying, "I'm giving you a kind of water that will give you permanent release." The water of the world, the things the world offers, they don't last. But Jesus says, "If you drink this water you will never thirst again. You will have eternal life."
The water at that well, the water the world offers us is natural; and it's a picture of the natural solutions that we look to for solving our problems. But Jesus says that there's a source of supernatural grace to meet you in your time of need. It's a spring of water; not just to meet your external needs, your physical needs, that's what the world will give to you. But Jesus is saying that this living water will meet the internal needs of your heart. "It's a water," He says, "that I give to you." Three times in this passage He says, "the Father gives this, I give this." We have to receive it from Christ. There is no other source.
Now, this woman was physically thirsty, that's why she came to the well in the first place. But Jesus wants this woman to see that she has a deeper thirst--that her greatest need is not her physical thirst, that it's a deeper level of thirst. As we go into this passage over the next few days, we're going to see that this woman was emotionally thirsty; she had looked to the world to provide solutions, to provide water to quench her emotional thirst. But the world's solutions had not lasted. We're going to see that she was also spiritually thirsty. There was a spiritual thirst deep within her that nothing in this world, not even religion, had been able to satisfy.
Now, the woman doesn't understand all this yet; she just knows that here's an incredible offer. She's thinking, Wow, I wouldn't have to come to this well again; I wouldn't have to keep doing all this hard work. We're going to see that this woman was a woman who was socially rejected. "I won't have to come out in this public place again if I get this living water."
So it's no surprise when she says (in verse 15) to Jesus: "Sir, give me this water, that I may not thirst, nor come here to draw." She's intrigued, she's hooked and Jesus has got her attention. And she says, "I want it!" Now, wouldn't you think that Jesus' very next statement, (He's told this woman, "You ought to ask, I have this incredible water to give you." And now she says, "I want it.") wouldn't you think that His next statement would be, "Here it is, you can have it." But you notice, Jesus doesn't give her the water right away. I think that's because she wasn't ready to receive it yet. She had to go a little further in her relationship with Him and in her understanding of herself before she would be ready to receive that water.
And so we see in verse 16 that Jesus probes further. Rather than saying, "Here's the water." He says to her: "Go, call your husband, and come here." Now--if you know something about this woman's story, and we'll go further into this tomorrow--Jesus has gone to meddling with one of the most painful parts of this woman's life.
And He's saying, "Before you can have this water, we need to talk about something." Jesus is wanting to get to the truth, and He's wanting this woman to get to the truth of her life. We see here a woman who wanted this living water so that she could get rid of her problems, but Jesus wanted this woman to face her problems. And He knew that one of her problems centered around this matter of marriage. It really wasn't her past marriages that were her true problem, but they were going to help her get to the heart of what was her true problem.
You see, Jesus wanted her to not run from her problems, not avoid them but to run head-on into those problems; to face the truth about her life and to allow her problems to cause her to become a true worshiper of God. He wasn't just wanting to satisfy her.
God is looking for worshipers; He's looking for people who say, "No matter what the needs in my life, no matter how hungry, no matter how thirsty I am, I worship You, God, as my only source of life and supply." This was an issue of worship, it was an issue of surrender. She was going to have to meet God, if she wanted this living water, she was going to have to come in truth.
And if you and I are ever going to have living water, the water that truly and lastingly and deeply satisfies, we're going to have to be willing to let Him come into every single part of our lives--not only the part that everyone else can see and that we're open to talk with others about but the parts of our lives that are hidden.
The parts of our past that we're ashamed of, that we don't want anybody to know about. Jesus is saying, "You want living water? Let's bring your life out into the open. Let's take a look at the truth about where you've been and what you've done and who you are." He says, "If you want living water, that's a step we're going to have to take."
Leslie Basham: Have you ever gotten honest with God the way Nancy was just describing? The truth can expose areas of sin in our hearts and the good news is, it also can set us free. We invite you to study with a workbook Nancy's written called, Walking in the Truth. It's a companion piece to Nancy's book, Lies Women Believe; and it'll teach you to make decisions based on God's Word. Lies Women Believe and Walking in the Truth are available together for a suggested donation of $24. For more information you can visit our Web site, ReviveOurHearts.com or call 1-800-569-5959.
Nancy has a burden for women to begin walking in the truth. If you share that burden, would you consider supporting the ministry of Revive Our Hearts with a financial contribution? We're a listener-supported ministry and really do need your help. You can send your gift to Revive Our Hearts. Is it possible to hide anything from God? Tomorrow we'll hear what happens to a woman who tried. Now again, here's Nancy to lead us in prayer.
Nancy DeMoss: Father, it frightens us to think of having to really come out all the way into the open and to be exposed before You--to let You see us and to see ourselves as we really are. But we know that if we're ever going to have that living water, we're going to have to come to You in truth. And that You want to use our past problems and failures and needs to make us true worshipers of You; to bring us to a point of surrender to You in spirit and in truth.
So in the days ahead, Lord, as we look into the life of this woman--how she had a life-changing encounter with You--I believe that You want to have the same life-changing encounter with many of us. And we'd be willing to come to You in spirit and in truth, that we may receive that living water, the gift of God. I pray in Jesus' name. Amen.
Leslie Basham:
Revive Our Hearts with Nancy DeMoss is a ministry partnership of Life Action Ministries.
*Offers available only during the broadcast of the podcast season.
Support the Revive Our Hearts Podcast
Darkness. Fear. Uncertainty. Women around the world wake up hopeless every day. You can play a part in bringing them freedom, fullness, and fruitfulness instead. Your gift ensures that we can continue to spread gospel hope! Donate now.
Donate Now