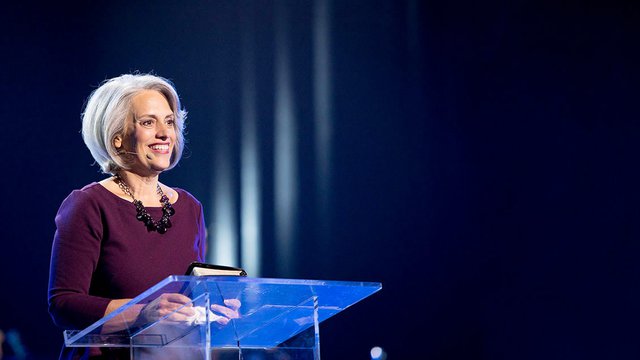 Satisfying Our Thirst, Part 10
Leslie Basham: Do you ever get so involved in activities about Jesus that you forget to spend time with Jesus?
This is Revive Our Hearts with Nancy DeMoss for Friday, July 19.
There are many good things we can spend time on that can help us grow in faith. Things like church activities, worship CDs and even radio programs. But as good as they can be, these things are no substitute for spending time with Jesus Himself. Here is Nancy to encourage us to spend time with the Savior.
Nancy Leigh DeMoss: For the last two weeks we have been looking at how we get our thirst satisfied. We've seen as we've looked at the story of the woman at the well that we, like that woman, are all thirsty. That thirst isn't just physical.
We have emotional thirsts and spiritual thirsts--longings of our hearts that cannot be satisfied by anything or anyone on this earth other than God Himself. That's a good thing. In fact we've discovered that disappointment and loneliness and loss can actually be a blessing because they force us to turn our eyes to the One and the only One who can lastingly satisfy. Jesus is the well of living waters that was promised to us as a gift from God.
We have said that we first have to come to the place where we admit we're thirsty. Then we have to identify what the substitutes are that we've settled for in our lives, the wells we've been turning to, to get our needs met. Then we have to recognize the utter futility of trying to fulfill our thirst, trying to meet our needs in anything or anyone other than Jesus. Ultimately everything and everyone I look to, to satisfy me other than Christ, will fail me. Idolatry is a natural pull on the heart. But through Christ we have that pull back to the place of putting our whole trust and security in Him and finding our fullness in Him, the fountain of living waters.
I want to close this series by focusing on the words of Jesus as He speaks about how we get our thirst satisfied. I'm really just going to sum all this up by saying that we need to come to Jesus and drink. Come to Jesus and drink.
We've been looking at the story of the woman at the well in John chapter four. Three chapters later Jesus stood up at a great feast, the Feast of Tabernacles; and I want to read what He said in that context. John chapter seven beginning in verse 37: "On the last and greatest day of the feast, Jesus stood and said in a loud voice, 'If anyone is thirsty...'". Anybody here thirsty? What we've been saying for two weeks here is that we're all thirsty.
Everyone has a thirsty heart. Jesus is speaking to all of us--not only those who were there in that setting but those of us in this room today. If anyone is thirsty, let him do what? Go to more church services? Let him put another CD in the CD player with some songs that will lift his spirit? Let him go call a friend? Nothing wrong with all those things, but what did Jesus say? "If you're thirsty, come to Me. Come to Me and drink." Then in the next verse we see that we come to Him and drink by faith. "Whoever believes in Me as the Scripture has said, streams of living water will flow from within him." (John 7:38)
Could I ask, by the way, as you think about your life, is your life a source of overflow and lifegiving fullness and water to quench the thirst of others? Does that describe your life? That's what it's supposed to be like. We're supposed to be so full of Christ and of His spirit, drinking so deeply of Him that others who are thirsty see the fullness in us and they say, "Can you tell us where to get a drink?" That's the way God wants it to be for you as a wife, as a mother in your home, in your church, in your community, in your workplace, that your life is filled to overflowing.
Remember what Jesus told that woman at the well, "The water I give you will become in you a spring of water, leaping up to eternal life." Not just to fill you but to become a source of fullness and life to others. Listen ladies, God didn't just save us so He could make us happy. He saved us so He could have a relationship with us and then use us as instruments of blessing and fullness and revival and hope in other lives.
So first we have to get filled with Him. We come to Him and drink by faith and Jesus said that if we would believe in Him that streams of living water would flow from within us. By this He meant the Spirit whom those who believed in Him were later to receive. This is not a matter of feelings. This is a matter of faith--faith that God is willing and able to fill us up and meet our needs. Jesus said, "He who believes in Me will never be thirsty."
I find that this is something that having once trusted Christ to come into my life to be my Savior even as the woman at the well did, I find I have to keep going back to Him and drinking again, drinking afresh, drinking by faith. Just two days ago I found myself on my knees before the Lord crying out to Him and saying, "Oh Lord, I am so thirsty, I am so needy and the things and people of this world are not satisfying me."
We know that's true. We know we shouldn't expect them to satisfy but I was just agreeing with Him that they don't satisfy. Then I cried out to Him and said, "Oh Lord by faith I believe in You that You are able to fill my cup. I lift it up Lord. Come and quench this thirsting in my soul." There on my knees before the Lord by faith I again drank of Him. I said, "Lord you are enough. You are sufficient for this moment, for this need, for these circumstances in my life. You really are all that I need."
I didn't feel that to be the case. I felt like I needed a whole bunch of other things. By faith I acknowledged that Christ really is sufficient. You say, "Did you get up off your knees and feel all full?" No. I didn't feel that my cup was all filled up but by faith I agreed that He is sufficient to meet the deepest needs and longings of my heart.
Where there are unfulfilled longings still left, those are a gift because they keep me from getting too satisfied down here on earth. God is using those unfulfilled longings to keep my heart detached from this earth, to keep me as a pilgrim on this earth and to cause my heart to be more attached and my longings more firmly set on Heaven.
That thirst is really a picture of a homesick heart. Our hearts are sick for a home we will never have this side of Heaven and for One whom we now love and worship and pray to and praise by faith. One day faith will be sight and prayer will be praise and then there will forever be no more unfulfilled longings.
When Jesus went to the cross, as He hung there dying for my sins and for yours, one of His last words He cried out was when He said, "I thirst" (John 19:28). Can you imagine the God who made the universe, and the 340 quintillion gallons of water on the face of the earth that all fit in the palm of His hand, would let Himself go to a point where He was thirsty? Why did He do it? So that you and I would not have to thirst. He will meet your deepest need and mine. So we just need to tell Him, "Here's my need. I can't make it without You."
For those who are thirsty, Jesus offers an invitation. We read about it both in the New Testament and in the Old. Let me read you the Old Testament version in Isaiah Chapter 55:1. "Come all you who are thirsty, come to the waters. And you who have no money, come buy and eat." Now that sounds like a strange thing to say if you don't have any money you can come and get all you need.
If I go into my grocery store and go through the aisles and put everything in my cart that I need and then I go to the checkout counter and I say, "I'm sorry but I don't have any money." What will they say? No money, no groceries. But in God's divine grace grocery store He says, "You don't have any money? That's just the kind of customer I'm looking for. Here, take a cart. Fill your cart up. Fill it full and then come and tell Me you don't have anything to pay and I'll say, 'That's what grace is for.'"
He says, "You who have no money, come buy and eat. Why do you spend your money on what is not bread and your labor on what does not satisfy? Listen to me and eat what is good and your soul will delight in the richest of fare. Give ear and come to me."
"Come see a Man" the woman at the well said. Come to Jesus and drink. When you come to Him, you will find He really does meet every need of your heart. Are you thirsty? He is living water. Are you hungry? He is the Bread of Life. He's strength for those who are weak. He's righteousness for those who are sinful. For those who are wounded He is healing. For those who are weary He is rest. For the empty He is fullness.
He is joy for the grieving. He is peace for the troubled heart. He is beauty for those who have been scarred. For those who don't know which way to go, He is the way. He is home for the rejected. He is the lover for the unloved. For the fatherless He's a father. For the widow He's a husband. For those who are dead He is the Resurrection and the Life. Come to Jesus and drink.
Leslie Basham: That's Nancy DeMoss pointing us to the only person who can ever satisfy. She'll be right back with a final thought. Today's program wraps up a two-week series called Satisfying Our Thirst. If you've missed any of it, why don't you call us and get a copy? The entire series is available on two cassettes for an $8 suggested donation. We also have a video of Nancy teaching this material for a suggested donation of $15. Just give us a call at 1-800-569-5959. Or order on-line at ReviveOurHearts.com.
If you've enjoyed today's program, you have some people to thank. There are listeners who believe in the ministry of Revive Our Hearts and their financial gifts have helped us bring today's program to you. And for all who have given, thank you. If you're able to join those who make this program possible, you can give us a call or send your donation to Revive Our Hearts. Next week we'll hear a powerful message on what it means to be broken before God. You won't want to miss it. Now to close our time, here's Nancy.
Nancy Leigh DeMoss: Would you just now by faith say "Oh Lord, I come to You afresh this day and I know that You are the fountain of living waters, the only One who can supply the deepest needs of my heart. Forgive me, Lord, for looking to other things and people to satisfy that God-shaped vacuum and hole in my heart. Right now by faith I drink of You. I take you by faith. Fill me up. Fill my cup till it overflows and may my life give life and hope to others around me this day. Thank You, Lord Jesus, for You truly are all that we need. This day afresh we drink deeply of You, that rivers of living water may fill us from within and flow through us to others. For Jesus' sake we pray it, Amen."
Leslie Basham:
Revive Our Hearts with Nancy DeMoss is a ministry partnership of Life Action Ministries.
*Offers available only during the broadcast of the podcast season.
Support the Revive Our Hearts Podcast
Darkness. Fear. Uncertainty. Women around the world wake up hopeless every day. You can play a part in bringing them freedom, fullness, and fruitfulness instead. Your gift ensures that we can continue to spread gospel hope! Donate now.
Donate Now