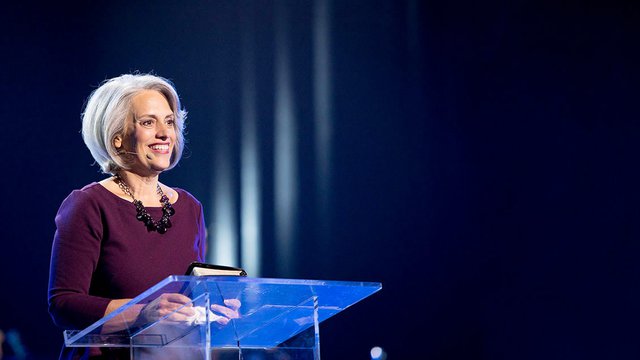 Satisfying Our Thirst, Part 1
Leslie Basham: Do you often feel worn out by the demands of life? Jesus understands; He's been there. This is Revive Our Hearts with Nancy DeMoss for Monday, July 8. Do you ever feel so exhausted that you think you just can't take one more phone call or make one more meal or change one more diaper? Jesus once met a woman who was in great need. And even though He was tired, He engaged her in a conversation that changed her life. Let's join Nancy as she introduces our new series.
Nancy DeMoss: Over the next couple of weeks we want to look at what I think is one of the most profound and powerful principles in all of God's Word. In my own life I have found this truth to be incredibly liberating, as have many other women that I've shared it with over the years. We're going to look at this truth through the eyes of a woman in the Gospel of John.
If you have your Bible, I'm going to ask you to turn to John, chapter 4. For some of you, this is a very familiar story. You may have heard her story a hundred times or more. And for some of you, this may be the first time that you've heard the story of the Samaritan woman, the woman at the well. We're going to look at her life in some detail. And as we do, you may realize that the circumstances of her life are either similar to your own--some of you may find yourself saying, "I'm that woman." I've had women come up to me after I've taught this series and say, "That woman is me. That's the story of my life." Or you may look at her story and say, "My life is very different from that woman. My past, my story is very different from hers." But I think if you could cut all of us open and look way down inside, you'd find that all of us have a heart that looks a lot like the heart of this woman.
I'm going to begin reading in John, chapter 4, verse 4. And we'll get a little background today and then pick up the rest of the story tomorrow and in the days ahead. The story tells us that Jesus had to go through Samaria. Now, we're not reading the first paragraph of the story, but in that paragraph we're told that Jesus was going from the southern part of Israel up to the northern part of Israel. And in between there was this region of Samaria. Typically Jews would do anything they could to avoid going through Samaria. They'd go around it because, as we'll see, there was centuries-long animosity and hatred between the Jews and the Samaritans.
So when Scripture tells us that Jesus had to go through Samaria, it's not that geographically He had to go through Samaria. It's that He had to go through Samaria because He knew that God had an appointment waiting for Him there. That part of God's purpose and plan for Him was to encounter this woman. That says to me that God will go to any lengths that He needs to in order to connect with our lives. He went that way just to meet one woman there.
We don't even know her name, and yet Jesus had to go to the place where she was. I don't know where you are in your walk today, I don't know where you are in your relationship with God, you may be very far from Him or you may be near to Him. But Jesus knows what it's going to take to get right into the innermost part of your life. And He will do whatever He has to do to get to you, as He did to get to this woman.
So, verse 5 tells us that He came to a town in Samaria called Sychar, near the plot of ground Jacob had given to his son Joseph. Jacob's well was there. And Jesus, tired as He was from the journey, sat down by the well. Do we have anybody here who's tired this morning? I'm so glad that we have a Savior who came to this earth and went through those human experiences of having demands placed upon Him and knowing what it was to be physically tired.
Well, we're going to see that God ministered the grace that Jesus needed in His tired condition to meet yet one more person, hear one more story, meet one more demand on His schedule. And I am so encouraged as I read this story to know that God is able to give me the grace that I need this day, tired as I may be. He's able to give the grace to meet that one more demand that takes me so far out of my comfort zone.
When I come to that point where I feel like I just can't talk to one more person, can't handle one more responsibility, there is grace that God gives to face that situation, just as Jesus was given grace from His Heavenly Father to face this woman, even though He was tired from the journey.
Now the end of verse 6 tells us that it was about the sixth hour. We know from later in the passage that Jesus is left alone at the well because His disciples go into the town to find something to eat. It's lunch time. And verse 7 tells us that when a Samaritan woman came to draw water, Jesus said to her, "Will you give me a drink?" Jesus strikes up a conversation with this woman. Now in today's culture that would not be considered so extraordinary. But as we're going to see, this woman had several strikes against her, and it's astounding in that woman's mind that Jesus would speak to her.
He starts by just asking her, "May I have something to drink?" Now, as this story unfolds, we're going to see that everything Jesus says to this woman is designed to do one of two things. First He wants to bring her to the place where she acknowledges her real need. She came to the well knowing that she has a need, she needs water. That's why she comes to the well in the first place.
So, she's aware of one of the needs in her life; but Jesus wants her to see that she has needs that are far deeper, far more significant than just that physical need for water. Jesus has brought us to this place today. We're aware that we have some needs in our lives and our homes and our relationships, but it's possible that we've not ever really seen the true inner needs of our hearts.
As Jesus converses with this woman, He wants to help her see what her real need is. She's got a problem that she's not aware of, and He's going to help her see that problem. He's going to point out her real situation. But then Jesus is going to do something else for this woman. He's not just going to leave her seeing her need. He also wants her to see that there's a provision for her need, and that He is God's provision for her need.
Jesus says to her, "Will you give me something to drink?" His disciples had gone into the town to buy food; and the Samaritan woman said to him, "You are a Jew and I am a Samaritan woman, how can you ask me for a drink? For Jews do not associate with Samaritans." Now, that was an understatement, if you know something of the day in which Jesus lived, you know as we've already said, that Jews and Samaritans had no dealings with each other. I mean they would do anything to avoid contact with each other. And this wasn't just a little skirmish between the Jews and the Samaritans, this had gone on for centuries.
Now, not only was she a Samaritan, that was obvious; but the other thing that was obvious was that she was a woman. Today we think of that as not such a big deal, that a man would have a conversation with a woman. But you have to understand that in those days, women were considered greatly inferior to men, really just a piece of property. In fact, I'm told that good Jews, when they woke up in the morning, would pray a prayer something like this, "Oh, God, I thank You that I am not a Gentile, that I am not a slave and that I am not a woman."
And here is a Samaritan woman, amazed that Jesus, this Jewish man, would strike up a conversation with her. Now it's obvious that she's a Samaritan, it's obvious that she's a woman; but this woman knows something about herself that she doesn't know that Jesus knows. And maybe she's also thinking, If He knew this about me, He certainly would not strike up this conversation if He knew my story.
The amazing thing is that Jesus did know. This woman is going to find out that He knows more than she can fathom that He knows. He not only knows that she's a Samaritan, not only knows, obviously, that she's a woman. But Jesus knows all about her story. He knows her past, He knows the shame, He knows the guilt, He knows the failure and He still says to her, "Will you give me a drink? I want to have a relationship with you."
Now He's bringing up the subject of water, and from there He's going to draw her into a spiritual conversation about the spiritual needs of her life. You see, Jesus knew that in that day in the very arid desert region that you had to have water to survive, so He brings up a subject of something that's common, something that's considered a basic, essential need in life. And that's how He gets into this conversation, because He knows that this woman has a need for a spiritual kind of water that she needs even more desperately than she needs physical water in that desert region.
The woman is amazed that Jesus would speak with her. And then He responds and says to her in verse 10, "If you knew the gift of God and Who it is that asks you for a drink, you would have asked Him, and He would have given you living water." Now over the next few days, we're going to talk about what this living water is, why we need it and how can we get it. But just notice here that Jesus says this living water is a gift; it's a gift that comes from God. This living water has no source other than God.
Your husband can't give it to you. Your children can't give it to you. Your parents can't give it to you. Your pastor can't give it to you. Only God can give you this gift. Jesus says the gift of God is a person. "If you knew the gift of God, and Who it is that is asking you for a drink." You see, Jesus is going to lead this woman to see that He is the gift; He is the living water, so He says, "If you knew Who it is that you're talking to, you would've asked Him, and He would have given you living water."
Leslie Basham: We all need that living water, and Nancy DeMoss will be right back to pray that we will learn to seek Jesus as the only source that we need. Today's program kicks off a new series called, Satisfying Our Thirst. We hope you can follow along with Nancy all this week. Maybe as you've listened today, you've thought of a friend that needs to hear this message. You can order the entire series on cassette for a suggested donation of $8.
Just write to us or call, 1-800-569-5959. You can also get more information on our Web site www.ReviveOurHearts.com. Now giving someone a tape isn't the only way to share Nancy's teaching. By making a contribution to Revive Our Hearts, you're helping someone else hear the life-changing message of God's Word. We need your support to help us stay on the air in your area. Would you pray and consider helping us? You can send your donation to Revive Our Hearts.
Well, tomorrow we'll hear more about living water. When you drink it, you'll never thirst again.
*Offers available only during the broadcast of the podcast season.
Support the Revive Our Hearts Podcast
Darkness. Fear. Uncertainty. Women around the world wake up hopeless every day. You can play a part in bringing them freedom, fullness, and fruitfulness instead. Your gift ensures that we can continue to spread gospel hope! Donate now.
Donate Now