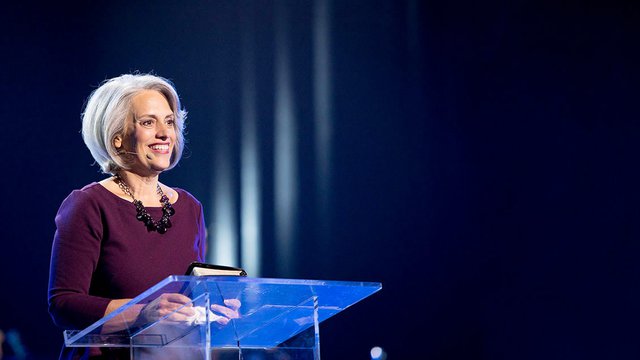 Safety
Leslie Basham: In a dangerous world, how can you know that you're really secure? Here's Nancy Leigh DeMoss.
Nancy Leigh DeMoss: Security is not something the government can provide for us. It's not something that guns and weapons can provide for us ultimately. Ultimate security is not the absence of danger, but it's the presence and the protection of Christ in the midst of the danger.
Leslie Basham: This is Revive Our Hearts with Nancy Leigh DeMoss for Monday, August 9. Security is becoming more and more of a national obsession, but are we really safe?
Today we'll look at where true security comes from. Nancy began a series last week called "Surrender: Facing Our Fears." Let's look with Nancy at what it means to trust God for our safety.
Nancy Leigh DeMoss: We've been talking about different fear issues we have when it comes to letting God be in control. By the way, it's not a matter letting God be in control; God is in control. It's a matter of our acknowledging that He is in control. Isn't it foolish of us to think that we could be in control because we're not ever for a moment in control.
One of the greatest fears that mothers face, of all those fears, we've talked about the fear of provision, will I have what I need? Pleasure, will I be happy? Today we come to a fear which particularly I find in mothers, and that's this matter of protection. Will I be safe; but more than that, will the ones I love be safe?
If I really give my family to God, will they be safe? Will they be secure? Will they be protected? You know as mothers, and even if you're not a mother, you know we can't keep other people safe. We can't keep things from coming into their lives that are hard, painful and difficult.
But there's that fear of what's going to happen if I really relinquish control. If I stop fretting and fussing and worrying and relax. That doesn't mean that if you're a good mother, you won't watch after your children carefully.
But there has to be this sense of realizing that God is their keeper, that God is the only One that can keep them safe, not only physically, but even in more crucial ways and that is in terms of their heart condition.
As we've been seeing, the Scripture has promises to counteract all of our fears. I love many of the promises about God being our protector. Psalm 46: "God is our refuge and strength. He is a very present help in trouble. Therefore we will not fear, though the earth gives way, though the mountains be removed into the heart of sea, though its waters roar and foam, though the mountains tremble at its swelling."
Why? Because we have a refuge and that refuge is a Person. It is a God who is a personal God. Our God is a refuge. He's called a fortress, a shelter and a strong deliverer to His children.
One of the most wonderful passages in Scripture about God's protection is in Psalm 91. If you're not familiar with this Psalm, this may be one you want memorize or meditate on. Many verses in this psalm talk about God's amazing protection.
Beginning there in the early part of Psalm 91, "I will say of the Lord, 'He is my refuge and my fortress, my God, in whom I trust'" (verse 2). "He will cover you with His feathers, and under His wings you will find refuge; His faithfulness will be your shield and rampart. You will not fear the terror of night, nor the arrow that flies by day, nor the pestilence that stalks in the darkness, nor the plague that destroys at midday" (verses 4-6)
In other words, these things are going to come; but you will not have to live in fear because you will know that God is protecting you in the midst of the danger. Just keep in mind that God doesn't promise, "If you trust Me, you'll never face danger," but He does say that those who take refuge in Him are placed in His care and under His protection.
Can I remind you that security is not something the government can provide for us? It's not something that guns and weapons can provide for us ultimately. Ultimate security is not the absence of danger, but it's the presence and the protection of Christ in the midst of the danger.
It'll help us to keep the long-term in view here as we realize that, okay, if they take our lives--if you're a child of God, you're still protected because there's an eternal safety and protection. We have to have God's eternal view in mind or we will get disillusioned and discouraged as we see what happens here on earth.
There's another thing that I think many of us fear as we think about really surrendering control of our lives to the Lord, and that's this matter of personal relationships. Will I have friends? Will my relational needs be met? Will my emotional needs be met?
Here again, He has given us a promise that counteracts our fears. God has promised in Hebrews 13:5, "I will never leave you; I will never forsake you." In Matthew 28:20 Jesus said, "I am with you always, to the end of the age."
"I am with you." He has vowed to remain with us and to be our constant companion wherever we go, whatever we do. I love this--throughout the Scripture--it's one of the great threads of the Word of God.
Whenever one of God's children was fearful to step out alone or to proceed with God's will and felt like they didn't have human support"¦it happened to Moses. It happened to Joshua. It happened to Ezekiel. Over and over again, God's simple response was, "I will be you."
"I"¦will"¦be"¦with"¦you." I don't that know there are any five more precious words. The implication is for us as well--"I am enough. If you have Me, you have everything you need." So, the man or woman who trusts God's promises can say with the psalmist in Psalm 73, "Whom have I in heaven I but You? And beside You there is nothing, there is no one upon earth that I desire."
Now, that's all nice in terms of theology, in terms of thinking, Okay, I have God; He's supposed to be enough. But our emotions tell us sometimes, "I want someone human to love me. I want a husband. I want a companion. I want a friend. I want a best friend. I want my parent to love me as opposed to rejecting me."
We have to grapple with that as children of God. We need to recognize that sometimes God leads us into solitude for a season. There are times when He knows that we won't really cherish Him as our friend and companion if we have lots of other people filling the empty places of our hearts.
Let me also say that God wants us to have relationships with other people, and an intimate relationship with God is the best basis for rich, intimate relationships with other people.
When we're one in Christ, whether it's in your marriage or in your relationship with your parents or your children or people in your church--to have oneness in Christ is what will allow you to have the greatest oneness and intimacy with others.
Whatever your fears, whatever the unknowns or the challenges in your life as it relates to each of these areas--remember that God has a promise. He has promised to provide for you. He has promised to share His pleasure with you. He has promised to protect you, and He has promised to give you His enduring presence.
I've told you before that I love reading biographies because they illustrate in the lives of these people so many of the ways of God and so much of the heart of God. One that I discovered in more recent years is the story of Lilias Trotter. Her story is written up in a book called A Passion for the Impossible.
Lilias Trotter was born in the mid-1800s to a wealthy Victorian family in England. She was a young woman who had a lot of artistic ability. When she was a young girl, she was able to start studying under one of the most renowned artists of the day named John Ruskin. He recognized that she had unusual talent. He had plans for this young woman. She was going to be his protégé. She was going to be the next great artist.
But Lilias Trotter had a heart for the Lord and was sensitive to His leading and His plan in her life. She became interested in social work. She began to minister to prostitutes, something that for a girl from a wealthy Victorian family was not a normal thing to do. Then at the age of 34, she heard a missionary speaker from Algeria and Lilias sensed that God was calling her to take the Gospel to Africa.
So, she did. She moved to Algeria. This was a Muslim country, and she went as a single woman. For 40 years she served there in a faithful ministry, where God gave her a lot of opportunities to use her talents. She would draw pictures of the scenery and the people and the beauty of the land and would use those pictures to introduce Muslims to the Gospel of Jesus Christ. She had a very effective ministry for many years.
During Lilias' ministry she wrote for a period of time a letter to missionaries that would help them understand how better to serve the Lord in their country. In one of those letters she said, "How many of us have said and sung with all our hearts the song *'Anywhere With Jesus'?" (The song talks about how I'll go anywhere that he leads me.)
"But," she said, "At the time, we did not realize what it meant for us. Indeed, at home and surrounded by all that home means, we could not know. When the test comes, we must not forget that anywhere means for missionaries something different from life in England, and let us take very good care not to make a misery of anything that anywhere brings us."
In other words, when you go anywhere with Jesus, don't make a misery out of what comes along with where He takes you. She said, "To us in Algeria, 'Anywhere with Jesus' must mean different food. Do we object to it?
"And mice! Do we mind them? And mosquitoes. Do we think them dreadful? In some parts, it means close contact with dirt and repulsive disease. Yet, if Jesus is there--'Anywhere with Jesus'--what have we possibly to complain of?
"It means living among a stiff-necked and untrue people and struggling with a strange and difficult language. Anywhere with Jesus--and we shall be glad." "Anywhere with Jesus I can safely go" is how that song goes.
As you know that you're there under the leadership of the Word of God and the Spirit of God, then you can know that you're with Jesus, that you are safe because underneath are the everlasting arms. He will be your provision; He will be your protection; He will be your pleasure and He will be your ever-present friend. Anywhere with Jesus we can safely go."
Leslie Basham: What a great reminder. We're safe when we're with Jesus, and He's always with us. That's Nancy Leigh DeMoss. She's been identifying four common fears that keep us from surrendering our whole selves to God. Do you remember what they are? Fears about provision, pleasure, protection (the one we talked about today) and personal relationships.
Nancy discuses these four fears in a book she's written called Surrender: The Heart God Controls. If you identify with these fears, we hope you'll get a copy. You'll get biblical insight into what it means to surrender, and you'll read encouraging stories of those who did. You'll hear about the way God provided safety for them.
You can get the book for a suggested donation of $10 when you call us at 1-800-569-5959 or go on-line. Our Web address is ReviveOurHearts.com. When you order from us, you'll be helping the ministry of Revive Our Hearts. Also, you'll pay no sales tax and no shipping.
It's wise to read the fine print before we sign up for something, right? But when we come to God, we're required to agree to His terms even if we don't know what they are. We sign a blank contract. We'll hear more about that tomorrow. Please be here for Revive Our Hearts.
*Jessie B. Pounds 1,2; Helen G. Alexander 3, 4; "Anywhere with Jesus."
Revive Our Hearts with Nancy Leigh DeMoss is a ministry partnership of Life Action Ministries.
*Offers available only during the broadcast of the podcast season.
Support the Revive Our Hearts Podcast
Darkness. Fear. Uncertainty. Women around the world wake up hopeless every day. You can play a part in bringing them freedom, fullness, and fruitfulness instead. Your gift ensures that we can continue to spread gospel hope! Donate now.
Donate Now