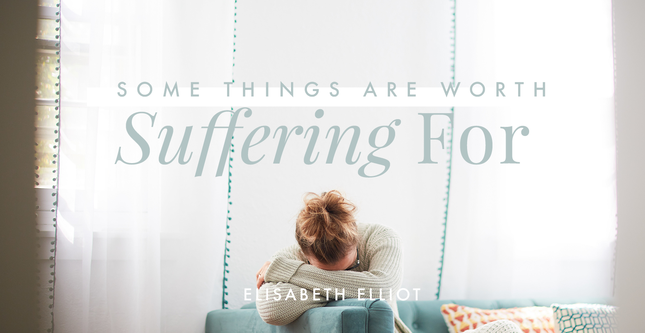 — Audio Player —
Running with Resolution
Leslie Basham: Elisabeth Elliot once said, "True value is measured by how much you're willing to pay for it."
Elisabeth Elliot: How many things can you think of that are worth living for? I want you to listen ladies and gentlemen, young men, young women: There is nothing worth living for unless it's worth dying for!
Leslie: This is Revive Our Hearts with Nancy DeMoss Wolgemuth, author of Surrender, for June 7, 2019.
Nancy DeMoss Wolgemuth: When you head to the store or, perhaps, go online—to look for some item, say a new piece of clothing—you may mentally go through a series of questions and answers to help you decide whether or not to buy it.
You may ask yourself things like: Do I need this? Do I like it? How much does it cost? Is it worth that much? Yesterday we heard part 1 of a classic message Elisabeth Elliot gave to a large group of college students in 1983.
In her message, she also asked a series of questions . . . not about purchasing something per se. But she asked questions to help those students—and all of us—think carefully about the cost of following Jesus. If you missed yesterday's program, you'll want to listen to part 1 of this message. Just look for the Revive Our Hearts podcast episode "Some Things Are Worth Suffering For, Part 1."
Now, let's listen together. Here's the late Elisabeth Elliott.
Elisabeth: Endurance is not limited to term papers, trudging through the snow, staying up all night preparing for examinations. That certainly requires a measure of endurance. During Jim's [Jim Elliot] junior year, he went through what he used to call "an exercise"—a wrestling with God over some issue. In this case, the issue was marriage.
The apostle Paul wrote quite a bit about the advantages of being single. He wished that everyone were as he was: single. Jim had a sneaking suspicion that that was exactly what God might be calling him to do, to remain single for the rest of his life. It had nothing to do with being Jim's "thing." It had nothing to do with his temperament or preferences. He really did like women.
But his response was, "Okay, if that's what God wants, then that's what I'm going to do!" Does it sound easy? Does it sound simple? It wasn't. You can read about it in this book Shadow of the Almighty, diary entries from Jim Elliot telling about the struggles of his soul. He went through some agonies.
But when a man says an unconditional "yes" to God, God is going to test the validity of his commitment. How would you expect the test to come? What kind of endurance was God going to require in this disciple's training?
Remember what He said to Abraham? "Take your son, Isaac. Offer him as a sacrifice." There's a profound spiritual principle here; it's one you need to understand if you are going to understand commitment and endurance as a follower of Jesus Christ: your heart must be sifted and scoured.
That means that some very good things must be offered to God, not just bad things forsaken. In Lilias Trotter's beautiful book Parables of the Cross, she describes the death/life cycle of plants, which illustrates the spiritual processes that must go on in us if we are to die to self and live to God.
This is what she says:
The fair, new petals must fall—and for no visible reason. No one seems enriched by the stripping, and the first step into the realm of giving is a like surrender. It's not manward but Godward, an utter yielding of our best.

So long as our idea of surrender is limited to the renouncing of unlawful things, we have never grasped its true meaning. That is not worthy of the Name, for no polluted thing can be offered."
Did you ever see it like that? The loveliness of a flower has to go.
The test for Jim Elliot was falling in love. Anything wrong with that? He was swept off his feet by love for a girl. She had been attracted to him for a long time and had been wrestling with God over the same question of singleness . . . and, like Jim, had finally said, "Yes, Lord, if that's what you're asking, I'll do it. I'll be a single missionary."
I remember that commitment very well. I was that girl. I remember Memorial Day 1948, just before I was to graduate. Jim asked me to go for a walk with him. Jim Elliot asking me to go for a walk?! I nearly died! I could hardly breathe for excitement! I tell you this because I want you to know that I've been where you are; I know your feelings.
"Well, Bet," Jim said, "Guess we'd better get squared away about how we feel about each other." I nearly went through the sidewalk! Feel about each other? (laughter) What gave him the idea that I had any feelings for him? (laughter) I thought I'd been doing a terrific job of concealing my feelings; I wasn't just playing hard-to-get. I was determined to be just like Jim: impossible to get!
I have to make a long story short here. You can read the details if you want to in Shadow of the Almighty and in Passion and Purity. Incidentally, somebody asked me this afternoon if Passion and Purity is for men as well as for women. I would say "no," unless you happen to be a man who has some passions or has ever had any struggles with purity. In that case, it's for you! (laughter)
Anyway, Jim and I went to a park and we sat on the grass and talked for seven hours! What were we to make of this tornado of passion we suddenly felt for each other? Did it mean that God wanted us to forget all the agonies we'd gone through over our singleness struggles and just fall into each other's arms?
We had a few weeks before graduation. We took some more walks, we did some more pondering and praying alone and some more talking together. One night we wandered into a cemetery and found ourselves sitting on a convenient marble slab, trying to sort through what God was trying to tell us.
I said that it really didn't make a whole lot of sense to me to tell God that we wanted Him to handle this whole thing if we intended to keep our hands on. It was going to have to be "hands off," turning it entirely over to the Lord. You see, after graduation, there wasn't much chance we were going to see each other.
Jim had another year in college. He lived in Oregon; I lived in New Jersey. He was headed for South America. I thought I was headed to Africa or perhaps the South Seas. "Does it make sense to you?" I asked him. "Should we write?" He didn't say anything for awhile, and then we sat there in silence.
Finally he said, "You're right, it doesn't make sense. And I know you're right, because this morning the passage that I was reading in my Bible was about Abraham and Isaac. Abraham made the sacrifice. He tied the son down on the altar and he raised the knife, and I knew right then that God was asking me to give up the most precious thing in my life. . .you. Would I give it to Him, or would I refuse? I said I'd give it. So that's where you're going to stay, Bet, on the altar . . . unless God shows me that I don't need to make that final sacrifice."
And there was another long silence, and then suddenly we realized that the moon had risen behind us and was casting the shadow of a stone cross between us on that slab.
In the book that I just mentioned, Passion and Purity, I've quoted the poem that I wrote in my journal on that occasion:
Hold Thou Thy cross between us, blessed Lord.
Let us love Thee;
To us Thy power afford to remain prostrate at Thy pierced feet.
There is no other place that we may meet.

Set Thou our faces as a flint of stone to do Thy will.
Our goal be this alone:
O, God, our hearts are fixed. Let us not turn.
Consume all our affections; let Thy love burn!
You need endurance! You'll have to pay a price. You'll find out about "sharp storms" and "hot sweats" [quoting Samuel Rutherford, referenced in part 1].
They don't always come in the form you envision when you think about the great heroes of the faith. I'm giving you just one example of the form it took for a couple of college students thirty-six years ago. We wanted, above everything else, the will of God.
And here is the crux of the matter. (And, by the way, did you know that the word "crux" means "cross?"Did you know that the word "crucial" comes from the same root?) Until the will and the affections are brought under the authority of Christ, we have not begun to understand—let alone to accept—His Lordship.
The cross, as it enters the love life, will reveal the heart's truth. I'm convinced that this is the point at which many young people refuse the cross, refuse to endure hardship. The eleventh chapter of Hebrews lists what we call "heroes of the faith."
You know the stories: Abel's sacrifice, Noah's ark, Abraham's long journey, Sarah's late pregnancy, Moses in the bulrushes. But did you ever think about some of the mundane aspects of their heroism?
Ever think about the jealousy of Cain and what it did to his brother Abel?
Ever think about the scoffing of Noah's neighbors while he was building that ark on dry land?
Ever think about what Noah and his family endured when they got into the boat? Think about the meowing and barking and roaring and clucking and grunting and whistling and chattering and peeping and hissing and quacking and trumpeting and squeaking and snarling and mooing and braying and neighing and whinnying and howling and growling. I mean, talk about a racket! Forty days and forty nights. Noah endured.
Jim and I waited five-and-a-half years before God gave us a green light to get married. We didn't go through anything like those people I've just listed, but it was a form of endurance. It was tough enough for us at the time. It was a test. Were we going to trust God during all those years of silence and separation and uncertainty? Mind you, we had no commitment to each other.
I haven't time to tell you the rest of the story. I want to say this much, that on our wedding day the Lord gave us a verse from Isaiah: "This is our God. We have waited for Him" (Isa. 25:9). It was worth it!
That brings me to the last point: [Point 3:] Is it worth it?
One day in October of 1955, Nate Saint flew into our station to tell us that he had discovered some Auca houses. Within a very short time, Ed McCully (that politician from Wisconsin), Jim Elliot from Oregon, and Nate Saint instituted a program of dropping gifts to those Indians with the the hope that they would be able to break down their hostility and prepare the way for an attempt to reach them.
You can imagine our excitement, our trembling, and the prayers that went up on the evening in January of 1956, just before these men left to go into the edge of Auca territory. (By this time they had been joined by Roger Youderian and Pete Fleming.) They sang together that hymn: "We rest on Thee our Shield and Our Defender." A week later they were all speared to death. Why?
Two of the men who killed them are friends of mine now. Their names are Mincaye and Gikita. They made tapes for me telling me everything about what had happened that afternoon on the beach, They said they thought the men were cannibals.
Why would God allow a thing like that to happen? He was their Shield, their Defender . . . and He let them get speared to death! What had happened?
Can your faith cope with a set of facts like this? There is a mystery here, but it is not unprecedented. Go back to Hebrews 11. Following all those wonderful triumphant accounts, we read, ". . . and others were tortured . They faced jeers and flogging, fetters and prison bars. They were stoned, they were [listen to this] sawn in two" (see vv. 35–37).
Talk about endurance! Is it worth it? Is it worth it? How many things can you think of that are worth suffering for? We lived across the street from a high school, and I couldn't believe the forms of torture that those high school kids would go through in order to play football!.
They would just throw themselves at those padded steel teeth, jumping in and out of rubber tires, and going face-down into the mud. For what? For football. How many things can you think of that are worth living for? I want you to listen, ladies and gentlemen, young men, young women: There is nothing worth living for unless it's worth dying for! Have you made up your mind?
The world was stunned when the news of the death of the five men hit the headlines. People did not know that there were still stone-age savages around. I suppose that's one of the reasons they were impressed.
Very few people realized that there could still be ordinary young men for whom obedience to Jesus Christ was quite literally a matter of life or death. There was plenty of editorializing about it. The secular press called them "blankety-blank fools." The Christian press did a lot of very glib explaining of why God would allow a thing like this to happen.
The verse that brought assurance to me was 1 John 2:17: "The world and all its passionate desires will one day disappear, but the man who is following the will of God is part of the permanent and cannot die" (paraphrased).
Ask a football star who has finally made the cover of TIME magazine if it's worth all those miserable afternoons in the slush.
Ask Noah if the jeers of his neighbors bothered him very much after they got into the ark.
Ask Ed McCully if he still wishes he had pursued that career in politics.
Ask Abraham whether it was worth the agonies he went through when he went up the mountain.
Ask Jesus. Ask Him what it was like to leave the ivory palaces and come into this world of woe. Ask Him about Gethsemane and the Cross of Calvary. What does the Book say about Him? "Jesus, for the joy that was set before Him, endured a cross, making light of its disgrace, and has taken His seat at the right hand of the throne of God" (Heb. 12:2 paraphrased). He made Himself nothing!
Jim Elliot wrote in his diary when he was twenty-two, "He is no fool who gives what he cannot keep to gain what he cannot lose." Were those men really out of their tree to do what they did? In Hebrews 12 it says, "What of ourselves? With all these witnesses surrounding us like a cloud we must throw off every encumbrance, every sin to which we cling, and run with resolution the race for which we are entered, our eyes fixed on Jesus on whom faith depends from start to finish" (v. 1 paraphrased).
I don't know what particular endurance God is asking of you right this minute. Perhaps it's in your love life and the willingness to submit your longings and to wait patiently for God's best for you . . . to stay out . . . of . . . bed. God is saying, "I have something infinitely better for you than you can imagine! Will you trust Me? Will you wait? Will you obey Me?"
I promised you that I'd tell you what I was going to say, and then I would try to say it, and then I'd tell you what I've said.
First I asked: What do you live for? Is it for yourself, for the world, for the devil . . . or is it for God? Secondly: How do you get it? By obedience, by endurance, by blood, sweat, tears. Third: Is it worth it? Jesus, for the joy endured a cross.
My [current] husband and I live on the coast of Massachusetts. Do you know what motto is posted in every rescue station along the coast? "You have to go out; you don't have to come back." That, I believe, should be the motto of every Christian! You have to go out. You don't have to come back.
Maybe I've come across to you tonight as tough, insensitive, dogmatic, ignorant of where you're at. I hope not. But in case I have, let me assure you that the Lord knows exactly where you're at. He loves you more than you can possibly imagine! He's got things up His sleeve that are so much better than your best dreams that it would blow your mind! But He asks you to trust Him.
Jim Elliot often used to quote a poem written by Amy Carmichael of India. He quoted this frequently when he spoke to student groups, and it is with these words that I close:
Hast thou no scar?
No hidden scar on foot or side or hand?
I hear thee sung as mighty in the land,
I hear them hail thy bright, ascendant star.
Hast thou no scar?

Hast thou no wound?
Yet I was wounded by the archers, spent,
Leaned Me against a tree to die; and rent

By ravening beasts that compassed me,
I swooned:
Hast thou no wound?

No wound, no scar?
But as the Master must the servant be,
And pierced are the feet that follow Me.
But thine are whole,

Can he have followed far
Who has nor wound, nor scar?"
Nancy: Wow. We've been listening to a moving message from Elisabeth Elliot. She's a woman who knew what it meant to suffer for her faith. Her teaching on endurance was born out of her own personal life message.
You can learn more about Elisabeth and be encouraged to persevere through your own trial by getting a copy of her brand-new book Suffering Is Never for Nothing. Elisabeth went home to be with the Lord a few years ago, but this book has been drawn from a series of previously unpublished messages on suffering.
We'd like to send you a copy today when you make a gift of any amount to Revive Our Hearts. Your support will enable us to help women who are suffering in many different ways to find hope and grace through Jesus Christ.
Visit ReviveOurHearts.com to make your donation of any amount and get your copy of Elisabeth's new book Suffering Is Never for Nothing, or call us at 1–800–569–5959.
Next week we're continuing our theme of perseverance. We'll start a series called "Enduring Life's Hardships." That's Monday, on Revive Our Hearts.
Revive Our Hearts with Nancy DeMoss Wolgemuth is helping you find hope in the midst of suffering. It's an outreach of Life Action Ministries.
*Offers available only during the broadcast of the podcast season.