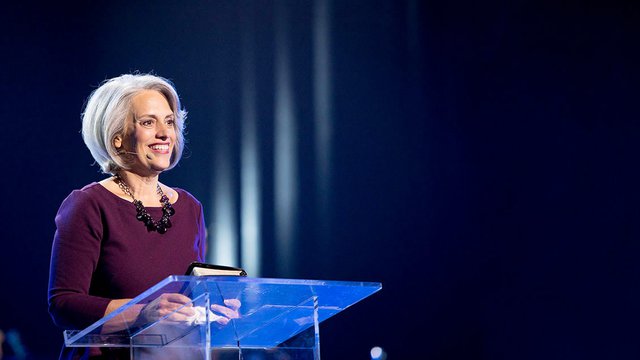 — Audio Player —
Pulled in Every Direction
Leslie Basham: If you came to your pastor with a problem, would you be surprised to hear him say, "I've got to be at home for dinner with my family," or "I've got to be able to do the things that I've been called to do, like an appointment for the study of the Word or an appointment for prayer time with God, an appointment that really calls me to do something that transcends that relationship at that moment"?
This is Revive Our Hearts with Nancy Leigh DeMoss. It's Thursday, September 29th. Earlier in the week Nancy began a teaching series called Follow the Leaders . We've heard how important it is to encourage our pastors and have realistic expectations of them. Nancy's going to pick up that teaching next week. But today we'll learn some things on this topic from some people with first-hand knowledge. Here's Nancy.
Nancy Leigh DeMoss: We're doing something on Revive Our Hearts today that I don't think we've ever done before. We're doing an interview, which is not unusual, but seated around this table with me are six other individuals. In fact, we had to do some scrounging to come up with enough mics and mic stands and equipment to get everyone around this table.
As we've been talking about how church members can minister and be a blessing to their pastors, the pastors' families, the church staff members, I thought it would be fun to just talk with some pastors and their wives about their perspective on what things are an encouragement and a blessing to them.
So joining me in the studio today are three couples who are special friends of mine from the Little Rock area. Bill and Holly Elliff have been long-time friends. We go back a long ways. Bill is currently the pastor of the Summit Church in Little Rock, Arkansas. Bill and Holly have eight children, and God has given them such a heart and a love for people and for reaching people and for discipling people. Not only is Bill a pastor and preacher and elder of a church, but they're both actively involved in one-on-one ministries in people's lives.
And then two couples from The Bible Church of Little Rock. Lance Quinn is the pastor of The Bible Church of Little Rock, and his wife Beth. Lance and Beth have become dear friends of mine since I began recording Revive Our Hearts in Little Rock several years ago. They also have eight children. That was not a criteria to be on this program today, but it just so happens that both of these couples believe that children are a blessing.
And that certainly adds to the complexity of your lives as a pastor and wife, when you have not only the flock to shepherd there at The Bible Church of Little Rock but also a good-sized flock that you shepherd there in your home. So thank you for being with us here today.
Then Tim and Hannah Senn. Tim is the Pastor of Student Ministries at The Bible Church of Little Rock and has been there over seven years. His wife Hannah also has a real heart for those young people. They have four children.
Last Sunday night the youth led the worship at The Bible Church of Little Rock. I was in that service. Tim and Hannah, it was such a blessing to see the heart of so many of those young people and hear their testimonies and see how God has used you in discipling those young people.
So thanks to all of you for joining us today on Revive Our Hearts . I'm looking forward to our discussion.
I want to start out by reading something somebody sent me on e-mail last night. It said, "After hundreds of years, a model preacher has been found to suit everyone. He preaches exactly 20 minutes and then sits down. He condemns sin, but never hurts anyone's feelings. He works from 8:00 a.m. to 10:00 p.m. in every type of work, from preaching to custodial service. He tithes weekly to the church and stands ready to contribute to every good work that comes along. He is 26 years old and has been preaching 30 years.
"He is tall and short, thin and heavyset and handsome. He has one brown eye, one blue; hair parted down the middle, the left side dark and straight, the right brown and wavy. He has a burning desire to work with teenagers and spends all his time with older folks. He smiles all the time with a straight face because he has a sense of humor that keeps him seriously dedicated to his work. And he makes 15 calls a day on church members, spends all his time evangelizing the unchurched, and is never out of the office."
Bill Elliff: Where did you find that bio on Lance Quinn? (laughter)
Nancy Leigh DeMoss: As I read that I thought, you know, we laugh, but it's kind of sad, too, because it depicts that there's this thing of expectations of pastors and pastors' wives and youth pastors, and we could throw in there worship and music leaders, to be this total, everything, perfect combination of all qualities. Do any of you ever feel this sense of expectations that are maybe not totally realistic from some of the people in your church?
Lance Quinn: Only daily. It's an amazing thing to be in pastoral ministry because, while no one would ever listen to a list like that and say, "Yes, that's right; that's my expectation," subtly it happens like that all the time. When you are in pastoral ministry for any length of time, you realize that those expectations are often completely unrealistic. So you discount them for the most part because there's no way you can live that way.
You just try to do what the Lord has called you to do, to be faithful to the Word, to be faithful to your wife and your children, and to develop a ministry mindset that says, "I know automatically that I'm not going to please everyone, so I cannot try to do that. If I do I'm going to frustrate myself, and I'm going to frustrate everyone around me. So I've got to be faithful to what the Word of God says is a faithful pastor."
Nancy: Now I know all of you are couples who love the church where God has placed you and you have congregations who love you, so I don't want to reflect negatively in any sense, but you've pastored in different churches and in different settings. What are some of the expectations maybe that you've run into from time to time that you've found not very realistic?
Bill: I think one of those is that the pastor is everywhere all the time.
Nancy: That would make him God.
Bill: That would make him omnipresent, absolutely and we're everything but that. But that old mindset of thinking that that one man has to be there at every point is, I think, an unrealistic expectation.
I think another one is that the pastor can sacrifice his family on the altar of ministry. It's very, very easy to do that, as we would prefer others over the needs of our family. I've come to the point a lot of times where I just have to say to people, "I have appointments."  I don't divulge what all those are, but they are critical appointments, and it has to have priority.
Nancy: Now, people in your churches probably would not say, "We expect you to sacrifice your family." But what are some of the ways that people in a congregation might, in effect, put pressure on their pastor or their youth pastor to sacrifice their families?
Tim Senn: Well, Nancy, I can talk about youth ministry a little bit. Certainly the calling of God on a man to minister to students is a strong calling. I believe my wife has been called as well to be my wife and to minister with me.
But oftentimes there is a large expectation that she'll be everywhere, at every event, every retreat, every mission trip, every outreach that we do. But with four small children that's just not always possible. That's really her heart, to be at every event and to disciple young girls and to do all that she can to support me. But really I think that some people expect out of pastors that their wives are kind of a package deal with the pastor.
Nancy: And the fact is, if your family is what God wants it to be, you're going to be better as a pastor or a youth pastor or a wife than if your family is crumbling and the priorities there aren't being met. Ultimately you're not going to be as effective.
Tim: That's right. What our wives do really frees us up for ministry in a way that would not be possible if there were distractions at home or things just weren't going well at home. That's a great encouragement, to have a wife that's capable. You know that things at home are going to be handled in a trustworthy manner.
Lance: One thing I think, too, to answer your question—there are a lot of people who, as you said, would not expect you to sacrifice your family on the altar of ministry. But what they do is, they become so myopic themselves, and they think so deeply about their problems, their issues, their life, that they sometimes lose their own sense of discernment about your life.
Because their problem is so large, they will assume that any time they call you or any time they see you they can just walk up to you and talk to you about the issues of their life and assume that you don't have any other responsibilities because they're so focused on trying to get their problems solved.
Sometimes that discernment will need to be corrected, and you'll need to be able to say to them, very lovingly but very honestly, "I'm really not going to be able to talk right at this moment," or "I'm not going to be able to talk on the phone at a juncture where you believe you need me the most. Can we talk at some other point?" Or, "I've got to be home for dinner with my family."
I've got to be able to do the things that I've been called to do, like Bill said a moment ago. "I've got an appointment for the study of the Word," or "I've got an appointment for prayer time with God," or "I've got an appointment that really calls me to do something that transcends that relationship at that moment."
Now if a pastor doesn't ever come out of his office, if he doesn't ever come out of those times in which ministry will need to occur as he studies, as he prays, then he's not being that faithful shepherd. So there's that balance, and people need to trust us that we're trying to work through that balance in our own lives. Of course we're not going to perfectly balance those things, but we do try to minister to people who just need to have patience as we minister to them.
Bill: Well, the reality is, a lot of times we bring it on ourselves. There are both sides of this. One is people's expectations; and one is, you know, if you're passionate about ministry, you see these needs and you want to go meet them and go after it. So I think all of us care about people and love people and want to be used of the Lord.
It's interesting to me that one of the things that happens when people are in crisis, let's say in their family—well, the crisis has been going on for two years, and yet maybe they won't respond to counsel that's been given, teaching that's been given. And then all of a sudden when it reaches tsunami proportions in their life, they can be offended that you don't drop everything and come right now at 8:30, you know, or midnight.
I think all of us know there are times when you absolutely do that, when you immediately drop everything and go. And we don't negate that. But I've found a lot of times that things can wait a couple of days, or 24 hours. But if it's a need that's been there for a while, they don't quite understand that.
Leslie Basham: That's Bill Elliff, talking with Nancy Leigh DeMoss about some of the pressures pastors face to be everywhere at once. Bill was part of a panel discussion featuring three pastors and three pastors' wives. Nancy will pick up this conversation again tomorrow.
There's a reason we're focusing on this topic. October is Pastors' Appreciation Month. I hope that our current series is reminding you how important it is to encourage pastors. We want to especially help you encourage your pastor's wife. That's why we've put together a Pastor's Wife's Appreciation Packet. It includes a signed copy of Nancy's book Surrender. It also has a specially designed travel mug, some gourmet coffee, and a purse-sized calendar. To make this gift-giving as easy as possible, we'll also include a gift bag, tissue paper, and a special card.
You can order the Pastor's Wife's Appreciation Packet online at ReviveOurHearts.com, or call 1-800-569-5959. It encourages us to hear what you think of Revive Our Hearts. Would you send an e-mail and let us know? Just visit ReviveOurHearts.com and follow the directions there. You can also donate online. The gifts of our listeners make this program possible. Would you consider helping us stay on the air in your town?
Can you imagine what it would be like if your entire church were watching your children and trying to catch them doing something wrong? We'll talk about that tomorrow. Please be back for Revive Our Hearts .
Revive Our Hearts with Nancy Leigh DeMoss is an outreach of Life Action Ministries .
*Offers available only during the broadcast of the podcast season.
Support the Revive Our Hearts Podcast
Darkness. Fear. Uncertainty. Women around the world wake up hopeless every day. You can play a part in bringing them freedom, fullness, and fruitfulness instead. Your gift ensures that we can continue to spread gospel hope! Donate now.
Donate Now