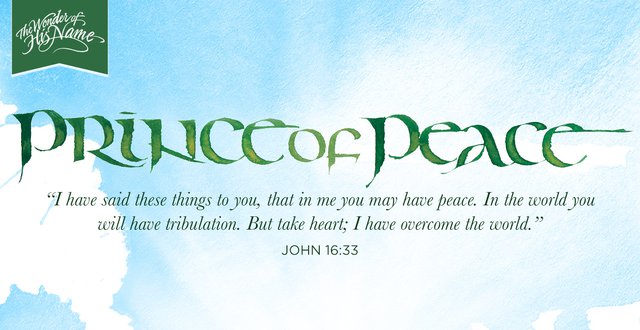 — Audio Player —
Prince of Peace
Leslie Basham: What gives you peace? Nancy DeMoss Wolgemuth reminds us that peace can only be found in a person. 
Nancy DeMoss Wolgemuth: You can't have the peace of God in your heart if the Prince of Peace isn't ruling in your life. 
Leslie: This is Revive Our Hearts with Nancy DeMoss Wolgemuth, author of Choosing Gratitude, for Thursday, November 15, 2018.
Today Nancy will show you what it means to know the Prince of Peace. She's in the series, "The Wonder of His Name: 32 Life Changing Names of Jesus." 
Nancy: I had a really sweet conversation the other day with a couple who told me an amazing story of God's grace in their lives. I didn't have a chance to ask them if I had permission to use their names, so I'm just going to call them Tim and Julie. 
Tim shared about how as a child he had been through the trauma of sexual abuse and then the attempted murder of his mother—somebody in the neighborhood was involved—and he was traumatized by these childhood experiences. Then as an adult he went into the health care work and his job was harvesting organs after crashes.
He was exposed to all these deaths, and he was traumatized by that on top of the experiences he had as a child. So as a young husband and dad he began to suffer from crippling anxiety and depression and fear of losing his family.
He told me how he medicated that fear with years of drug and alcohol abuse. Ultimately, he became violent in his marriage, and his wife finally left and they were on the verge of a divorce. His whole life was totally falling apart. He saw a psychiatrist for a year. The psychiatrist was not able to help him. Finally, Tim became suicidal. He actually wrote good-bye letters to his family. He told me that he had document in his wallet with the names and addresses of family members to contact when his body was found.
Well, Julie was on the phone while we were having this conversation, and she told me her story. As a seven-year-old, one day Julie's mom picked her up from school and said, "I'm leaving your dad." And thus ensued years of dysfunction. Julie went between parents; there was sexual abuse also involved in her life. When she finally married Tim she said, "Tim was my Prince Charming. He's the one who rescued me. I felt safe and secure with him." She said when they got married she knew that he was in recovery from alcohol, but she thought, That won't be an issue in our marriage.
Well, then he started drinking again, and he finally got to place where he could hardly function. She said he couldn't go in a grocery store because there were just too many stimuli. He was dysfunctional, and he became volatile and violent. And she said, "I had no clue how to deal with this." She said, "I lived in constant fear." She was working full time, a night shift, and after they separated she was working this job and trying to take care of four small children.
She was heartbroken that her children were going to have to go through what she had gone through as a child. She had hoped that would never be the case that her children would have to go through parents splitting up. But here she was living that same story with her children over again. And one day Julie cried out of her desperation, "Oh God, if you are real, please give me peace!"
Now before I tell you how God answered that prayer, I want to talk for these next few moments about "peace." I think that one of the greatest longings of the human heart is for peace. It's a gift that everyone wants, and very few experience. We have lack of peace in our hearts. We're so characterized by stress and fear and anxiety and can't sleep. I read that in a recent year eighty-five million prescriptions were filled for the top twenty anti-anxiety drugs. We're medicating our fear and our pain and our stress.
We have lack peace in our relationships—walls and barriers between us and others. There's conflict and tension and strife and divorce and church splits and world wars. Relationships. In fact how many of you would be honest enough to say, "I have an estranged relationship—someone that there's a wall, there's a barrier between us. We've been estranged." I've got my hand in the air. How many of you would say there's a relationship where there's not peace? Almost every hand in the room. We have lack of peace in many of our relationships.
The philosopher Henry David Thoreau was right when he said, "The mass of men lead lives of quiet desperation." And that's really a way of saying what Romans 3 says, "The way of peace they have not known" (v. 17). We don't have peace.
And into that world God sends a gift. Isaiah 9, verse 6, we've been looking at that for the past several sessions. Isaiah 9 verse 6 says:
To us a child is born, to us a son is given; and the government shall be upon his shoulder, and his name shall be called Wonderful Counselor, Mighty God, Everlasting Father, Prince of Peace.
The gift everyone wants and so few have is not a thing. It's not an emotion. The gift—peace—is a Person. The Prince of Peace who is a gift to people who lack peace. Prince of Peace.
Now in the Hebrew language that term is Sar Shalom. You've probably heard the word shalom. Peace. I met a little girl last night who's named Shalom—a beautiful name. But the name Sar means governor or ruler.
Let me just remind us that peace is possible because Someone is in charge of this world. And that Someone is not me. And it's not you. And it's not your boss. And it's not your mate. And it's not the President of the United States. And it's not any other king or ruler. That Someone who is in charge is Jesus. He is the Prince, the ruler of peace, the captain, the chief, the principal. It's a rulership term.
That word shalom means "peace." It's used in the Hebrew language as a greeting like we would say "hello" or "good-bye." It's just an informal word that's often used, but it means a lot more than just a casual greeting. It can mean the absence of agitation or discord. But it also has a positive sense. To have shalom is to have well-being, completeness, wholeness, prosperity, joy. It means safety, tranquility, rest, harmony. How many people want some peace? That is, "Just let me have some peace and quiet." Absence of agitation and discord but the presence of tranquility and rest and harmony.
Well, Jesus is our Prince of Peace and 700 years before His birth it was promised that this Prince of Peace would be given. As you look at the earthly life and ministry of Jesus, you realize that He demonstrated extraordinary serenity under even the most intense pressure. I love when I read in the gospels about Jesus and I see how Jesus had so much on Him. Talk about a long to-do list?
My to-do list just stresses me out all the time, and I have lists of my lists of things to do. Never do I pillow my head at night and think, Ahhhh. I did everything I needed to do today. I got everything done on my list. If you're the woman who did that, you need to like write a book or something because it will sell big. We are stressed out by all we have to do. Well, you think of somebody who had a long to-do list? Jesus was given three years, approximately, to accomplish God's eternal plan of redemption. That's a lot to do.
But you never see Him being stressed out. You don't see Him being anxious or fretful or hurried. I'm always in a hurry, and it shows. Jesus, you see Him having a quiet and a calm confidence in spirit—never panicking—calm under the most turbulent circumstances. Things that make me hyperventilate don't faze Jesus at all—whether He's asleep in the back of a boat in the midst of a storm where the disciples who were the seasoned boatsmen were saying, "We're dying!" What's Jesus doing? He's taking a nap. He's the Prince of Peace.
He's the Prince of Peace when they have a hungry multitude and no fast-food restaurants around. The disciples start hyperventilating like I do—and they go, "Lord, send them home; they're going to starve!"
And Jesus says calmly, "Give them something to eat." He's the Prince of Peace.
He's the Prince of Peace when He's facing constant criticism from Pharisees who were always trying to trip Him up in His words and trap Him. He's the Prince of Peace when He's faced with those fickle crowds who one day hail Him as King and within a week they're screaming for His execution. He's the Prince of Peace.
I want to remind us that Jesus had peace not because He didn't have any problems. His peace was not the result of medicating His pain. His peace was because of His relationship with His heavenly Father. He trusted the sovereign plan and will of God. He knew that everything was all under God's control—the waves, the winds, the hungry people, the food, the Pharisees, the crowds. He knew that God was in charge. He was on His throne.
He knew that no one could do anything to Him apart from the Father's permission and divine will. That's why He could stay calm because He knew that Someone was in control, and that Someone was His heavenly Father.
The first and greatest need in our lives is to have peace with God, peace with God. We were created to have fellowship with God. But you know how sin broke that fellowship, and we were born estranged from a holy God, at enmity with Him. Ultimately, at the heart of all our lack of peace, is the fact that God has had to withdraw His presence from us, due to our sin and the fact that a holy God cannot look on sin. It's our guilt, ultimately, in this human world that causes this lack of peace.
But wonder of wonders, through his death on the cross in our place, Jesus reconciled us to God. He opened the way for us to enter the presence of God, to be friends with God. And so Romans 5 tells us, "Since we have been justified by faith, [we have been made right with God] we have peace with God through our Lord Jesus Christ" (Rom. 5:1). That's the starting place for all peace. Ephesians 2 says, "Now in Christ Jesus you who once were far off have been brought near by the blood of Christ. For he himself is our peace" (Eph. 2:13–14).
Do you have peace as you think about life after this life? We received an email from a listener who said,
My family has a loved one on her way to Heaven today, the doctors say. We have remarked all week, after hearing that her injuries from a fall were life threatening, what peace we have. The reason? We know where she is going. Frances [who is this relative who was dying] grew up in church, but never knew the gospel story until two years ago when her brother was dying.
We talked of the joy that he had before him, and she said she wished that she had that assurance. My brother-in-law [the one who was dying] said, "You can have that assurance." He told her the gospel story and she prayed to receive Christ for the first time, at eighty-six years of age. Today she is eighty-eight and the last two years of her life have been full of peace and joy because she met Jesus that night. She is a different woman—facing death with a peace that passes all understanding.
You know how you can have peace when you go to die or when you think about death? It's to know that you have peace with God—that you're right with God because Jesus Christ has paid the price for your sin.
Well, having received the gift of peace with God, we want to have the peace of God. And the Scripture says that we can.  We can have rest for our souls. We can cease striving. We can stop hyperventilating. We can be calm in the storms of life. Jesus said in the gospel of John,
Peace I leave with you; my peace I give to you; not as the world gives, do I give to you. Let not your heart be troubled, nor let it be fearful (John 14:27).
These things I have spoken to you, that in me you may have peace. In the world you have tribulation, but take courage; I have overcome the world (John 16:33).
How do you have the peace of God? You get it through your relationship with Jesus. Right? And remember that peace is not the absence of problems. You think, Oh, if this problem would go away . . . If this person would go away . . . You know I could just be a really peaceful person if I could go live in the uninhabited regions of the world. No people, I'd have a lot of peace.
You know, you can have peace right where you live, in your home, in your workplace, in your neighborhood, with that neighbor, with that problem person, with that child that is so far from the Lord. You can have peace. Peace is not the absence of problems, peace is the presence of Christ in the midst of the problems—the Prince of Peace.
But here is the point. You can't have the peace of God in your heart, if the Prince of Peace isn't ruling in your life. We live in fallen, broken world. You know that's the case. There will always be trials and disappointments and pain and sorrows. Until we see Jesus face to face, we're going to have to deal with those things. But in the midst of all of that, there is no circumstance where our hearts cannot be at peace and at rest if we are rightly related to the Prince of Peace.
That peace is not based on emotions; it's not based on feelings; it's not determined by external circumstances. It's a gift that He gives as we trust Him in the midst of turmoil going on around us.
And then having found peace with God and experiencing the peace of God, we can experience peace with others. Because the barriers that have been created between God and us by our sin have been broken down, now the barriers between us and others can be broken down. Having been reconciled to God by the death of His Son, we can be reconciled to others. We can have peace with others.
Then ultimately, there will be peace in this world. Remember the night Jesus was born the angels said, "Peace on earth [among those with whom God is pleased]" (Luke 2:14). Jesus died to make that peace possible but there won't be peace across this earth until the Prince of Peace is crowned as king and seated on His throne.
And when He comes back, the Prince of Peace will overthrow all His enemies. He will establish His eternal kingdom of peace on earth, and He will bring an end to all conflict. I love that verse in the last chapter of the book of Romans, Romans 16, verse 20 that says, "The God of peace will soon crush Satan under your feet" (Rom. 16:20). The Prince of Peace is a mighty warrior.
You say, "How soon is He going to do that?" I don't know, but it's soon. The Prince of Peace, the God of Peace will soon crush Satan under your feet. So why do we get so upset? Why are we so uptight? Why do we hyperventilate? Because we lose sight of who Jesus is and of what He is doing and is going to do. Knowing that that day is coming can help us face the trials of this life and we can have His peace now as we anticipate that day when He will restore peace to the whole world as the whole world surrenders to the Prince of Peace.
Now you'll never find that peace in a bottle. You'll never find it in a pill. You won't find it in a change in your circumstances. That peace was purchased by the Prince of Peace at great cost—the cost of His life. It's given to us as a gift. That gift is a Person, Jesus Christ Himself. So we have peace as a result of what He has done for us on the cross. "The chastisement that brought us peace was laid on Him and with His wounds we are healed" (Isa. 53:5). We experience that peace when we trust Him to be our Prince of Peace.
Listen, I was meditating on this the other day as I was hyperventilating about getting ready for these sessions, and I realized whether I have peace or not at any given moment reveals who or what I'm trusting. If my mind is on myself and my circumstances, if I'm trusting self, I'm not going to have peace. But if my mind is fixed on Christ, and I'm trusting Him, I will have peace—peace for salvation, peace for life, peace for eternity (Isa. 26:3).
I think about how Jesus laid down in boat and slept through a storm and thinking of that, I was able to lay down a couple of days ago while I was thinking about getting all these sessions ready, and I could take a nap! And I realized, for twenty minutes I can rest. I can rest my mind. I don't have to be struggling and striving all the time to get this pulled together. I can trust Him whether I'm napping or sitting at my laptop working. I can trust Christ who is my Prince of Peace. "In peace I will both lie down and sleep;  [the Psalmist said] for you alone, O Lord, make me dwell in safety" (Ps. 4:8).
Well, let me come back for just a closing moment here to Tim and Julie. Do you remember them and how they were at such lack of peace, their lives were in a place of absolute, total devastation. When we left them at the beginning of this program, Julie was trying to have Tim committed. She was trying to get restraining order, and they were separated.
Then God brought man in Tim's life through his son's Little League team. This man reached out to Tim, gave him a Bible, shared Jesus with Him. And then three days after Tim wrote those good-bye letters to his family, he found himself rolling around in agony on the ground. And He said, "I cried out to God in desperation." He got up from the ground, prompted by the Lord, went to the man's house. That man sat down with him, took him through the Word, and Tim said, "I don't know how to explain what happened except I repented. I embraced, and I was gripped by the gospel."
And then he said to me, 
Nancy, I woke up the next morning, and something was radically different. I realized I was at peace. I no longer had this horrible, sickening anxiety, this rage burning inside of me. The horrible fear that had plagued me for years was gone. I was no longer hearing voices or hallucinating. I stopped using drugs and alcohol. Immediately the desire for those things was gone. Jesus did something that night while I slept that nineteen years of self-help, twelve-step programs, and psychiatrists and secular counselors had been unable to accomplish. (applause)
Well, Julie told me her story, and I don't have time to go into all that. It's an amazing story, as well. But long story short, a couple of months later, Julie came to faith in Christ as well. And Tim said, "Oh, our marriage was so broken. But Jesus has rebuilt it piece by piece." Their four children have come to know the Lord, and he said, "We just have to share with others the hope that Christ has given us, so they, too, can know the peace that we have in Christ."
Do you have that peace? Do you have peace with God through Jesus Christ where you've ceased trying to save yourself? You've acknowledged your need for a Savior. You've put your trust in Him. Do you have the peace of God in your heart today? It's easy to have that while we're sitting here and listening to the Scripture being taught. But some of you are going back into some tough, tough circumstances. The Prince of Peace will go with you where I can't go, where no one else can go. But He will go with you. If you'll let Him, He'll give you His peace.
He'll give you peace in relationships. "If it is possible, as much as lies in you, live peaceably with all others" (Rom. 12:18). You can't change their heart, but God can give you a peaceful heart toward them. And so my prayer for you as we close today is this benediction. "Now may the Lord of peace [the Prince of Peace] himself give you peace always in every way" (2 Thess. 3:16). Amen.
Leslie: Nancy DeMoss Wolgemuth has been showing you how to have true peace. It can only come through a person—the Prince of Peace.
We've been getting to know Him more deeply during Nancy's current teaching series, "The Wonder of His Name: 32 Life-Changing Names of Jesus."
Getting to know Jesus truly is life changing. And by understanding the background of these thirty-two names, we truly are getting to know Him more, being in awe of who He is and falling in love with Him all over again.
If you get a lot out of this kind of teaching, you have the opportunity to help make sure it continues coming to you each weekday. The free podcast is available because listeners pray and support the ministry financially.
When you support Revive Our Hearts with a gift of any amount, we'd like to say "thanks" by sending you a new Advent devotional by Nancy. It's called The First Songs of Christmas, and it will take you on a meaningful journey through five songs from Luke's gospel surrounding the first Christmas. Head to ReviveOurHearts.com to give your gift of any amount. Be sure to request the Advent devotional, or you can call with your gift at 1–800–569–5959. 
Why does it seem like everyone is always on the lookout for a new hero? Nancy explores that tomorrow, continuing in the series, "The Wonder of His Name." Please be back tomorrow for Revive Our Hearts.
Revive Our Hearts with Nancy DeMoss Wolgemuth invites you to set your mind on Christ. The program is an outreach of Life Action Ministries.
All Scripture is taken from the English Standard Version.
Dawn Wilson, Lindsay Swartz, and Darla Wilkinson provided helpful research assistance for this series. 
*Offers available only during the broadcast of the podcast season.
Support the Revive Our Hearts Podcast
Darkness. Fear. Uncertainty. Women around the world wake up hopeless every day. You can play a part in bringing them freedom, fullness, and fruitfulness instead. Your gift ensures that we can continue to spread gospel hope! Donate now.
Donate Now