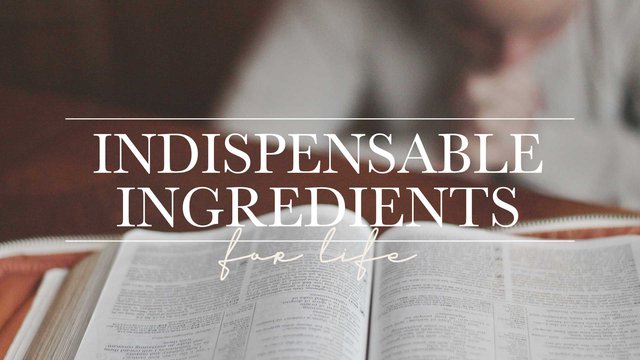 — Audio Player —
Planting Your Life in God's Word
Dannah Gresh: Sometimes Nancy DeMoss Wolgemuth needs to ask herself, "Where have I been planted lately?"
Nancy DeMoss Wolgemuth: Am I planted in worldly counsel and wisdom, in the counsel of the ungodly, in the way of sinners or the seat of scoffers? Am I getting the input into my heart and mind from television, from books, from magazines, from the Internet, from other people and sources that are not pointing me in godly directions? Or is my life planted in the Word of God? Where are my roots?
Dannah: This is Revive Our Hearts with Nancy DeMoss Wolgemuth, co-author of Lies Young Women Believe, for Thursday, June 24, 2021. I'm Dannah Gresh.
Advice and information are everywhere. In fact, I'd say since March of 2020, there's so much of it that I have information overload! And probably decision fatigue as I process all the opinions and data the Internet serves up in relation to a new kind of normal living! Our problem these days isn't gaining access to information. It's knowing what information to trust . . . and how! Nancy is going to help us sort it out as she continues in the series, "Indispensable Ingredients for Life."  
Nancy: We're still parked with Joshua in chapter 1, where he is being commissioned and charged by God and equipped with what he needs to lead the children of Israel into the Promised Land.
He has just received the baton from Moses, and now he is the leader. Now it's his responsibility to provide leadership to these people. As he sets out to fulfill his life's calling, which is to lead the people into Canaan, God gives him words of encouragement. God equips him.
We see in this life of Joshua that it is not so much natural, innate, or flashy leadership qualities that are what qualified Joshua for this incredible task. There are a lot of different leadership books available today for people who are leading organizations or ministries or churches, and there are a lot of different qualities, leadership qualities, that are talked about.
I think some of those can be valuable. But what God gave to Joshua really bypassed a lot of that, because God wasn't looking for natural qualifications. We don't read a lot about Joshua's natural qualifications. We read that God equipped him to do the task by calling him to a lifestyle of meditation on the Word of God, and not just meditation but obedience to the Word of God.
So it was as he was humble and faithful and wholehearted in adhering to the Word of God that Joshua was equipped and fitted to do the calling that God put in his life.
Let me pick up reading in Joshua chapter 1, verses 7 and 8. God says to Joshua,
Be strong and very courageous, being careful to do according to all the law that Moses my servant commanded you. Do not turn from it to the right hand or to the left, that you may have good success wherever you go.
This is God's book of success. This is God's book of instructions for how to be successful as a leader. What do you do? You do according to all the law.
This Book of the Law shall not depart from your mouth, but you shall meditate on it day and night, so that you shall be careful to do according to all that is written in it. For then you will make your way prosperous, and then you will have good success (vv. 8–9).
In the last session we talked about corporate respect for God's Word. But this was also a very personal message for Joshua, as an individual. It's a personal message, I believe, for us as individuals as well. More than any other single ingredient, I am convinced that this is what explains Joshua's success in his lifetime of service for the Lord.
This is what gave him courage. This is what enabled him to win one battle after another. We're coming up on some sessions where we'll talk about some of those battles and some of the battle plans that the Lord gave to him and how he succeeded in taking the children of Israel into the land and conquering the land until that became the homeland of God's people.
But it is this message that God gave to Joshua that I think more than any other single factor accounts for his success in that calling. It's true for every believer, whatever your calling. You're a student. You're a wife or a mother or a grandmother. You're in the marketplace. In your relationships, in your finances. It's this key that God gave to Joshua that is the key for every believer to be successful in whatever he does.
You read about this key, not only in the verse we just read, but also in Psalm chapter 1 in the opening paragraph of that psalm.
Blessed is the man who walks not in the counsel of the wicked, nor stands in the way of sinners, nor sits in the seat of scoffers; but his delight is in the law of the Lord, and on his law he meditates day and night.
There's that same concept again. We just read about in Joshua.
He is like a tree planted by streams of water that yields its fruit in its season, and its leaf does not wither.
When I read that phrase, I thought, Wouldn't it be great never to wither? I mean, there are lots of days when I think I'm just withering. I'm tired. I'm not feeling fruitful today. But Scripture says as we meditate on the law of God day and night, we will be evergreen, never withering. In all that he does, he prospers.
Do you want to prosper in everything that you do?
Do you want to be victorious over every area of temptation in your life?
Do you want to be fruitful and evergreen in every situation and season of your life?
Then ask yourself this question: Where is my life planted?
Am I planted in worldly counsel and wisdom, in the counsel of the ungodly, the way of sinners, or the seat of scoffers? Am I getting the input into my heart and mind from television, from books, from magazines, from the Internet, from other people and sources that are not pointing me in godly directions?
Or is my life planted in the Word of God? Where are my roots? I'm not saying, "Do you ever read God's Word?" I assume most of you wouldn't be sitting here today if you didn't have some interest in the Word of God. I assume most of our listeners wouldn't be listening to Revive Our Hearts if they didn't have some interest in the Word of God.
But I'm saying where are the roots of your life placed? Where do you get most of your intake? The input that comes into what you think about and what goes into your mind and your heart—where is that input coming from? Is it coming from the world, or is it coming from the Word of God?
I want to focus in this session on the importance and the practice of personal meditation on the Word of God. In the Old Testament there are two Hebrew words that are primarily used for meditation. One of them we just read about in Joshua 1 and in Psalm 1. It's a word that means "to murmur," "to mutter," "to sigh," or "to whisper."
One commentator says the word describes a low moaning sound like that of a dove.
It's interesting. As I've been working on this series, there has been working under my window (I've not been able to see, but I've been able to hear) what sounds like a morning dove. It's got that low, mourning, moaning sound of a morning dove. I had never noticed it before. But it's been outside of my study window for days now as I've been studying this passage.
Every time I hear this sound I think of that muttering, murmuring, sighing, whispering. It's keeping the word on your tongue. It's mulling it over.
There's another word that's used for meditation in the Psalms. It's a similar word. It means "to ponder," "to muse," "to converse aloud or even with oneself." It's okay to talk to yourself if you're murmuring, muttering, meditating on the Word of God.
It's a word that means "to consider," "to think upon something." It conveys the idea of going over a matter in one's mind, rehearsing it, whether inwardly or outwardly. I'm quoting from a reference book that defines some of these Old Testament words for us.1 So to meditate.
Psalm 119 says, "I will meditate on your precepts and fix my eyes on your ways" (Ps. 119:15). "O how I love your law. It is my meditation all the day" (Ps. 119:97). It's something I'm always thinking about, always pondering, always musing over, always considering, talking about it to myself and to others.
The picture we get in the New Testament of someone meditating is in Luke chapter 2, where we read that Mary of Nazareth treasured up all these things that she had been seeing and hearing. "She treasured up all these things, pondering them in her heart" (v. 19).
We're a generation that has so much coming at us so quickly that I find that a lot of information just goes in and out as quickly as it came in. We're deluged with input and information, particularly those of us who use the Internet a lot. I do a lot of research on the Internet. I can read something on the Internet and forget what I read five minutes later because I'm taking so much in.
The danger is that we would do that with the Word of God, that it would be easy in and easy out. What the Scripture is talking about here is something that helps to keep the Word of God in you—not going in one ear and out the other—but stopping and even as you're moving throughout the day, to ponder, to meditate, to consider it, to review it, to treasure it in your heart.
We're not talking about the kind of meditation you will hear about sometimes with Eastern religions. The concept there is that you empty the mind, that you put it in neutral. That's not the biblical concept of meditation at all.
We're talking in scriptural terms about consciously pondering, dwelling on, and filling our minds with the Word of God, not to vacate our minds, but to fill up our minds. Let me say this, you can't be filling your mind with the Word of God if you're always filling it with all kinds of other stuff. You're going to overload.
If we're going to be filling our minds with the Word of God. That means that there are some other things that we're not going to have time to put into our minds.
So how do we meditate? I don't want to give you any formula, but let me just give you some thoughts that have been helpful to me. I'd say that the starting place is to read the Scripture. You say, "Well, that isn't very profound." Maybe not. But maybe it really is profound.
There's no shortage of Bibles in our country. There are more different kinds of Bibles available now than ever. More different translations. We have versions that are geared toward every conceivable demographic. Fancy covers—your Bible can now be a fashion statement.
The key is not what does the cover of your Bible look like? The key is what's inside the cover and do you know it? Are you familiar with it? Are you reading it?
Surveys show that over 90% of Americans own at least one Bible. The average household has three. Most commited Christians own far more than that. I own scores of Bibles. Yet according to Gallup polls 40% of Americans do not read the Bible even occasionally. We have Bibles, but we are not reading them.
David Jeremiah, I read recently said, "The real issue is not whether you own a Bible or how many, but whether your Bible owns you." That's what meditation does for us. It keeps us from just owning Bibles and gets us to the place where the Bible owns us.
Let me encourage you as you set out to meditate on God's Word—and if you want to be successful in whatever God has given you to do at this season of life, that is the key. God said, "If you do this, you will be successful." One way to meditate on it as you read it is to look for ways to keep God's Word in front of you when you're doing other things to have Scripture in front of you.
I love having in my house framed pieces—sometimes they're pictures, sometimes not—that have Scriptures on them. I have them in my bathroom and in my bedroom and in my sitting room and in my dining room and in my living room and in my guest room. So any place I go in my house I'm going to have the opportunity to be exposed to the Word of God.
I have an uncle who sent an email some time ago to their five grown children, and kindly copied me on the email. And it addresses this whole thing of keeping the Word in front of you. He said to their children who are all my age.
When you children were young, one of our main goals was to get each of you to love Scripture, to read it each day, and to have your own devotions. We're so grateful to God for leading each of you into this life-giving practice.
One related practice we'd like to see each of you consider is to post Scriptures all over your walls in your home. In bathrooms, bedrooms, kitchen, everywhere. This is a wonderful life-giving practice.
The adversary works 24/7 to tempt us to discouragement, selfishness, complaining, or whatever. The best counter-offensive not only keeps the devil on the run but additionally enriches our lives each day.
And what is that counter-offensive? It's to follow Jesus' example when the devil did his worst early in Jesus' life. And what did the Lord do? He used Scripture.
Yes, I know you can open the Bible any time day or night, but to actually see God's Word as you enter and exit your home each day, as you look in the mirror each morning, working in the kitchen, and anywhere else in the home you go, this makes for a living context of swimming in God's Word.
I love that word picture. It's a living context of swimming in God's Word. Surrounding yourself with the Word of God will help you meditate on it day and night.
What do you do as you read those Scriptures? You hold them up to the light, like you would a diamond or a gem of some sort. You look at it carefully. You look at it closely. You look at it slowly from every conceivable angle. You take a verse or a passage from Scripture. It may be a few verses. It may be a paragraph. It may be a whole chapter. But you look at it over and over and over again.
You observe it.
You ask questions about it.
You ponder it.
You concentrate on it.
You look at it as a whole.
Then you take it apart and look at the parts, one word at a time, one phrase at a time.
Something that helps me in Scripture meditation is to memorize the Scripture. I'd like to say I memorize a lot more than I do. I find that I am memorizing Scripture by saying it over and over and over again, pondering it. It becomes more a part of my life. As you:
Read it.
Ponder it.
Memorize it.
Pray through it.
Personalize it.
Internalize it.
Apply it to your own life.
Cross-reference it to other passages. I did that at the beginning of this session. I read the passage from Joshua chapter 1 about meditating on God's Word day and night. As I was meditating on that passage, Psalm 1 came to my mind which also talks about meditating on God's Word day and night.
So I've made the connection between those two passages. That's meditating on God's Word. Come back to the verses of the passage again and again and again, not just reading it and then moving on.
I'm a big one for reading through the Scripture. I think there's a lot of value in that. But I think there's also a huge need for us to take smaller portions that we digest slowly and carefully and intentionally, mull it over, talk about it with others. I do that with my walking partners. We walk in the mornings. We talk sometimes about the Scripture that we're meditating on.
Ask questions of yourself about the Scripture. Ask questions of others about the passage. Work it into the warp and woof of your life until it becomes a part of you.
One old-time commentator said, "Meditation is to reading the Word what digesting is to eating. Without the slow and lengthened process of digestion, food would not nourish the body. Without meditation, the Word read will not nourish the soul."
A lot of people who are reading the Word of God aren't getting nourished by it because it's just going in and out again. That's why you need to meditate on it. It's like digestion; it causes it to nourish your soul.
In order to meditate on God's Word, you will find that you need times of quiet. There need to be times when you turn off the TV, when you turn off the radio, when you power down your computer, when you get rid of unnecessary distractions. You can be meditating on God's Word as you're doing other things. But there needs to be some times when you're really able to concentrate and not have unnecessary distractions.
I'm just sharing with you some tips and things that have been helpful to me as I'm learning to meditate on God's Word. There's no great science to it. There's no formula for it. It's really more of a discipline, a practice, something that becomes a way of life.
Here's another way to meditate on God's Word when you're sitting under the preaching of the Word, process what you're hearing, ponder, take notes. That gets it into your mind a little bit better. Chew on it. Don't just move on.
Not too long ago on a Sunday morning, our Sunday school teacher gave a message that God really used to speak to my heart—and I don't want to sound like this is an infrequent experience, because I go to church asking God to speak to me, and He always does. I mean, it's wonderful as I go with my heart prepared.
But this particular lesson was a message on being merciful, and I've never been accused of having that spiritual gift. God really spoke to me about some of my critical tendencies and my bent to assume the worst of others as I was listening to this message. The Word, the Spirit of God was just piercing and penetrating my heart as I listened.
Well, right after the lesson ended, a friend came up to me in the break between Sunday school and church and said, "So how are you doing?"
And I said, "I'm convicted!" I was still pondering, still meditating on what I just heard, and I've continued through the week. I've talked about that passage, that Sunday school lesson, with my walking partner.
Let me ask you, can you even remember what the sermon was about in your church last Sunday? I hope you can. But I hope you've been pondering it through the week and not just leaving church and then going the rest of the week letting the world fill in all the nooks and crannies, the cracks and crevices of your life.
You need to let the Word that you hear on the Lord's day work on you and continue to work in your life through the course of the week. It's such a joy to me to see other people start to get it when it comes to meditation on the Word of God and really start to experience the fruit and the blessing and the reward of getting into God's Word and getting God's Word into them
A friend of mine attended one of our recording sessions several months ago, and she brought with her her eighty-eight-year-old mother who was visiting from California. My friend wrote me not too long ago and said I have just been back visiting with my mother in California this week. She said,
She got so excited about studying the Word while she was at the recording session the last time she was there. She has done your 30-Day Walk book. She has read your Lies Women Believe book and A Place of Quiet Rest. She's reading the Bible through, as you prescribe, and growing in wisdom and knowledge. It's so fun to see growth even at eighty-eight years.
I talked to the grown daughter recently, and she said again, "My mother is just loving studying God's Word. At eighty-eight years of age, it's fresh to her."
Once on our broadcast we asked listeners to write and share how the Word of God had transformed their lives. I got an email from a woman named Kathy who told the story of how she had come to faith in Christ twenty years ago, but for years she never learned to feed herself spiritually. So as a result, for many of her early years as a Christian, she floundered.
Then she said,
I came across Precept Bible Studies, [and I am so thankful for the ministry of Kay Arthur and Precept Bible Studies and how God has used that ministry to help so many women get into the Word of God.]

For the past ten years, I have been feeding myself by studying God's Word. In fact, I am so excited by it that I lead classes myself. God has used His Word to give me hope, encouragement, comfort, laughter and joy, conviction, and forgiveness. His Word is precious and holy to me, a true breath of His life into my soul. More and more I am convinced that as Christians, we cannot live without God's Word. It is more important to our spirits than food is to our body.

These past few years have been very trying, and I've gone through situations that I never would have believed I could get through. Two years ago my mother passed away. While I was reeling from the shock of that, my husband was diagnosed with cancer. The two things I feared might happen, did. But God held my hand by that precious link of His Word, and I was sustained through it all.

My husband survived the cancer. And we were able to trust and have joy because God gave us Scriptures to strengthen us.
I read an account recently about a man who does treasure hunting as a hobby. He told a story about the man who sold him his first metal detector years ago, gave him two pieces of advice that this man had found to be true and helpful over the years.
The first piece of advice was, "Once you find something buried in the ground, before you fill in the hole, always go back and look again. Look back in that hole again. Because," his friend said, "where there is one coin, you'll often find that there are others."
And then the second piece of advice was, "Never believe that a place has been hunted out." Now, that's a phrase that people who are treasure hunters use to mean all the treasure has been taken from that site.
This man said to the one who was getting into treasure hunting, "Never believe that a place has been hunted out. If you're patient, there is likely more treasure waiting there."
Then the man who was writing this account said,
On one occasion I was given permission to hunt the site of a home built in the late 1700s, a property that I was told had been hunted out. I started scanning early that morning and hunted for six hours without finding a thing.

Just when I was ready to give up, I started getting signals, one right after the other. I dug out so many coins that they were literally running out of both of my pants pockets. He said one of the coins I found that day was an 1865 three-cent piece worth about $70.2
As I read that, the verse that came to mind was from Psalm 19 that tells us that "God's Word is more to be desired than gold, yea than much fine gold" (Ps. 19:10 KJV). I thought about how often I've gone to a passage that I have read and studied perhaps scores of times, thinking that I had maybe already hunted out that passage.
In fact, the passage we've been looking at over these days, Joshua 1, I've been mining that passage and finding treasures in it for months now, and I might have thought I had hunted it out. But yesterday and this morning as I was meditating on that passage, God brought fresh treasure to my heart from the very first words of Joshua chapter 1.
I found that as I'm willing to patiently meditate on the Word of God, that there is always, always, always more treasure to be found. You can be sure that no matter how much you dig, no matter how much you meditate, God's Word will never be hunted out.
So God said to Joshua as He was sending him into the Promised Land where there would be giants, there would be battles, there would be challenges—God's Word said, "This book of the law shall not depart from your mouth." (Mutter it. Meditate on it. Memorize it. Speak it to yourself. Speak it to others.) "You shall meditate on it day and night, so that you may be careful to do according to all that it written in it, for then you will make your way prosperous. And then you will have good success."
Dannah: God's Word affects every area of our lives. Nancy DeMoss Wolgemuth has been showing us how important it is to meditate on Scripture. To help you dwell in the truth of God's Word, I want to tell you about a resource called 50 Promises to Live By. This booklet, from Nancy, contains a list of easy-to-access, meaningful promises from the Lord. The words He spoke thousands of years ago are just as real and powerful today. And we can find our comfort and hope in those promises found in the Bible.
50 Promises to Live By will highlight several of those promises and help you savor them as you're reminded of God's truth. When you give a gift of any amount to Revive Our Hearts, we want to thank you by sending you this booklet. You can give online at ReviveOurHearts.com, or call us at 1–800–569–5959, and make sure you ask for the booklet.
In busy seasons of life, you need the Word of God more than ever. Find out how other women take time to meditate on the Bible, tomorrow, on Revive Our Hearts.
Revive Our Hearts with Nancy DeMoss Wolgemuth wants to help you fill your mind with God's Word. It's an outreach of Life Action Ministries.
1Zodhiates. Complete Word Study Old Testament.
2Van Morris. Mount Washington, KY. www.PreachingToday.com—12/5/05
*Offers available only during the broadcast of the podcast season.
Support the Revive Our Hearts Podcast
Darkness. Fear. Uncertainty. Women around the world wake up hopeless every day. You can play a part in bringing them freedom, fullness, and fruitfulness instead. Your gift ensures that we can continue to spread gospel hope! Donate now.
Donate Now