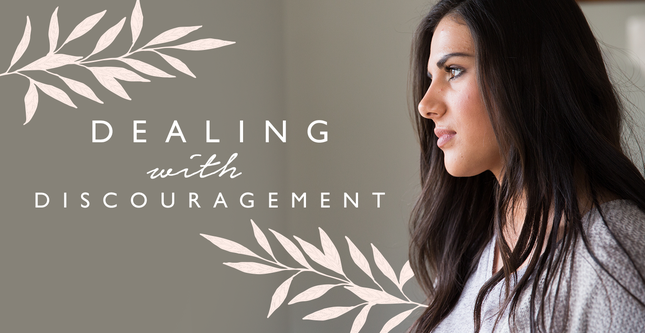 Our Help in Time of Need
Leslie Basham: Have you ever heard the phrase, "I don't get mad; I just get even"? You won't find those words in the Bible. In fact, you'll find just the opposite. This is Revive Our Hearts with Nancy Leigh DeMoss. It's Tuesday, January 28.
Have you ever been blamed for something you didn't do? In the Bible, we read that David faced that situation. Today Nancy's going to describe how he responded. There are two things we can learn from David: God gives encouragement and revenge does not. Here's Nancy to explain.
Nancy Leigh DeMoss: I remember a time back in 1972 when a whole series of events began to hit my family. It seemed like when it rains, it pours. The night before school started that year--actually it was the weekend of my birthday, Labor Day weekend--we had had a cookout at our home.
During the night, some of the coals that had been thrown out from the cookout caught fire and our home was burned in a fire.
We had to leave the house and actually ended up moving. That began a whole string of events that year. During the course of that year, my dad, who was in the insurance business and had had a very successful company, began to face a lot of business reverses and a lot of attacks within the industry. In a business sense, he was living with enormous loss and pressure throughout that year.
Then just when it seemed that nothing else could go wrong, at the end of that school year--then into 1973--my mother was diagnosed with a life-threatening brain tumor. Here there were six teenagers I think at the time and a younger child. Again, our lives were thrown into a state of not knowing and anticipated loss and heaviness of heart.
I think back to that year when I look at the passage we're looking at this week in the Old Testament, 1 Samuel 30, where we're given an illustration of how David dealt with a season of discouragement in his life. It was a whole series of circumstances that came into his life.
We saw yesterday how David had--with his 600 men, they were all fugitives running from King Saul, who was on the throne. David knew that he was going to be the next king, but for 15 years he had been running from this king. Now David and his men, who had been out to battle, had come back to Ziklag--the name of the city where David and his family and these men and their families lived.
When they got back to the city, they found out that the Amalekites had come in their absence, had burned the city and had taken away their wives and their children as captives. So David and his men come upon the city. We read yesterday when they came upon this scene how they just began to weep, to pour out their hearts. They were so exhausted from what they had just been through, and then they came home and found that they had lost everything.
Now you would think that would be enough. David had been driven from his country by Saul. The Philistines had driven him away from their camp. The Amalekites had plundered the city. The wives and the children had been taken captive. You would think that at least at this time of great need that the 600 men who were with him--the men he had cared for, the men he had led for all these years--that they would support him.
But now what happens is even these men turn against David. They saw him as the cause of their disaster. They had lost their wives, their children, their possessions. They turned to their leader and they said, "How did you get us into this mess?" There's mutiny in the ranks now.
So we come to 1 Samuel 30:6. "David was greatly distressed for the people spoke of stoning him, because the soul of all the people was grieved [or bitter, is another translation], every man for his sons and his daughters."
These men were discouraged. They were grieved. They became bitter in their hearts. They turned on their leader. They talked about killing him, stoning him.
If you try to put yourself in David's sandals there, you can just imagine some of what may have been going through his mind. "If only I hadn't gone off to join the Philistines in this battle! If we had just stayed home! If I hadn't left Ziklag, this wouldn't have happened!"
You can imagine that there must have been a sense of emotional turmoil and burnout. He is responsible for these 600 men and their wives and their children. Now he feels like this is all his fault--so emotionally, the weight and the pressure of that.
Now he is feeling betrayed. He can't trust his own men. We're going to see in this passage that they are physically exhausted. So this is all going through David's mind--his emotions, his circumstances are pressing in on him.
We see in 1 Samuel 30 a contrast between the way that David's men respond to the circumstance and the way that David responds to the very same circumstance. In fact, that's true in life.
You can watch people go through the death of family members, through loss of a job, through physical ailments, through rebellious children. You'll see some people go through it and they become bitter and angry, and their lives are destroyed.
You'll see other people go through very similar circumstances, and they come out with a fragrance and a radiance and a fullness that's even greater than what they had before they went into the circumstance. It's all in how we see the circumstances and how we respond to those circumstances that determine the way that we come out.
So David's men fretted over their loss. They gave way to their emotions and their passions. They just let it all out. They gave way to it, which led to bitterness, to anger, to vengeance, disloyalty, blame, discontent, impatience. You'll notice that all of those responses didn't do anything to change the circumstance, did it?
Isn't that the way you and I often respond to pressure? That's our natural way of responding--to be impatient or angry or bitter or disloyal, to attack the person that we think got us into this circumstance.
Now David could have responded to his men in the same way that they were treating him. He could have retaliated. He could have been angry in turn. He could have said harsh words to them.
There is no record that he did. Instead, he turned to the Lord. Because David knew something about the character of God, about the providence of God, about the grace of God, he could respond differently than others did to the very same types of issues.
The rest of this week we want to look at David's response. The first thing I notice is that David got encouragement and strength from the Lord. I'm talking physically, emotionally, mentally and spiritually.
Who else was going to do it for him at this point? I mean, there was no one. He didn't have his wife. He didn't have children. He didn't have a mentor. He didn't have a pastor. He didn't have a counselor. He didn't have his best friends. There was no one. It was just David and the Lord.
We don't like being put into a situation where we have no one and nothing to turn to other than the Lord. But you know, often it's not until we come to that place that we draw upon the strength and encouragement that God can give us better than anyone else could anyway.
The Scripture says in verse 6, "But David strengthened [or encouraged] himself in the Lord his God." Did you know you can do that? In times when everything is crashing in on you, everything is pressing in on you, and there is no one who understands, you can strengthen and encourage yourself in the Lord.
That doesn't mean that David didn't feel the pressure and the weight of the circumstances. David wept. We read that in verse 4. He was distressed. We see that in verse 6. But in the midst of his weeping and being distressed, he strengthened and encouraged himself in the Lord.
That word "strengthened" or "encouraged" is a Hebrew word in the original language that is used 290 times in the Old Testament. It means to strongly support, to find strong support.
In fact, in some instances, it's used in the sense of God holding someone's hand. Isn't that a great picture? When there was no one else there to hold David's hand, he turned to God to hold his hand. He strengthened himself. He found strong support in the Lord.
Notice that he turned to God first before turning to other human beings. We're going to see tomorrow that there was another human being that God used to help minister grace to him. But before he turned to anyone else, he looked to the Lord.
I read that and I think, "Why don't I do the same thing? Why is my first tendency to pick up the phone, rather than to get on my knees when I'm feeling discouraged or pressured and problems are crowding in around me?"
We're so prone to turn to human counselors, human helpers. We're going to see that there is a role for those people in our lives; but there is no counselor who can do for you what the Wonderful Counselor will do for you, if you'll let him.
I notice, too, that David found God to be his helper, even at a time in his life when David was not completely in the will of God. David should never have been allied with the Philistines. Part of the reason he was in this mess was his own fault.
Yet even having made that mistake, having sinned against God, he knew that God was a God of mercy and grace. He could come back to God and turn to God as he should have before he even went out with the Philistines. He could now come and find that God was still there. God was available to give grace and mercy.
He had to humble himself. He had to acknowledge that he needed God. It could have been a natural response on his part to say, "I've blown it. There is no way I can come back to God now." We have a God who stands ready always when we humble ourselves and we cry out to Him to extend grace and mercy and to help us in our time of need.
Leslie Basham: Are you facing discouragement today? Perhaps even because of your own sinful choices? God is just as eager to restore you as He was David. Nancy Leigh DeMoss will be right back to pray with you if you're feeling discouraged.
To get additional help on this topic, you can visit our Web site, ReviveOurHearts.com.We've made some information available on books that can help, including one called Overcoming Fear, Worry and Anxiety by Elyse Fitzpatrick.
She gives a lot of practical guidance and real-life examples of others who have struggled with anxiety, including her. She is writing from her own experience and explains how God led her from worry to trust.
The book is available for a suggested donation of $10. Again, our Web address is ReviveOurHearts.com. You can also call us at 1-800-569-5959.
If God is using this series to identify and heal some areas of worry in your life, could you let us know? We'd love to hear from you and find out what's going on in your life. You can send a letter to Revive Our Hearts.
The world offers a lot of advice on how to get rid of pain, but do their suggestions work? Do they last? Join us again tomorrow for another lesson in dealing with discouragement. Now again, here's Nancy.
Nancy Leigh DeMoss: Forgive us, Lord, for so often turning first to other people, to other means of help and strength--when You are right there, the Wonderful Counselor, wanting to strengthen us and encourage us, to send mercy and grace.
Lord, I pray that You would so work in our hearts--show us Your ways and Your heart--that it would become our reflex reaction in times of pressure and problems to turn to You and to strengthen and encourage ourselves in You.
Thank You that You are the God of all encouragement, the God of all grace, the God of all comfort. Even now we think about the circumstances that are pressing in on us and we cry out to You and say, "Lord, would You strengthen and encourage our hearts by Your grace? I pray in Jesus' name. Amen."
Revive Our Hearts with Nancy Leigh DeMoss is a ministry partnership of Life Action Ministries.
*Offers available only during the broadcast of the podcast season.
Support the Revive Our Hearts Podcast
Darkness. Fear. Uncertainty. Women around the world wake up hopeless every day. You can play a part in bringing them freedom, fullness, and fruitfulness instead. Your gift ensures that we can continue to spread gospel hope! Donate now.
Leave a $5 gift